---
Did you know NJ Stage offers FREE Event Listings? Nearly 100,000 listings were viewed in January. Be sure to add your events to our calendar and get your shows noticed!
---
The Road Company Presents "Proof"
originally published: 03/02/2018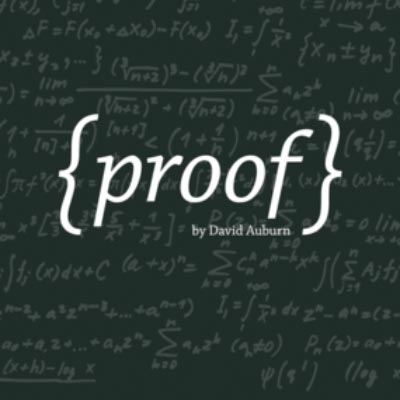 (WILLIAMSTOWN, NJ) -- The Road Company Theater Group presents Proof from March 15-25 at the Grand Theatre in Williamstown. Written by David Auburn, Proof is a play of many emotions. After a lengthy battle helping her deceased father fight mental illness, Catherine finds herself wondering what's next for her. The production is directed by Elizabeth Rodriguez and produced by Paula Farrar.
Caring for her father, a mathematics genius, Catherine has been put on the back burner and now it is her time to discover herself. Much like her father, she is a mathematical wiz, but fears following closely in her father's footsteps, mental illness included.  As Catherine struggles with the loss of her father, and her new-found relationship with Hal, A former student of Catherine's father you will be rooting for Catherine.  
The cast includes Ashley Macri as Catherine; Alyssa Robishaw as Claire; Denny Summerville as Hal; and Michael Hicks as Robert.
Proof  was developed at George Street Playhouse in New Brunswick, NJ.  The play premiered Off-Broadway in May 2000 and moved to Broadway in October 2000. It was awarded the 2001 Tony Award for Best Play and the 2001 Pulitizer Prize for Drama.
Showtimes are Thursdays at 7:30pm; Fridays and Saturdays at 8:00pm; and Sundays at 2:00pm. Tickets range from $22-$25 with discounts for seniors, students and groups. 
---
The article continues after this ad
---
---
Performances take place in The Grand Theatre, 405 S. Main Street in Williamstown, New Jersey.


Kean Stage Presents Snowkus Pocus, a Cirque-tacular Holiday Show
(UNION NJ) -- Snowkus Pocus, a charming tale of a young girl experiencing winter for the first time, is coming to Kean Stage on Sunday, December 9 at 3:00pm. The story is told through dazzling cirque, breathtaking ballet and incredible acrobatics.
---
State Theatre and Crossroads Theatre Company Present "Common Ground"
(NEW BRUNSWICK, NJ) -- State Theatre New Jersey and the Tony Award®-winning Crossroads Theatre Company present Common Ground – A Holiday Musical Celebration of Community on Sunday, December 16 at 3:00pm. Featuring star Shanice Williams from NBC's broadcast of The Wiz Live. Tickets are $25 for adults, $15 for students, and $5 for children.
---
"Annie" Heads Into Final Weekend at Centenary Stage Company
(HACKETTSTOWN, NJ) -- Centenary Stage Company's family holiday spectacular, Annie heads into its final weekend in the Lackland Performing Arts Center. Based on the popular comic strip by Harold Gray, Annie has become a worldwide phenomenon and was the winner of seven Tony Awards, including Best Musical. The beloved book and score by Tony Award winners, Thomas Meehan, Charles Strouse and Martin Charnin, features some of the greatest musical theatre hits ever written, including "Tomorrow."
---
Playhouse 22 Presents "A Christmas Carol"
(EAST BRUNSWICK, NJ) --- Playhouse 22 will be presenting its annual production of A Christmas Carol from December 7 - 16.  Directed and adapted by Tony Adase, A Christmas Carol at Playhouse 22 is based on the Charles Dickens' piece by the same name.  It is the story of a miserable miser who learns to keep Christmas in his heart with the help of several ghostly visitations.  A show for the whole family, the Playhouse 22 production is celebrating its 23rd annual year at the theater.  
---
The Ritz Theatre Co. Presents "Scrooge, The Musical"
(HADDON TOWNSHIP, NJ) -- The Ritz Theatre Co. will present its annual holiday classic Scrooge, The Musical from December 7th through December 23rd.  This show is a tradition for families across our region, and is fun for all ages. Led by Producing Artistic Director Bruce A. Curless, Bruce plays the title character of Ebenezer Scrooge. This will be the twenty-third year and final year that Bruce dons the wool cap and is chased through visions of his life by three famous ghosts!
---


PHOTOS from "The Winter's Tale" at Shakespeare Theatre of New Jersey
(MADISON, NJ) -- The Shakespeare Theatre of New Jersey's concludes its 56th season with its sixth and final Main Stage production, The Winter's Tale. Last seen at The Shakespeare Theatre in 2008, Artistic Director Bonnie J. Monte directs this production of Shakespeare's tragicomedic romance. Veteran company members Jacqueline Antaramian, Jon Barker, Erin Partin, John Keabler, Raphael Nash Thompson,Seamus Mulcahy, Patrick Toon, and Ames Adamson are among a cast of 20 actors. Performances run now through December 30. 
---
REVIEW: "It's A Wonderful Life" At Mile Square Theatre
Nestled in a corner of Hoboken, on the second floor, lies the studios of radio station WMST.  It's a wonderful art deco studio, replete with fine wooden walls, embedded with colorful lights an applause sign.  On stage, we've got a few chairs, several microphones and a whole corner wedged with all the necessary props – piano, men's shoes, sheet metal – to create the audio effects for the production of "It's a Wonderful Life."
---
Betsy Aidem Puts A Woman's Touch On George Street Playhouse's "A Doll's House, Part 2"
Betsy Aidem is a veteran actress you might have seen on Broadway. Or maybe on an episode of "Law & Order: SVU." Or maybe on the big screen last year in "The Greatest Showman." But over the next few weeks in New Brunswick, Aidem is adding a brand-new section to her résumé — by helming a sequel (of sorts) to a classic play that's more than 100 years old.
---
REVIEW: "Irving Berlin's Holiday Inn" at Paper Mill Playhouse
One man's ambition is comfortable yet to another it is anathema.  This is the simplest way to convey the central theme of Irving Berlin's Holiday Inn – now playing at Papermill Playhouse.  The show is a rich, effervescent, beautiful, fun, musical that is well worth booking tickets for.  It enthralled my phone addicted 13 year-old and earned a shout out on Instagram - high praise in and of itself.
---
REVIEW: "A Doll's House, Part 2" at George Street Playhouse
For well over a century the world has been wondering what ever happened to Nora Helmer from Henrik Ibsen's classic play A Doll's House.  Nora was a woman during the 19th century in male dominated Norway when women could not sign contracts without their husband's permission.  She challenged this law, essentially committing forgery.  And, even though she committed a crime for the purpose of saving her husband's life, her actions wound up destroying her marriage when someone tried to blackmail her. 
---
Event calendar
Sunday, Dec 09, 2018
---
MUSIC

---
---
---
---
---
---
---
---
THEATRE

---
---
---
---
---
Peter Pan

@ Axelrod Performing Arts Center, Deal Park - 1:00pm and 5:00pm
---
Annie: The Musical

@ Centenary Stage Company - Sitnik Theater of the Lackland Center, Hackettstown - 2:00pm
---
---
---
---
---
KIDS

---
---
---
MISC

---
---
View all events
---