By Gary Wien
originally published: 05/27/2019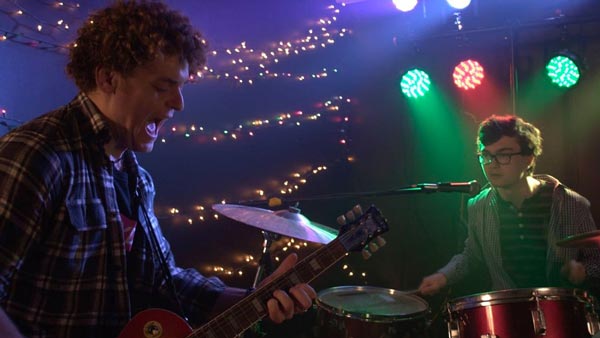 One of the challenges in making a short film is telling a complete story.  The Reservoir is one that both succeeds and makes you wonder if you will ever see the main characters again - either in a longer film or a television or web-based series.  The film was Jordan Rowe's thesis at New York University.  It's a story about two friends, Aaron (played by Jared Gilman) and Grant (played by Eli Bridges), who are about to graduate high school in North Caldwell, New Jersey.
Aaron is an anxious rule-follower who lives under the roof of his pencil pusher, helicopter parents in the aggressively suburban Bristol, Connecticut.  Grant is a pot-smoking slacker with a youthful single mother, a pesky little brother, and an eye on the world outside of Bristol.
At the tail end of summer, the week before Aaron starts state college, they get an offer from a rough around the edges, has-been manager, Eddie Iverson (played by Allan Greenberg), to play as the opening act in a cross-country tour for one of his bands. The problem is they have one day to decide whether to take the gig or not.
This forces Aaron to decide whether or not to settle for the safe, suburban life his parents planned for him and disappoint his best friend or risk everything to live the very unstable life on the road. 
According to Jordan Rowe, the film was based on his own friendship with Yves Pasquarelli who is a friend from film school and one of the film's producers.  The two were not in a band together (although Jordan is a musician) and never had to make a split second decision like that, but Jordan's personality helped inspire the character of Aaron and Yves helped inspire the character of Grant. Yves also production designed the film, hand wrote the end credits, helped with some effects work, and let them shoot scenes in his aunt and uncle's houses.  Rowe calls him a "a real jack of all trades."
---
The article continues after this ad
---
---
Jordan Rowe wrote, directed, and composed the music for the film.  Originally from Southern California, he moved to New York to attend NYU and now lives there and plays in the band The Neurotics. New Jersey Stage spoke with him about the film.
What would you say is the hardest thing about making a short film?
I think the hardest thing is being able to distill the storytelling. At least from my experience, there's a lot I want to convey in a short amount of time.  I think the hardest thing is just continuing to simplify it and get to the real root of the story and what the relationship is. Especially since this was my thesis film at NYU.  I think everyone wants to treat that like it's their ultimate biggest film they want to make and they want to put everything into it.  I think counter to that is: how do I tell a simple story, but get a lot of truth out of it? It's a hard thing to arrive at.  It comes with writing a lot of drafts and editing a lot of different cuts of it.
What is the most important thing?
I think to capture one's own voice. I think it's harder to do in a short than a feature because there's less time.  Coming from film school, I feel like it's easy to fall into different tropes or trends.  People my age want to make very serious and important movies, but I think the ones that speak the most to me - and the reason this was so fulfilling was that it wasn't about life or death, it was a simple, but human thing that I felt and wanted to channel into a movie. The most important thing is to capture whatever your honest point of view is, which is hard.

The Reservoir is a film that I think tells a complete story, but could have the story continue.  Do you have any plans to do anything more with it? Do you think you'll return to it someday?
Yeah, I think so.  I kind of wrote it with that intent.  I agree with you that it stands on its own, but I also look at it as the first act of the feature or the first part of a first act of a feature with the rest of it being them going on the road, learning about themselves, falling in and out of love with being in a band and playing music live, and all of the complications of doing that at a young age.
If this was expanded, I could see it as a TV or web series.
I've thought about doing it that way too. I've gone back and forth.
It's kind of cool that you were able to get your songs in the film.
And the band that actually plays in this movie (The Neurotics) is one I formed to make the music in the film just to record the score and the song, but we now actually gig and play out all around New York City!
If you could choose only one, would you choose music or film for a career?
I really can't because one depends on the other for me.  When I write music a lot of times I have cinematic scenes in mind.  When I listen to music I think about it with a film component.  But also whenever I make a film I wouldn't know what to do if I didn't have music.  I know that's kind of a cheap answer, but I technically started playing music first, but films didn't come much after.  I've done both since I was five or six.
---
The Reservoir will be screened at the New Jersey International Film Festival in New Brunswick on Saturday, June 7th at 7:00pm. It will be followed by the documentary Sing You a Brand New Song: The Words and Music of Coleman Mellett by Jeanie Bryson.
---
Gary Wien has been covering the arts since 2001 and has had work published with Jersey Arts, Elmore Magazine, Princeton Magazine, Backstreets and other publications. He is a three-time winner of the Asbury Music Award for Top Music Journalist and the author of Beyond the Palace (the first book on the history of rock and roll in Asbury Park) and Are You Listening? The Top 100 Albums of 2001-2010 by New Jersey Artists. In addition, he runs New Jersey Stage and the online radio station The Penguin Rocks. He can be contacted at gary@newjerseystage.com.
---