By Gary Wien
originally published: 10/02/2017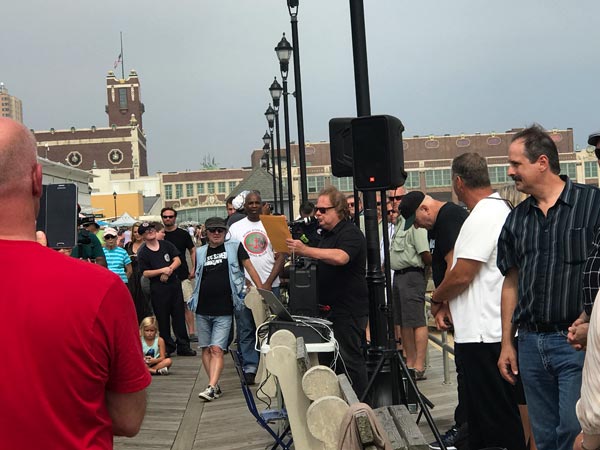 (OCTOBER 2, 2017) — I woke up this morning to the news about the devastating Las Vegas shooting and later heard of Tom Petty in the fight for his life.  After weeks of natural disasters and death, I want to end this day with something positive.  So I'm going to report on a pair of Asbury Angels who helped me become who I am today. I rarely write pieces that involve me, but I'm trying to make sense of today and I think this might help.
Asbury Angels are people who were influential to the music scene of Asbury Park - a town I've been going to ever since the late 1970s.  I was there in the 80s and 90s when music was the only thing bringing people to the town.  In the early 2000s, my old magazine, Upstage (named partially after the legendary club in Asbury Park that helped kids like Bruce Springsteen, Southside Johnny, and Bill Chinnock become great musicians) helped spread the word about a resurgence happening in the Jersey Shore town.  Many people decided to give the tiny city a chance and it began to come back slowly.  Today, it is thriving like it hasn't it thrived in decades.  Asbury Angels are remembered with a ceremony and plaques on benches located on the boardwalk.  It's a nice way of paying tribute to people who helped keep the city alive.
For various reasons there was no ceremony in 2016, so the inductees for the last two years were officially recognized on September 16, 2017.  It was an induction close to my heart and one I felt compelled to attend - mainly for the inductions of Jules Aerts and Faye Gade.  The former only knew me for a few years and the latter never knew me at all, but both literally changed my life.
When I was in high school, I worked in the kitchen of The Lincroft Inn.  It was an old restaurant that had been owned for a long time by the family of Debbie Harry (Blondie).  I only met her once, but the restaurant was always visited by rock stars playing at the nearby Garden State Arts Center (now the PNC Bank Arts Center) in Holmdel.  One day, a waitress named Carol heard me playing John Eddie's debut album in the kitchen.
"Do you like John's music?" she said.  "He played at my wedding.  You should meet my husband."
---
The article continues after this ad
---
---
It turns out her husband (Jules Aerts) was a big-time sound engineer.  He didn't just work along the Jersey Shore, he worked big clubs in New York City and also worked for big artists.  In fact, he did sound for Bob Dylan for decades.  Jules showed up at the restaurant one night around closing.  The first words he said to me were, "So, would you like a job?"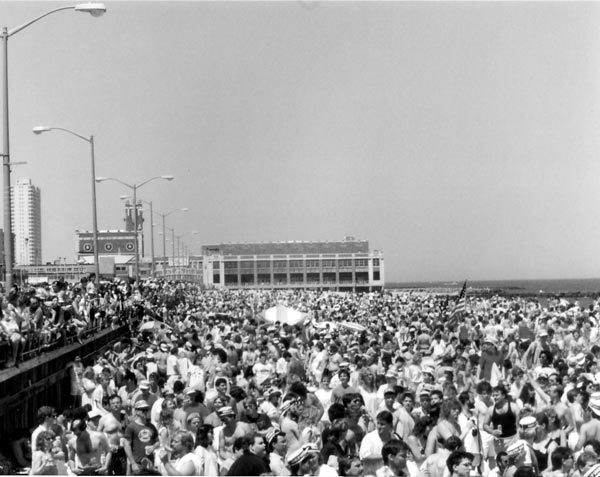 The job turned out to be working a WNEW concert on the beach in Asbury Park. The shows had been taking place for years and often attracted crowds of nearly 100,000 people (people lined up from one end of the beach to the other, on the boardwalk, and even on boats).  In the 1980s, WNEW was the biggest rock and roll station in the area.  Located at 102.7 on the FM dial, it was the perfect fit for a concert in Asbury Park, which was exit 102 on the Garden State Parkway.  I wound up working about 3-4 concerts in a two year stretch, meeting and working alongside artists like Robert Cray, The Fabulous T-Birds, Glen Burtnick, Joan Jett, The Smithereens, and, one of my all-time favorites, Roger McGuinn, of the Byrds.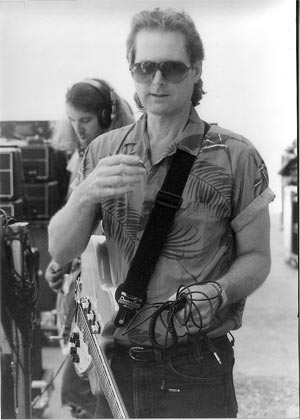 I was about 16 or 17 and can still remember the first time I spoke to Roger. He was on stage about to go on next and I said, "I've just got to say, you're God man." 
He replied, "I know."  As he saw me staring at his legendary Rickenbacker 12-string he told me the story of the guitar, which was autographed by Roger McGuinn himself.  "I found this in the Village one day.  I figured it was mine previously since I signed it, so I bought it and started using it again."
My teenage mind was blown several times during that conversation.  That was just one of so many memories I have from those WNEW shows.  I will never forget carrying Robert Cray's guitar on to a real blues bus or a conversation between Joan Jett and a little boy who had just seen her star in "Light of Day" or building and taking down stages, often doing the work extremely high up but feeling safe because if I fell I'd simply land on sand!
I went off to college and never saw Jules again.  During the Asbury Angels ceremony, I was finally able to tell his wife just how much her husband meant to my professional career.  I had always thought I would become a writer, but those WNEW shows proved that I could actually talk with artists - even as a teenager - and that I absolutely loved that lifestyle.  I'm not sure if she remembered me, but she was glad to hear it.
I was about 16 when the soccer team I was on traveled to Northern Virginia for a tournament.  The kids we met from the local area all had a cassette of the Violent Femmes' incredible debut.  It was a band I had never heard of, but fell in love with instantly.  Everyone we met not only had that cassette, but it was always a bootleg copy.  I don't recall ever seeing a real copy!
Now, I had been a fan of certain bands like U2 and Duran Duran years before they became big because of a friend that introduced me to the import bins at the local record store, but the Femmes were the start of something new for me.  When I returned home, I was introduced to 106.3 - an alternative rock station owned by Faye Gade - a station that played bands like the Femmes.  I always tell people that think the 80s was a horrible decade for music that they must not have listened to 106.3 or the right 80s music because that decade was simply incredible for me.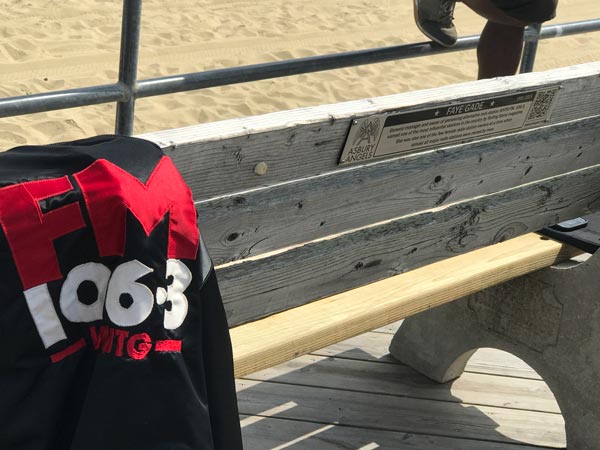 Faye Gade is one of those people who you never meet that has a profound influence on your life. While I never knew Faye, I did get to know many of the DJs (names like Matt Pinfield, Mike Marrone, Rich Robinson, Lorretta Windas, and Mike Sauter) and they wound up adding a significant part of my musical world.  If it wasn't for Faye, I'm not sure a station like that would ever have survived for a few years much less as long as it did.  I remember DJs telling me how they would plaster street signs with 106.3 stickers.  You could find them throughout Monmouth County.  The station was incredibly influential and had a truly die-hard audience, but never did well with Arbitron ratings.  It was a labor of love for everyone involved, but I've met many people who became music writers or musicians that swear the station helped them become who they are today, just like me.
So, there I was at the ceremony with Lee Mrowicki handling the DJ duties and it suddenly hit me that the three people most directly involved in my career were there.  Two (Jules and Faye) were being remembered, while Lee was still working.  I'm not sure why or how it ever happened, but when I was a teenager Lee used to let me hang out in the Stone Pony Annex while he was listening to band tapes or creating t-shirts or jacket designs.  He would tell me stories about the artists and the scene and it made me love the area more and more.  It felt like home.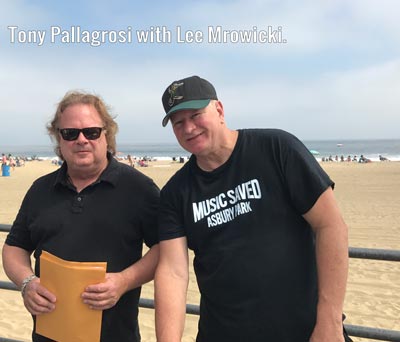 Many years later when I started writing my first book (Beyond the Palace, a history of the Asbury Park music scene) I reconnected with Lee and he was a huge help with the book.  Fast forward to today, Lee hosts a daily show (Monday through Friday) on my online radio station, AsburyMusic.com.  Seeing him spinning the tunes for the ceremony seemed so right.  Here I was on the boardwalk, staring at the old Casino building in the distance (where the WNEW stage was set) and the images of those shows raced in my head. After the ceremony I was admiring a 106.3 jacket placed over the bench which held Faye's plaque when Lorretta Windas saw me.  She ran over and gave me a hug.  Asbury Park has always felt like home for me, but never more than on that day.
Sometimes the dreams we have as kids really do come true… they did for me.
---
Here's a look at the 2016 and 2017 inductees:
CLASS OF 2016
Tommy Tucker (real name Gerald L. Duppler), Leader of a famous big band, the Tommy Tucker Orchestra, his biggest hit was Gold record, "I Don't Want to Set the World on Fire." He also taught at Asbury Park High School and Monmouth College.
Jules Aerts, Sound engineer who worked for various national artists, including The Ramones, Blondie, Soul Asylum, Robert Gorden and Patti Smith. Served as Bob Dylan's sound engineer for 20 years. Also worked as a soundman at Big Man's West and the Stone Pony.
Margaret Hogan, In 1965, opened Chez-Elle, a gay nightclub in Asbury Park. In 1967, she joined in, and helped finance, a lawsuit brought by Manny's Den in New Brunswick and Val's in Atlantic City, two bars that served gay patrons, after the Alcoholic Beverage Commission threatened to revoke the licenses of all three bars. In a landmark decision, the New Jersey Supreme Court in 1967 ruled that ABC could not suspend or revoke liquor licenses because gay patrons were allowed to patronize a bar.
Herbert "Tony" Maples, 1934-2004. Formed the group the Ray Dots, the first group to record for the Vibro label. Their recording of "I Need Someone" was the first R&B record ever made for an Asbury Park record label. As the V-Eights, the group had a local hit, "Papa's Yellow Tie." Maples also recorded for Stormin' Norman Seldin's Selsom record label.
G. Howard Scott, Became Asbury Park's municipal organist in 1931, hired to play the Kilgen pipe organ installed in the brand-new Convention Hall on the boardwalk. Scott served as organist until 1958, performing more than 5,000 concerts. Radio station WCAP broadcast his concerts live from Convention Hall.
---
CLASS OF 2017
Faye Gade, General manager and owner of pioneering alternative rock station WHTG-FM, 106.3, named one of the most influential stations in the country by Rolling Stone magazine. She was also one of the few female radio station owners at a time when almost all major radio stations were owned by men.
Wilhelminia "Baby" Mack, A singer who became Asbury Park's first black vaudeville star, she performed in vaudeville from 1914 through the 1920s, with Tolliver's Smart Set and Drake and Walker. She was one of the earliest West Side singers to gain national recognition.
Sam Siciliano,  A singer, songwriter, arranger and producer, Asbury Park native Siciliano began entertaining at age 13. He performed Doo Wop with the Ebb Chords, Ray and the Darchaes, and PS4. He also became vice president of advertising at the Asbury Park Press, where he worked for 42 years.
Tim Hauser,  Lived in Ocean Township and Asbury Park, and formed his first group, the Criterions, after seeing Frankie Lymon and the Teenagers at Convention Hall. In 1969, he founded the Manhattan Transfer, which won 10 Grammy awards. The group was voted into the Vocal Group Hall of Fame in 1998.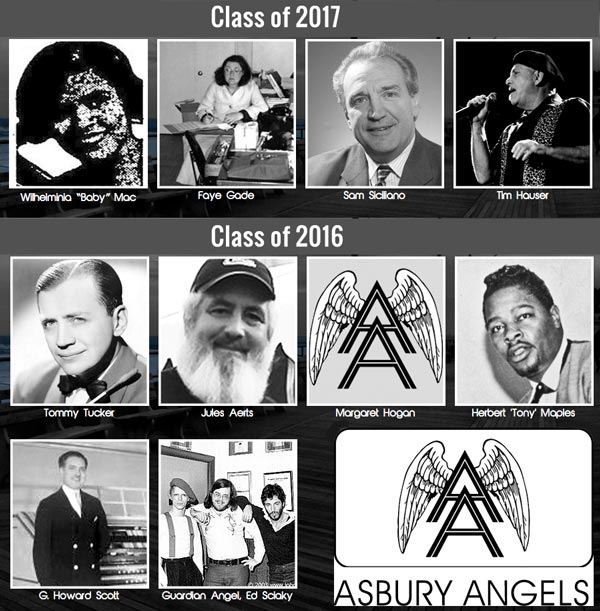 ---
Gary Wien has been covering the arts since 2001 and has had work published with Jersey Arts, Elmore Magazine, Princeton Magazine, Backstreets and other publications. He is a three-time winner of the Asbury Music Award for Top Music Journalist and the author of Beyond the Palace (the first book on the history of rock and roll in Asbury Park) and Are You Listening? The Top 100 Albums of 2001-2010 by New Jersey Artists. In addition, he runs New Jersey Stage and the online radio station The Penguin Rocks. He can be contacted at gary@newjerseystage.com.
---