By Gary Wien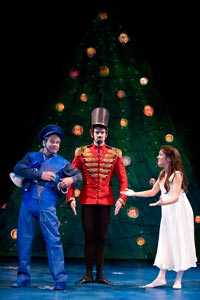 Around this time of the year, I always pity the person in charge of event calendars at arts publications. There's only so many times you can type "The Nutcracker", "A Christmas Carol", or "Handel's Messiah". Trust me, I've been there and speak from experience.

I've often wondered why we see so many new Christmas movies each year, both on television and in the movie theaters, and hear new takes on the classics and original Christmas songs by musicians, but rarely see new plays that revolve around Christmas. Thankfully this year is different. If you're tired of mouthing the words to "A Christmas Carol" from your seats or have seen "The Nutcracker" so many times you've become allergic, a new musical from George Street Playhouse will hit the spot.

"The Nutcracker And I" is currently running at George Street until the end of the year. Written and conceived by Gerard Alessandrini and Peter Brash, the play is a welcome addition to the holiday season.

According to production notes, Alessandrini always believed that the Nutcracker could be adapted as a traditional musical comedy. "He wanted to transform Tchaikovsky's masterpiece, using all that glorious music, into a book show with his own zany, satirical lyrics. For him, writing this show was a childhood dream."

As luck would have it, George Street's own Artistic Director, David Saint, grew up with Alessandrini in Massachuesetts while he began writing his holiday parodies. "I am so pleased to be bringing this hilarious holiday farce to life in New Brunswick. We have assembled an amazingly talented cast, and a slate of extraordinary designers as well, and I am thrilled to be bringing them all to George Street for the enjoyment of our patrons and their families."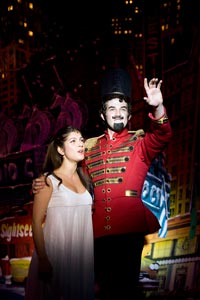 "The Nutcracker And I" is like a magical Christmas fairytale. It follows the path of Celeste Snowden (played by the remarkable Haley Carlucci) as she prepares for the moment she's waited her entire life for -- the lead in "The Nutcracker". Unfortunately, a Christmas tree accident during final rehearsals steers her to the emergency room instead of the stage. What follows is a rather amazing journey into a world in which everyday is Christmas.
Peter Scolari returns to George Street's stage and plays a myriad of characters from Professor Hoffmann, the director of "The Nutcracker", to a Hindu cab driver and a doctor with a heavy New England accent. Annie Golden and Edward Staudenmayer are in and out of various characters as well. The constant shuffling seems to add to the fairytale sense of wonder. Scolari, perhaps best known for his work in "Bosom Buddies" and "Newhart", is wonderful in zany comedies like this. Meanwhile, Golden's smile is still as memorable as it was many years ago in the classic film version of the musical "Hair".
Rounding out the cast is A.J. Shively, Nick Dalton, and Aidan Benavides. Shively is excellent as the Nutcracker, while Dalton offers one of those performances which truly defines a role. After seeing this production, it's difficult to imagine anyone else in the character of Zack Whitefield, an Olympic snowboarder determined to win over Celeste. Making his George Street debut is the young Benavides who as Peter Snowden believes the Nutcracker is some sort of superhero in the same way that Linus believes in the Great Pumpkin. This belief that the Nutcracker is something more than made of wood is the backbone of the story. Benavides also has his own moment in the sun during a stint as a pizza boy. One of several "politically incorrect" moments in the play, each very humorous and very different from traditional Christmas fare. If you don't like laughing at stereotypes, this may not be the play for you. In fact, at one moment Celeste exclaims, "It's fun being politically incorrect. What other group can we insult?"
Since the play revolves around Celeste and her fate, Carlucci has to be on top of her game and she is. In fact she commands the stage so well during this production that it's hard to take your eyes off of her. Her voice is wonderful and she simply looks the part. She's the epitome of a fairytale damsel.
What I enjoyed most about this production was the way the designers incorporated lighting, sound, and stage design to help create a truly amazing experience. You actually feel that Celeste and the Nutcracker are walking down the streets of the magical Snowglobe city -- a scene that ranks among my favorite live theatre moments. While some of the songs don't always hit the mark, there are far more hits than misses which is what you'd hope for in a new musical. The music also benefits from a live three-piece orchestra, something you rarely see anymore.
All in all, "The Nutcracker And I" is highly recommended. It's a wonderful break from the traditional Christmas programs that we all love but can recite from memory. It's time for some new classics to be added to the season and when a play even has Peter Scolari in a "Bosom Buddies"-like flashback moment, what's not to love?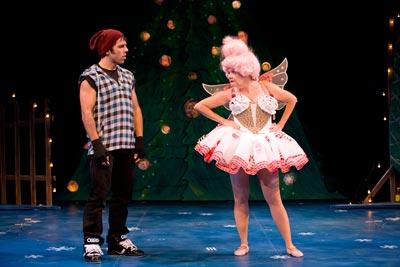 ---
All photos by T. Charles Erickson
---
---
Gary Wien has been covering the arts since 2001 and has had work published with Jersey Arts, Elmore Magazine, Princeton Magazine, Backstreets and other publications. He is a three-time winner of the Asbury Music Award for Top Music Journalist and the author of Beyond the Palace (the first book on the history of rock and roll in Asbury Park) and Are You Listening? The Top 100 Albums of 2001-2010 by New Jersey Artists. In addition, he runs New Jersey Stage and the online radio station The Penguin Rocks. He can be contacted at gary@newjerseystage.com.
---