By Gary Wien
originally published: 04/30/2018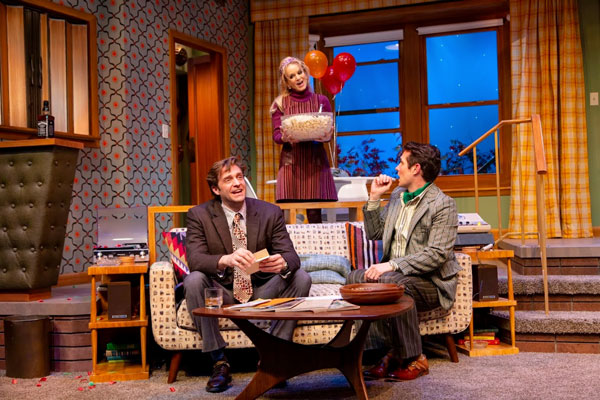 (NEW BRUNSWICK, NJ) — George Street Playhouse is closing out their season with The Nerd by Larry Shue.  The production, which runs now through May 20th, features an amazing cast in an extremely funny comedy. The first act is simply hysterical.  The second is comic genius.  You seriously can't help but laugh out loud at this wonderful comedy directed by Kevin Cahoon.
It's difficult to say too much about the play because it truly is one you need to experience and see the plot twists and turns for yourself, but it's your classic "house guest who would not leave" story.  In this case, Willum (played by Colin Hanlon who returns to George Street for the first time in about a decade) is turning 34 and his friends Axel (Zach Shaffer) and Tansy (Kate Reinders) are throwing him a party.
The play is set in Indiana in the early 1980s.  Willum is an architect currently working on a hotel project he hates; Axel is a theatre critic; and Tansy is a television weather reporter.  After returning home and getting ready for the party, Willum checks his answering machine.  There are messages from friends who say they can't make the party, a message from a guy who has been seeking to hire Willum for a new project, and one from Rick Steadman.  The latter takes Willum by surprise.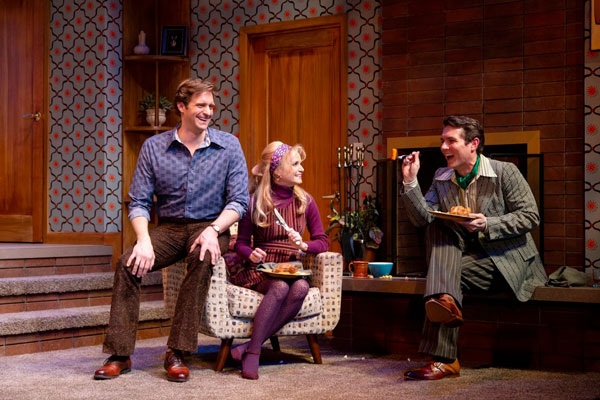 Rick Steadman was the guy who saved Willum's life in Vietnam.  Willum never saw Rick's face, but got his address and exchanged cards with him over the years.  He told Rick that if he ever needed anything - anything at all from money to a place to stay - he should visit him.  Willum believed he owed everything to the man who saved his life.  Suddenly his voice was on the answering machine saying he was stopping by. 
The first guests to the party were Waldgrave (the man Willum is currently building a hotel for, played by Stephen Wallem), his wife Clelia (played by Ann Harada), and their son Thor (played by Hayden Bercy) who appears to be on a regiment of one too many Ritalin pills per day.
---
The article continues after this ad
---
---
Let's just say Rick Steadman turns out to be very different from what any them expected him to be… Played by Jonathan Kite (TV's 2 Broke Girls), Steadman is a true nerd who works as a chalk inspector for a factory in Wisconsin and is "learning" how to play the tambourine.  His appearance throws the party for a loop and heavily upsets Waldgrave and his wife, while likely sending their son into therapy.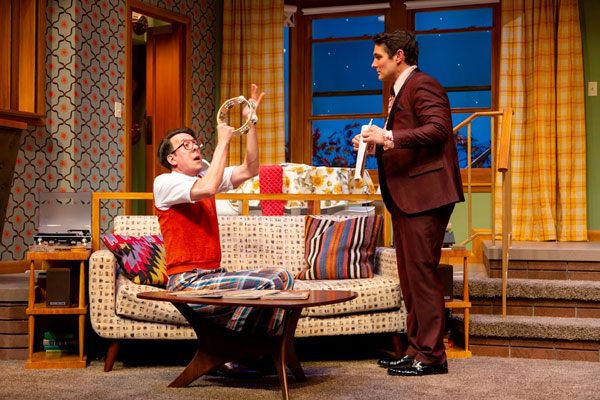 The Nerd is an absolutely brilliant physical comedy.  It's full of sight gags and is a throwback to the zany plays we don't seem to see anymore.  Jonathan Kite is outstanding as the nerdish Rick Steadman - a character so annoying that you can't keep your eyes off of him to see what he might do next.  Colin Hanlon makes a very welcome return to George Street, portraying a character that has to endure a wide range of emotions; and Kate Reinders (Tansy) is wonderful as a midwestern girl who loves Willum but is about to leave for a job in Washington, DC. She reminds me of Kristin Chenoweth as she says all sort of old-timey things like "gumption" and tries to be a good host for the party.
Zach Shaffer as Axel is the king of stark and steals nearly every scene he utters a line. Stephen Wallem (Waldgrave), Ann Harada (Clelia), and Hayden Bercy (Thor) have an absolutely perfect look for this play. Their body language hilariously nails the look of a family caught up in a party unlike anything they've ever experienced.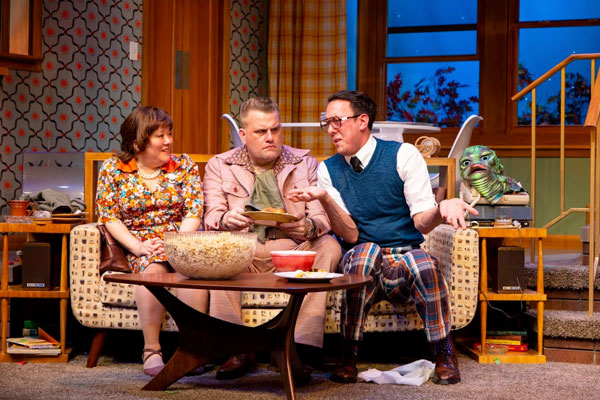 As usual George Street has designed a beautiful set for Willum's apartment. They also wisely utilize lighting to emphasize a few scenes, creating a world beyond the one set living room - giving it just enough variety to make it interesting.
Director Kevin Cahoon provides The Nerd with excellent pace — words flow quickly, but not too quickly. The banter among the characters is easy to follow, even with a myriad of one-liners thrown throughout.  The play runs about two hours (with one intermission) and feels like the right length. Best of all, the surprise twists and turns will take you for a ride throughout the entire show.  George Street could not have come up with a better show to end the season.  Highly recommended! Get tickets while you can.
The Nerd runs now through May 20th at George Street Playhouse, 103 College Farm Road in New Brunswick, NJ.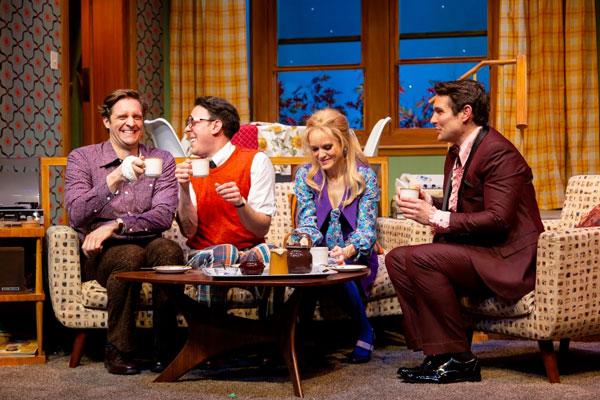 PHOTOS BY T. CHARLES ERICKSON
---
Gary Wien has been covering the arts since 2001 and has had work published with Jersey Arts, Elmore Magazine, Princeton Magazine, Backstreets and other publications. He is a three-time winner of the Asbury Music Award for Top Music Journalist and the author of Beyond the Palace (the first book on the history of rock and roll in Asbury Park) and Are You Listening? The Top 100 Albums of 2001-2010 by New Jersey Artists. In addition, he runs New Jersey Stage and the online radio station The Penguin Rocks. He can be contacted at gary@newjerseystage.com.
---