By Gary Wien
originally published: 07/18/2015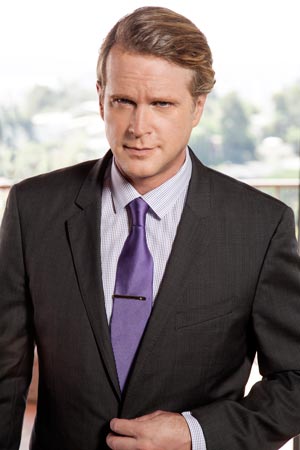 Somewhere in the world, at this very moment, it is extremely likely that The Princess Bride is playing on a television or cable channel. 
 Despite a lackluster performance at the box office when the movie was first released in 1987, The Princess Bride has gone on to become one of the most quoted films of all time with a cult fanbase that now includes several generations of fans.  Cary Elwes, who starred as Westley, the film's hero, has had fans utter famous lines from the film for decades, yet instead of driving him crazy, the fans just make him appreciate that role more and more.  
The Princess Bride is a fairy tale adventure about a beautiful young woman and her one true love.  After a long separation, he must battle the evils of the kingdom of Florin to be reunited with her.  Adapted by William Goldman from his own novel, the film was the first big Hollywood film for Elwes who would go on to have roles in films such as Robin Hood: Men In Tights, Glory, Days of Thunder, Twister, and Saw.  In October 2014, he co-authored the book AS YOU WISH: Inconceivable Tales from the Making of The Princess Bride with Joe Layden.  The book provides Elwes' first-hand account of the making of the film and includes interviews with many of his co-stars, a foreword by Rob Reiner and an epilogue by Normal Lear.
Elwes has been on a rather unique book tour this year, which included a date at NJPAC in Newark on June 28. "The Princess Bride: An Inconceivable Evening with Cary Elwes"  includes a screening of the film followed by a Q&A with Elwes, who also shares stories from the book and additional stories not found in the book.  He will return to the area on August 23 with a performance at the NYCB Theatre at Westbury in Westbury, New York.
"You're lucky as an actor to have anyone resonate with your work," said Elwes. "And I think I can speak on behalf of everyone involved with this film when I say we all feel incredibly blessed that people have taken it to their hearts."
---
The article continues after this ad
---
---
Many people involved, including Elwes, believe that the film was never properly marketed. The film industry (from the studio to individual movie theaters) never knew what was the proper angle for the film.  Was it a kids' film? A film for adults? A comedy? A romance? An adventure film?  The truth was it was all of these things, which meant it defied general marketing concepts.
"Hollywood abhors that which cannot be easily categorized," explained Elwes.  "Because it was all of these things and a lot more, it stumped the marketing department.  So, they ended up selling it as a kids' movie, which is just a fraction of what this film has to offer."
Elwes can still remember the moment he first realized the film was reaching cult status.  It was a decade after the film's release and he was in a restaurant in Manhattan.  He ordered a hamburger and the waitress asked how he wanted it cooked.  He said, "medium rare" and the waitress responded with "as you wish."  Taken aback, Elwes looked up to her puzzledly.  She just winked, said "you know" and walked away.  He figured she must have seen the film.  But then more and more people began saying those three words to him and he soon realized the film had taken on a life of its own.
Although The Princess Bride was unsuccessful in its theatrical run, it has gone on to receive critical acclaim.   The American Film Institute named it one of the Top 100 Greatest Love Stories and the Writers Guild of America listed it as one the Top 100 Screenplays Of All Time.  The passage of time and repeated showings on television have helped it grow in stature.
According to Elwes, one of the reasons the film went on to a life of its own can be attributed to having Rob Reiner as its director.  Reiner was the perfect person to direct the movie.  He had not only read the book as a kid, but always wanted to make it into a film.
"When Rob connected with Bill Goldman, the two of them hit it off so well together that Goldman, who had turned down a ton of directors who wanted to make the film, decided Rob had the right sensibility to make the film," noted Elwes.  "And he did.  He made it with a lot of heart and a lot of humor and that's what it needed."
Even though Goldman believed Reiner was the right person to direct the film, he was still nervous about having his baby come to life. The legendary screenwriter, who won Academy Awards for Butch Cassidy and the Sundance Kid in 1969 and All the President's Men in 1976, wrote the book for his daughter and it was his favorite piece of work; to him, the project was very personal.
"Goldman had spent over a decade trying to get it made," continued Elwes.  "So, he was very nervous on the set.  He ruined one of the first takes actually.  The first take of the film is me putting out the fire in the Fire Swamp on Buttercup's dress.  Goldman didn't know we were shooting that day, so when it happened he thought it was a mistake.  He screamed, 'Robin's on fire!' in the middle of a take.  It was very funny.  Rob yelled 'Cut!' and turned to Bill.  He said, 'Bill, she's supposed to catch on fire.  You wrote it in every draft and the book!'  He was absolutely mortified."
AS YOU WISH is full of great behind-the-scenes tales and memories from the cast.  Elwes was inspired to create the book after he and his fellow cast members took part in a 25th anniversary screening of the film in 2012 at the New York Film Festival.  In the book's introduction, Elwes recalls that night and how amazing it was that the film was both celebrating 25 years and that its audience now spans generations.
That fact alone boggles the mind — how such a quirky and modestly conceived film could achieve such a lofty position in the pantheon of popular culture.  What really strikes me, though, as I look down the row at the faces of my fellow actors, is how quickly the time has passed.  Has it really been twenty-five years? A quarter century? The passing of time is most critically noted by those who are missing, the great Peter Falk and that gentle mountain of a man, Andre the Giant.  But to counter that sadness is the camaraderie of being back with those who are here tonight and who stood alongside me so many years ago: Rob Reiner, Billy Crystal, Carol Kane, Wallace Shawn, Chris Sarandon, and Mandy Patinkin, not to mention Robin Wright, looking as lovely as she did the day I first laid eyes on her so many years ago.

 
Some of the stories in the book are simply astounding like the tales of Andre the Giant's ability to drink alcohol, easily drinking 100 beers in a sitting.  
One day he came to work and I said, "How are you doing today, Andre?" He goes, "Oh, not too good, boss." I say, "What's the matter?" He says, "I had a tough night last night.  I drank three bottles of cognac and twelve bottles of wine." I said," Oh my god, did you get sick?" He just smiles and says, "No, no… I got a little tipsy, though." That was Andre.  — Andy Scheinman, Producer
Despite his drinking, there was never a doubt he would be able to shoot his scenes said Elwes.  "The man was the consummate professional.  Let's face it, he had been performing a lot longer than everybody involved.  This was a man who put on leotards every night and performed before thousands and thousands of fans.  He knew exactly what his constitution could take"
Elwes admitted he rarely saw the full extent of Andre's drinking exploits because that would have meant staying with him and drinking along, which was not a smart thing to do.
Elwes points out how each actor regularly has fans ask them to recite lines from the film. Patinkin swears that barely a day goes by without someone asking him to recite Inigo Montoya's classic opening, "Hello, my name is Inigo Montoya. You killed my father. Prepare to die."

Even cast members decorated with Emmys and Tony Awards such as Patinkin know they will likely have their work on this film featured prominently -- perhaps even more than any of their other work -- in their obituaries.  
"And that's just fine with him, as it is with all of us."
Photo by Miranda Penn Turin
---
Gary Wien has been covering the arts since 2001 and has had work published with Jersey Arts, Elmore Magazine, Princeton Magazine, Backstreets and other publications. He is a three-time winner of the Asbury Music Award for Top Music Journalist and the author of Beyond the Palace (the first book on the history of rock and roll in Asbury Park) and Are You Listening? The Top 100 Albums of 2001-2010 by New Jersey Artists. In addition, he runs New Jersey Stage and the online radio station The Penguin Rocks. He can be contacted at gary@newjerseystage.com.
---