By Gary Wien
originally published: 03/22/2018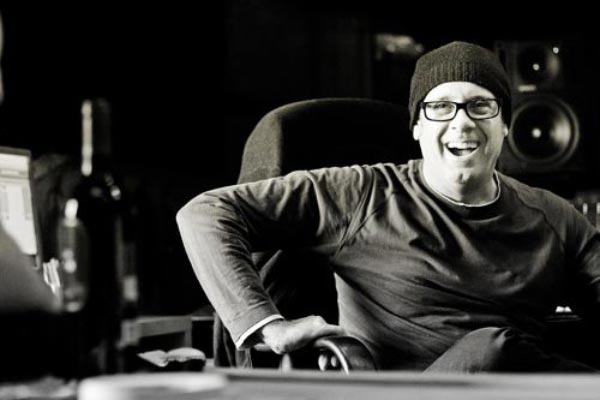 Steve Greenwell doesn't care if your demos are polished. In fact, he doesn't expect them to be. He doesn't care if you've sold millions of records or haven't sold a single one. He's worked with everyone from Grammy Award winners to indie artists just starting out. For him, it's all about the artist. If he believes you have what it takes, he will work with you and bring out the best in you. He's done it time and time again.
Greenwell is a producer, engineer, mixer and musician who has worked on albums garnering three Grammy nominations. He's at the level where musicians will come to wherever he is located. After years of working in New York City, he moved his studio to Asbury Park, near the town where he bought a home 25 years ago. Chances are you've heard a record with his work (either engineering, mixing, performing, or producing) on it. His resume runs from some of the biggest names in hip hop history (Run-DMC, LL Cool J) to rock and roll legends (Ernie Isley, Jeff Beck) to working alongside producers like Raphael Sadiq and Nile Rodgers. As a producer himself, he's guided releases by artists like Joss Stone and James Maddock, as well as the recently released Thistle & Boon record by Jersey artist Karen Mansfield.
New Jersey Stage caught up with the Maryland native to get his whole story - how he started out, what led him to the studio, and what he looks for in recording artists.
You started out as a musician yourself right? Yes, I grew up just outside of DC. I played in my band all through the 1980s. We used to play Atlanta to Scranton. We never got to the Jersey Shore or New York City though.
What was the name of that band? It was called AR-15. One of the band members has passed, but the other three of us have been having great fun joking about the band name now. It's like maybe we should have been more specific in our prayers when we said, "One day, the name of this band will be on the lips of everyone!"
---
The article continues after this ad
---
---
I can see the posters: AR-15 is coming to your town. "Come see, AR-15 face to face!" It was a random name. Back then it was so difficult for us to name a band, it caused so much stress. Nowadays there doesn't seem to be so many rules to naming your band. Perhaps you could pick any sentence out of a book you happen to be reading and that could end up being your band name.
Was it a rock band? When I first started I was playing Alice Cooper, Aerosmith, Black Sabbath and that type of stuff. But, by the time this band got together, we were basically a new wave / post punk band. I played bass and a little synthesizer. We were pretty high tech for a club band at the time.
Is it true when you first started doing studio work you got your start with hip hop? I did. When the band broke up, I moved up here with my wife. She went to work for her dad and I went to recording school in the city. When I got out of school, I got three jobs right away but the place I really settled at was Chung King Studios. Chung King was basically one of the three or four Meccas for hip hop in the hey day of hip hop if you count 1991-94 as such a time.
I started out in the studios assisting and became a staff engineer pretty quickly. Then I went freelance pretty quickly as well - maybe too quickly.
Did you have any trouble working with different genres of music? Well, I was always a rock guy but hip hop was something I was missing. As a rock guy in the 1980s, most people kind of didn't like hip hop. We weren't comfortable with it, unless you were immersed in that scene. To be immersed in a hip hop studio was a beautiful thing for me. The Bomb Squad was Hank and Keith Shocklee and those guys. They were producing something right after they did Fear of a Black Planet by Public Enemy. It was one of my first five sessions. They told me to just go in there, sit on the corner stool, and keep my mouth shut.
So I went in there and they started flipping tracks, doing the production and it wasn't an hour before I realized not only is this art - the way they were doing it - but, as far as I could tell, it was rock and roll too. I mean, they were getting James Brown guitar riffs and putting them on the tracks; they were making hard hits to go with the kick drums - all kinds of nuances that weren't so subtle which said to me, "this is art, this is very creative, it's rock and roll, and I have no reason not to love it." And I embraced it. I had been programming synths and drum boxes since my twenties, but this opened up a new horizon for me in programming. I was programming beats, bass lines, synths - all sorts of stuff.
Hip hop was something on my palette that was missing and it rounded me out; however, it didn't make me a very good engineer because in order to make a rap record there was very little real engineering involved. So around 1994, I broke out of the studios and hooked up with some producers. I did more writing and got a publishing deal. But around '96, it became important to me to become a better engineer, so I bought a bunch of gear, went into my basement, and started honing my engineering chops on any band in the area that would let me. So around then, I got into the next phase of my career with Highway 9, and Borialis.
Just as Highway 9 got signed to Epic, Gordon Brown had all these new songs that weren't recorded in any way. So, Brian Nelson, the band's manager, called me up and Highway 9 came down to my basement and we recorded demos with the band of the new songs Gordon had. About the same time, Rick Dahrouge (who was the creative force in Borialis) learned of me from his friend Lorenzo Conte. Rick and I were a match because I was a rock guy who had some hip hop background.
So Borialis got an indie deal. I went to Shorefire Studios in Long Branch and produced an indie record for Borialis. But then that label folded. I introduced Rick to Brian Nelson and through Brian's channels he was able to set up a showcase for the band where Andy Slater came to see them. I think he heard 3-4 songs and said something like, "This is great! We don't have anything like this on Capitol. Call me Monday."
Borialis was signed to Capitol and I was wondering where things would go for me. I thought maybe I'd get a point on the album or maybe I could engineer or produce the record - all of these grandiose ideas that were so naive; however, in Los Angeles, Rick stood up for me and the staff producer at Capitol agreed to let me come out to Los Angeles and audition for the Pro Tools editing gig and if it didn't work out we could send me back to Jersey.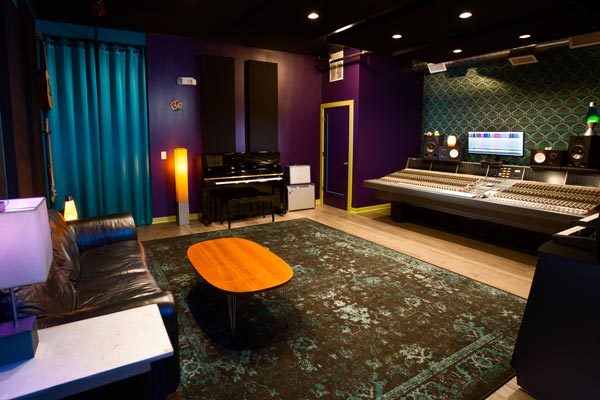 I got out to Capitol and they handed me the hard drive with the first drum takes on it. I took it up to my editing suite and started editing. Later, the producer comes in and says to me, "Let's see what you've got." He hits the space bar on my Pro Tools rig and it sounded and felt the way I make stuff feel. He listened to it for two or three seconds, hit the space bar, and goes, "You're not going anywhere." I got the gig.
As the months passed, I ended up doing some engineering on the record. I flew back to Jersey to cut extra vocals in my basement a couple times, then flew back to Los Angeles to plus the new vocals into the tracks. Over time during my stay, I sat up in that A&R studio at Capitol with the producer and Andy Slater working on other Capitol releases. These opportunities are all about what you make out of them. I ended up having an apartment in the Oakwoods there and stayed the better part of eight months at Capitol before coming home.
When I got home, I had to start over again. I called a few producers I knew from before to see if they had anything for me. Sure enough, a guy I knew from back in the day had been working closely with S-Curve Records who had just signed Sarah Hudson. He asked me if I could record drums in my basement. I said yeah I can and we started recording Sarah Hudson's record. I hired some local friends around here to play on it - Jon Leidersdorff played drums, I played the bass, Jimmy Farkas from Borialis played guitar on it as well. We did a bunch of the record in my basement and a bunch up in the city. I was making a major label record out of my basement and a great thing that came out of it was one day the producer was leaving and said to me, "Steve Greenberg just signed this young girl. She's 14 years old and supposed to be very good. We have the chance to do a couple of songs on her record if you're interested." I said, "Man, I'm game. I'm down to do anything."
The girl was Joss Stone.
You've gone on to work with both big stars and indie artists. On your website, it says something like, "Don't be afraid to hit me up." How do you choose your projects? If anybody comes to me (and even if they're not quite ready for me) and they are writing from an honest place, they're talented, show me the desire burns within them, if they're writing a lot, working hard, and with a little help I can help them start to see within and start to find their own personal creative truth within - that, right there, just that innocent first level is enough for me to say I'll give you whatever I can. I'm looking for the person who has the deepest connection to their own inner creative force. That's what speaks to me most at this point in my life.
How do you help them find that? There are certain writers who write mostly up in their heads. They use their intellect to fashion their material in their heads. Then there are the types of artists whose songs are born from the heart. They're experiential in those ways. Those are the types of artists I'm talking about. They already feel deeply, they write and keep journals, they're very creative, and it's already down there percolating. They'll come home from work or school one day, go to their room, pull out their journal, and they'll quickly scribble two pages. Now, the only thing they need to do is cultivate dealing with their spirit and their soul as it's speaking to them. They just need to cultivate it into their mind to help them write their feelings in verse.
Deirdre Forrest is a great example. Here's a girl who's been through a lot. She has lots of ups and lots of downs. When she writes a song, it is her heart beating; it is her heart bleeding; it is her heart crying on a page. She's getting better now at writing about all these feelings, emotions, and memories. Now, they're not just coming out as journal entries, they're coming out in verse, in beautiful poetry, rhyme schemes, and beautifully crafted phrasing.
It's just about getting in touch with your inner self and cultivating the path between your heart and your head - not trying to contrive songs entirely within one's intellect. I love when it's more experiential rather than mostly intellectual.
How does an indie artist get in touch with you? Do they send you a demo? Audition? How does it work? They just have to come sit with me. Just come to my studio and present themselves to me. I know the material is probably going to come to me in rough iPhone recordings. If someone comes to me with songs that are demoed, I usually have to listen through the demos. Some great record guys can just listen to a demo and hear the song inside. That wasn't ever my best strength, For me, I need to listen through the production to the song and then imagine - aside from the demo - how I would visualize working with the song; where I think the song wants to go. Also, when I get a demo from somebody that's already done, it's usually not going to be where I would like the song to be in order for it to evolve from writing to the finished product.
When I get an artist to come in who is bringing their songs to me, the first thing I'd like them to do is to begin to cultivate their focus inward. Then I try to inspire them to dream outward or dig deep creatively. I point out things about their songs. I give perspectives about this and that. As a fan, a listener, and a producer, I have a different perspective to offer.
I always want to inspire them to think things through. That means rewriting, tweaking the songs, and giving them more love. I use the word love an awful lot in the record making process. Always looking for more love. Go down your lyric sheet; any lyrics you don't absolutely love, the song is telling you it can be better. So do that.
I can sit with an artist who is writing their record and help them to work on a song for many hours more and sometimes that can turn the process from a 6 week thing to 2-3 months - just so they can improve their writing to where they've brought the song to the absolute best they can help it become. Where the song receives the most thought, care, love, and understanding they have to offer.
Of all of the projects you've done over the years, what are you most proud of? Well, my career with Joss Stone is the centerpiece of everything I've got. With Joss Stone, we have 15 million records on the street and hundreds of millions of streams. I have produced, mixed, or engineered 15 million records just with Joss Stone. Soul Sessions, Vol. 2 is one of my favorite records I've ever done. I'm very proud of that record. From engineering, mixing, my ability to produce her vocal to the best vocals she's ever recorded as thought of by her label, her management, and me. It's one of three of hers I worked on which came into the Billboard Top Ten.
I loved working with Steve Cropper. I've worked with him on a few occasions. He's the guitarist from Booker T & The MG's who wrote songs like "Knock on Wood" and "(Sittin' On) The Dock of the Bay." To be in a room with a person like that - a source of not only knowledge and history, but light and love - that spreads to you. My work with Steve Cropper is dear to me and I wouldn't trade it for anything.
Fifteen years working with Joss Stone is a long run. Yeah, it's because of trust. When she was a kid, I used to make her laugh a lot so she wouldn't get nervous or start thinking too much in the studio. It was always nice for me to be around her. She enjoyed having me around because of that. As time went by, I started doing more things that worked well for her in the studio.
It was obvious I wasn't going to be an engineer for long because I'm just not that guy. I'm the type of guy who can be vocal in the control room. I've been known to say what I think needs to be said in the recording environment. That's not an engineer's place, that's more of a producer's role. I did that a lot as an engineer. The producer I was working for at the time didn't mind and the label president didn't mind… because I was usually right or close to right. Those things indicated to everybody in the room and even Joss herself that I was capable of taking a project from a vision all the way to completion.
Why did you decide to set up a studio in Asbury Park? When Jon Leidersdorff bought the first building five or six years ago, he would call me once a month to move my studio down to Asbury. I would always say, "Jon, Are you crazy? I can't leave New York City." Then he bought the second building and he said, "I'll carve you a space in there and you can use my other two studios next door whenever I needed." I still didn't think I could leave the city, but then one time I did an indie record where the hotel bill for the artist was $5,000 in New York City. I mean, how can an indie artist spend that much on a hotel during the making of a record? It's not right. It's just not feasible anymore for indie artists to be working in Manhattan and spending crazy money on other things.
So one morning I woke up feeling that I could go down to Asbury Park and my career probably wouldn't suffer. Artists would still fly into Newark or JFK. So I made the call, I built the room, and I still get clients from everywhere from Germany to Los Angeles. And, in hindsight, I've played bass and keys in the studio on more major label releases as I would have had my band got signed in the 1980s!
---
Gary Wien has been covering the arts since 2001 and has had work published with Jersey Arts, Elmore Magazine, Princeton Magazine, Backstreets and other publications. He is a three-time winner of the Asbury Music Award for Top Music Journalist and the author of Beyond the Palace (the first book on the history of rock and roll in Asbury Park) and Are You Listening? The Top 100 Albums of 2001-2010 by New Jersey Artists. In addition, he runs New Jersey Stage and the online radio station The Penguin Rocks. He can be contacted at gary@newjerseystage.com.
---