originally published: 09/08/2017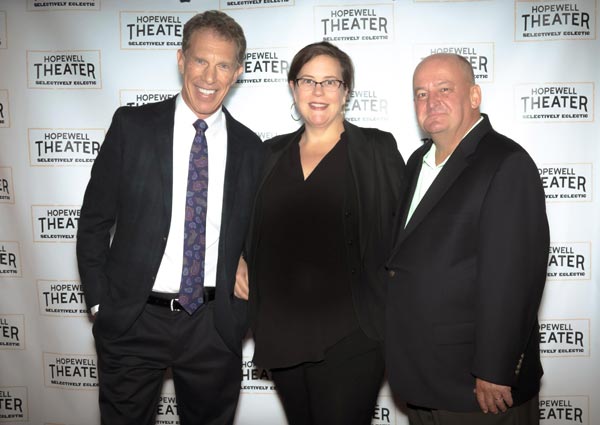 (HOPEWELL, NJ) -- The landmark Hopewell Theater has re-opened after undergoing an extensive eight-month fit-out renovation, which includes a new lobby, box office, concession stand, as well as a state-of-the-art cinema system with surround sound, prep kitchen, and expanded theater seating area and balcony. Now fully refitted as a deluxe showcase for music, cinema and the performing arts, the Hopewell Theater will serve as an intimate arts venue and gathering place for the greater Hopewell Valley area.
The theater lobby now features a full concession stand where patrons can purchase gourmet small plates and deserts along with traditional theater snacks such as popcorn and candy.  The Theater has hand-picked its menu from a variety of local, favorite restaurants that will present special dishes at the concession stand, including Brick Farm Market, The Bent Spoon and The Peasant Grill. Patrons can enjoy a meal or snack during the show in comfortable cabaret-style banquette seats, leather chairs with tables, or traditional plush fixed theater seats. The theater's sophisticated interior design is a mix of urban-style meets classic country with a sense of casual elegance.
The theater's expanded vision includes a carefully-curated programming schedule that will showcase independent films, some followed by Director Q&A or paired with a reading or concert, and live music on a weekly basis performed by local and regional singer-songwriters.  There will also be TED-style talks and a variety of discussions from books to visual arts to self-improvement and wellness.  Audiences will have access to talent through the intimate productions offered.  Artists will have access to the theater which will be rented out during the day to encourage adult artists, musicians, filmmakers and artist networks who need a home to either practice, show work, or come together to create.
The theater's fall program schedule features a unique blend of musical genres, movies and multimedia experiences including the 2017 Sundance Film Festival Short Film Tour, the Alloy Orchestra playing musical accompaniment to the classic film "The Lost World", performances by literary songsmith Dan Bern, Cajun/Creole musicians The Bunkhouse Boys, and more.
Coming to the Hopewell Theater:
---
The article continues after this ad
---
---
Music
Sept. 14 - Christine Tobin
Sept. 21 - Kaki King
Sept. 28 – Antje Duvekot
Oct. 5 – The Bailsmen
Oct. 12 – Driftwood
Oct. 20 – Bennett Wales and The Relief
Oct. 26 - Amythyst Kiah
Nov. 2 – Isle of Klezbos
Nov. 10 – Bunkhouse Boys
Nov. 16 – Dan Bern
---
Film
Sept. 8-13 - Whose Streets
Sept. 12 - May it Last: A Portrait of the Avett Brothers
Sept. 15 - NY Film Critics Series: Year by the Sea
Sept. 15 +16 - The Lure
Sept. 16 + 17 - Napping Princess
Sept. 24 - Arthouse Theater Day: Revolting Rhymes
Sept. 24 - Arthouse Theater Day: Martha & Niki
Sept. 24 - Arthouse Theater Day: The Road Movie
Oct. 7  - Sex & Broadcasting: a film about WFMU + discussion
Nov. 4 - Discovery and Adoption: the Hanji Box
---
Live Multimedia
Sept 22 - Alloy Orchestra Plays The Lost World
Oct. 21 - Experience Pine Barrens: Film + Discussion
---
Hopewell's historic theater is being re-launched by the production team of Sara Scully, and business partner Mitchel Skolnick. Scully oversaw the fit-out renovation and will serve as Executive Director. "Our aim is that this theater will serve a wide range of artists and community members and be a resource and intimate, inviting sanctuary to enjoy the arts," says Scully.
About the Hopewell Theater
 The Hopewell Theater offers a range of unique cultural experiences, from independent film and live music to guest speakers, artists and performances. Patrons can dine-in on small plates from local restaurants or just come for the show. A landing spot, a launch pad, and an incubator, the Hopewell Theater is also a place where artists can play, practice, perform or show their passion project on the big screen. The theater is available to rent, at both hourly and day-rates.
Tickets can be purchased online at www.HopewellTheater.com or at the box office at 5 S Greenwood Ave, Hopewell, NJ.  Box office can be reached by phone at 609-466-1964.
PHOTO: A sellout crowd of dignitaries and community members attended the Hopewell Theater's grand re-opening and were treated to the sounds of Bovine Social Club. Pictured are (left to right): Mitchel Skolnick, Partner of the Hopewell Theater, Sara Scully, Executive Director of the Hopewell Theater, and Hopewell Borough Mayor Paul Anzano.  Photo credit: Daniel T. Gramkee Photography