By Gary Wien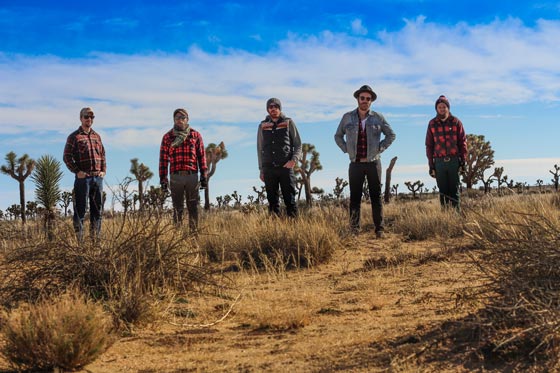 Most of the country may know Scott Terry as the lead singer in the Columbus, Ohio band, Red Wanting Blue, but the friends and family members that will pack upcoming shows in the tri-state area still think of him as a Jersey Boy. Born and raised in Moorestown, Scott's band released their latest album, "Little America", on July 1.

A lot has changed since Scott left the state, but one thing that hasn't is his hopeful romantic writing style, although now with a twist...

"I've been in a relationship for a long time," said Terry in a phone interview conducted while the band was traveling to Denver for a show. "I think what a lot of people hear when they listen to songs about love or relationships is songs of young love or new love. It was interesting to me to touch down on the idea of a longer relationship. Songs like 'Hotel Oblivion' are tough ones for me because there are lines that I slide in and I wonder if people really pay attention to. Like, 'you and me / me and you / oh, I guess we're all we've got / I know that we're not / what you envisioned.'

"There's an image of people being together as they picture their lives. You look back years later and realize that we are nowhere near that image you had in your head of what we thought we would be like. And you only hope when you have these thoughts running through your mind that you're not alone. I've got to give some of that up, hoping that people also feel the same way."

Scott is a very biographical songwriter and has been since the beginning of the band back in 1996. Several albums later, he knows that the stuff he personally doesn't want to talk about is exactly what the audience wants to hear the most. With "Little America", he includes some of his most personal songs, such as "Leaving New York" which deals with the struggles of being in a long-term relationship with someone hundreds (and sometimes thousdands) of miles apart and never wanting to leave her.
---
"'Cause never before...was my heart as sore
as it was when I was leaving New York"
"Leaving New York"
---
"I remember writing that song in two parts," he recalled. "I wrote the chorus when we were driving through the night from Boston to Asbury Park. It was one of those times I knew I wasn't going to see her and I knew I wasn't going to be able to swing back through the city. We have to drive through the night because the traffic is so terrible for a bus and a trailer. As soon as you drive through the day you never know what catastrophe might happen.
"The other part was when we were touring out west and we were in Portland. We played the Crystal Ballroom and I just remember it being rainy and shitty."
Scott recalls an interview recently in which he was questioned about why a band from the mid-west would have lyrics like "tired of hearing about New York and L.A." and then put out a song called "Leaving New York."
"New York isn't just a place... for me, it's also a person" he said.
One of the most difficult aspects of being an autographical writer is knowing what should be put down on paper and what should remain a secret.
"I'm an emotional writer," he says. "It's what gets me off. I enjoy writing stuff that asks questions or could be thought provoking. To some degree, I've always felt you have to open up the medicine cabinet and see what you've got."
---
"You are an uncontrollable, inconsolable woman
and I'm a bullheaded, egomaniacal man"
"Keep Love Alive"
---
He worried about going over the line with the lyric shown above from "Keep Love Alive" but his girlfriend loved it.

Scott says choosing what to write about can be difficult. He knows you can't always write about love and can't always write about heartbreak. For him and the band, the answer is clear -- write about their other passion, traveling.
Red Wanting Blue has done their share of traveling over the years, working as a DIY band for over a decade before signing a record deal with Fanatic Records a few years ago. In fact, the latest release got its name from one of the band's memorable days on the road.
Red Wanting Blue was driving from Salt Lake City to Denver during a brutal snowstorm a year ago when the band's converted mobile home nearly hit a jackknifed tractor-trailer.
"The truck came to a halt just before getting to us," said Terry. "There was debris everywhere and we sat in awe for a moment before we maneuvered around the wreckage and slowly made our way down the mountain. We pulled off at the first truck stop we saw – it happened to be named 'Little America.'"
The title is also bit of a metaphor for the way Scott and the band have bonded with each other and their fans across the country. He's seen more of the country than he ever dreamed he would.
"As a child, America was the most enormous thing I knew, and as I got older, it became an epic and unconquerable wilderness that I thought I would spend my whole life discovering," he explained. "My relationship with America has gotten so much more intimate than I ever could have dreamed. It's 'Little America,' like the nickname you can only give to someone after you've really gotten to know them."

---
Gary Wien has been covering the arts since 2001 and has had work published with Jersey Arts, Elmore Magazine, Princeton Magazine, Backstreets and other publications. He is a three-time winner of the Asbury Music Award for Top Music Journalist and the author of Beyond the Palace (the first book on the history of rock and roll in Asbury Park) and Are You Listening? The Top 100 Albums of 2001-2010 by New Jersey Artists. In addition, he runs New Jersey Stage and the online radio station The Penguin Rocks. He can be contacted at gary@newjerseystage.com.
---