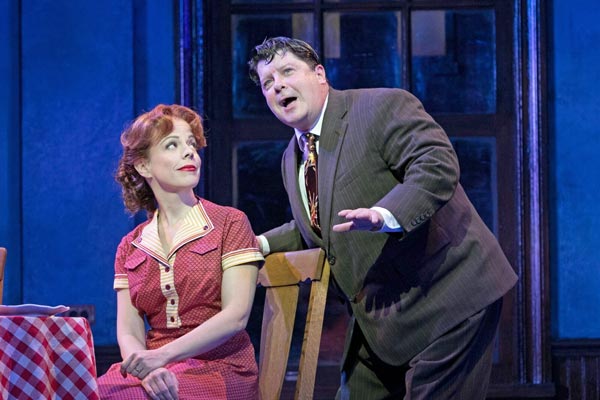 (MILLBURN, NJ) — Whether you are a die-hard fan of The Honeymooners or have never seen the classic television show, Paper Mill Playhouse's latest World Premiere is a treat.  The history of television shows moving on to the stage has been a dicey one at best, but The Honeymooners has figured out the right formula. The play is hilarious, touching, and includes great music and dancing… Of course, having an absolutely tour de force performance by Michael McGrath as Ralph Kramden doesn't hurt either.
The Honeymooners brings the spirit and the general theme of the television show to the stage.  Set in 1950, Ralph Kramden (McGrath) is a bus driver from Brooklyn who is married to Alice (Leslie Kritzer).  Their best friends are Ed Norton (Michael Mastro) who works in the sewer and his wife Trixie (Laura Bell Bundy).  All four live in the same apartment building, although the Kramden's residence is as bare as can be.  
The play begins with Ralph expecting to finally receive a promotion.  He's so sure that this is his time that he brings a box of cigars in for all of his fellow bus drivers.  As in the television show, he gets passed over yet again.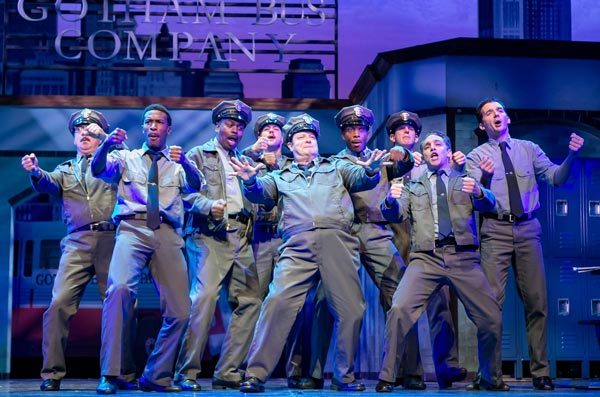 By the time he tells Norton the news, he already has Plan B ready to go. "Let's face it, nobody bounces back from disappointment like Ralph Kramden," he says.
"Well, nobody's had as much practice!" replies Norton.
---
The article continues after this ad
---
---
Plan B involves the two of them entering a jingle writing contest for Faciamatta cheese - a product they know very well. The problem is they'll need to rent a piano for a week, which costs $40 neither can afford to spend. Here's where one of the many odes to the television show comes into play as Ralph explains to his friend how he is the king of the castle.  This is part of the winning formula the writers have come up with.  The premise of the play is sort of like an extended episode that includes short bits from many of the show's original 39 episodes.  It takes these short bits, blends them with the new storyline, and expands the depth of the characters that have been part of our lives for decades.   It reminds me of one of those end of a year episodes that recall the past with flashbacks and dream sequences, while offering an extended story of its own.
When Alice sees the piano, she knows her husband is involved in another pie in the sky attempt at striking it rich.  She sings away her disappointment with the beautiful song "Eighty-eight Keys."
Without giving away too many bits from the play, let's just say that Norton still needs to "warm up" before playing the piano.  While spending hours working on the melody and the lyrics,  Norton offers up one of his futuristic ideas that show how success is always just around the corner from these two. "Look at that, I missed Milton Berle," said Norton.  "I was thinking, wouldn't it be great if there was a machine that could record your shows so you could watch them tomorrow?"
"Will you stop with that," replies Ralph.  "We're trying to come up with something that will make us money!"
One of the nice touches is the addition of a few scenes with the voice of Mrs. Manicotti who complains about the noise.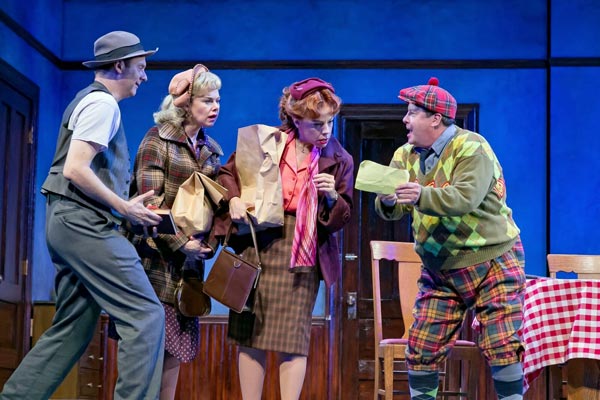 Somehow the two of them manage to come up with something wonderful and win the contest. Ralph is notified by telegram to call Bryce Bennett from Upshaw and Young ad agency (the company that ran the contest).  Bennett (played by Lewis Cleale) is desperate to save his job with a winning campaign. Due to a misunderstanding on the phone, Bennett is led to believe that Kramden and Norton already work on Madison Avenue and tries to lure them to his agency.
Despite no experience whatsoever and two jobs they've held for a long-time, the two accept the job offer.  Fans of The Honeymooners are used to seeing Ralph and Ed fall for get rich quick schemes, but the play lets us actually see the two have a taste of success.  The question is can they keep it going? Will success go to their heads? And will it test their friendship?
"Hey Ralph, wouldn't it be great if there was a phone you could take with you wherever you go?" asks Norton in yet another idea about 40 years too early. 
"That is the worst idea I've ever heard," responds Kramden.  "Do you have any idea how long that chord would have to be?"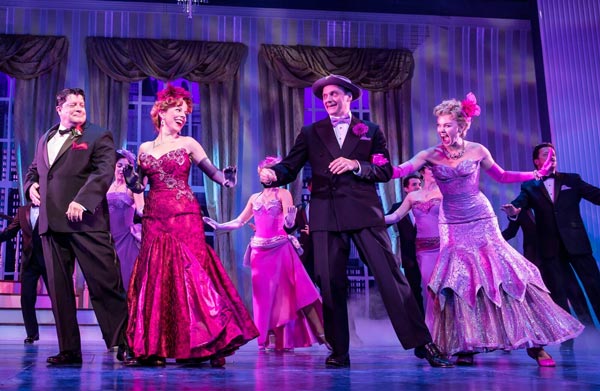 The cast is simply outstanding.  Michael McGrath captures the soul and essence of Ralph Kramden.  He literally brings Ralph to life on stage in his brilliant portrayal.  Leslie Kritzer is perfect as Alice - a role in which the comic timing between her and Ralph is paramount.  Michael Mastro has all of the mannerisms and quirks of Ed Norton down pat and his face and body bare a natural resemblance to Art Carney who played Norton on television.  The most interesting portrayal of the four is Laura Bell Bundy who plays Trixie.  Instead of the Trixie that we all know and love, the writers chose to dig deeper into Honeymooners' lore and bring back the original idea for Trixie.  In one of the "lost episodes" it was mentioned that Trixie was a burlesque dancer before marrying Ed.  In the play, she not only has that past but auditions to be a singer at a club - one run by a guy Trixie used to date who has never fully gotten over her.
Other notable performances include Lewis J. Stadlen as Old Man Facimatta and David Wohl as Allen Upshaw.  Old Man Facimatta is a hoot as the cheese maker about to sign off on his first national tv commercial - one of the best supporting roles I've seen in a long time; and Upshaw is the perfect ad agency president - always interviewing people in case he needs to fire someone that day.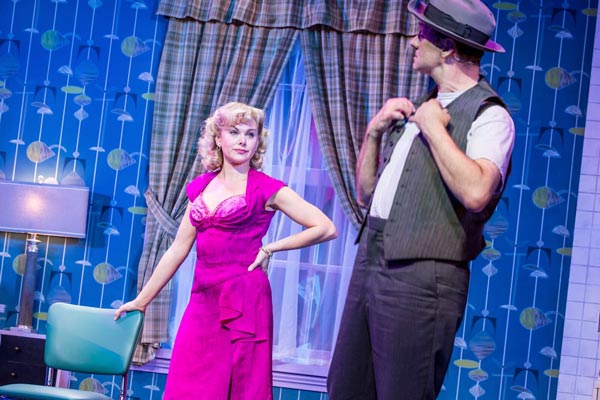 Musically, the play features hilarious comedy numbers and some very touching numbers. Every cast member has great songs of their own and they even turn classic lines like "king of the castle", "to the moon" and "baby, you're the greatest" into wonderful tunes. But the song that brings down the house is an unforgettable solo number by Leslie Kritzer towards the end.
The Honeymooners features an all-star production cast including a book by Dusty Kay and Bill Nuss; music by Stephen Weiner; and lyrics by Peter Mills.  The production is directed by John Rando. 
The production runs at Paper Mill Playhouse in Millburn now through October 29.  Somehow, I get the feeling the play will be back in the tri-state area before long.  Highly recommended, this play is simply a riot, a regular riot!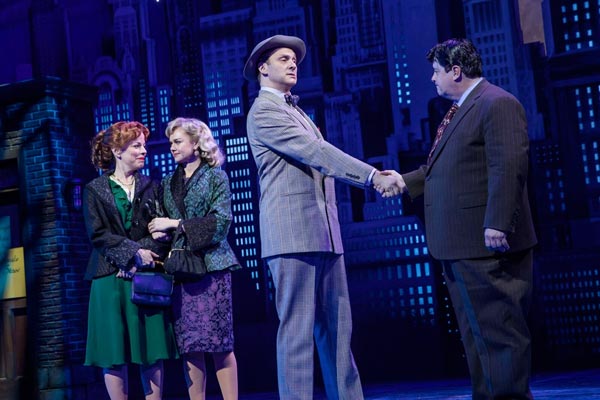 PHOTOS: The first two photos are by Jerry Dalia; the next four are by Evan Zimmerman