By Gary Wien
originally published: 09/25/2017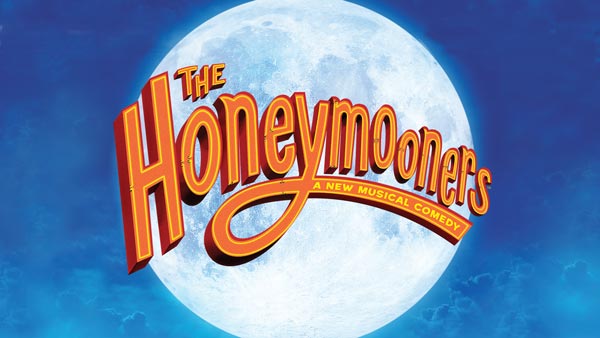 Chances are if you're from the tri-state area you've grown up with The Honeymooners on television.  You may have watched the show during its original run or as sketches on The Jackie Gleason Show or Cavalcade of Stars where it began; or you could be one of the millions to grow up with the show as a staple on late night television reruns.  Whatever the case, the Kramdens and the Nortons are likely to be etched in your memory, but the two couples are about to come alive like never before.
Paper Mill Playhouse is set to present the World Premiere of The Honeymooners from September 28 through October 29.  Based on the legendary sitcom, the play involves the working class duo of Ralph Kramden and Ed Norton once again shooting for the moon and hoping to strike it rich.  They shock their wives (Alice and Trixie) by winning a high profile jingle contest and find themselves out of Brooklyn and into the world of Madison Avenue advertising.  Unfortunately, their quest for the American Dream just might cost them their friendship.
If you're not familiar with the television show, Ralph Kramden (played by Jackie Gleason) is an overweight bus driver.  His best friend Ed Norton (Art Carney) works in the sewer.  Their wives Alice Kramden (Audrey Meadows) and Trixie Norton (Joyce Randolph) are best friends as well.  They all live in the same apartment building, although the Kramden's apartment is about as modest as can be.  Ralph is always falling into get rich schemes, and he usually drags Norton into trouble as well.  They are the ultimate working class stiffs; yet, even without much money, they both have great marriages. Even though Ralph and Alice fight, they always make up.
The Honeymooners has been a highly anticipated show for years. In 2013, the show was originally scheduled to make its debut at The Old Globe in San Diego.  Two years later, it was scheduled to launch at Goodspeed Musicals in East Haddam, Connecticut.  Both times the play was pulled - not because of lack of interest, but because interest was so high and the show was deemed ready for Broadway.  While no announcement has been officially made as of yet, the odds are good that The Honeymooners may be the next play to jump from Paper Mill to The Great White Way.
The principal cast for the Paper Mill production features Tony Award winner Michael McGrath as Ralph Kramden, Michael Mastro as Ed Norton, Leslie Kritzer as Alice Kramden, and Tony Award nominee Laura Bell Bundy as Trixie Norton, with Lewis Cleale as Bryce Bennett, Lewis J. Stadlen as Old Man Faciamatta, and David Wohl as Allen Upshaw.
---
The article continues after this ad
---
---
The production features a book by Dusty Kay and Bill Nuss, music by Stephen Weiner, and lyrics by Peter Mills. This world-premiere musical is directed by Tony Award-winner John Rando with choreography by Emmy Award-winner Joshua Bergasse with musical direction and vocal arrangements by Remy Kurs. 
Michael Mastro, who bears quite a natural resemblance to Art Carney, is coming off a two year stint as Resident Artistic Director at George Street Playhouse in New Brunswick.  The actor says the cast is being careful about trying to emulate the television show characters too closely.
"We're honoring them, but we're not mimicking them," explained Mastro.  "None of us are mimics, nor do we want to be exactly mimicking them.  We're sort of bringing elements of those actors to our performances, but we're also bringing ourselves. You don't want to be external about the work.  I have a lot of facial similarities to Art Carney already, so I don't want to do overkill.  I loved his work and I am honoring him, and I'm trying to find that delicate balance."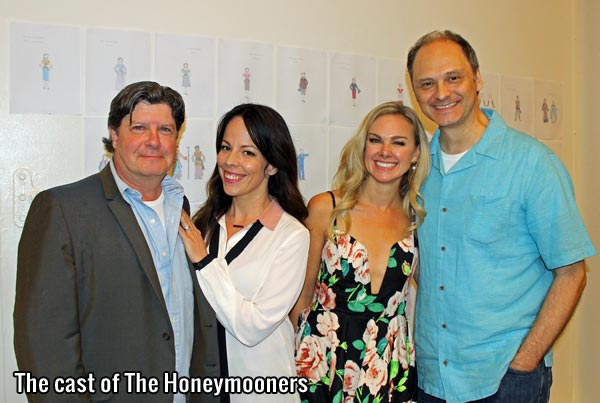 Mastro says the show includes some of the iconic elements of the hit sitcom, but also works in intriguing twists such as basing Trixie's character on her being an ex showgirl - something that he hints figures into the overall plot.
Much of the success of the show, and one reason it has lived on for six decades after its initial 39 episode run, is due to the chemistry between the two couples.  According to Mastro, that chemistry will be seen on stage as well.
"It's a little like a love fest," admits Mastro.  "Not only between the four of us, but the musical as written has such a beautiful, lovely heart to it.  I feel like we're all responding to that all of the time - both with the scenes and the songs.  The writers have been very careful to honor the original show, while still bringing something fresh to it. It's very funny with a lot of heart. We're having a ball in rehearsals.  It wasn't hard to create chemistry.  I'm having a blast and that's usually a good sign for a show.  We're having such a good time and we're hoping the audience will as well."
In recent years, Paper Mill Playhouse has seen several musicals including Newsies, Bandstand, and A Bronx Tale move on to Broadway - a major factor in helping Paper Mill win the Regional Theater Tony Award in 2016.  Even though hopes are high for The Honeymooners, it's been far more difficult for television shows to succeed on Broadway than with feature films.  It might be because of the difficulty in staging a play that doesn't seem like just another television episode of the show or that people are too familiar to the television actors portraying the characters.
"There is a theory that somehow not only movies but movie actors tend to sell tickets in the theatre better than tv actors because the public is so used to being able to see the show," suggested Mastro.  "But now television has moved away from the four channels we grew up with into the hundred zillion channels we have now.  There is so much product being made and because so much of it isn't on the three networks, the rules controlling them are looser."
Mastro's point was backed up by the 2017 Emmy Awards in which only one scripted prime time network show won an Emmy.  Meanwhile shows like The Handmaid's Tale (on Hulu), Veep (HBO), Master of None (Netflix), and Atlanta (FX) were awarded.  One thing those shows have in common is that people had to pay to see them, just like with movies.
"So maybe now that people are paying for all of the entertainment they're getting in their home, the idea of paying to see these people or the shows on stage may not be so foreign to them," added Mastro.
Three things work in The Honeymooners' favor: the fact that the original show only ran for 39 episodes (not counting the lost episodes or sketches); the show's incredible popularity after six decades; and turning it into a musical comedy.  The idea of the show moving on after its run in Millburn may be in the back of everyone's minds, but they're focused on Paper Mill run now.
For Mastro, this year represents a return to focusing on his own acting career.  The Albany, New York native has been in his share of shows on Broadway (Love! Valour! Compassion!, Barrymore, Side Man, Mama Mia! and West Side Story to name a few). Just before rehearsals began for The Honeymooners, Mastro had a role in the upcoming Barry Levinson film (still untitled at press time) at HBO about the Joe Paterno and Jerry Sandusky case at Penn State.  Mastro had the opportunity to work alongside Al Pacino for five weeks on the project.
For the last two years, Mastro immersed himself into the world of regional theatre while working at George Street Playhouse.  Mastro says he has returned to acting refreshed and with new perspectives.  He wants to continue acting, directing, even venture into writing in the future.  But there's one thing he doesn't want to do - run a theatre.
"I treasure that time at George Street," said Mastro.  "I learned so much about running a theatre and have such respect for the people who do it.  I think one of the things I learned is that I don't want to run a theatre!  I was very grateful when, at the moment I was having that epiphany, David Saint was able to be there all of the time.  It all dovetailed with the wonderful news of the brand new performing arts center.  So, to be part of helping to find that temporary space at Rutgers' Cook Campus and for me to have the realization it was time to go just as David was realizing he wants to be back there to oversee the expansion into the new building - all of that was so exciting and I'm so blessed to be part of that George Street family."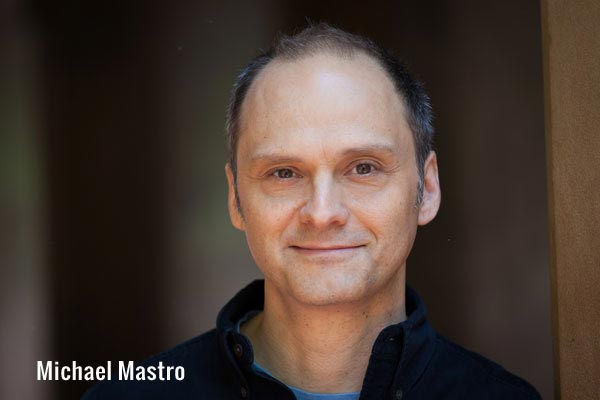 ---
Gary Wien has been covering the arts since 2001 and has had work published with Jersey Arts, Elmore Magazine, Princeton Magazine, Backstreets and other publications. He is a three-time winner of the Asbury Music Award for Top Music Journalist and the author of Beyond the Palace (the first book on the history of rock and roll in Asbury Park) and Are You Listening? The Top 100 Albums of 2001-2010 by New Jersey Artists. In addition, he runs New Jersey Stage and the online radio station The Penguin Rocks. He can be contacted at gary@newjerseystage.com.
---