originally published: 09/30/2017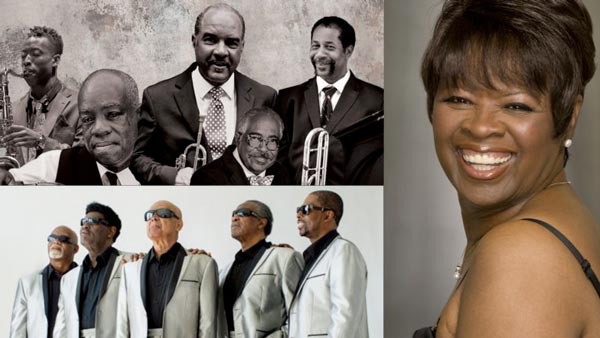 (TOMS RIVER, NJ) -- Touring together for the first time, Preservation Hall & Columbia Artists present "The Heart & Soul Queen of New Orleans" featuring Irma Thomas, The Blind Boys of Alabama, and The Preservation Legacy Quintet onTuesday, November 7 at 7:30pm. For one night only, this outstanding group of jazz greats will treat audiences to a special evening filled with musical collaborations and traditional standards on the Main Stage, Grunin Center, Ocean County College Main Campus, College Drive, Toms River, NJ.  
If the French Quarter is the musical heart of New Orleans, then Preservation Hall is its heartbeat. Take a group of long-time performers from the venerable concert hall, combine them with the Crescent City's "Soul Queen" Irma Thomas, throw in the spiritual authority of The Blind Boys of Alabama, and you get a very special evening of music that showcases "The Heart & Soul Queen of New Orleans."
As part of New Orleans' musical royalty, Irma Thomas is a Grammy Award-winning singer with her own rich musical history. Her soul-drenched voice can be heard on the Allen Toussaint-produced track "It's Raining," which was featured in the Jim Jarmusch's cult classic, "Down By Law"; in 2007, she was inducted into the Louisiana Music Hall of Fame; and in 2008, she was featured on the poster of the world-famous New Orleans Jazz and Heritage Festival.
The Blind Boys of Alabama have the rare distinction of being recognized around the world as both living legends and modern-day innovators. Since the original members first sang together as kids in the late 1930s (including Jimmy Carter, who leads the group today), the band has persevered through seven decades to become one of the most recognized and decorated roots music groups in the world. In 2005, they released Down in New Orleans, a Grammy Award-winner for Best Traditional Soul Gospel Album.
The Preservation Hall Legacy Quintet represents a tradition that started in 1961, when Preservation Hall first opened in the French Quarter. As the world-renowned Preservation Hall Jazz Band continues its exciting exploration of the boundaries of New Orleans jazz, the Preservation Hall Legacy Quintet has formed, with the help of the non-profit Preservation Hall Foundation, to help maintain a connection with the traditional aspects of the Hall's musical legacy.
---
The article continues after this ad
---
---
Tickets: $49-$45. (Dinner Add-On at Caneda's White Rooster: $25.) Purchase tickets online http://grunincenter.org, call 732-255-0500, or visit the Box Office, Mon-Fri, 10am-5pm. Please use Parking Lot #2.
Upcoming Jazz Performances at the Grunin Center:
Come hear acclaimed artists play classic jazz and swing! The "Grunin Presents" and "MidWeek Jazz" lineup features big-name stars along with up-and-coming talent of local, national, and international acclaim.
MidWeek Jazz: Wednesdays at 8pm. Tickets: $24-$20
Dec 13: Peter & Will Anderson present George Gershwin's Porgy and Bess
Jan 24: Midiri Brothers Salute Benny Goodman's Carnegie Hall Concert
Mar 7: Bucky Pizzarelli
Mar 28: Dennis Lichtman's Queensboro Five
Apr 11: Glenn Crytzer's Salute to Joe Venuti & Eddie Lang
May 16: Stephanie Trick & Paolo Alderighi: Four Hands, One Piano
Jun 20: The Jazz Lobsters Big Band
Grunin Presents Jazz:
Jan 12, 8pm, $35: New York Voices
Feb 14, 7:30pm, $45-$43: Birdland All-Stars featuring Tommy Igoe: The Art of Jazz
Prices, dates, times, performers, and shows are subject to change.