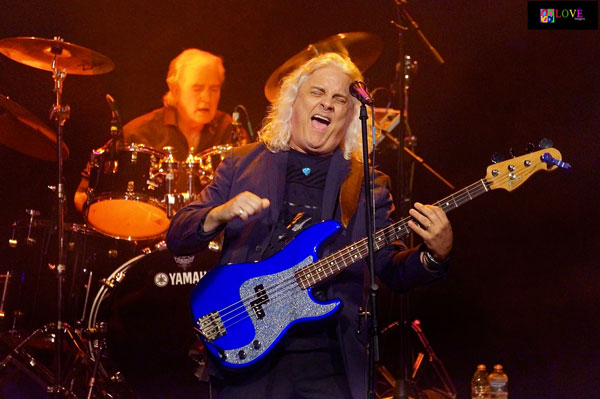 Just last week, Newsweek magazine reported on a recent study which suggests that going to live concerts increases concertgoers' feelings of well-being. It also indicates that fans who go to concerts twice a month report increased feelings of happiness, contentment, and productivity, suggesting to the researchers that people can actually live longer if they attend live concerts every two weeks!
Well, if that's true, then music lovers at the recent Saturday, April 28, 2018 concert at The Strand Theater in Lakewood, NJ, should be covered for the next month and longer following an epic three and one-half hour extravaganza featuring three wildly successful music artists of the 1960s — The Grass Roots, The 1910 Fruitgum Company, and The Archies' Ron Dante!
Arriving several hours before showtime, we make our way backstage at the historic Strand Theater — a place which, even today, can conjure up the spirits of such vaudeville luminaries as Ray Bolger, Milton Berle, and George Burns and Gracie Allen.
Here, we get a chance to chat with several of the performers on tonight's bill starting with The Grass Roots — guitarist Dusty Hanvey, bassist and lead vocalist Mark Dawson, drummer Joe Dougherty, and keyboardist Larry Nelson.
When asked how it feels to be performing back in Jersey, Hanvey replies, "We love Jersey," before joking, "especially now that the weather is better!"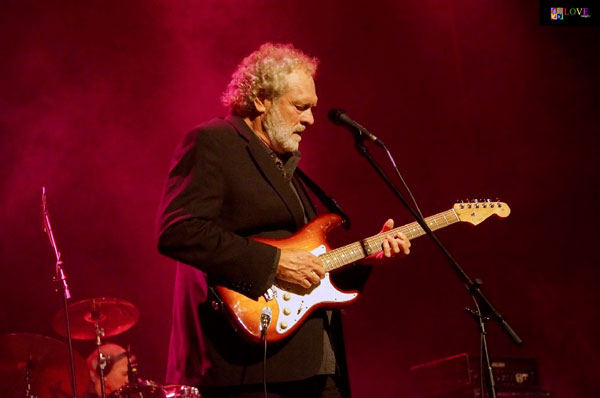 ---
The article continues after this ad
---
---
Dougherty agrees, noting, "The fans here are very receptive."
In talking about the group's supportive fan base, says Dawson, "It's pretty cool. Some of our fans set up 'road trips' where they make our shows their vacation destinations!"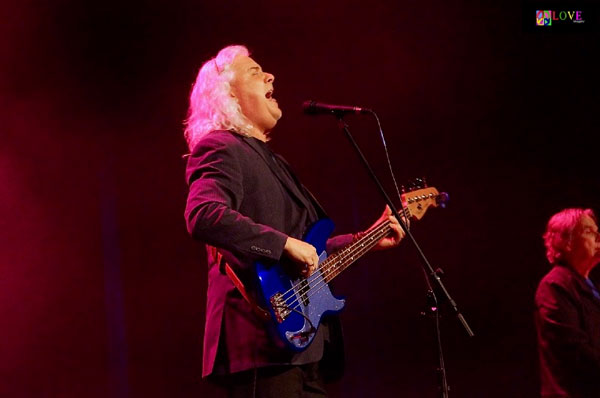 Adds Nelson, "For us, it becomes like an extended family."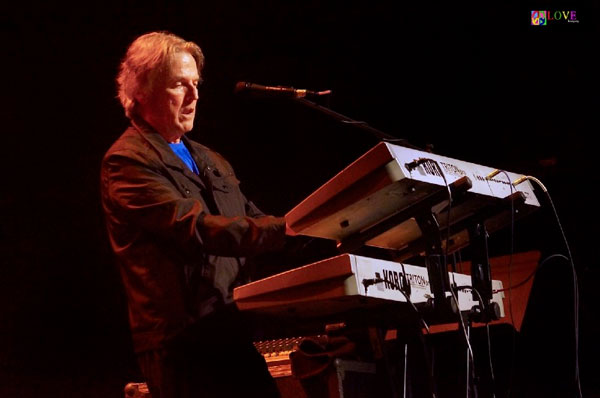 And speaking of family, the men of The Grass Roots act like more like brothers than musical colleagues. Both guitarist Hanvey and drummer Dougherty have been part of the group for 35 years, whereas keyboardist Nelson has been in the band for 29 years, and Mark Dawson is currently in his 11th year playing bass and fronting for the quartet.
Jokes Dougherty, "We're not getting any younger!"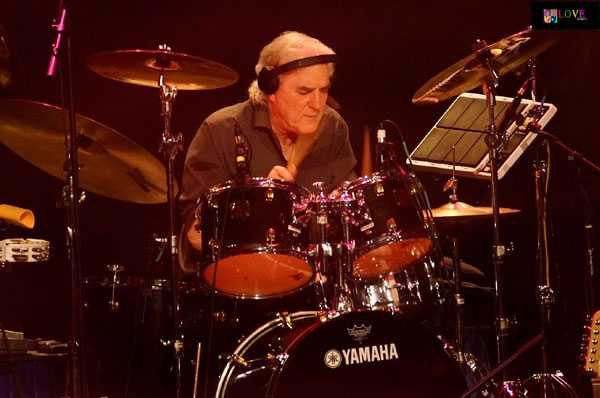 Chatting about the group's extensive catalog of hits, the band members reveal that, although there are five to six tunes they must play at every single concert, at other shows — like tonight, where they have more time to perform — explains Hanvey, "We can fit them all in."
Adds Dawson, "And we're happy to notice that our music is cross-generational," explaining, "We'll see grandparents with their children and grandchildren at our concerts where all three generations know the songs."
All of The Grass Roots nod in agreement when Hanvey states, "And the fans like the way we play the songs," acknowledging, "We play them the way people remember them — true to the original arrangements — so they sound like the original recordings."
And does all of this attention to detail pay off when these gifted musicians take the stage with their expertly crafted melodies and lyrics and perform them live to the delight of their avid fans?
Concludes Dawson, "We get so much joy out of giving joy!"
Next, we get to chat backstage with singer Ron Dante.
In the '60s, Dante made a name for himself as a studio singer, recording memorable music and lyrics with popular groups of the era including The Archies and The Cuff Links.
Explains Dante about those days, "As an anonymous studio singer, it was an amazing feeling finding myself with the #1 and #9 recordings on the charts with The Archies' "Sugar Sugar" and The Cuff Links' "Tracy.'"
In the '70s, Dante went on to to become a successful record producer where, as he reveals, "I produced recordings by Cher, Pat Benetar, and Barry Manilow — including "Copacabana (At the Copa)." Dante also became a Tony-award winner for producing such Broadway shows as Ain't Misbehavin' and Children of a Lesser God, recalling, "I received my Tony from Gene Kelly!"
When asked what it's like to go from the relative obscurity of studio singing, arranging, and producing to being in the spotlight as an on-stage performer, Dante says, "It's great to be doing live singing — it's a completely different world. When you're in the recording studio, it's just you and your imagination, but when you perform live, it's you and the audience, and they give to you as much as you give to them."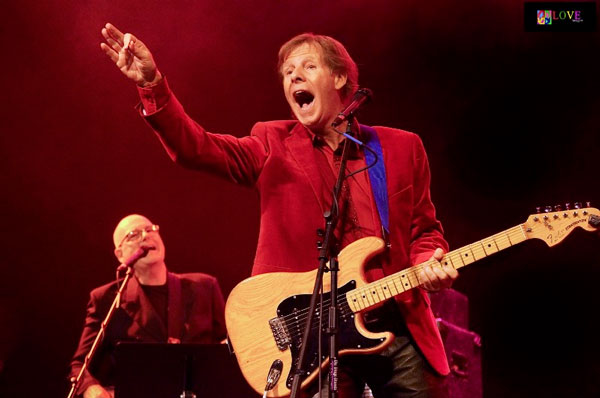 Calling his stage-performing experience, "the most fun I've had in years," Dante is excited to announce his latest gig as a part of the 2018 edition of music's famous Happy Together Tour, revealing, "I'm the new lead singer of The Turtles!"
With long-term Turtles' singer Howard Kaylen taking some time off from the road, Dante says, "I'm honored to be able to able to sing with Howard's partner, Mark Volman, on songs like 'She'd Rather Be With Me,' 'Elenore,' and 'Happy Together,'" disclosing, "It's going to be all about honoring the music and reproducing it with the original arrangements in all the same keys."
After experiencing such a successful life in the performing arts as a studio singer, live performer, producer, and more, we ask Dante if he has any suggestions for others intent on following their own creative paths. Responds Dante, "If you hang in there and keep lifting your game, the universe will conspire to help you achieve your goals."
Lastly, we chat with the lead singer of the 1910 Fruitgum Company, Mick Mansueto.
A resident of the Jersey Shore, we ask Mansueto what it's like to be performing right here in Ocean County, to which he replies, "It's very strange to be playing in my own backyard, but it's great to have all the fans here!"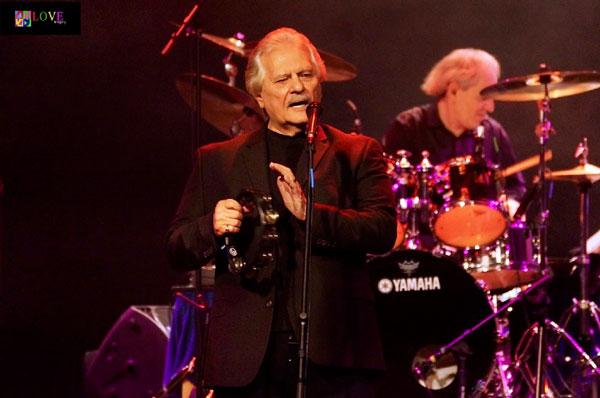 "It's also great to be playing in such a great historic venue" acknowledges Mansueto, before adding with a smile, "despite hearing rumors that the place is haunted!"
When asked about performing on the same bill with such other well-known musical artists of the '60s, Mansueto responds, "We love working with Ron Dante — we've backed him up before, and we also love the music of The Grass Roots — they're great guys, and we're not only excited to be working with them here tonight, but thrilled to be on the bill with them in Florida on June 16 when we both play the Hippie Fest in Daytona Beach with Paul Revere's Raiders, Rare Earth's Peter Rivera, and The Cyrkle."
Concludes Mansueto, "We're also looking forward to seeing all of our Jersey fans at Meisel Park in Springfield, NJ, for the 2018 Fourth of July celebration!"
Following our interviews, we make our way into the beautiful Strand auditorium where the audience is excitedly awaiting tonight's concert.
The lights dim, and concert promotor Jim D'Amico takes the stage to welcome the audience to tonight's performance. After saluting our country's veterans, D'Amico introduces tonight's first act — Ron Dante — who takes the stage accompanied by the musicians of the 1910 Fruitgum Company.
Opening with a dynamic rendition of The Strangelove's "I Want Candy," Dante wows the crowd with his voice and guitar playing.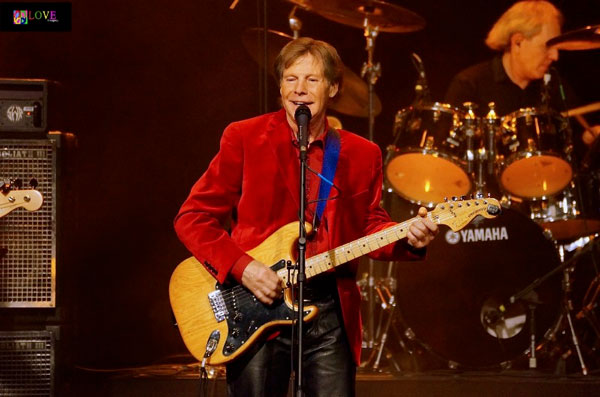 After welcoming the crowd, Dante says, "Davy Jones said I could do this Monkees' song," before launching into "I'm a Believer."
Following huge applause, Dante says, "This Dave Clark Five song says just how I feel about you." Here, he performs an uplifting rendition of "Glad All Over," which features a fun audience sing-along.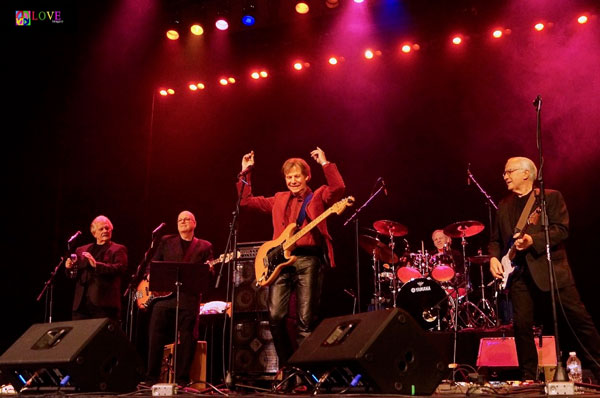 "I love doing these songs!" exclaims Dante, before moving on to one of his own hits, The Archies' 1969 smash, "Jingle Jangle."
Acknowledging that, as a studio singer, he sang many commercials which, as he explains, "were called jingles," Dante launches into a medley of advertising jingles he recorded including Coke's "I'd Like to Teach the World to Sing," Dr. Pepper's "Be a Pepper," and Almond Joy's "Sometimes You Feel Like a Nut."
After announcing to the audience, "I'm gonna be on tour as part of The Turtles this summer, so let's do a Turtles' song," Dante sings and plays a powerful version of "She'd Rather Be With Me," expertly accompanied by the 1910 Fruitgum Company's instrumentals and background vocals.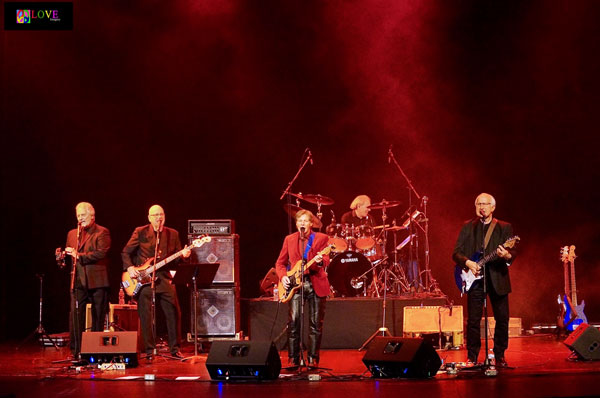 Moving on to a fun version of his 1969 hit with The Cuff Links, "Tracy," the audience taps their toes keeping time to the song's happy beat.
One of the highlights of the evening is Dante's performance of The Archies' 1969 #1 hit, "Sugar Sugar."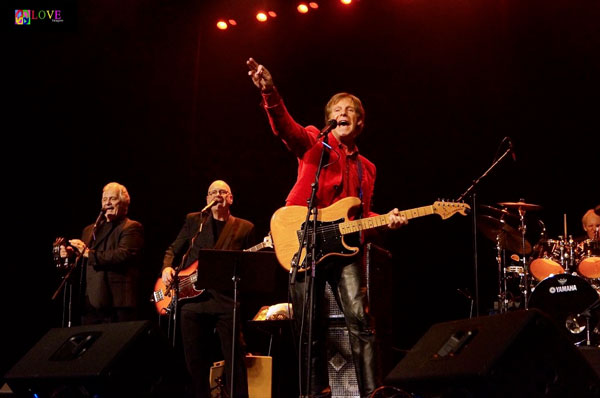 Having the audience join in singing on the famous "Honey, honey" lyric, the crowd joyfully plays along as Dante brings back fond memories from nearly a half-century ago!
When the audience reacts with continued cheers and applause, Dante reciprocates with an encore version of Chuck Berry's "Johnny B. Goode," rockin' his way across the stage and into the audience's hearts.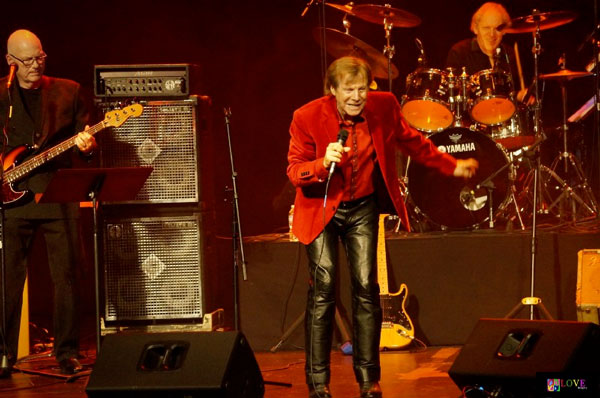 After taking leave of the stage, the members of the 1910 Fruitgum Company — guitarist Frank Jeckell, vocalist Mick Mansueto, bassist Glenn Lewis, keyboardist Bob Brescia, and drummer Keith Crane — return to their positions and open with a number which lead singer Mick Mansueto says was a song which both The 1910 Fruitgum Company and The Ohio Express recorded — "Yummy Yummy."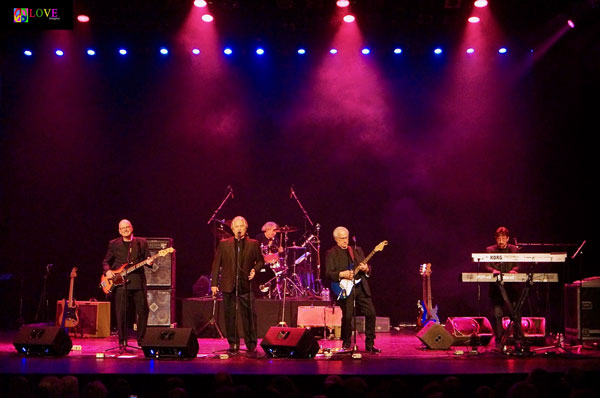 Sounding crisp and clear in this stellar listening environment — thanks in large part to Strand engineer Chris Everett's audio mixing expertise — the band segues into their 1967 bubblegum hit, "Goody Goody Gumdrops," a number which features founding member Frank Jeckell on lead vocals and guitar.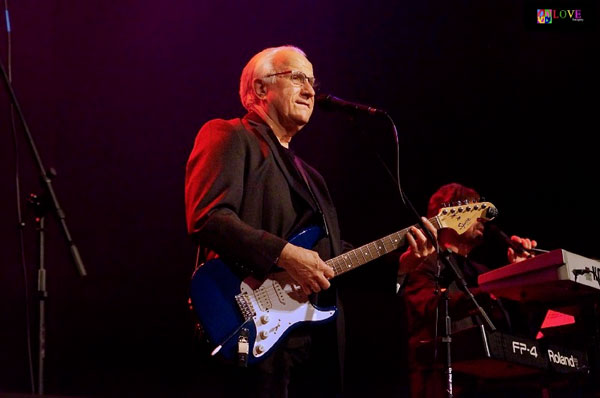 Following cheerful applause, Mick Mansueto is spotlighted on Paul Revere and the Raiders' "Kicks," the audience clapping and tapping along to the beat.
Dedicating their next number to Bill Burkette — an original lead vocalist of The Vogues — Mansueto is featured on The Vogues' hit, "You're the One."
The audience hoots and hollers before Mansueto announces, "The 1910 Fruitgum Company recorded this next song in 1969 and it made it all the way to #4 — we thank you for that!" Here, Jeckell is featured again on "Indian Giver," Keith Crane's skillful drumming energetically backing up Jeckell's sliding guitar.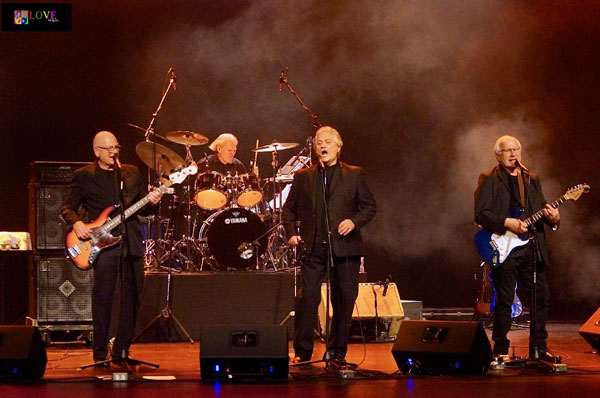 Introducing the members of the band, the audience learns that most of the Fruitgum Company's musicians come from right here in the Garden State including keyboardist Brescia from Somerset, bassist Lewis from Sparta, lead singer Mansueto from Brick, and founding member Frank Jeckell, about whom Mansueto says, "He started the band 50 years ago — in 1968!"
Adding, "We'd like to do some more bubblegum for you," the quintet performs a jubilant version of The Turtles "Happy Together" featuring bassist Glenn Lewis on vocals.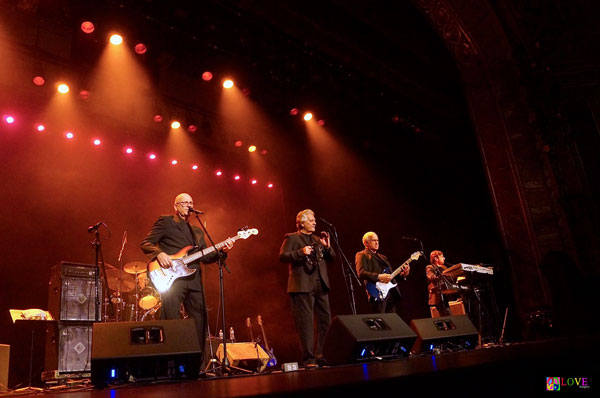 They follow that up with a rockin' rendition of The Doors' "Love Her Madly."
Announcing, "Not many people do this song, but we're gonna do it for you right now," The 1910 Fruitgum Company performs The Lemon Pipers' "Green Tambourine" — a number which features a Keith Crane drum solo.
At the end of the tune, Mansueto acknowledges a fan in the front row "who's been singing every single song." Joking, "I can't even remember the lyrics to every single song!" he provides the fan with a gift of a 1910 Fruitgum Company T-shirt before taking over the lead vocal on The Outsiders' "Time Won't Let Me" — a number which features a screamin' Frank Jeckell guitar solo.
Jeckell's lead vocal is spotlighted on a pair of lively Beach Boys' hits — "Surfin' USA" and "Surfin' Safari" — before Mansueto says, "We're gonna 'steal' this next song from our friend, Dennis Tufano, the original lead singer of The Buckinghams." Here, the guys perform "Kind of a Drag," and then move on to "I Feel Fine," a song which they say is "by the best band — ever," The Beatles.
The audience happily sings along on the 1910 Fruitgum Company's own hit from 1968, "1, 2, 3 Red Light," and plays along to the band's final number for the evening — the group's biggest smash— 1967's "Simon Says."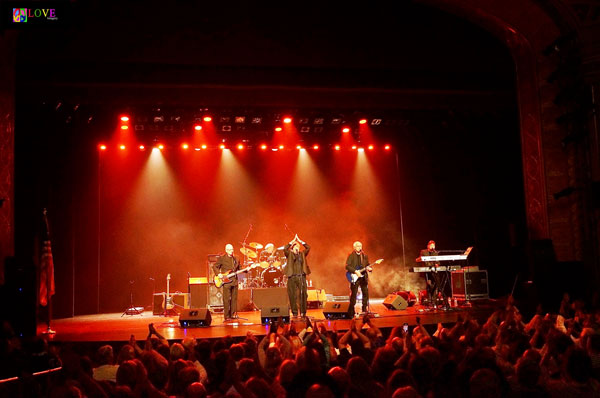 After everyone energetically puts their "hands in the air" and claps them "double-time," Mansueto announces, "Simon Says thank you very much for coming to see us tonight!" to the standing and cheering crowd!
Following a short intermission, Dusty Hanvey, Larry Nelson, Joe Dougherty, and Mark Dawson — The Grass Roots — take the stage.
Opening their portion of the show with their 1969 hit, "I'd Wait a Million Years," The Grass Roots impress the crowd with their dynamic sound.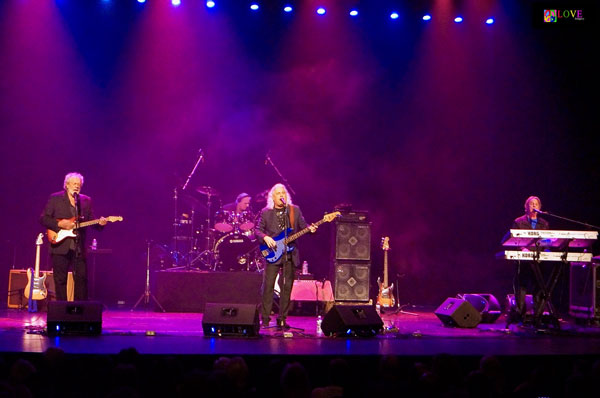 The crowd cheers and Mark Dawson responds, "We're having a great time!" before the group performs "Don't Pull Your Love," a number made famous by Hamilton, Joe Frank, and Reynolds.
"So how's everybody feeling this Saturday night?" inquires Dawson, suggesting that with a crowd like this, "Every Saturday night should be in New Jersey!" After commenting that "Ron Dante was just killing it," and calling The 1910 Fruitgum Company "bubblegum royalty," the group expresses their feelings towards their fans on 1969's "Heaven Knows" singing, "With a song in my heart/And a chance to be yours forever/I couldn't feel more secure/I know I couldn't feel any better/Oh Lord, Heaven knows/How much I love you /And how much it shows."
Announcing, "Let's sing this one together," Dawson and the band perform their bouncy 1971 pop hit, "Sooner or Later," after which Dawson exclaims, "You sang beautifully!"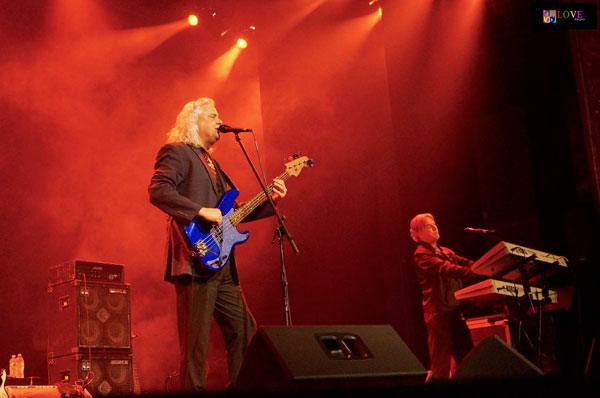 Moving on to a lesser-known but very musical Grass Roots song, the band performs 1967's "Things I Should Have Said."
Introducing the members of the band — notably keyboardist "Larry Nelson from Edison, NJ" — the group performs their rendition of a tune made famous by the group, Edison Lighthouse, "Love Grows (Where My Rosemary Goes)."
The audience "sha-la-las" together on 1967's "Let's Live for Today" — a number which features Dusty Hanvey on an electrifying guitar solo.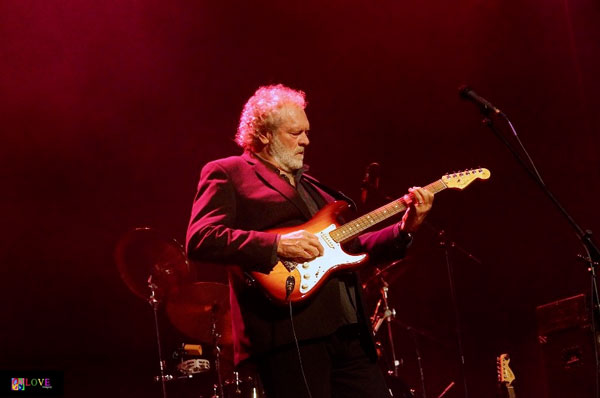 "Woah! That's fun to listen to — it's a big treat!" exclaims Dawson about his fellow musician's musical talent before introducing the next number as "The Grass Roots' first song — it's 52 years old — written by PF Sloan," 1966's "Where Were You When I Needed You."
Following hearty applause, Dawson says, "We appreciate you coming out and supporting live music!"
The audience claps along as Dawson sings, "Come on and say it/Sooner or later /You're gonna need it/You've got to make up your mind," on 1970's "Come On and Say It," a number which features a far-out distorted guitar solo from Dusty Hanvey.
Following their sparkling 1971 pop hit, "Two Divided By Love," Dawson introduces another lesser-known number which The Grass Roots performed in the 1968 Hollywood picture, With Six You Get Egg Roll, starring Doris Day. Calling it "hip, swinging dance music," the band performs "Glory Bound," a number which features Dawson's bass and Hanvey's guitar providing a countermelody to Dawson's rockin' lead vocal.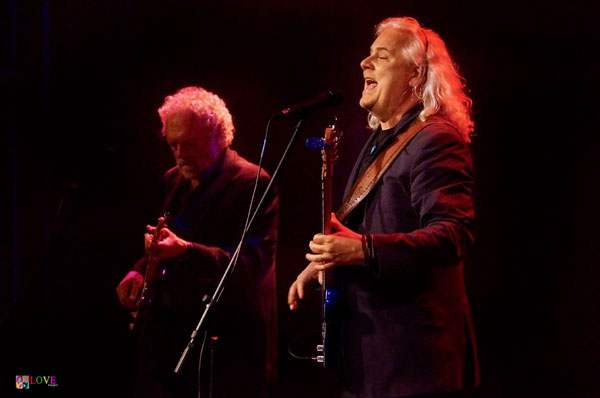 After introducing the band members, the Grass Roots perform "a song from 1975 — 43 years ago" — the Latin-influenced "Mamacita," which features an exciting drum solo by Joe Dougherty.
Wrapping up their portion of the show, Dawson says, "We'll see you next time!" as the group launches into their 1970 hit, "Temptation Eyes." While Hanvey's fingers fly across his fingerboard, Dawson dances around the stage with his bright blue bass.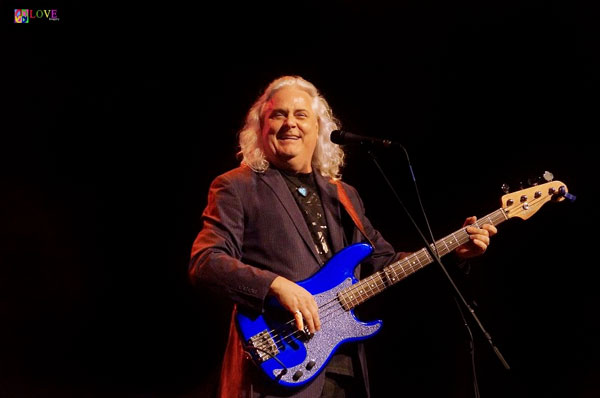 The audience cheers and screams until Dawson responds by asking, "One more?"
Here, the group's vocal harmonies shine on the band's biggest hit, 1968's "Midnight Confessions." The happy crowd claps and sings along on the tune's famous chorus, "In my midnight confessions/When I tell all the world that I love you/In my midnight confessions/When I say all the things that I want to/I love you!"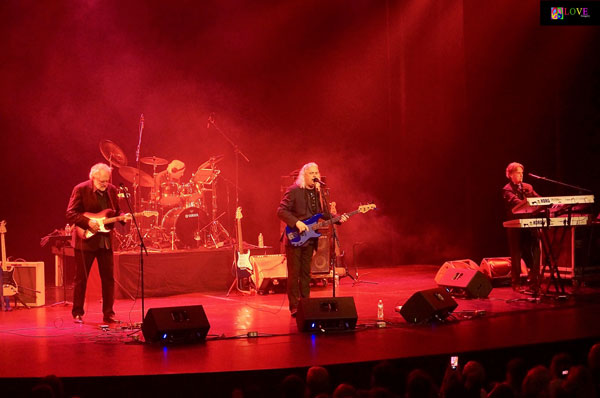 "We love you! Thank you so much!" shouts Dawson, before concluding with a smile, "Lakewood, NJ! You really rock!"
As audience members make their way out of the theater, we take some time to chat with several music lovers who share their thoughts with us about tonight's performance.
Michael, a young man from Point Pleasant Beach, explains why he's here tonight revealing, "I heard songs like The Archies' 'Sugar Sugar' on the radio and from my family playing them, and I wanted to hear them live and learn about the backstories behind the songs."
Michael's companion, Courtney from Maryland, comments, "I didn't know much about the music before coming today, but it's cool — I really enjoyed it. From Ron Dante's first two songs — 'I Love Candy' and 'I'm A Believer' — I was hooked!"
Billy from Brick is the fan in the audience who received a T-Shirt from The 1910 Fruitgum Company's Mick Mansueto for knowing the lyrics to so many classic songs. Regarding tonight's show, Billy exclaims, "It was the greatest! The 1910 Fruitgum Company did their tribute to The Vogues with 'You're the One' and Ron Dante did "She'd Rather Be With Me" — a song I often play on my guitar — and I just loved it! This is the music I grew up with!" His friend, Bob from Lakewood, agrees adding, "This music brings back all kinds of good memories!"
Cindy from Jackson remarks, "This was the first time I saw Ron Dante and it won't be the last! I've seen The 1910 Fruitgum Company several times before, and I loved watching everyone join in on "Simon Says." Lastly, Mark Dawson does a fantastic job with The Grass Roots and he is the nicest guy you'd ever want to meet!"
Cindy's friend, Mona from East Windsor, agrees stating, "The Grass Roots were fantastic! Mark Dawson never disappoints — his voice was on point and his stories kept us laughing — he's a true showman!" before exclaiming, "And Dusty Hanvey's guitar playing was mesmerizing — what a talent!"
Mona's friend, Amy from Clinton, reveals, "This concert had lots of nostalgia and The Grass Roots never disappoint! It was an evening well worth the drive from close to the Pennsylvania border!"
John and Marlene from Mercerville also share their thoughts about the concert with John stating, "It just kept getting better and better! Ron Dante was great, and I didn't know the 1910 Fruitgum Company had so many hits," before recalling, "And I remember The Grass Roots music — in 1967, I was stationed in Vietnam, and I heard their music played at base camp." John's wife, Marlene, adds, "We were dating during that time — from 1965 to 1969 — and the music brought back so many good memories."
Frequent concertgoer, Amy from Jersey City, declares, "It was one of the greatest shows ever — every act was great! Ron Dante was fun, I loved the 1910 Fruitgum Company, and this was only the second time I've seen The Grass Roots, but I'll be going to see them again!"
Lastly, Amy's friend, Jerry from Hazelton, PA, confesses, "I haven't seen The Grass Roots in 47 years — I last saw them in 1971 — and they were incredible tonight! Their music brought back so many memories."
Stating, "We hear that so many artists — Elton John, Neil Diamond, and more — won't be touring anymore," Jerry acknowledges, "but you have great artists like Ron Dante, The 1910 Fruitgum Company, and The Grass Roots still performing, which proves that if you want to find good music, you don't have too far to look!"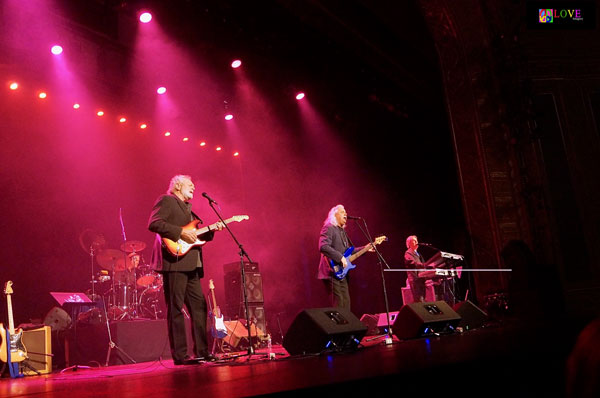 For more information about The Grass Roots, please go to the-grassroots.com. To learn more about The 1910 Fruitgum Company, please click on 1910fruitgumcompany.com. For further info on Ron Dante, please see rondante.com. To find out more about upcoming concerts at The Strand Lakewood — including Let's Hang On: A Tribute to Frankie Valli and The Four Seasons on August 2, Remembering the King: A Tribute to Elvis Presley with Richie Santa on Aug. 18, CSN Songs: A Tribute To Crosby, Stills, and Nash on Sept. 15— please go to strand.org.
Photos by Love Imagery
Spotlight Central. Your source for Jersey entertainment news and reviews
Love Imagery Fine Art Photography. all you need. peace/love/flower/power