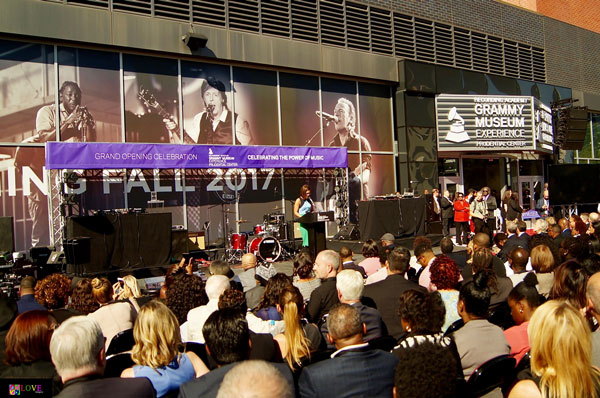 What do Frank Sinatra, Bruce Springsteen, Sarah Vaughan, and Frankie Valli all have in common?  They're all celebrated musicians from New Jersey and part of the new Grammy Museum Experience at Newark's Prudential Center!
On October 19, a ribbon-cutting ceremony was held on the venue's front steps located at 165 Mulberry Street in downtown Newark.  With the Grammy Museum as the backdrop, the outdoor stage was filled with musical instruments and decorated with large black and white posters of Grammy winners such as Bruce Springsteen, Paul McCartney, Taylor Swift, and others.  Kristine Johnson, Emmy-nominated national news anchor for CBS and New Jersey resident, kicked off the festivities declaring "You're in for a treat!"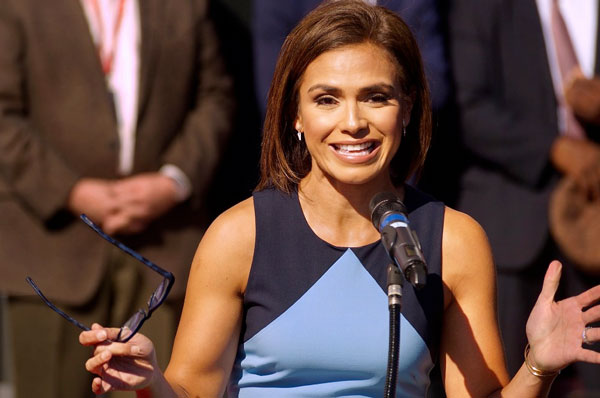 The New Hope Baptist Choir belted out three high energy numbers accompanied by a choir member who expressed her profound passion for the music through her lively and invigorating dance moves.
Singing with deep emotion, they inspired the audience with their talent and pure soul.  This Newark church includes Grammy winners in its congregation: Whitney Houston; her cousin Dionne Warwick; and her mother, Cissy Houston, who was a featured performer at this celebration.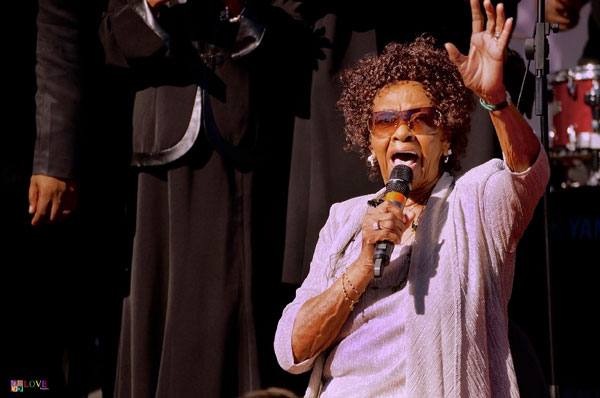 Ms. Houston delivered a soulful rendition of "I Believe," a song originally performed by Elvis Presley. As she sang the touching lyrics — "I believe above the storm the smallest prayer can still be heard.  I believe that someone in the great somewhere hears every word" — her voice resonated through the crowd and she received a standing ovation.
---
The article continues after this ad
---
---
Patricia Houston, sister-in-law of Whitney Houston and executor of her estate, said her family was honored to be a part of Newark's Grammy Museum Experience.  She recalled that Whitney strived to be the best artist she could be and impacted lives through her songs.  One example is when Whitney's one-of-a-kind voice took the world by storm with her passionate and patriotic rendition of the National Anthem at Super Bowl XXV in 1991.
Newark Mayor Ras Baraka expressed gratitude that Newark, a city rich in musical history, was selected to house this jewel in the Grammy crown.  He is extremely confident that the local infusion of music and art will continue to revitalize the city.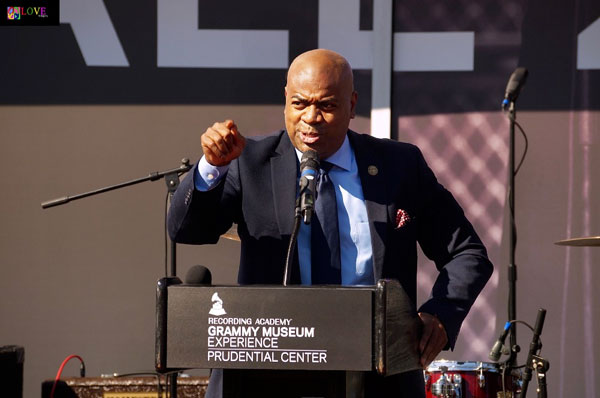 Neil Portnow, President/CEO of the Recording Academy and Chair of the Los Angeles Grammy Museum Board of Directors, explained to the crowd that this museum is the Grammy's "first East Coast outpost" — adding to three locations in Los Angeles (CA), Nashville (TN), and Cleveland, Mississippi.  
Fans of Jersey music will greatly appreciate the Grammy Museum Experience where there is a focus on performers from the New Jersey area.  Margaret El, Special Assistant for the Arts for Newark Public Schools, bragged about hometown talent.  "There are so many musical greats from Newark — Sarah Vaughn, Melba Moore, Frankie Valli, Whitney Houston — you have to wonder if there's something in the water!"
Grammy award winners Dionne Warwick and Cissy Houston helped to cut the ribbon and officially open the museum.  Bob Santelli, a New Jersey native and founding executive director of the Grammy Museum in Los Angeles, invited the public to experience various interactive exhibits.  For example, visitors can rap with Newark emcee Wyclef Jean or take a drum lesson from Springsteen's longtime E Street Band drummer, Max Weinberg.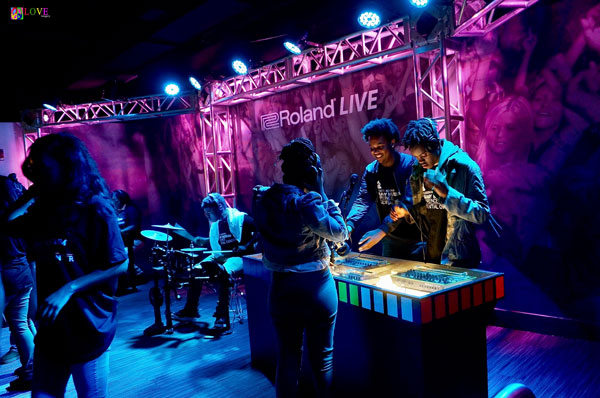 Josh Harris and David Blitzer, co-owners of the New Jersey Devils hockey team and the Prudential Center, said the central purpose of the Grammy Museum Experience is to reach kids through the arts.  Even though some children may never get a chance to formally study music, everyone can be inspired by the interactive exhibits.  Harris described himself as "an avid lover of music" who encourages his own children to pursue the arts. He is excited to bring quality entertainment to Newark, and believes the museum's exhibits have the potential to not only inspire thousands, but also to draw kids in to move them up in their life stations, thus improving the quality of their lives.  Blitzer reinforced that the museum is not just a walking tour.  It's so highly interactive that he had difficulty getting his kids away from the exhibits and out of the museum when it was time for them to leave!
Ribbon-cutting guests Darnell Robinson of Tenafly and Wincey Terry of Union, were singing and dancing together at one of the museum's most popular stops — the Ray Charles and The Raelettes' karaoke exhibit.  After a fun and lively impromptu performance, the two strangers discovered they were both involved in the music industry.  Robinson is the grandson of Sylvia Robinson, founder of Sugarhill Records, the first hip-hop record label, and Terry is a NJPAC teaching artist and vocalist who sang back-up on Monie Love's single, "It's a Shame."  Robinson exclaimed, "Music brings out the best in people!"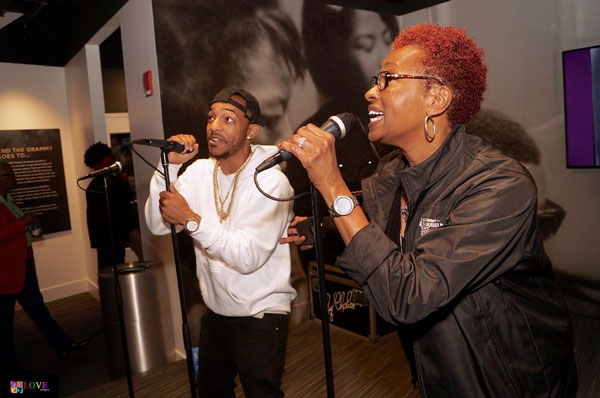 Brandon Ellsworth, a vocal music teacher at Arts High School in Newark, said that being at the ceremony with his students "is an exciting once-in-a-lifetime opportunity" because many of his students plan to pursue careers in the music business.  Mah-laz-eah, a senior at Arts High School, commented how much she enjoyed the Ray Charles and the Raelettes' interactive exhibit.  "It made me feel like I feel when I'm on stage — like I'm really performing!" She plans to study music after graduation adding, "If I keep going, I can wind up here myself!"
Standing next to an enormous multi-colored kaleidoscopic rendition of a Grammy, Raheem DeVaughn, an R&B singer and songwriter from Newark and three-time Grammy nominee, said he is "all for empowering youth."  He is one of many local artists giving back to his community.  DeVaughn's non-profit foundation, Lovelife, has helped to send nine students to college and his work with major institutions has also helped to feed Newark's homeless.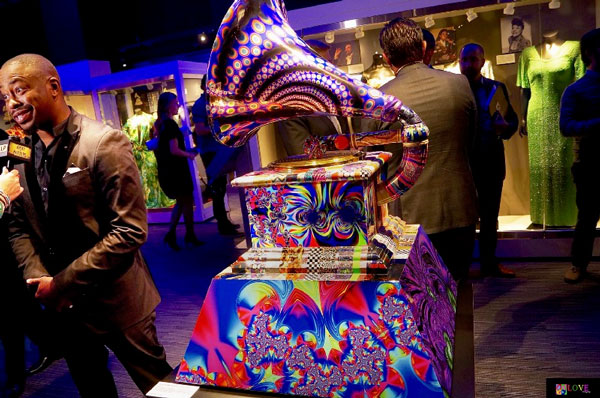 Besides the interactive exhibits, there was a more traditional exhibit entitled "And the Grammy Goes to…" featuring outfits and collectibles of Grammy nominees and recipients over the decades.
There are stunning showcases of what music divas Alicia Keyes, Beyoncé, and Jennifer Lopez wore at the Grammies, including an outfit worn by Gloria Gaynor whose 1980 winner became a mantra for women around the globe when she sang, "I Will Survive!"  Amy Winehouse's famous black, ruffled short and sleek dress is positioned next to Rihanna's orange top with dangling frills.  Whitney Houston is well-represented with a plain white choir robe she wore when she performed with the New Hope Baptist Church, and the glamourous white sequined gown she donned at the 1994 Grammy Awards when she won Best Female Pop Vocal Performance for "I Will Always Love You."
The Grammy outfits from male music artists are equally cool and star-studded.  Usher's velvet and violet two piece combination includes metal arm rings that adorn the sleeves and shoulders.  Justin Bieber's classic collared gray jacket features zippers running down the middle and sides.  Nearby, the Kanye West display showcases his marching band-inspired red and white jacket with his bold initials embroidered on the front.  He wore it at the 2006 Grammies when "Gold Digger" was nominated for Record of the Year and won an award for Best Rap Solo Performance.  
After viewing and participating in many intriguing exhibits, visitors enjoyed more live music performances outside.  Singer/guitarist Brandon "Taz" Neiderauer from the Broadway sensation, School of Rock, — along with his amazing band of fifth graders — treated everyone to an outrageous jam session.  One talented young musician's dazzling Hendrix-inspired performance made it a perfect way to wrap up this tune-filled day.  Isn't that what the Grammy Museum Experience is all about?  The music!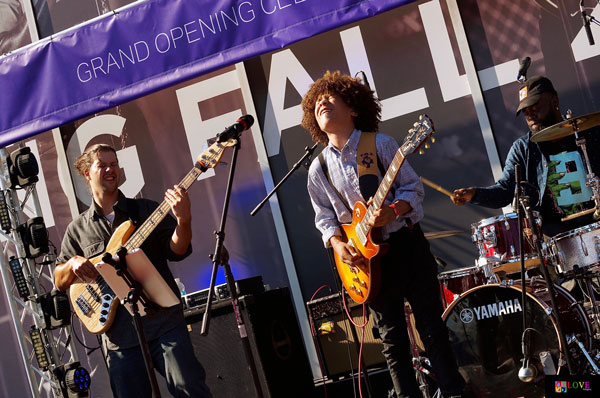 The Grammy Museum Experience is located inside the Prudential Center at 165 Mulberry Street in Newark, NJ. Ticket prices vary from $9 to $12. For tickets and information, please visit grammymuseumexp.org.
For even more photos from the opening event, click here for the feature in NJ Stage Magazine.