---
For great Jersey music and much more, tune into our radio station at AsburyMusic.com
---
The Gay Blades Set The Story Straight
By Gary Wien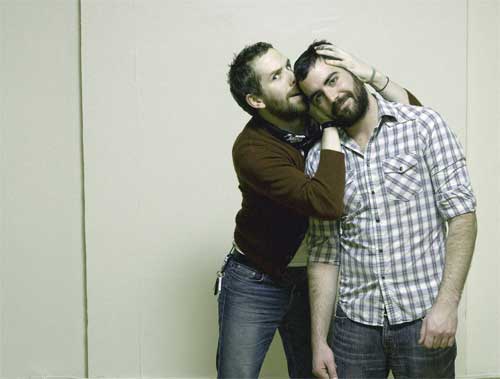 The Gay Blades, based in Jersey City, released Ghosts last month. Upstage Magazine takes you inside one of the state's best indie music bands. The band consists of Puppy Mills (aka The Snitch) and Clark Westfield (aka The Aristocrat of Crime). Last year they were nominated for 4 Asbury Park Music Awards including Top Male Vocalist, Top Live Performance, Top Indie Band, and Top Drummer. We were able to interview them via email shortly before the record officially was released.
Ok, we'll start with an easy and obvious one... Tell me about the band's name. How did that come about and what is the story between Hello Lovely and The Gay Blades?
The Gay Blades got their name in the usual way. We climbed up a mountain, and after many days of fasting and talking to burning shrubbery, we descended from the mountain, band name in hand. And yes, it was written on stone.. in diamonds.
Regarding the Hello Lovely, that was a former project of ours. While performing with HL, we started to hear from people about a band called "The Gay Blades" that was talking all sorts of junk about us everywhere; online, at shows, and even at the Subway Restaurant where they worked! So just as any pacifist would do, we came right back at them with the most caustic, offensive things we could dig up on them, which wasn't very hard. As fate would have it, both bands wound up at the same bar one night and a traditional east-coast rival stand-off began. After many bloody rounds of that game where you throw knives at the other person's feet without hitting them, a draw was called when it was realized that both sides were just throwing the knives right into the other's feet, ignoring the rules. Drinks were shared, bread was broken and the past indiscretions were buried. Each band agreed to take up the cause of keeping the music of the other band alive if one were to perish. Of course, The Gay Blades died in a fiery car crash that evening. At that moment, Clark Westfield and Puppy Mills adopted their fallen brothers names as aka's and became The Gay Blades ( R.I.P.). The R.I.P. portion of the band name is not printed today, but is implied every time.

What's the deal with only having two in the band? What do you have against bass players?
Of course we love bass players. It shows in our misprinted BUCK FASS pins, which were supposted to read "BUCK FASSTER BY PLAYING BASS" meaning, 'if you really want to make money in the music world, you gotta play bass, because that's the moneymaker'. We are often misunderstood.

What is trash pop and did the Gay Blades invent it? If not, who did?? It sounds better than "anxious spazz pop" like someone once wrote about the band.
"Trash Pop" is known as such because it's "sonically terrible" and yet still palatable to the ears. And of course we invented it, just like we invented sand, those pictures that are made up of a bunch of smaller pictures, and that thing where you are walking and someone is walking toward you, and you both go to step out of the way, but wind up stepping back in each others' way over and over again.

What's the strangest thing someone has ever said about your music? Was there ever a description that just made you laugh out loud?
We were once told that we were "nothing special." Tell us something, would you describe two guys who get on stage and perform an engaging live set while at the same time doing their taxes and shooting fireballs out of their eyes at all the bloggers in the crowd as "nothing special"? You would think not... So yes, we laughed out loud - right before we put the guy in a cab and gave the driver a 50 spot and told him to drive into the East River.
SXSW (South by Southwest Music Festival) - You guys were all over the place and judging from the blogs I've seen you really picked up a lot of fans that week. What was it like being thrown in front of nearly every music writer in the world and in front of crowds who probably never heard of the band?
Well firstly, no one has never heard of The Gay Blades, they only don't know they have. Like when you're driving and you're thinking about something and then you realize you don't remember driving for the last 5 minutes.. We're the roller skating rink and burned out Dunkin' Donuts you don't remember driving past. Second, it was the most natural thing ever. It's like being two fish that have spent their whole lives in the same fishbowl, and then all of a sudden, they're transplanted into a fishbowl full of gasoline, and they turn into magical golden fish. Down in Texas, we WERE those magical golden fish, and nothing else has ever felt so natural to us. Except for beating up weight-lifter guys and ice-cream men.

One thing that people seem to always talk about when they review your shows is how there's no separation between the band and the audience. From the stories and jokes told on stage to simply the interaction, it seems like you bridge the gap more than most bands. People only need to check out one of your youtube vids to see that. Is that something you really try to do?
To be honest, we don't really try to do anything other than have fun. If people in the audience wind up being assimilated into the experience that is The Gay Blades, and then they have a heart attack because their body can't handle the sheer euphoria the experience produces, we are not responsible for their medical bills. You know?

Tell me about the new record. It sounds pretty radio friendly, are you guys going to do a radio campaign to get on college stations or anything?
TGB is already being played on 103.9 "The Edge", an alternative music station based in Phoenix, AZ, who had the foresight to play TGB tunes before they are played everywhere else. As a result of that, we receive many myspace friend requests and bomb threats from the Phoenix area every day!! Also, we have a very strong DIY radio promotion compaign focusing on both college stations and all those other stations that play the songs that your mom listens to at work all day long.

Finally, If you've ever Googled "Gay Blades" (and I'm betting you have) you've probably come across some pretty interesting results. What's the weirdest thing you've seen?
The weirdest thing we've seen is the fact that we aren't the only search results that come back. Granted, there are many pages on the internet that contain the words "The" "Gay" and "Blades", but wouldn't you think that Google would realize that the relevance of any page, when compared to any TGB related page or article, would decrease to zero? You would think so...
Actually there are some rather interesting results... You should check them out !

For more information on The Gay Blades visit
http://www.thegayblades.com
http://www.myspace.com/gayblades
---
For more by this author, click here
---


Light of Day's Main Event To Be Broadcast Live at McLoone's Supper Club
(ASBURY PARK, NJ) -- If you couldn't get tickets for the fabled "main event" of the 2019 Light of Day Winterfest, you have another chance see the show.  For the first time in the 19-year history of the festival, the "main event", the star-studded "Bob's Birthday Bash" on January 19th (a show that has long sold out), will be broadcast live via fiber optic cable at McLoone's Supper Club in Asbury Park.
---
Wharton Institute for the Performing Arts To Hold Winter Open House On January 27
(BERKELEY HEIGHTS) -- Wharton Institute for the Performing Arts (WIPA) will host a Winter Open House on Sunday, January 27 from 1:00pm to 4:00pm. The free event is open to the public and will be held at the Performing Arts School (PAS) located at 60 Locust Avenue in Berkeley Heights.
---
Billy Idol and Steve Stevens To Perform At Count Basie Center For The Arts
(RED BANK, NJ) -- Billy Idol and Steve Stevens, one of rock's most iconic and enduring duos, will hit the road this March for their first ever tour performing as a duo: Turned On, Tuned In and Unplugged. The Billy Idol/Steve Stevens tour comes to The Count Basie Center for the Arts on Thursday, April 4th.
---
McDonald's Gospelfest To Celebrate The Life of Aretha Franklin With Return to Prudential Center
(NEWARK, NJ) -- The 37th Annual McDonald's Gospelfest returns to the Prudential Center on Saturday, May 11 for the gospel event of the year. This year's event will honor and celebrate the life and legacy of the "Queen of Soul" Aretha Franklin with an All-Star cast. The 5:00pm to 7:00pm portion of the evening will feature a rising stars competition for all ages and cultures in categories including Soloists, Choirs, Praise Dancers, Singing Groups, Gospel Comedians, Gospel Poets and Gospel Rappers. The gospel concert, beginning at 7:00pm, will feature some of the most renowned gospel artists in music history with the goal of spreading love, peace and joy to all races, nationalities and beliefs.
---
Bickford Theatre Presents Herb Gardner's Groundhog Jam
(MORRISTOWN, NJ) -- The great Groundhog Jam has a long history of prying jazz fans out of their warm burrows and into the chill of February weather in order to welcome the advent of spring.  The Bickford Theatre at the Morris Museum continues a tradition of hosting this event on Monday, February 4 at 7:30pm. Herb Gardner, who plays both trombone and piano, is assembling a stellar group of musicians from the New York, New Jersey, and New England areas including: Fred Vigorito on cornet, Joe Licari on clarinet, James Chirilloon guitar, Mike Weatherly on bass and Robbie Scott on drums.  Daughters Abbie and Sarah Gardner will be handling the vocals and guitar.
---


Scott Wolfson and Other Heroes At Riverside Rhythm & Rhyme
This coming Sunday, January 20, Scott Wolfson and his band will be serving up their unique blend of Americana at the Riverside Rhythm & Rhyme series at Investors Bank Theater in Succasunna, New Jersey. The band – Scott Wolfson and Other Heroes – formed in Jersey City in 2011, and, even though the members have migrated in various directions since then, they still consider themselves to be a Jersey City band.
---
"He Totally Wowed Us!" John Oates LIVE! at SOPAC
It's brisk for an evening walk on South Orange Ave. in South Orange, NJ, this Friday, Jan. 4, 2019 evening, but it's a good road to follow as it leads us directly to the South Orange Performing Arts Center (SOPAC) for a special performance by singer, songwriter, and guitarist John Oates and his backup group, The Good Road Band.
---
"Tons of Fun!" The Glenn Miller Orchestra LIVE! at the Grunin Center
Although Friday, December 21, 2018 is the shortest day of the year, the audience of big band music lovers here at Toms River, NJ's Grunin Center for the Arts is hoping for a long evening of classic swing and holiday tunes performed by the incomparable Glenn Miller Orchestra!
---
Mike Davis and The New Wonders
Mike Davis traces his love for the trumpet back to a Disney movie. He grew up in a musical family, with both his parents playing strings in the Seattle Symphony. But Davis wanted an instrument of his own. Then, at age 9, he saw "The Aristocats," the animated film about a bunch of French felines — including a group of jazz-playing alley cats.
---
Ana Gasteyer's "Holiday Tipple" LIVE! at the Grunin Center
The Grunin Center stage in Toms River, NJ is set this Saturday, December 15, 2018 with drums, a grand piano, a guitar, an acoustic bass, and various microphones for vocals. A stool and several microphone stands are bedazzled with colorful garlands of shiny red, gold, and green, and wrapped gifts are strewn on stage among the instruments. Projected white snowflakes adorn the walls, and Christmas music plays as patrons enter the theater to put everyone in the mood for tonight's holiday show — Ana Gastayer's Holiday Tipple!
---