By Spotlight Central
originally published: 05/13/2017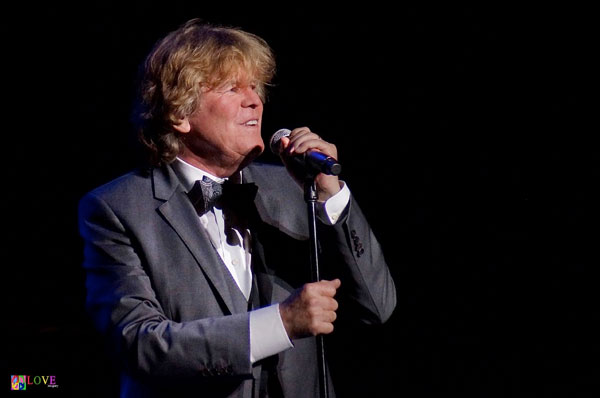 It's Saturday, April 29, 2017 at 7:35pm — just 25 minutes until The Spring Sixties Spectacular concert kicks off on stage at New Brunswick, NJ's State Theatre!
This year's edition of the Spectacular — brought to NJ by "NY's Duke of Rock & Roll," producer Harry G — features four great acts from the 1960s: The 1910 Fruitgum Company, Dennis Tufano, BJ Thomas, and Herman's Hermits starring Peter Noone!
As we enter the State Theatre lobby, we meet some of the most devoted fans any performer could ever want: Joanne, Barbara, Stephanie, Amy, Donna, and Kathy, members of Peter Noone's fan club who all refer to one another as "Noonatics."
Joanne from Montvale says she's seen Peter Noone "over 100 times" in the past five years and is so proud of being a Noonatic, even her license plate is emblazoned with a variation of the term!
Barbara from Easton, PA— a Noone fan for 15 years — indicates she's seen him perform "over 200 times." Whereas Barbara brings cough drops — "the square ones" — for Mr. Noone to each Herman's Hermits performance she attends, Stephanie from Virginia discloses she brings something else entirely for Peter to every concert — "hand sanitizer."
---
The article continues after this ad
---
---
Says Stephanie, who made the trek from the Old Dominion state to New Brunswick, NJ especially for this evening's performance, "I've found lifetime friends with the Noonatics. Aside from concerts, we even travel other places together."
In addition to Peter Noone, Stephanie informs us she's also a huge fan of BJ Thomas. "I love his music," she states. And in response to hearing him in concert just last week, Stephanie notes, "When I was listening to him, it was like being in a time warp — he still sounds the same as he did on his original recordings."
Amy from Jersey City is such a fan of Peter Noone's that once, on the way to Ohio for a concert, she totaled her car, but rented another in her attempt to make it to the show on time.
In addition to Noone, Amy is also an admirer of Dennis Tufano, explaining, "Once you hear him, you're a fan. Plus, he's a very sincere man — he's truly interested in his fans." Reveals Amy, "Usually I bring Mr. Tufano cannolis, but he likes candy too, so I brought him a goody bag today."
Donna from Middlesex acknowledges she's been fan of Peter Noone's "since the beginning." Calling Noone a "wonderful performer," Donna acknowledges she attends as many concerts as she can every year — typically 15–20 — calling them "addictive."
Last but not least, Kathy from Wallington indicates she's been a fan of Noone's for over two decades. In addition to attending concerts with the Noonatics — along with several of her friends here tonight — Kathy has become involved in social action on behalf of her musical idol.
Specifically, Kathy helps to produce a yearly calendar of live concert photos, for which all proceeds go to one of Noone's favorite charities, The Unity Shoppe. This non-profit organization helps to provide shelter, food, and clothing to underprivileged citizens in the Santa Barbara, CA area. In fact, each year, Kathy volunteers to travel to California to present a check to the charity consisting of proceeds from the sale of the calendar.
As we wrap up our chat, we notice the lights in the lobby start to blink, so we — along with the Noonatics — rush to take our seats for the Spring Sixties Spectacular concert which is about to begin!
First to take the State Theatre stage is The 1910 Fruitgum Company, featuring Mick Mansueto on vocals, Frank Jeckell on guitar, Bob Brescia on keyboards, Glen Lewis on bass, and Keith Crane on drums. The group opens the show with a bouncy version of the 1968 bubblegum classic, "Yummy Yummy Yummy," originally recorded by their Buddah records label-mates, The Ohio Express. The audience sings along on every word.
After a cover version of the 1968 Young Rascals' hit, "A Girl Like You," the group performs their own 1968 Top Ten smash, "Goody Goody Gumdrops." They follow that up with the 1966 Paul Revere and the Raiders' hit, "Kicks." As they perform, kaleidoscopic colors swirl onscreen behind their famous logo, enhancing the swirling sounds of founding member Jeckell's electric guitar and musical director Brescia's '60's-sounding keyboards.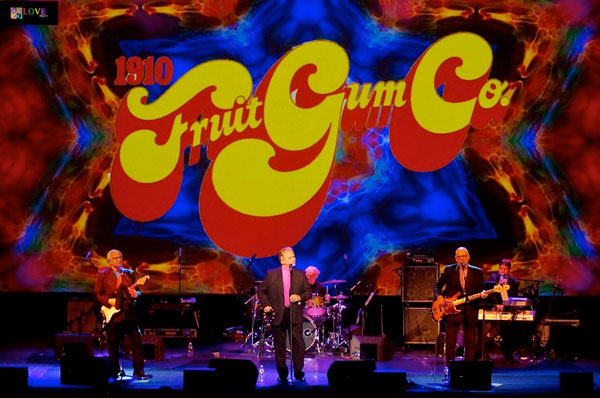 Telling the audience, "We're gonna journey back to the sixties, so if you know this song, sing along," the group performs The Beatles' 1965 hit, "I Feel Fine," and they follow that up with The Doors' 1971 recording, "Love Her Madly."
Moving on to the Fruitgum Company's own 1969 single which reached #2 on the Billboard charts, the quintet performs "Indian Giver." Crane's driving drumbeat compels the audience to tap their toes as they sing along on the famous "Indian Giver, Indian Giver, you took your love away from me," refrain.
Vocalist Mick Mansueto dedicates the group's next number to Sonny Geraci of The Outsiders as he performs an energetic and poignant tribute on that group's 1966 Top 5 single, "Time Won't Let Me."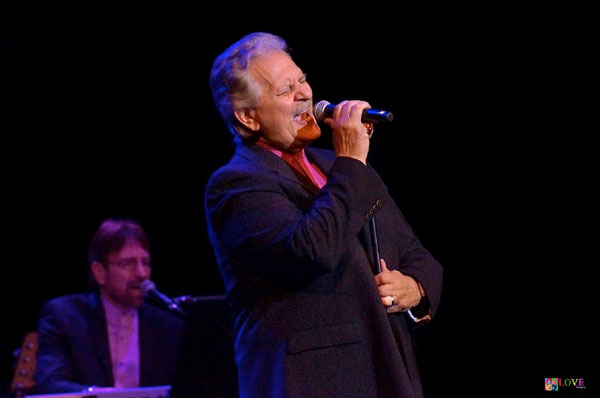 Moving on to yet another Fruitgum Company number — their 1968 Top 5 record, "1, 2, 3 Red Light" — every time the well-known chorus comes around, the crowd approves with avid cheers and applause.
To conclude their segment of the Spring Sixties Spectacular, the band announces it's time for their biggest hit — a song which exploded onto the charts in 1967, sold over three and a half million copies, and made The 1910 Fruitgum Company a household name — "Simon Says." During this engaging number, the group has the crowd — some even out of their seats — with their hands up happily playing along.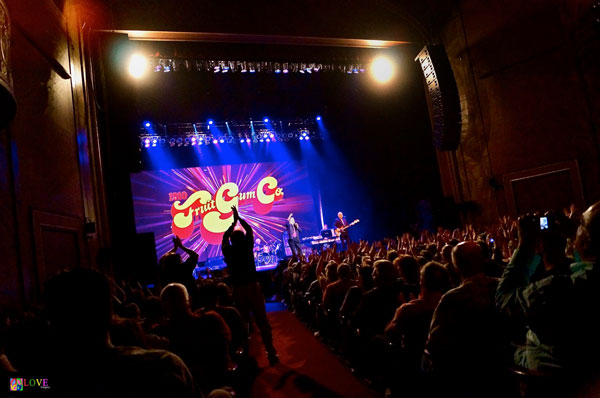 After directing the audience members to wave their hands in the air, shake them all about, and clap their hands double-time singing, "You're all doing fine," The 1910 Fruitgum Company has the entire crowd on its feet expressing their love for these classic oldies tunes!
Within moments, Dennis Tufano takes the stage. Tufano — the original lead vocalist for the well-known '60s group, The Buckinghams — opens with a lively version of the group's Top Ten hit, "Don't You Care," as images of girls in go-go boots flash on the screen behind him.
Solidly backed by the musicians of The 1910 Fruitgum Company, Tufano moves on to another Buckingham's hit, 1967's "Hey Baby (They're Playing Our Song)." On this catchy number, Tufano invites the willing crowd to sing along on the "Hey baby" refrain, the audience clearly enjoying the ride.
"You're lovely people because you love '60s music!" exclaims Tufano. At this point, he launches into a smooth version of Bobby Darin's 1959 hit, "Dream Lover," the pleasing sound of Tufano's voice enticing the audience to continue to sing along.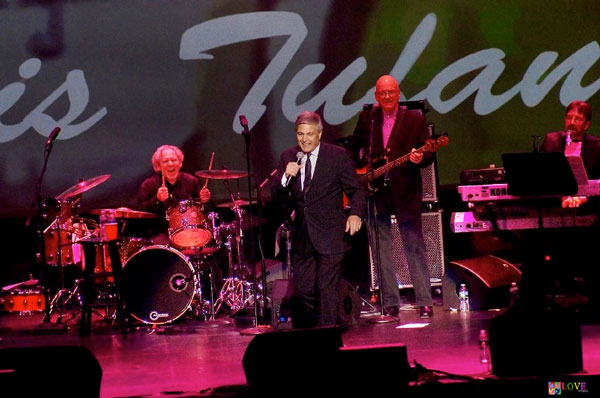 Segueing into yet another Darin hit, Tufano sets the audience members' toes to tapping, and some even get out of their seats to dance on 1958's "Splish Splash." The crowd joyfully joins in singing with Tufano each time the "How was I to know there was a party going on?" lyric comes around.
Moving on to one of the highlight performances of the evening, Tufano performs a brilliant rendition of a song by The Young Rascals' Eddie Brigati and Felix Cavaliere, which he refers to as a "rock and roll waltz" — "How Can I Be Sure."
On this special number, Tufano shows off his outstanding vocal skills, with audience members singing along while others freely dance in the aisles, all fully enjoying the good vibrations flowing during this magical musical moment.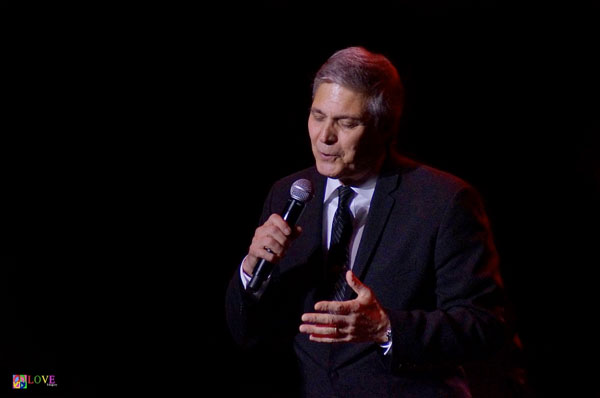 Following a well-deserved standing ovation, Tufano asks the audience, "Do you like the blues?" When they respond in the affirmative, he performs another Darin number — a blues song — entitled, "Funny What Love Can Do." On this rollicking selection, Tufano sings with blue-eyed soul and even stretches out playing the harmonica, much to the audience's delight.
As they applaud, Tufano says, "It's amazing how the blues makes you feel good," before jokingly adding, "Now it's naptime."
Moving on to a heartfelt version of the Buckingham's 1968 hit, "Susan," the audience swoons before Tufano knocks them off their feet with his soulful rendition of the group's 1967 Top 5 hit, "Mercy Mercy Mercy."
To conclude his set, Tufano ends with a bang by treating the audience to a rockin' peformance of The Buckinghams' 1967 #1 smash, "Kind of a Drag."
The crowd on its feet cheering, Tufano takes leave of the stage. As some in the audience begin to rush forward, however, he returns for an encore, singing James Brown's classic, "I'll Go Crazy."
With this number, Tufano makes an indelible impression on the crowd as he sings, "You got to live for yourself, for yourself and nobody else," eliciting yet another standing ovation for this talented entertainer who clearly appreciates his fans and whose fans clearly appreciate him.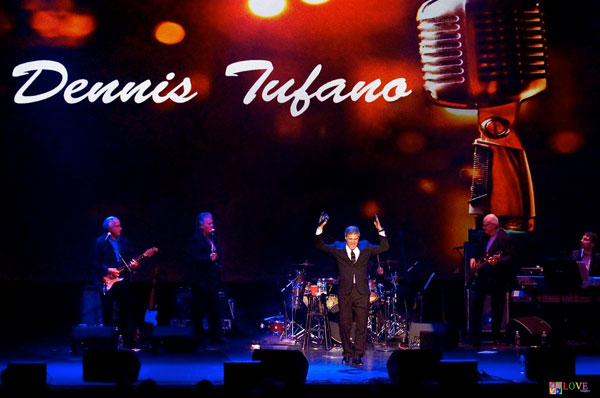 Next up is BJ Thomas, who takes the stage with his band and performs a lively version of The Temptations' 1966 Motown hit, "Get Ready." His voice sounding as great as ever, Thomas follows that up with one of his own songs — his 1968 single, "The Eyes of a New York Woman."
After receiving warm applause from the audience, Thomas performs his 1970 adult contemporary hit, "Most of All." Then he launches into the easy-going vibe of his 1972 Top 20 single, "Rock and Roll Lullaby," the audience clearly making him smile with their outpouring of love for his talent.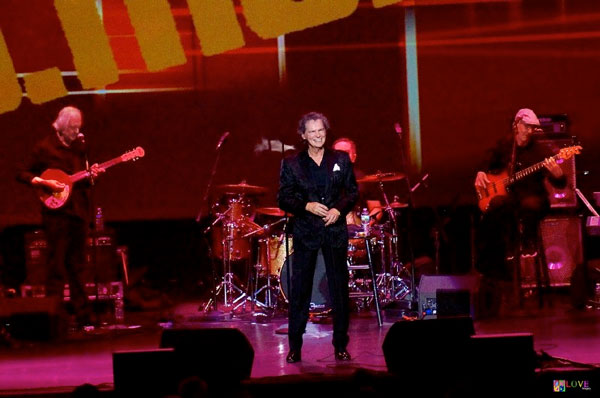 Thomas takes the audience back in time when he sings his 1970 single, "This Time the Girl is Gonna Stay," his voice ringing out throughout the theater, delighting the audience with its wonderfully resonant sound.
The swirling sounds of the electric sitar quickly change the mood from nostalgic reverie to rockin' out loud, however, when the crowd recognizes the first few bars of Thomas' 1969 Top 5 smash, "Hooked on a Feeling." The psychedelic black and white swirling background adds to the mood of this classic '60's intro before morphing into a gigantic Scepter Records 45rpm label as Thomas sings, "I/I'm hooked on a feelin'/High on believin'/That you're in love with me," enticing the crowd to its feet.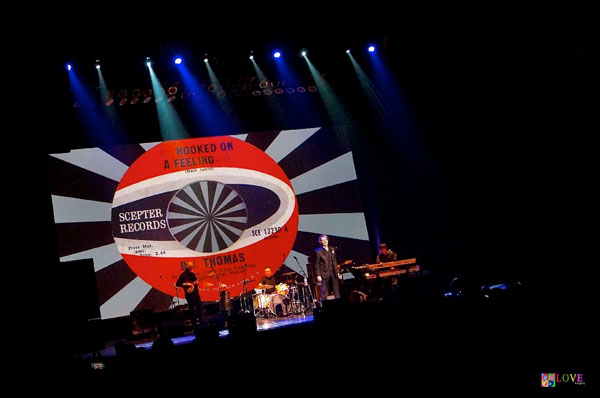 "I didn't think it sounded that good," modestly says Thomas. "Thank you."
Going on to talk about his penchant for standing still as he sings, Thomas relates, "I'd like to say I used to dance around when I performed, but I just stood there then, too. You see, Rick Nelson inspired me when I was a kid, and all he did was stand there, and I thought, 'Well, I could do that.'"
Moving on to another of his classic numbers — the 1976 Grammy Award winner for Best Country Song — Thomas performs "(Hey Won't You Play) Another Somebody Done Somebody Wrong Song." The crowd loves the tune's easy-going vibe and catchy melody and cheers appropriately. Then, Thomas follows that up with 1983's "Whatever Happened to Old Fashioned Love?" and receives a standing ovation for his emotional performance of Hank Williams' "I'm So Lonesome I Could Cry."
After introducing his talented band members, Thomas dedicates a song to "the redhead I fell in love with" — his wife of 49 years, Gloria. On his rendition of The Beach Boys' 1964 classic, "Don't Worry Baby," Thomas encourages the women in the house to help him sing along, and they do with distinction as they perform the "Don't worry baby" lyric while BJ's beautiful falsetto floats over them, the band slowly building to a rocking climax.
Thanking the women in the crowd for their "sweet vocals," Thomas tells a story of how — back in the late 1960s — he moved from Memphis to New York City just for the opportunity to work with composer Burt Bacharach.
Disclosing, "I was in awe of him," Thomas treats the audience to a bouncy live version of a tune Bacharach wrote for him, his 1970 #1 signature song, "Raindrops Keep Fallin' on My Head," for which he is rewarded with a well-deserved standing ovation.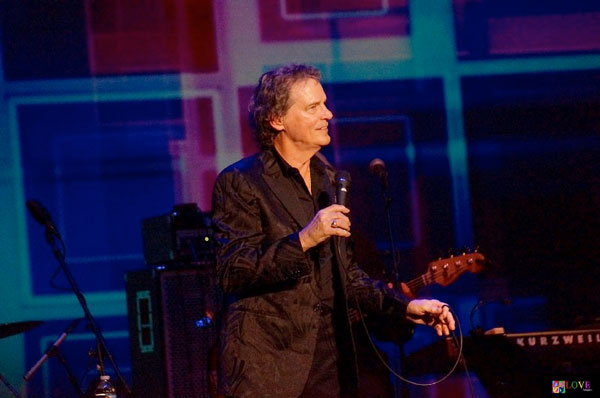 To thank them, Thomas concludes his set with an upbeat and soulful rendition of Jackie Wilson's 1967 R&B hit, "(Your Love Keeps Lifting Me) Higher and Higher," eliciting yet another standing ovation from the happy crowd!
Following a short intermission, the entire audience starts clapping in an effort to bring Peter Noone and Herman's Hermits out on to the stage.
As the audience cheers, Peter Noone and the other members of Herman's Hermits — Vance Brescia and Billy Sullivan on guitars, Rich Spina on keyboards/bass, and Dave Ferrara on drums — take the stage to perform an energetic rendition of their 1964 Gerry Goffin-Carole King-penned Top 20 hit, "I'm Into Something Good."
Noone and the group deftly segue into their 1965 #4 hit — a remake of Sam Cooke's 1960 tune — "Wonderful World," after which they perform a rockin' cover version of the Clovers' 1959 Leiber/Stoller smash, "Love Potion №9," with the audience singing along.
The boys follow that tune with two of their own 1966 Top Ten hits, "Dandy" and "A Must to Avoid," Noone crooning, "When you stare into her pretty blue eyes/There's no way to see through her disguise/But don't try to love her 'cause you'll quickly discover/You're trapped in the web of her lies."
The audience sings along again as Noone and the band perform a boot-scootin' tongue-in-cheek version of Johnny Cash's "Ring of Fire," and the crowd goes crazy for a rip-roaring over-the-top version of Frankie Ford's 1959 hit, "Sea Cruise," complete with Peter's zany dance moves which completely captivate and energize the crowd!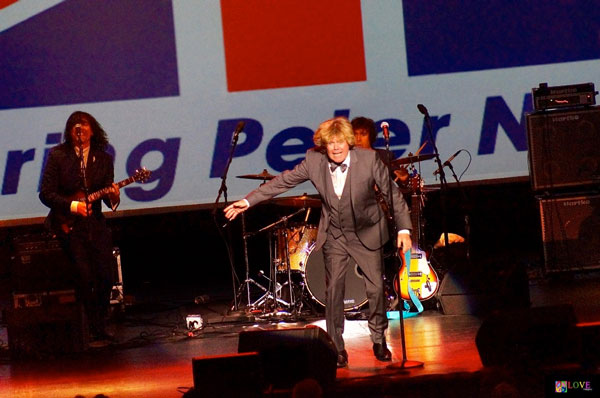 "Let's do some Monkees now!" exclaims Noone, as he and the Hermits perform 1968's "Daydream Believer," before doing a unique cover version of Gerry & The Pacemakers' 1964 hit, "Ferry Cross the Mercy," in which he purposely changes the lyrics to "Ferry Cross New Jersey."
After a rambunctious version of the Jeff Barry/Ellie Greenwich-penned "Do Wah Diddy Diddy," Noone and his crackerjack band perform their 1965 Top 5 remake of The Rays' hit, "Silhouettes."
"Tonight I have a surprise!" exclaims Peter. "It's a brand new song I wrote." Going on to reveal, "It's so new I have the words written down," Noone attaches them to his microphone stand. Then, grabbing his guitar, he launches into a updated version of the classic Herman's Hermits' tune, "Travelin' Light," crooning, "Travelin' light, travelin' light/I'm at the State Theatre in New Brunswick, NJ tonight."
The audience roars with laughter and demonstrates their approval of Noone's talent with even more rousing applause.
With his guitar still in hand, Noone moves on to perform his 1967 hit, "No Milk Today," the audience enchanted by this '60s pop idol who still sounds the way he did as a teen.
After giving away a CD and vinyl LP to a lucky man in the front row, Noone thrills the crowd with a poignant version of 1965's "End of the World," the audience tunefully singing along.
"What a lovely audience!" exclaims Noone. "Everyone said this would be the best audience on the whole tour, and I knew you'd be good, too, especially after the last time I was here."
At this point, he moves on to an outrageous version of The Rolling Stones' "Jumpin' Jack Flash" — strutting around the stage imitating the Rolling Stones' Mick Jagger. He follows that up with a bouncy rendition of the Hermits' 1965 #2 hit, "Can't You Hear My Heartbeat?" using the microphone in a comic attempt to enable the audience to hear his own beating heart.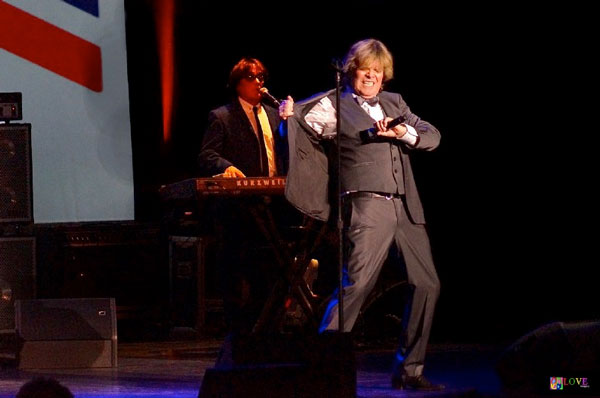 As the audience sings and claps along, Noone dances a jig during the song's musical interlude. At the conclusion of the number, the fans stand, their hands clapping overhead, while Noone and the Hermits perform their 1965 #1 smash, "Mrs. Brown You've Got a Lovely Daughter."
Then, things really get revved up as the group performs another 1965 Herman's Hermits' #1 hit, "I'm Henry VIII, I Am." Lights flashing, the audience joyfully sings to Peter after he divides them into sections and has them compete to see who can be the loudest group to spell "H-E-N-R-Y!"
After monstrous applause, to conclude the evening's festivities, Noone and the Hermits entertain the packed house with their final number, a nostalgic rendition of their 1967 #4 hit, "There's a Kind of Hush."
As audience members stand and sway, their arms and hands waving a happy goodnight, Peter Noone takes one last bow to end this magical evening of 60's music featuring The 1910 Fruitgum Company, Dennis Tufano, BJ Thomas, and Herman's Hermits — a performance which has surely delighted Noonatics Joanne, Barbara, Stephanie, Amy, Donna, and Kathy — not to mention making Noonatics, Thomas-tics, Tufano-tics, and 1910-tics out of a great many others!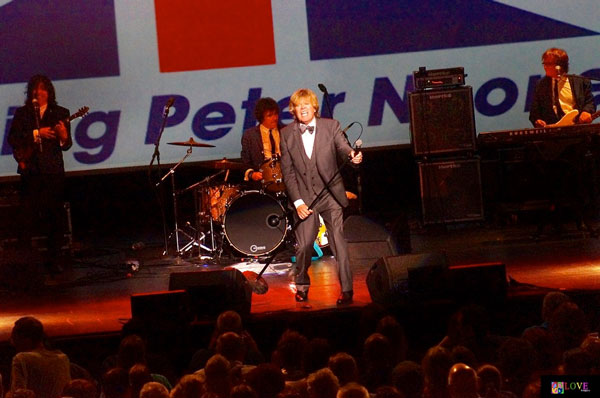 To learn more about the 1910 Fruitgum Company, please go to 1910fruitgumcompany.com. For more information on Dennis Tufano, please see dtsings.com. For further info on BJ Thomas, check out bjthomas.com. For more on Peter Noone and Herman's Hermits, please go to peternoone.com.
For information on future events at The State Theater — including The Happy Together 2017 Tour starring The Turtles, Three Dog Night's Chuck Negron, The Association, The Cowsills, The Box Tops, and The Archies' Ron Dante on June 14, 2017— please go to statetheatrenj.org.
Photos by Love Imagery
Spotlight Central. Your source for Jersey entertainment news and reviews
Love Imagery Fine Art Photography. all you need. peace/love/flower/power