By Gary Wien
originally published: 05/26/2018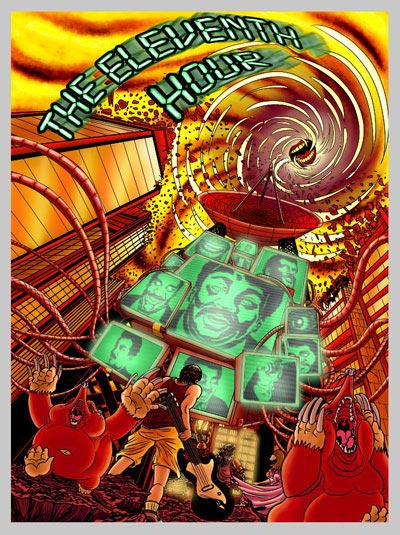 It's the end of the world as we know it and a burnout basement rock and roller, his ex-girlfriend, a rising star astrophysicist, just might have the key to surviving the black hole bearing down on the Earth.
That's the premise behind The Eleventh Hour!, a new sci-fi musical comedy by Rutgers University alum David Seamon, which is running at Town Stages in New York City through June 27th.  
Chronicling the fabled New Brunswick basement music scene during the apocalypse, the play also features a committed performer from Medieval Times, a giant snake, cannibals, a group of mole people, and Neil DeGrasse Tyson. And it takes place with the end of the world just about 12 hours away.
The idea behind the play began as a 15 minute musical created for coLAB Arts' first 48 Hour Musical. In the challenge, teams of playwrights, directors, and musicians have two days to write, rehearse, and then mount an original musical in response to issues of importance in New Brunswick posed by Dan Swern, the co-founder and producing director of coLAB Arts - a nonprofit organization that engages artists, social advocates, and communities to create transformative new work.
"David's group (Seamon, Annie Rutherford Lutz, and Shimmy Schwartz) created a piece that sort of examined how different people respond to a very high stakes situation when it comes to religion and or politics," explained Swern, who is producing the show through his company Smugbug Productions. "They created a doomsday scenario in the New Brunswick basement scene.  The music was incredible! The aesthetic and story were rich and reflective of our community.  So I commissioned them to turn it into a full-length piece."
---
The article continues after this ad
---
---
Seamon says he spent 2016 and 2017 writing and rewriting, workshopping, and creating many different drafts of the play.  At one point he jokes he was working on a Microsoft Word document titled, "Eleventh Hour!, draft 17."
Two staged readings were held to see what worked in the play and what didn't. What they learned was that in addition to people connecting to the science fiction aspect and the comedy, the audience liked the sense of place in the play - the New Jersey setting.
"I was given a note after a December 2016 reading that said, 'You either have to go full New Jersey with this or you have to take it out of New Jersey because right now you've kind of got one foot in and one foot out," recalled Seamon.  "And if you go full New Jersey you're looking at a show that could develop a cult following and speak to a lot of people's experiences.'"
Seamon instantly knew what to do.  "Being a New Brunswick, New Jersey native myself - when given the choice to go full Jersey or no Jersey, I went ham.  I went full on New Jersey!"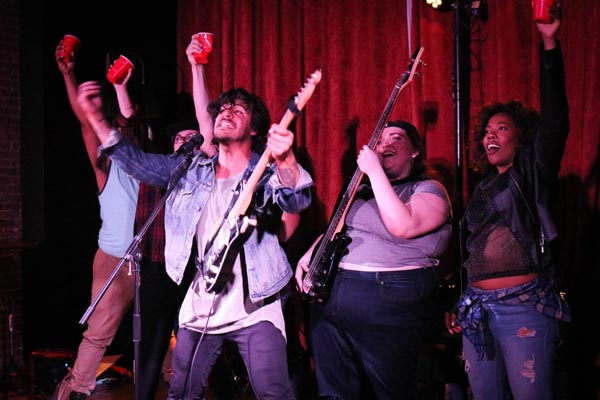 Once he had made the changes, Swern thought it was ready for a true public showing.  He got The Eleventh Hour! into the Winterfest Theater Festival in New York City in January 2018.  The show was a hit, selling out every performance and receiving seven awards.  The Eleventh Hour! was named Best Play or Musical; Best Creative Play or Musical; Best Director (Annie Rutherford Lutz); Best Singer (Tam Garcia); Best Music Score (Dave Seamon); Best Lighting Design (Joe Braccino); and Best Choreography (Annie Rutherford Lutz).
Many people who saw the show asked Seamon what they were going to do next.  One was a benefactor who said the magic words, "I'd love to see you guys do the show again. What do you need?"
Those were not only wonderful words for Seamon to hear, but also fit the plans for coLAB Arts.  The organization has been looking for ways to create new revenue streams.  In addition to grants, individual contributions, and contract work, coLAB Arts is seeking earned revenue from producing work that goes on to have further life. The Eleventh Hour! is the only 48 Hour Musical winner to be commissioned to full-length to date, but it likely will not be the last.
"The work we're doing is getting so much stronger," stated Swern.  "The work is so much clearer because we're clearer with our identity as an organization now."
The Eleventh Hour! is Seamon's first full length play to be produced. The idea of how rare it is to debut in New York City is not lost on him.  Thankfully, Swern has been with him every step of the way, making the process much easier for Seamon.
"The whole thing has been just an amazing opportunity for me and I'm grateful that Dan and coLAB Arts do these types of things where they put their faith in local artists to create new, cool work," said Seamon.  "I trust Dan entirely. The fact that he champions new work is exciting!"
Science fiction and apocalyptic plays rarely seemed to be performed on stage until the last decade or so. Generations raised on Star Wars films may have helped bring the genre to the theatre. Seamon admits to being a big fan of science fiction films and science itself, mentioning that he has a strong interest in astrophysics news and follows a few blogs on the subject. 
"I was raised on sci-fi movies," said Seamon.  "Movies like Fantastic Voyage and Altered States. One of the ideas in the show is that there's a piece of technology which can save people's consciousness after the black hole has destroyed the world.  That's pulled right from sci-fi films that I watched as a kid. The idea of downloading a human into a robot is a very pulpy sci-fi plot line that has been tried in a lot of media.  I just immediately felt drawn to a high sci-fi concept like that for the show."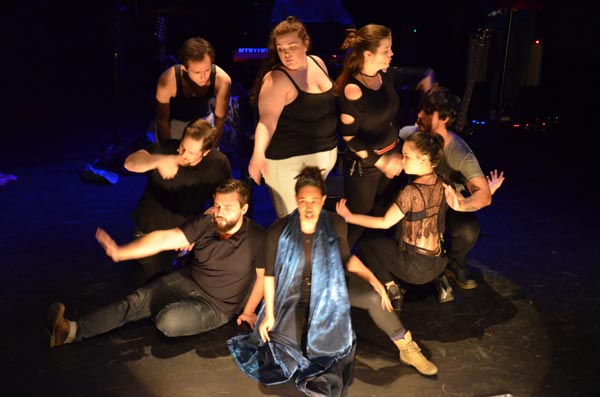 The Eleventh Hour! features music, book, and lyrics by Seamon and is directed by Lutz who has directed the musical every step of the way from the original 48 Hour Musical through the stage readings and first performances. The cast includes Tam Justin Garcia (Nevin Denham), Rachelle Legrand (Neil DeGrasse Tyson), Christopher Pasi (Astor Whitewater), Joshuah D. Simpson (Shawn Ryan), Kara Willow (Amy Leonardo), and Brianne Wylie (Thelma).
Seamon, who graduated from Rutgers in 2011 with a Journalism degree, has been a writer, a musician, an actor, and playwright.  He says he enjoys the way writing musicals allows him to showcase multiple aspects of his work.  His day job as a teaching artist for George Street Playhouse in New Brunswick keeps his songwriting chops fresh - something that came in handy for the show and for raising money for the production.
A crowdfunding campaign was created to help with the costs of the Winterfest production.  Seamon pledged to write and record an original song for everybody who donated $25 or more.  Within a 60 day period, Seamon estimates he wrote over 80 songs, ranging from 40 seconds in length to just over a minute.  He says people wanted to hear their names put into a song and have a video that they could show on social media. The requests were pouring in each day.
"I've always been a songwriter and I've been an actor and now I'm working as a playwright; and this is letting me do all at the same time. It's a dream project!" added Seamon.
We've had numerous basement bands from The Bouncing Souls to Gaslight Anthem to Screaming Females all find their way from the basements of New Brunswick to national stardom, so why not a play based in a New Brunswick basement?
As for the end of the world, if news broke of such impending doom, Seamon says he would likely drive over to his parents' house.  He'd stop at the liquor store along the way to pick up some champagne and whisky. They would likely put on some Mystery Science Theater and ride it out together - perhaps even have one last jam (his mother is also a musician).
That's if he got the news while still in New Jersey.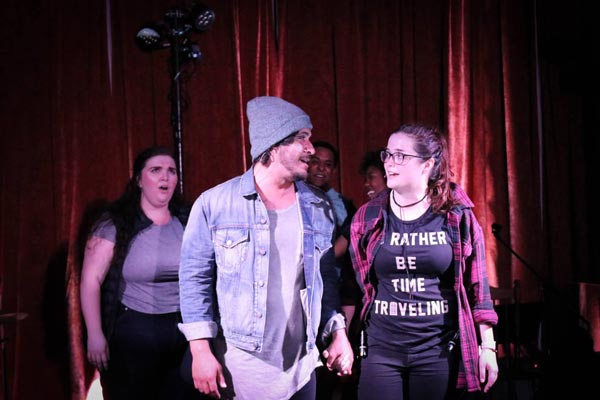 ---
Gary Wien has been covering the arts since 2001 and has had work published with Jersey Arts, Elmore Magazine, Princeton Magazine, Backstreets and other publications. He is a three-time winner of the Asbury Music Award for Top Music Journalist and the author of Beyond the Palace (the first book on the history of rock and roll in Asbury Park) and Are You Listening? The Top 100 Albums of 2001-2010 by New Jersey Artists. In addition, he runs New Jersey Stage and the online radio station The Penguin Rocks. He can be contacted at gary@newjerseystage.com.
---