By Gary Wien
originally published: 01/21/2016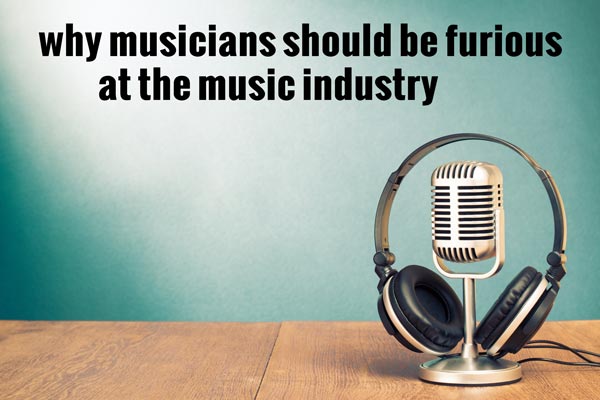 Independent musicians are losing many of their best supporters because of a major increase in royalty rates charged to internet radio stations.  Over 5,000 stations on live365.com are forced to shut down at the end of January and that's only the tip of the iceberg.  It's not that these stations don't believe in paying royalties to artists, it's that the royalty rate put in place is simply unworkable.  Independent musicians should be upset since internet radio stations often provide their first (and sometimes only) radio airplay.  Music licensing companies are supposed to be working for artists and not shutting down promotional outlets and potential revenue sources.
The royalty rate for all radio stations is $0.0017 cents per song.  For internet radio stations, that rate is then multiplied by how many listeners are hearing the station at the time. This means the cost for internet radio stations becomes 17 cents per song if 100 people were listening, while AM/FM stations pay just $0.0017 cents.  For internet stations, the costs quickly add up.
If an Internet radio station had an average of 100 listeners at one time throughout the day and played 10 songs per hour, the cost per hour would be $1.70 per hour.  That's $40.80 per day and over $1200 per month.
For a large business $1200 a month might be workable, but many internet radio stations operate as hobbies by music fans.  These station owners are likely former DJs, music writers, or music fans who want to introduce others to the artists they love. Stations run as hobbies are free to play whatever they want, often broadcasting independent artists or niche genres. Even if the stations made the jump from a hobby to a business, the move would be counter-productive because royalty rates increase if the station actually earns revenue to help pay for the royalties owed!
The royalty rate increase is due to the expiration of the Webcaster Settlement Act of 2009.  This allowed online stations to base their royalties on the amount of revenue produced by the station.  In essence, this is the most logical way royalty rates should be handled.  Stations could be run as a hobby as long as they paid their share of music royalties.  If the station grew popular and profitable to the point it could be a viable business, the owner would be paying higher royalties based on higher revenue.
---
The article continues after this ad
---
---
Unfortunately, the record industry doesn't want online radio stations to be run as hobbies.  It's hard to understand why they don't, except it's likely they would prefer royalties to come from a few of the biggest artists as opposed to thousands of small artists.  With internet radio stations shutting down, independent artists will get far less airplay, and listeners will be steered back to the major mainstream artists who bring in the most royalty money.
Terrestrial (AM/FM) radio stations face competition from internet radio stations.  Both internet radio stations and most terrestrial stations stream their signals online and many people listen to these stations on their work computer. The average music fan can also listen to radio stations via apps on his or her phone.
For terrestrial radio stations who have invested in tens of thousands of dollars in equipment to broadcast, the idea that someone can have the same signal from a station run by a hobbyist must be frustrating.  And it's only going to get worse.
Most people listen to the radio while driving, but when was the last time you listened to the radio via your stereo or an actual radio?  With more "internet connected cars" hitting the market each year, terrestrial radio is starting to lose its one big advantage.  It's already easy for people to listen to online radio stations in their car from phone apps like TUNEIN — if the app is built into a car with wi-fi it becomes even easier.
An even playing field would be great for independent musicians as it would allow online radio stations to grow their audiences and introduce them to people around the world.  It would even help artists earn more money from royalties.  And that may be why the record industry doesn't want to see online radio succeed.  It never has.
The playing field has never been equal, since internet radio stations have had restrictions imposed on them that were not applied to terrestrial or satellite radio stations. While terrestrial radio and satellite can play a complete album or an entire weekend of songs by a particular artist, online radio is limited to just three songs by one album or four songs by an artist in a three hour period.
You have always had the ability to call up your local radio station and request a song, sometimes even hearing it played as the next song.  Online radio stations must wait a full hour before playing requests — even though software could play the requests instantly.
Websites like Spotify exist because you can instantly choose the artist and song you want to hear.  Internet radio stations are not only forbidden from letting users do something like that, they cannot even announce what time a song will be played.
All of these rules have essentially prevented the growth of online radio.  The rules have also hurt independent artists.  Many online radio stations would have loved to offer special shows featuring the work of a single independent artist.  Such shows would have provided wonderful promotion for artists.  It's not that online radio stations didn't see the value in programs like that, they weren't allowed to create programs like that.
In the end, everything comes back to the classic line: follow the money.  So let's take a look at how terrestrial radio would fare under the same royalty system for online radio stations. The answer is obvious, these rates would literally bankrupt terrestrial radio.  It wouldn't make a difference if a station had a large audience or a small one, both would go under.  In fact, the larger the station the more likely they would be forced to close.
For example, an FM station with 50,000 listeners in a small city would pay $85 per song ($0.0017 cents multiple by 50,000) or $510 per hour (based on 6 songs per hour) and over $12,000 per day.  That's over $350,000 per month!  If the FM station had 250,000 listeners, each song would cost $425; each hour would cost $2,550; each day would cost $61,200; and each month would cost over 1.8 million dollars! That's over $22 million in royalties each year.
It doesn't matter how many ad sales are made by a terrestrial radio station, no business would be able to survive under those rates.  So, why did the record industry think online radio stations could? Maybe they didn't.  Maybe this is simply their way of getting rid of internet radio stations once and for all.  If you are an independent musician, wouldn't you like to know the answer?
Please click here and sign the petition to demand that Congress save internet radio
---
Gary Wien has been covering the arts since 2001 and has had work published with Jersey Arts, Elmore Magazine, Princeton Magazine, Backstreets and other publications. He is a three-time winner of the Asbury Music Award for Top Music Journalist and the author of Beyond the Palace (the first book on the history of rock and roll in Asbury Park) and Are You Listening? The Top 100 Albums of 2001-2010 by New Jersey Artists. In addition, he runs New Jersey Stage and the online radio station The Penguin Rocks. He can be contacted at gary@newjerseystage.com.
---