By Gary Wien
originally published: 10/23/2017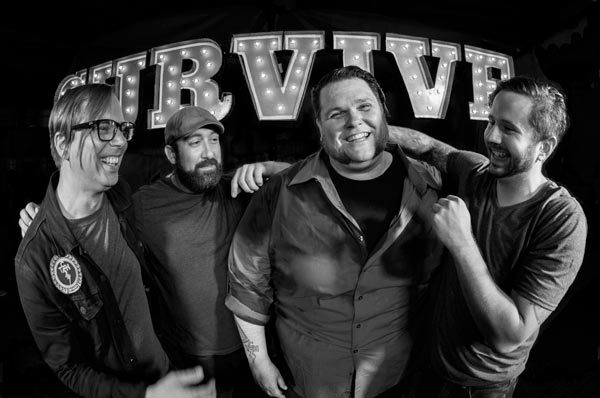 One of the most unsung bands in the New Jersey music scene for decades has been The Cryptkeeper Five (CK5) from Trenton.  They've been banging out their unique style of punk rock since 1997. Punk that includes a wide range of influences from Roy Orbison to the Misfits to Bruce Springsteen.  In a way, they're like the Ramones with a Jersey twist.
The band's latest release, The Stronghold, has been receiving rave reviews across the board with many music critics calling it their best work yet.  It's their first release since 2012 and it's been a long time coming.  In fact, the record was recorded and entered its final phases in 2014.
"Seems like with this album and the last album (The Unbeatable Cry) the band was always in a changing period," said lead singer Johnny Ott.  "When we started the album we were without a drummer.  We started recording it and then mixing it and we didn't have a set band.  So, we began playing with it.  Then we found our new drummer Brian and we started working on it more and more to try to finish it.  I feel like we couldn't have finished it at a better time because I think we are probably the best band now that we ever were.  I think it took a long time because we didn't have a band that was able to do as much as we're doing now."
Ott admits that he's always nervous when he sends a new release out to critics, but he's seen the positive reviews and he's soaking it in.  He's actually trying to send the record out to as many places as he can.
"The first few I opened up with sweaty hands and nerves," said Ott.  "Now I look forward to them!"
---
The article continues after this ad
---
---
Ott says he liked how The Unbeatable Cry turned out, but believes that record never got the chance it deserved because the band temporarily broke up while they were making the album.  With the current lineup, Ott is hoping to book many shows to support the release.  He's looking at possibly setting up a mixture of full band and solo acoustic shows with the goal of playing as much as he can.
The Stronghold was recorded by Sean Glonek, a former member of the Trenton band, The Commons, who has become a top recording engineer.  According to Ott, the calming personality of Glonek helped the recording go smoothly.
"It just came along naturally," recalled Ott.  "Sean is a very stoic person and doesn't give out compliments like candy, but as we were working on it he was giving out lots of compliments and I could see him smiling more than he normally does. It's funny, I used to care more about being pitch perfect and making everything as perfect as we could get it, but as I've gotten older I realized I just want more honest sounding songs - something that moves you and makes you feel something.  That's what I look for in music I listen to and it's what I want our music to be.  I want people to feel the way I felt when they hear the song.  At least I want them to know where I'm coming from."
The album features ten tracks starting with "MadDog 20/20 No. 2" and ending with "MadDog 20/20 No. 1" - the first being a traditional CK5 sounding up-tempo track and the latter an acoustic duet between Ott and Amy Matlack.  The song was originally written for a band called Wild Hearts Can't Be Broken that featured the two of them.  Ott says the track wasn't planned to be on the album but the band kept pushing to do it.  In the end, he agreed to record it as long as they recorded the version with him and Amy as well.
"I'm happy to put it out because where I thought it might stand out like a sore thumb, it sticks out because people like it," said Ott.
Actually both versions are great and among the best tracks on the record.  In a weird way, ending with the acoustic duet sort of reminds me of an encore after the concert with the lead singer and one other band member left on stage.  It's a beautiful way to close out the disc and shows just how versatile the songwriting is — one reason why the band has been able to attract both rock and punk rock fans all these years.
Another standout track is "Balboa."  Like most folks who grow up in the shadow of Philadelphia, Ott grew up a fan of the Rocky films.  In a heavily theatrical song reminiscent of Meat Loaf, Ott sings an ode to the legendary film fighter.
"I used to love the Rocky movies," explained Ott.  "I used to think they're great until one day I watched it and I guess it hit a nerve.  I realized it's just a love story.  Well, for me, Rocky is not only a love story about finding the right person, but it's about the way he loses and you're still happy for him.  I think everybody wants to prove their worth at some point.  We all want to prove that we're good enough.  I think I'm good, otherwise I wouldn't continue doing it."
One of the reasons why The Cryptkeeper Five may not be as well known as they deserve is because of where they are from.  Trenton is truly an underground music scene.  In fact, the best club to play runs shows in the basement.  The city not only carries its underdog reputation with pride, but it has a very punk rock feel to it.  Looking back, even with shows throughout the country and across Europe, Ott says many of his favorite performances took place in the Millhill basement.
Some think of Trenton and instantly think of crime, but Ott says punk rock is usually found in the bad parts of every town.  Ironically, it not only survives but thrives there with everybody getting along and enjoying the show. Ott thinks Trenton was meant to have an underground vibe, but he still imagines what could be.
"I feel Trenton is like a little nest that's going to hatch at some point," he said. "People care for it and people love the city. If you're from Trenton and you live around Trenton, you kind of have a love for it. You want to see good things happen for it."
The Cryptkeeper Five have a pair of shows coming up at the Millhill Basement in Trenton.
October 27 with Hot Blood, Doc Rotten, The Carousers
November 22 with St. James & The Apostles, Pissed!, Meeko Brando
---
Gary Wien has been covering the arts since 2001 and has had work published with Jersey Arts, Elmore Magazine, Princeton Magazine, Backstreets and other publications. He is a three-time winner of the Asbury Music Award for Top Music Journalist and the author of Beyond the Palace (the first book on the history of rock and roll in Asbury Park) and Are You Listening? The Top 100 Albums of 2001-2010 by New Jersey Artists. In addition, he runs New Jersey Stage and the online radio station The Penguin Rocks. He can be contacted at gary@newjerseystage.com.
---