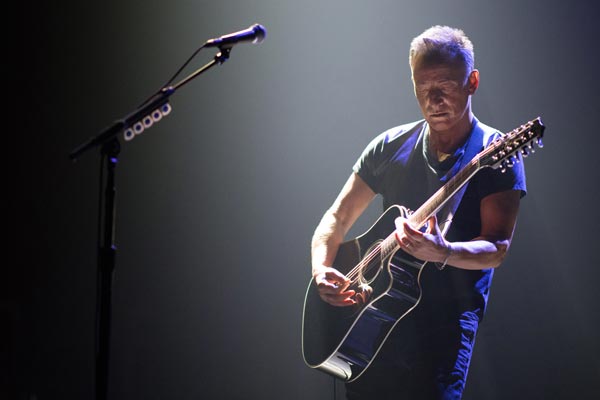 (ASBURY PARK, NJ) -- The Asbury Park Music & Film Festival (APMFF) and the Bruce Springsteen Archives and Center for American Music at Monmouth University will present The Bruce Springsteen Archives  at the Paramount Theatre on Saturday, April 27 at 4:00pm. Thom Zimny, long time film director and archivist for Bruce Springsteen, will present an exclusive screening of rare and never before seen footage of Springsteen from the Thrill Hill Vault spanning from his early years to recent tour highlights. Following the screening, a panel discussion and Q&A will take place moderated by Backstreets editor, Chris Phillips.
Zimny is a Grammy® and Emmy Award®-winning artist, and the director and producer of the newly released Springsteen On Broadway [NETFLIX / 2018]. His most recent feature THE GIFT: THE JOURNEY OF JOHNNY CASH was made in collaboration with the Cash Estate, and premiered at this year's SXSW Film Festival and was featured internationally at the CPH:DOX film festival in Copenhagen, Denmark. His previous film, Elvis Presley: The Searcher, a two-part feature, premiered at SXSW and aired on HBO in 2018, receiving widespread critical acclaim. He has previously directed and produced two feature length documentaries chronicling key chapters in Bruce Springsteen's recording career, winning a Grammy for WINGS FOR WHEELS: THE MAKING OF BORN TO RUN, while THE PROMISE: THE MAKING OF DARKNESS ON THE EDGE OF TOWN premiered at the Toronto International Film Festival and was subsequently released on HBO.  Zimny has worked with Springsteen for the past 18 years and has directed documentaries, including BRUCE SPRINGSTEEN'S HIGH HOPES [HBO / 2014] and THE TIES THAT BIND [HBO / 2015], the short film for High Hopes track HUNTER OF INVISIBLE GAME, co-directed with Bruce Springsteen, and several music videos.   
"We are thrilled to have Thom Zimny present rare concert footage spanning Bruce Springsteen's live career on stage at this year's Asbury Park Music & Film Festival," said Eileen Chapman, Bruce Springsteen Archives and Center for American Music at Monmouth University. "The historic Paramount Theatre will serve as the perfect venue to witness this very special afternoon of unique Springsteen archival film and video."
Tickets priced at $25.00 and $15.00 can be purchased at apmff.org/tickets. 
The APMFF is scheduled from April 25-28 in Asbury Park, NJ.  The Festival will kick-off on Thursday, April 25 at the Paramount Theatre when recording artists Jakob Dylan, Cat Power, Jade (Edward Sharpe and the Magnetic Zeros) and special guests will perform songs by The Byrds, The Beach Boys, and The Mamas and Papas following the New Jersey premiere of Echo In The Canyon.
---
The article continues after this ad
---
---
Two-time Rock & Roll Hall of Fame inductee, David Crosby, and film director Cameron Crowe, will take part in a Q&A discussion following the New Jersey premiere of David Crosby: Remember My Name (Sony Pictures Classics), a documentary about the legendary musician, at The Paramount Theatre on Saturday, April 27 at 7pm.
Oscar-award winner Peter Farrelly, and brother Bobby, will appear at The Paramount Theatre on Sunday, April 28 for a career retrospective, highlighting their mutual impact on the film industry. The evening will include an in-depth discussion moderated by Deadline Hollywood's Mike Fleming, audience Q&A and very special guests. 
Asbury Park: Riot, Redemption, Rock 'N Roll, the story of the long troubled town of Asbury Park and how the power of music can unite a people divided, will screen on Sunday, April 28.  An early cut of this film played to a sold-out Paramount Theatre at the 3rd Annual APMFF on a now legendary night which featured  surprise appearances from Little Steven and the Disciples of Soul, Southside Johnny, Bruce Springsteen and a cast of all-stars from the legendary Upstage Club in Asbury Park.  Following the screening, a panel discussion and Q&A will take place moderated by editor of Backstreets, Chris Phillips.
Clarence Clemons: Who Do I Think I Am? will screen on Saturday, April 27.  Directed by Nick Mead, highlights Clarence Clemons' life as a musician while also presenting another side of Clarence not many saw when he was under the bright lights. It's an intimate portrait of a man who searched for enlightenment and for some meaning at the unknowingly final years of his life.   A panel discussion and Q&A will take place at the conclusion of the screening.
"The Po Boy Jam" headlined by the Tangiers Blues Band featuring Danny Clinch will take place on Saturday, April 27 at The Stone Pony. A festival staple, the Tangiers Blues Band return to the Stone Pony to do what they do-invite diverse musicians to join them in raucous blues based cover songs. 
Dylan Archives IV presented by the Bob Dylan Center will take place on Sunday, April 28 at The House of Independents. 
The Paramount Theatre will host "The Gary US Bonds Unusually Big Birthday Bash" with special guests Joe Grushecky & The Houserockers on Friday, April 26. Hot Water Music will celebrate their 25th anniversary at the House of Independents and will mark the occasion by playing albums No Division and Caution in their entirety, respectively on Saturday, April 27 and Sunday, April 28. Jake Miller will also play the House of Independents stage on Friday, April 26. In addition, on Sunday April 28, Rock and Roll Playhouse Presents The Music of Bruce Springsteen For Kids will be at The Stone Pony and Jazz Is Phsh at The Wonder Bar.
The Festival's Board of Advisors includes some of the most powerful figures in the film and music industries led by Tom Bernard (co-President, Sony Pictures Classics), Tom Donovan (President/Publisher of the Asbury Park Press and Northeast VP of the USA Today Network) and Danny Clinch (Director & Photographer). In addition,  Adam Block (Music Industry Executive), Josh Braun (Submarine Entertainment), Jim Dowd (NJ Devils Stanley Cup Champion), Eric Eisner (Double E Pictures), Denis Gallagher (Charliewood Pictures), Tom Jones (Halo Group), Justin Kreutzmann (Filmmaker), Annie McDonough (Falco Ink), Jeff Rosen (Manager, Bob Dylan), Rich Russo ("Anything, Anything" Radio), Bob Santelli (Grammy Museum), Shelli Sonstein (Q104.3/iHeart Media) and Michael Uslan (Film/TV Producer) serve as  members of the Board.
PHOTO BY ROB DEMARTIN