By Gary Wien
originally published: 01/21/2016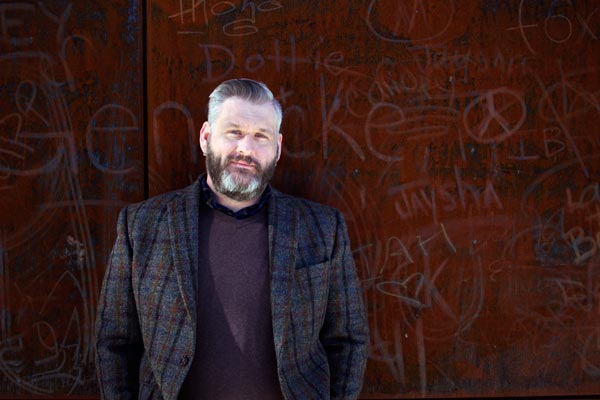 It's often said that divorce is hardest on the children.  In The Book of D, playwright Cody Daigle-Orians examines how a young boy named D handles his parents going through a divorce during a period in which he is struggling to fit in at school.  D becomes friends with Blu, who introduces him to the world of Greek mythology.  Inside these myths, D begins to find himself. The play has its world premiere at The Growing Stage in Netcong from February 12 to February 21.  
"The Greek myths have always been these incredibly potent, incredibly truthful stories to me," explained Daigle-Orians.  "They're ultimately a guidebook to being a good human, so I've found myself coming back to them in my work often. They're some of our oldest narrative inheritances. I love them."
This is the second play in which he has utilized divorce as part of the story, but it's not a subject in which he has direct experience.  His own parents have actually been married for over 40 years.  He says he uses divorce as a vessel for dealing with loss — a common thread in his work.
"I've always been interested in who we are when we lose things, how loss tests us and puts us in the crucible, and how we often come out of it deeply and profoundly changed," said the playwright. "That process is very interesting to me, and I've always written about it. The Book of D fits right in, looking at how stories can help us navigate loss."
Born in Louisiana, he is currently living in Hartford, Connecticut where he is a teaching artist and  the programming coordinator for the Charter Oak Cultural Center in downtown Hartford.  His plays range from works created for adult audiences to those for young audiences like The Book of D. Situations involving close friendships, families in trouble, and loss are often part of his works.
---
The article continues after this ad
---
---
It may seem difficult moving from the world of adult audiences to young audiences, but he says he treats both works as the same process.  He finds himself asking the same kinds of storytelling questions regardless of the audience, but the writing is approached a little differently.
"I think with young audiences, you have to write very purely," he explained. "No snark. No excess cleverness. No artifice. No tricks. Kids can smell a lack of authenticity a mile away. You have to write cleanly and simply and honestly."
Cody certainly knows the young audience well.  He has taught and created plays in such places as New Britain Youth Theatre, the Delta Grand Youth Theatre, AUI Summer Theatre, The Playhouse Tulsa, and Union Public Schools.  In addition, he created the PlayBridge Workshop — a unique play creation workshop for young people.
This is his first time working with the Growing Stage.  The Book of D was chosen for production as a result of winning the company's annual new play contest in 2015.  He has been part of the rehearsal process, but due to distance, he's involved peripherally.
"It's fun for me to see what a creative team does with a play of mine, especially when I trust them," he said. "I've done a few last minute rewrites based on stuff the director suggested, and it's added some lovely things to the play. I'm looking forward to seeing the end result."
His advice for young writers is to learn to trust their voice — something he admits is easier said than done.  "I see a lot of plays by young or beginning writers that try very hard to impress or be political or be smart instead of just being their play. Whatever that is," he said. "Getting them to dig into that vulnerability and trust that the story that's burning in them is enough -- that's tough. That is something I still feel like I'm learning."
Previous winners of The New Play Reading Festival at the Growing Stage include And Then Came Tango (2014), The Secret Life of Hubie Hartzel (2013), and With Two Wings (2012). The final candidates for this year include Hope is the Thing with Feathers by Dorothea Cahan, Not Waving by Richard Manley, The Box of Stories by Jessica Puller, and The Summer of the Blood Moon by Jack McCleland.  The second and final round of readings will take place February 26-28.  
Plays are read by professional and community artists in a casual setting.  Following each reading, audience members can participate in a discussion of the work with the Growing Stage's professional team.  The winning play will be chosen to have a fully mounted production in 2016.
---
Gary Wien has been covering the arts since 2001 and has had work published with Jersey Arts, Elmore Magazine, Princeton Magazine, Backstreets and other publications. He is a three-time winner of the Asbury Music Award for Top Music Journalist and the author of Beyond the Palace (the first book on the history of rock and roll in Asbury Park) and Are You Listening? The Top 100 Albums of 2001-2010 by New Jersey Artists. In addition, he runs New Jersey Stage and the online radio station The Penguin Rocks. He can be contacted at gary@newjerseystage.com.
---