By Gary Wien
originally published: 01/21/2017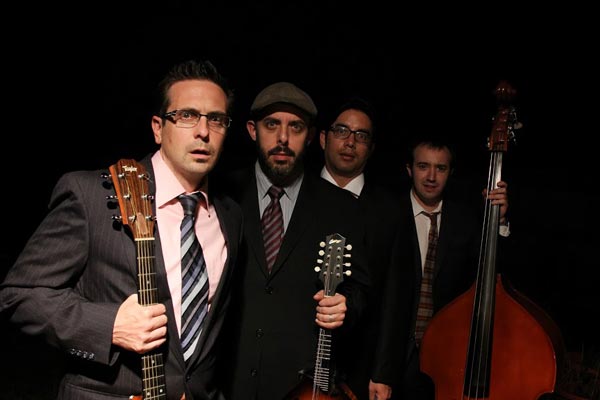 "When I formed the band with Pete, part of the mantra for me was I wanted to do something with more of a sense of humor to it," said Matt Cheplic, talking about the history of The Bitter Chills.  "The first go around for me was straight forward and honest, which was fine.  It was what I was doing at the time, but I felt I had done that and wanted to do something that was a little more tongue in cheek… a little sillier."
In the early 2000s, Cheplic had given the singer-songwriter route a strong run.  He released Don't Let Me Lose My Mind, a solo album put out under his own name, on a Monmouth County label and did shows around the country.  The record received airplay on college stations and public radio, but things fell apart when the label went under. Years later, he released Who Burned The Book of Love? - another solo album as a fundraiser for a homeless shelter in Union City.  He had already begun playing with Pietro Ciliberto, a fellow teacher at Roselle Catholic High School, about starting a band.
"Pete plays mandolin and we got to talking about mutual artists we like - rootsy, Americana stuff," recalled Cheplic. "And so for a little while it was just the two of us and then it was the two of us plus somebody else.  There was a lot of different iterations."
The band released their first record, Birth Of The Cold, in 2013.  It began simply by recording a few tunes, but before they knew it they had enough for a full record. It was largely a low-fi acoustic effort, but it was here that the band's sense of humor was instilled via songs with titles like "You're Not the Girl of My Dreams (But You'll Do)" and "I'm Ready for My Mid-Life Crisis."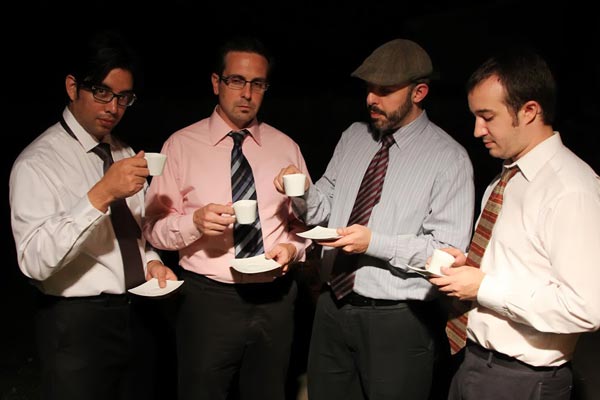 Humor, from puns in their lyrics to quirky promotional videos, became part of the band's lore.
---
The article continues after this ad
---
---
What would you do if you discovered you happened to schedule a live concert on an internet radio station at the same time the World Cup Final (the most watched sporting match in the world) was taking place? For The Bitter Chills, it meant shooting a tongue-in-cheek video providing all of the reasons why people should listen to their concert rather than watch a bunch of guys flopping around a soccer field. 
There's a video which promotes the band's tour of New Jersey that kicks off and ends on the very same day.  Cheplic compares the two shows the band will play on that day to the two sets Phil Collins played in London and Philadelphia for Live Aid.  It may or may not bring a chuckle, but it's something different, something creative just like the band's website which features an FAQ page that reads like a classic Beatles presser.
"I think a lot of bands and artists are uncomfortable with showing a sense of humor for some reason," said Cheplic.  "I don't know what that means.  Don't it mean that they're less serious as artists or less legitimate? It makes me laugh because you've got the greatest, most influential band of all time who always had a sense of humor.  The Beatles were always doing things that were tongue-in-cheek or mocking themselves a bit.  I think you can be a band that's serious about what you do, but not feel the need to be overtly serious all of the time."
None of that would matter if the music wasn't good, but the songs are incredibly catchy.  The Bitter Chills have songs that evoke artists like Marshall Crenshaw, Elvis Costello, and Nick Lowe. The band will celebrate the release of their second album, Feel-Good Songs For Feel-Bad People on Friday, February 3 at Sticks & Stones in Hawthorne, NJ.  They will be joined on the bill by fellow Mint 400 labelmates The One and Nines and Young Legs.
This album was produced by Neil Sabatino who runs Mint 400 Records and plays in the band Fairmont. He took the band's rootsy sound and gave it a complete polish over, almost making the songs sound like the British artists like Nick Lowe who are inspirations to Cheplic.  It's a wonderful blend of folk, sixties groove, and melodic power-pop with plenty of hooks.
While not as silly as the band's first album, there is still quite a bit of tongue-in-cheek lyrics on this album as well. Songs include titles like "My Lady Lacks the Energy (To Find Somebody New)" and "Jared Livingston, Last of the Great American Schoolyard Bullies" and lyrics that remind me of the type of songs Elvis Costello used to write in the late 70s and 80s.
I've got nothing but love for you / I've got nothing but love for you / but unfortunately for me, you need money too — ("Nothing But Love, Unfortunately")
In addition to Cheplic (vocals and guitar) and Ciliberto (mandolin, backing vocals), the band includes bassist, Chris Bobbins, who had been a student of theirs; Christian Kisala, someone Cheplic has known for 20 years on drums; and Clint Morris on guitar who joined the band more recently. Cheplic says that Clint's guitar playing is one of the key distinctive factors about this new record that sets it apart from the first one.
The band has a few shows scheduled in addition to the record release.  They will be playing an all-day festival called Saylestock in Ridgewood on April 30 (an event which is also a cancer research fundraiser) and will be back at Mexicali Live in Teaneck on May 25.
---
Gary Wien has been covering the arts since 2001 and has had work published with Jersey Arts, Elmore Magazine, Princeton Magazine, Backstreets and other publications. He is a three-time winner of the Asbury Music Award for Top Music Journalist and the author of Beyond the Palace (the first book on the history of rock and roll in Asbury Park) and Are You Listening? The Top 100 Albums of 2001-2010 by New Jersey Artists. In addition, he runs New Jersey Stage and the online radio station The Penguin Rocks. He can be contacted at gary@newjerseystage.com.
---