By Gary Wien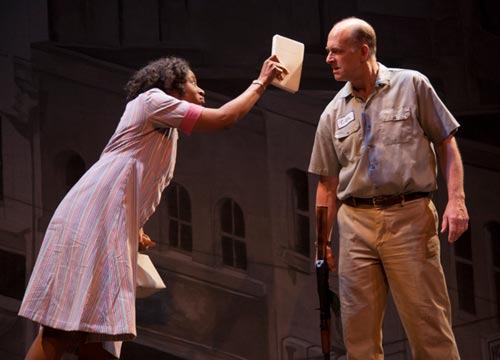 (NEW BRUNSWICK, NJ) -- "There's a lot of hate here," said Ann Atwater, an African-American civil rights activist in Durham, North Carolina around 1971. Ann is one of the central characters in Mark St. Germain's "The Best of Enemies" play. The others include C.P. Ellis, a Grand Cyclops of the KKK, and Bill Riddick, a community organizer who attempts to bring the pair together during the desegregation of the Durham schools. It's a remarkable story about racial tension, changing times, and the goodness that is in all of us. Best of all, it's a true story.

I've seen a lot of plays in my life. Some were good, some not so good, and some were damn near perfect. It's rare that I see a play that I'd really say was as IMPORTANT as this one. Running now through December 23rd at George Street Playhouse in New Brunswick, this play tears down the wall that hides one of America's darkest periods. I'd love to see high schools and junior highs from throughout the state get the opportunity to see this play because it shows history that isn't taught -- recent history, the kind that should matter the most to us, yet is never brought up.

"The Best of Enemies" has a nice brisk pace, outstanding acting, and utilizes multimedia well to show various locations throughout Durham. The play begins with Riddick (played by Don Guillory) in the auto garage owned by C.P. Ellis (John Bedford Lloyd). It's hard to tell if Riddick is extremely brave facing off against a KKK leader or simply a fool. When he later meets Ann Atwater (Aisha Hinds), it's clear she believes he is the latter.

"You think you're Jesus Christ coming into town on Palm Sunday," said Atwater. "But I think you're the ass he rode on!"

Eventually Riddick is able to get both of them to be co-sponsors of a town meeting geared toward saving the schools. For Atwater, that means providing the same education for blacks as the white kids receive. For Ellis, that means keeping the two as far apart as possible.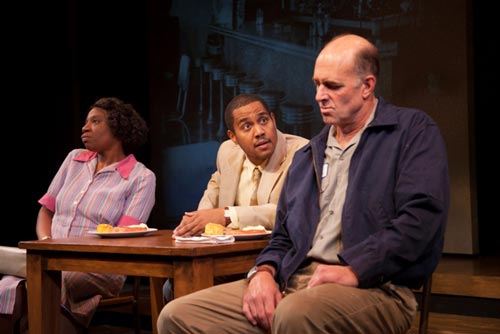 As Ellis and Atwater spend more and more time working together, they learn that the other isn't nearly as different as they think. Germain does a wonderful job showing how easy it is to hate what you don't know and how difficult it is to keep that hatred after you get to know the person. The two suffer personally due to the meetings. The KKK members, who Ellis believed were his friends, begin to hate him for working with Atwater and business at his garage drops substantially. Meanwhile, Atwater, who quit her job a few weeks before Riddick came to town, struggles to find work and put food on the table for her children.
Throughout the situation, both sort of resent Riddick for changing their views. Ellis can sense the world he knew is changing around him and he doesn't know if he'll be able to adapt. Atwater believes Riddick cares more about his own reputation than fixing the schools. In the end, both Atwater and Ellis put their kids ahead of their own prejudices. In Ellis' case, that lesson was learned by his wife Mary (played by Susan Wands), an interesting woman who married C.P. when she was very young and who would later despise his time at the KKK.
There are a few climatic moments at the end that will bring a tear to your eye; those rare moments in which you cry not because you're sad, but because you've just witnessed something so truly beautiful.
"The Best of Enemies" was inspired by the best-selling novel of the same name by Osha Gray Davidson. The play is directed by Julianne Boyd, the Artistic Director of Barrington Stage Company, who brought the original cast of the play's 2011 production to George Street. Ironically, the play wasn't even supposed to be part of this season's lineup. It was actually a late replacement for "Clever Little Lies" which was supposed to star Marlo Thomas. When Thomas was offered a reoccurring role on the television show, "The New Normal", George Street decided to postpone the production. After some maneuvering, George Street was able to bring the entire production of "The Best of Enemies" to town.
The play is the first production to take place on the Arthur Laurents Stage. George Street officially named its main stage after the late playwright on November 30. In a nice touch, the theatre has invited New Brunswick first responders who helped out during Hurricane Sandy to see performances throughout the play's run. A couple of New Brunswick firemen were in the audience and stood to receive a nice ovation from the crowd.
"It's the heroes among us that prove their mettle in times of crisis like this," said George Street's Artistic Director David Saint. While he was talking about the first responders, his words could easily have been for Ann Atwater and C.P. Ellis as well -- true American heroes that will inspire you.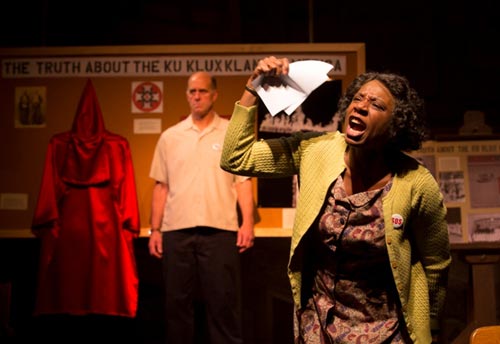 ---
Photos by T. Charles Erickson

---
Gary Wien has been covering the arts since 2001 and has had work published with Jersey Arts, Elmore Magazine, Princeton Magazine, Backstreets and other publications. He is a three-time winner of the Asbury Music Award for Top Music Journalist and the author of Beyond the Palace (the first book on the history of rock and roll in Asbury Park) and Are You Listening? The Top 100 Albums of 2001-2010 by New Jersey Artists. In addition, he runs New Jersey Stage and the online radio station The Penguin Rocks. He can be contacted at gary@newjerseystage.com.
---