originally published: 10/05/2017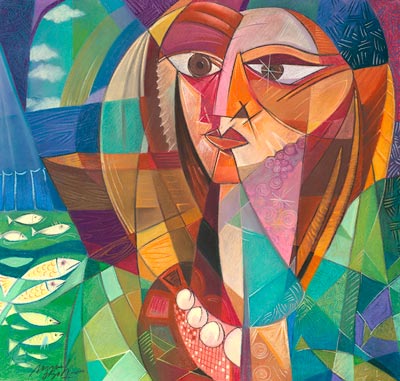 (LAMBERTVILLE, NJ) -- Lambertville's underground cultural supporter, The Art of Sound presents "The Gathering" by Miguel Osorio on October 18th and 20th. This is a unique, yet relative exhibition that visually explores the diversity of our society through Osorio's artistic interpretation.  It consists of Osorio's vast collection, artwork personally selected by the artist, spanning over the past 25 years.
"The use of bold colors represents the tones of my homeland; the bright blues for the skies and oceans; the vibrant reds for its passionate people - all of which is reflective of my thoughts both past and present," explained Osorio.
Serious art collectors can reserve seats by phone for the private preview event, set to be hosted on Wednesday, October 18 from 5:00pm through 7:00pm.  The general public is invited to attend the opening reception without reservations, scheduled for Friday, October 20 from 5:00pm – 9:00pm. 
Both events offer refreshments and light fare.  The Art of Sound can be reached at 609.483-5000 and is located at 201 South Main Street, Lambertville, NJ.
Attendees of this special exhibition can expect to be engaged and further enlightened by the Spanish-born artist's personal experiences and view on cultural diversity, as his body of work examines issues that affect not only our society but also our world as a whole.  Osorio also immortalizes moments so they are never forgotten, such as the Exxon Valdez oil crisis, Climate Change and 9/11.
---
The article continues after this ad
---
---
"My direction as a painter is to visually stimulate and subliminally, if not consciously, educate the public," added Osorio.  "My work is inspired by the history and events of religion, war, and our environment."
Primarily working in oils and pastels, artist, Osorio, born in Barcelona, Spain, grew up in Lisbon, Portugal where he began his studies in Fine Art.  From his early beginnings, Osorio was raised in an environment rich in art and culture, his mother a performing artist, his father a movie director, followed by professionally creative grandparents, one a writer and the other an opera singer.  Additionally, Osorio's childhood was filled the histories and folklore of past generations.
Carrying this exposure with him, he immigrated to the United States in the mid 80's.  He would later settle in Hunterdon County, an area steeped in history where creative people flourish and the arts thrive and has been a studying and working artist for a lifetime, producing celebrated works of all sizes and meaning.
Within its 4,000-square foot, audio-visual, underground studio, The Art of Sound proudly produces a thoughtful variety of cultural and artistic experiences for clientele and the public, including the ever-popular and sold-out Lost Recording Listening parties, Hammerstein fundraising screenings, as well as other exclusive, artist shows.