This article is from our magazine. To view it in its original format, click here
The Art Of Concert Photography
By Gary Wien
originally published: 10/21/2015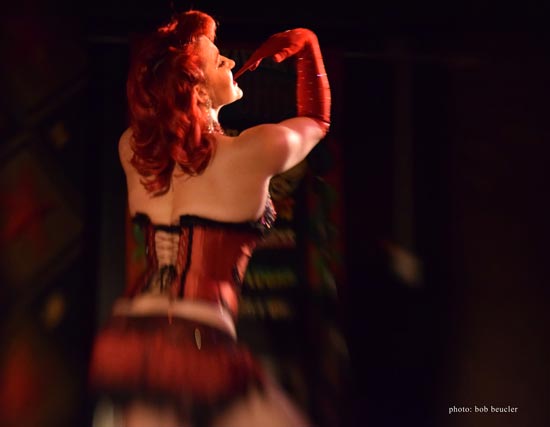 In the old days, it was hard to take photographs at concerts.  If you didn't have a photo pass as a member of the media, you had to sneak in a camera.  Chances are you were either shooting from a distance or risked having your camera removed by security.   These days, you'll see many people with digital cameras and even more taking pictures with their cell phones at every show.  Many consider themselves photographers, but a true photographer sees things or does things with their photos that amateurs cannot.  Bob Beucler's work is a good example.  He doesn't just take pictures; he gives his photos an art-like quality.
"I'm not very technical; I just know what I like to see," explained Beucler.  "I do favor a style that I guess I would refer to as live-event portraiture.  The only thing I'm trying to achieve with each photo is I want people to think it's an interesting image.  If the viewer feels the image is interesting, then the performer in the photograph might look more interesting, too."
Born in Teaneck and raised on Long Island, Beucler moved back to New Jersey over a decade ago.  He currently shoots with a Nikon DSLR and a variety of lenses.  He plans on getting a second Nikon body so he can have two on hand with different lenses.
Beucler was first introduced to concert photography from seeing old Led Zeppelin concert posters.  This led him to Neal Preston's book Led Zeppelin Portraits which showed him the power of concert photography.   "It's all black & white, dark and mysterious," recalled Beucler.  "He was able to take a band that was larger-than-life and make them look even bigger.  I fell in love with it."
Unfortunately, with everybody believing they are photographers these days, quality concert photography has become a lost art.
---
The article continues after this ad
---
---
"As a society we have become very accepting of mediocrity," said Beucler.  "We get inundated by countless photos taken by cell phones, and while some of them can be pretty good, most are distant, blurry images taken with a device that can't shoot in low-light situations.  And then they're all dumped onto Facebook with zero regard to whether the artist was caught in a bad face-freeze or has their back to the camera.  There's no time or effort put into the presentation.  People just share them and it removes all mystique about the performer.  This is why I only put a teaser or two on Facebook; then I put only a handful more on www.BobBeucler.com.  Before doing so, I go through every shot and remove any that I feel don't represent the performer in the right way.  I am trying to bring some mystique back to event imagery the way Neal Preston did with Led Zeppelin."
Beucler had three of his photographs in an exhibition at the Hamilton Street Gallery in Bound Brook earlier in the year.  In addition to gallery showings, he hopes to one day create a book that celebrates the New Jersey music and performance scene through his photographs.

---
For more by this author, click here
---


D&R Greenway Land Trust Presents The Juried Exhibition "Lovely as a Tree"
(PRINCETON, NJ) -- D&R Greenway Land Trust's juried exhibition, Lovely as a Tree, includes the work of more than 80 artists responding to the words of poet Joyce Kilmer: "I think that I shall never see  a poem lovely as a tree." The artwork is on view November 19, 2018 through January 25, 2019 at D&R Greenway's Johnson Education Center, 1 Preservation Place, Princeton. 
---
Getting Graphic: Novels, Memoirs & Comics Returns To Visual Arts Center
(SUMMIT, NJ) -- The second annual edition of Getting Graphic: Novels, Memoirs & Comics, will take place at the Visual Arts Center of New Jersey on December 1, from 12:00pm–7:00pm. Incredibly popular last year, this free event for all ages will feature graphic novelists, graphic memoirists, and comic book artists showcasing and discussing their work, signing books, and selling merchandise at tables set up throughout the Art Center.
---
South Jersey Artisans To Take Part In Holiday Gift Boutique In Brigantine
(BRIGANTINE, NJ) -- November is finally here and that means the holidays are right around the corner. The elves are busy getting things ready at the north pole.  In South Jersey, the artists are busy getting unique items together for you to come shop, grab a drink & enjoy complimentary hors d'oeuvres at the Holiday Gift Boutique on Sunday, December 9th at The Cove Restaurant in Brigantine. The event runs from 1:00pm to 6:00pm.  
---
Grants Are Now Available for Garden State Organizations from the New Jersey State Council on the Arts
(TRENTON, NJ) -- The New Jersey Council on the Arts has announced grants for New Jersey Arts Organizations to help with General Operating Support (GOS), General Program Support (GPS), and Arts Project Support (APS). The Notice of Intent to Apply is December 4, 2018 and the application deadline is February 13, 2019.  The application will be available in mid-January. State Arts Council staff is available to help with questions specific to your application. Program Officers in each discipline are reachable by telephone and email, or you may schedule an appointment. The schedule of technical assistance webinars will be made available in the near future.  
---
Barsky Gallery To Host "Rhythms" - A New Duo-art Exhibition
(HOBOKEN, NJ) -- Barsky Gallery in Hoboken will host a new duo-art exhibition – RHYTHMS featuring works of two talented artists, debuting on Saturday, November 3rd, 2018 to coincide with the Hoboken Art + Studio Tour scheduled for the same weekend. The exhibition will run through November.
---


PODCAST: An Artist Asks "The 20 Most Important Scientific Questions Of The 21st Century"
In this podcast, we speak with them about art, activism and how women invented Postmodernism. "The 20 Most Important Scientific Questions of the 21st Century" runs through December 14th at Douglass Library.
---
Artist Mel Leipzig At 83
We recently met up with artist Mel Leipzig at Artworks in Trenton. He was there to do what he does every day – create big paintings of people he likes. While the Artworks staff went about their business getting the space ready for this year's Art All Day event, happening this Saturday, Mel pulled a few of them aside to capture them in their natural habitat in acrylic.
---
Heather Ujiie Explores "Terra Incognita" At Rowan University Art Gallery
"My life's mission is to challenge myself to go to new places," said Heather Ujiie, a Bucks County, PA, multimedia artist whose latest work, "Terra Incognita," is on display at the Rowan University Art Gallery now through November 17, 2018.
---
Kevin Sampson: Solo Exhibitions In New Jersey and Beyond
"I'm a Civil Rights baby. I grew up laying across picket lines and blocking traffic." Artist Kevin Sampson's father, Stephen, was a well-known Civil Rights leader in New Jersey, and he instilled a commitment to community that his son still honors.
---
Basking Ridge Resident Returns to Matheny to Help Assist in Strategic Planning for 'This Amazing Place'
When Ellen Lambert was director of development at the Matheny School and Hospital in Peapack, NJ, from 1993 to 1995, one of her major achievements was the formation of a fundraising plan for what would eventually become the Robert Schonhorn Arts Center. The concept of Matheny's Arts Access Program  -- which enables people with disabilities to create art, assisted by professional artist-facilitators  -- was emerging in '93, and the arts center was eventually built in 2000.
---
Event calendar
Saturday, Nov 17, 2018
---
MUSIC

---
---
---
---
---
---
---
---
---
---
---
THEATRE

---
Annie

@ Broad Street United Methodist Church, Burlington - 8:00pm
---
---
Annie

@ Axelrod Performing Arts Center, Deal Park - 2:00pm and 8:00pm
---
Apples In Winter

@ Centenary Stage Company - Kutz Theater of the Lackland Center, Hackettstown - 8:00pm
---
---
---
Kiss Me Kate

@ Broadway Theatre of Pitman, Pitman - 2:00pm and 8:00pm
---
---
---
---
---
Into the Woods

@ Studio Playhouse Upper Montclair, Upper Montclair - 8:00pm
---
---
COMEDY

---
---
DANCE

---
---
KIDS

---
---
View all events
---