By Gary Wien
originally published: 10/21/2015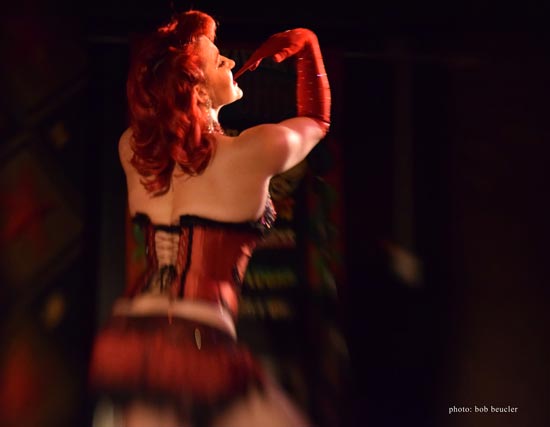 In the old days, it was hard to take photographs at concerts.  If you didn't have a photo pass as a member of the media, you had to sneak in a camera.  Chances are you were either shooting from a distance or risked having your camera removed by security.   These days, you'll see many people with digital cameras and even more taking pictures with their cell phones at every show.  Many consider themselves photographers, but a true photographer sees things or does things with their photos that amateurs cannot.  Bob Beucler's work is a good example.  He doesn't just take pictures; he gives his photos an art-like quality.
"I'm not very technical; I just know what I like to see," explained Beucler.  "I do favor a style that I guess I would refer to as live-event portraiture.  The only thing I'm trying to achieve with each photo is I want people to think it's an interesting image.  If the viewer feels the image is interesting, then the performer in the photograph might look more interesting, too."
Born in Teaneck and raised on Long Island, Beucler moved back to New Jersey over a decade ago.  He currently shoots with a Nikon DSLR and a variety of lenses.  He plans on getting a second Nikon body so he can have two on hand with different lenses.
Beucler was first introduced to concert photography from seeing old Led Zeppelin concert posters.  This led him to Neal Preston's book Led Zeppelin Portraits which showed him the power of concert photography.   "It's all black & white, dark and mysterious," recalled Beucler.  "He was able to take a band that was larger-than-life and make them look even bigger.  I fell in love with it."
Unfortunately, with everybody believing they are photographers these days, quality concert photography has become a lost art.
---
The article continues after this ad
---
---
"As a society we have become very accepting of mediocrity," said Beucler.  "We get inundated by countless photos taken by cell phones, and while some of them can be pretty good, most are distant, blurry images taken with a device that can't shoot in low-light situations.  And then they're all dumped onto Facebook with zero regard to whether the artist was caught in a bad face-freeze or has their back to the camera.  There's no time or effort put into the presentation.  People just share them and it removes all mystique about the performer.  This is why I only put a teaser or two on Facebook; then I put only a handful more on www.BobBeucler.com.  Before doing so, I go through every shot and remove any that I feel don't represent the performer in the right way.  I am trying to bring some mystique back to event imagery the way Neal Preston did with Led Zeppelin."
Beucler had three of his photographs in an exhibition at the Hamilton Street Gallery in Bound Brook earlier in the year.  In addition to gallery showings, he hopes to one day create a book that celebrates the New Jersey music and performance scene through his photographs.
---
Gary Wien has been covering the arts since 2001 and has had work published with Jersey Arts, Elmore Magazine, Princeton Magazine, Backstreets and other publications. He is a three-time winner of the Asbury Music Award for Top Music Journalist and the author of Beyond the Palace (the first book on the history of rock and roll in Asbury Park) and Are You Listening? The Top 100 Albums of 2001-2010 by New Jersey Artists. In addition, he runs New Jersey Stage and the online radio station The Penguin Rocks. He can be contacted at gary@newjerseystage.com.
---