By Gary Wien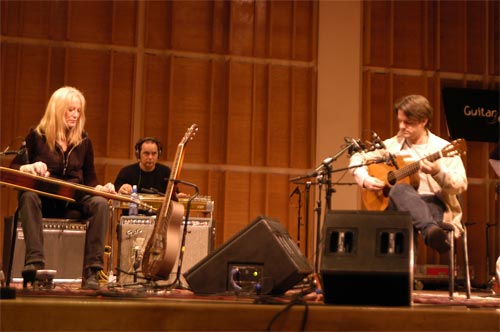 The Jersey Shore is literally filled with people deeply involved in the music industry that largely go unnoticed when they walk down the street or order a pint at the local bar. For every Bruce Springsteen or Jon Bon Jovi that attracts attention wherever they go, there is a David Spelman, a man known across the world for his work with the guitar. Spelman's the Artistic Director for the New York Guitar Festival, oversees the Wall-To-Wall Guitar Festival at the University of Illinois' Krannert Center for the Performing Arts, and is now adding to his resume the title of Artistic Advisor of the Adelaide International Guitar Festival, an Australian festival launching in November 2007.

In addition, he produces concerts - epic concerts. These are shows which pay tribute to classic albums. Past shows have involved star-studded tributes to Bob Dylan's "Blood On The Tracks" and Bruce Springsteen's "Nebraska." And on January 20th, his next show will pay tribute to the two classic albums recorded by the Grateful Dead in 1970 - "Workingman's Dead" and "American Beauty." We recently spoke with David about how this show came about.

What inspired The American Beauty Project?

The idea came from Brendan Canty, an old friend from Washington, DC, where we both grew up. Brendan is probably best known from his days in Fugazi, but he runs a company now called Trixie DVD and is producing some excellent music films. His team was shooting our Nebraska Project last year and he admitted that he only recently "discovered" the Grateful Dead. I think he went out and got every one of their studio albums, to try to get a handle on what their music was all about. He suggested Workingman's Dead as a great album to consider. He also suggested some albums by folks like Elvis Costello, Nirvana, Bowie, Townes van Zandt, Gram Parsons, and Pink Floyd, but it was the Workingman's Dead idea that got me thinking. I'd always loved that album - I'm pretty sure it was the first LP by the Dead that I owned -- and when I recalled that it was made in the same year as American Beauty, it seemed like a cool idea to honor both albums with a two-night event.

It's kind of funny -- to me anyway -- when I think that a guy from Fugazi encouraged me to do a Grateful Dead tribute. Fugazi's singer, Ian MacKaye, had an earlier band, even before Minor Threat, called the Teen Idles and they had a song with the line: "The only good Deadhead is one that's dead." Even though I briefly played in a hardcore punk band in the late '70s, I liked the Dead. It was a funny time, and we were all quite young. I was actually taking guitar lessons at the time from Brian Baker, who went on to form Minor Treat. That was a long time ago....


So... How many Dead shows have you seen?
Between '79 and '85 I may have seen them twenty or thirty times. I lost interest for the rest of the eighties, and I was mostly interested in classical music at that point. Sadly, in the mid-nineties I had the feeling it might be time to maybe check them out again, but then Garcia died...

I was running my own PR business at the time, representing symphony orchestras and classical-music labels. I actually had several meetings with Phil Lesh to discuss some classical music he was composing at the time. That came as a bit of a surprise to my Deadhead friends, but really it shouldn't have. Phil had studied composition with Luciano Berio in the 60s at Mills College, and has maintained a strong interest in classical music his whole life. He told me a funny story about taking the whole band (including Pigpen) to Carnegie Hall to hear a performance of a Charles Ives symphony. And then there was the time Phil asked if I could help him get some tickets to hear Pierre Boulez conduct the Vienna Philharmonic when they were in New York. They were doing a three-night stint at Carnegie Hall, and Phil flew in from California to hear all three shows. I really didn't expect him to be recognized at Carnegie Hall -- wearing a jacket and tie, he blended in with the other patrons -- but during intermission one night a couple of Deadheads came over to us at the bar to say hello.

Anyway... I've seen Phil Lesh & Friends in various configurations in recent years, and it's often been fantastic. I first heard Derek Trucks when he was doing a stint in that group. He was still a teenager at the time, I think, and was just amazing. And of course, Warren Haynes is fantastic, too.


Why were these two albums chosen for the show?

I think 1970 was a magical year for the Grateful Dead. I loved the experimental improvisations they were doing in the late sixties, like what made it onto "Live/Dead", recorded in '69, but the songs that Garcia and Robert Hunter wrote for Workingman's Dead and American Beauty seemed to me to represent a new level of creativity. Both those albums were on Rolling Stone's list of the 500 greatest albums of all time, and Rolling Stone readers voted Workingman's Dead as the best album of 1970, ahead of Crosby, Stills and Nash's Deja Vu and Van Morrison's Moondance. American's Beauty's "Truckin'" and "Sugar Magnolia" became radio favorites, too. Not that any of that proves anything, but clearly I'm not alone in my love for these albums. I think their innovative fusion of bluegrass, rock, folk, and country music really shined...and partly lead the way to what later become known as alt-country. I see clear connections between Workingman's Dead and Wilco, for instance. I don't have a clue what will be on the radio fifty years from now, but I'm willing to bet that singers and musicians will still be interpreting these songs. These lyrics will endure, I believe.


Once again, you've got a stellar lineup of artists for the tribute. Your Rolodex must be golden man. How do you manage to get such great artists for these shows? Is it the idea behind the show that attracts them?

Hey, thanks for that. I believe in the low-hanging-fruit approach... I start out by asking a few musicians I have a personal relationship with...folks who I've worked with before, who know my work first-hand, and don't need to be "sold" too hard. Sometimes these may not be the most famous names, but they are generally musician's musicians -with high credibility among other players. Also, they are folks who will tell me the truth if they think the idea is crap.

Right around the time this idea was coming together, I ran into Toshi Reagon, and mentioned it to her. I had no idea if she even liked the Grateful Dead, but to my pleasant surprise she agreed to it on the spot and made a special plea that I let her play "Box Of Rain." She was passionate about that song. As that's the first song on American Beauty - so the first song on that night's concert - I just knew things would get off to a great start as soon as Toshi hit the stage. Though, I for one wouldn't ever want to follow her. Her performance style is just so strong and powerful - one part Prince and one part Led Zeppelin. Just amazing. One of her earlier gigs was to open up for Lenny Kravitz on his first world tour. Elvis Costello is a big fan of hers, too. After first hearing her he invited her to play with him on Letterman.

I think my next call might have been to my pal and neighbor Larry Campbell. I met Larry and his wife through Cindy Cashdollar, and think he's a fantastic musician. Guitar, fiddle, mandolin, pedal steel - you name it, and Larry can play the shit out of it. He's played with just about everyone on the planet, including a very long run in Bob Dylan's band. He's also been playing with Phil Lesh and Friends this past year. Anyway, Larry embraced the idea right away, agreed to play both nights, and even to sit it with some of the other musicians. What I hadn't realized was that he'd just finished producing an Ollabelle album. I'm a big Ollabelle fan, and had worked with them a few years ago on the Blood on the Tracks Project, a little before their debut release on Columbia. So, my next call was Ollabelle.

At some point I called up Jorma Kaukonen...we'll his wife, actually... as I'd had him in the New York Guitar Festival a number of times over the years. I really thought it was a long shot, but I'd just written an article in Guitar Player magazine about his music school, the Fur Peace Ranch, and he'd been pleased with the way it came out. I figured what the heck, it doesn't hurt to ask.

John Leventhal is someone I often call for ideas. He's super creative and super generous. At first I really hoped that he and his wife (Rosanne Cash) might do something, but he explained that the Grateful Dead wasn't really part of Rosanne's musical universe. Anyway, he had some cool ideas for arranging "Black Peter" that he played for me over the phone on his guitar. We tossed around a few names of folks he's worked with, and finally both agreed that Jim Lauderdale would be amazing. Newly armed with Jim's cell phone number I rang him up and he agreed to the event without hesitation. Now Jim didn't know me from Adam, so I'm certain it was John Leventhal's name that sealed the deal. John was familiar with my work from the Blood on the Tracks Project, where he and Joan Osborne performed "You're Gonna Make Me Lonesome When You Go." Having a Grammy Award-winning producer like John Leventhal give you a "thumbs up" to other artists is something you can't buy in a store.

I just follow my nose. I'm also fortunate to have a great co-producer, AJ Benson, who isn't afraid to reach out to the bigger fish, whom we may have no preexisting relationship with. I mean AJ is bold, he'll call up anyone. Also, some of our dream folks were just not available...Elvis Costello was having twins around the time of the shows...Patti Smith was going to be in the studio working on a new album...you know, artists have busy lives, even when they aren't on the road. AJ did bring in Jay Farrar. We are really big fan's of Jay's work with Son Volt and Uncle Tupelo, so we were thrilled when his manager confirmed that he'd do the show.

Mark Eitzel, from American Music Club, and Tim O'Reagan from The Jayhawks, are both managed by Bob Andrews at Undertow Music. Bob is also my manager, and the one who turned me onto these two great musicians.

My wife and I are friendly with Jen Chapin and her husband, the bassist Stephan Crump. A few months ago they were playing The Saint, so we had them over for lunch and showed them around Ocean Grove and Asbury Park. I mentioned the shows to them, and when they said they'd like to do "Truckin'" something clicked and I knew they would do something really interesting. I mean, what could be more boring than hearing someone do a cover version of "Truckin'" just like it was on the album? Jen and Stephan are the kind of musicians who will totally reinvent a song...deconstruct it and then put it back together again, as something strikingly new and fresh.

The rest just fell into place....I'd worked with Dan Zanes a few times....Dar Williams had shows booked in New York in January already....Sex Mob wasn't available at first, but then called back when the date became free.
Quite honestly, once a few musicians and key booking agents find out about something like this, the phone starts to ring with bands that want to participate. It then becomes a question of curating the right mix of musical styles that will make for a good flow for the audience.


One of the most amazing things about the show is that it's presented for free. How are you able to do that?

Yeah, the free thing is insanely cool. I was fortunate enough to have been introduced a few years ago to the folks who run the World Financial Center's Winter Garden. They get support from sponsors like American Express and Merrill Lynch to pursue their mission, which is to be the leading showcase in Lower Manhattan for visual and performing arts. And all of their presentations are free to the public.

We've done some really cool stuff in the past, like commissioning guitarist/composer Bill Frisell to create new music for silent films. And last year we did the Nebraska Project, which drew a huge crowd and got a lot of positive media attention. So far, every time we've done something, it's worked out great and they've invited me back.


Sometimes I meet an artist who absolutely floors me when he says that the Dead was one of his biggest influences. The band seemed to influence even artists that you would never think were influenced by the Dead. As the show was developing, were there any artists interested in doing the tribute that you totally didn't expect?

Oh yeah, totally... The Klezmatics, for example. Not that everyone in the band is a Deadhead, but the groups founder loves the music and was able to get the others into the idea. Also, Catherine Russell. I mean I knew Cat was a killer jazz and blues singer, and had heard that she'd toured the world singing in David Bowie's band, but I was shocked to hear of her love of the Dead's music. In fact, she recorded "New Speedway Boogie" on her debut album. I downloaded the song from iTunes while I was talking to her agent, and booked her before the song was even over.


Some of your previous epics included shows about Bob Dylan and Bruce Springsteen. What were some of the highlights from those shows for you?

Man, where to begin? Realizing during the intermission of the Blood on the Tracks Project that we hadn't thought about an encore, was rather memorable. We quickly decided on "I Shall Be Released" and rehearsed it for maybe 15 minutes in the green room. Not that we were short on drummers, but Joan Osborne offered to play drums and sing--I mean how could I turn down that? She's no Max Roach, but she kept good time...and sang like an angel. I was playing rhythm guitar right next to her on stage with twenty of my other favorite New York musicians singing one of my favorite Dylan songs of all time. What a high that was!

Oh, and AJ getting a call from Springsteen's manager on his cell phone the afternoon of the Nebraska Project led to one of the coolest nights of my life. They wanted to know if the concert they'd read about in the newspaper was still going to happen. When we confirmed that it was still indeed happening, they said Bruce might try and come. Later that evening our production manager got a call on her cell phone, and it was Bruce himself, saying he was lost and wanted to know where he might park when he arrived. Needless to say, we found him a very convenient parking space. About half way though the show, I asked them both if they'd like to play in the encore with us. Patti took a pass, but Bruce asked what song we were doing. When I said it was by Woody Guthrie, he said sure...and a few minute later I was showing him the lyrics to the song, what key we'd rehearsed it in, the guitar riff... about ten seconds later he said he actually knew the song, which was a relief as I was already nervous enough, trying to sing and play for The Boss. The encore was a heck of a lot of fun...Bruce is such a great musician and a force of nature... thank goodness we had an extra guitar for him to use. He spent several hours with us at the after party, and was one of the last people to leave. Patti was giving him the universal it's-time-to-go look. What a night. Of course the photo Rolling Stone ran didn't have me in the frame....oh well, I was there, damn it...I got to perform with The Boss...and it was cool.


Once again, you're the man behind a really cool show idea. Do you have a schedule of these type of shows laid out far in advance or do you just come up with an idea for one and work on that show without knowing what your next move will be?

Thank you, Gary... yeah, this is going to be a fun one, I think. It really is a little random, like so many things in my life. But I was recently approached by a television production outfit, and they want to work with me to develop a 13-part series. Each episode would focus on a concert re-creating/re-interpreting a classic album. Obviously, it would have to be mapped out and done with a tight production timeline. This would be very exciting, but I'm not holding my breath waiting for it to happen. In the meantime, I guess I'll be sticking to the more random approach.


---
Gary Wien has been covering the arts since 2001 and has had work published with Jersey Arts, Elmore Magazine, Princeton Magazine, Backstreets and other publications. He is a three-time winner of the Asbury Music Award for Top Music Journalist and the author of Beyond the Palace (the first book on the history of rock and roll in Asbury Park) and Are You Listening? The Top 100 Albums of 2001-2010 by New Jersey Artists. In addition, he runs New Jersey Stage and the online radio station The Penguin Rocks. He can be contacted at gary@newjerseystage.com.
---