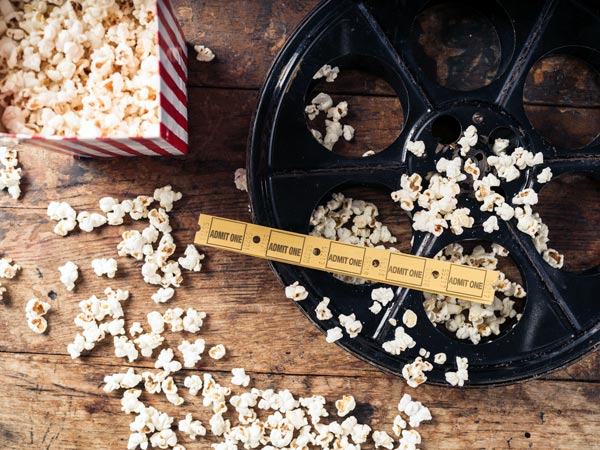 The Teaneck International Film Festival returns November 3-6, 2016.
The first film festival was held in November of 2006 at the Cedar Lane Cinemas and DanceArt Creative Center on Cedar Lane as well as at the Puffin Cultural Forum in Teaneck, N.J. It drew more than 1,200 filmgoers over the course of the weekend.
Presently, the film festival draws over 3,000 filmgoers each year and has expanded its venues throughout the Teaneck area. The film festival has developed a niche in the film festival circuit by establishing Activism/Making Change as a permanent theme.
---
Thursday, November 3 - 7:30pm
Pray The Devil Back To Hell with short by Vivian Sessoms on Billie Holiday's Strange Fruit. The remarkable account of the Liberian women who came together to end a bloody civil war and bring peace to their shattered country. A story of sacrifice, unity and transcendence, Pray the Devil Back to Hell honors the strength and perseverance of the women of Liberia. Inspiring, uplifting, and most of all motivating, it is a compelling testimony of how grassroots activism can alter the history of nations.
---
The article continues after this ad
---
---
Documentary - 72 minutes; Directed by Gini Reticker. Talkback with Counselor Christiana Tah, former Attorney General/Minister of Justice for the Republic of Liberia; Macsu Hill, Liberian eyewitness to terror; Khuraira Musa, celebrity make-up artist & Bring Back Our Girls activist.
---
Friday, November 4
7:35pm Teaneck Cinemas

Olympic Pride, American Prejudice - Documentary explores the experiences of 18 African American Olympians who defied Jim Crow and Adolf Hitler to win hearts and medals at the 1936 Olympic Games in Berlin. Narrated by Blair Underwood.
Documentary - 82 minutes; Directed by Deborah Riley Draper. Talkback with Director Deborah Riley Draper.
8:00pm Puffin Cultural Forum

The Best Democracy Money Can Buy - Follow gonzo investigate reporter Greg Palast as he busts the new Ku Klux Klan - the billionaire bandits that are behind a scheme to purge one million voters of color in November and tracks down the secret billionaires behind Donald Trump!
Documentary - 100 minutes; Directed by Greg Palast and David Ambrose.
Saturday, November 5
11:30am Puffin Cultural Forum

Trapped - From 2011 to 2013, hundreds of regulations were passed restricting access to abortion in America. Trapped interweaves the personal stories behind these regulatory battle from physicians to those who run clinic to lawyers and the women in need of help.
Documentary - 90 minutes; Directed by Dawn Porter.
11:40am Teaneck Cinemas

Waiting - An elderly man whose wife has been in a coma for eight months meets a terrified young wife whose husband has slipped into coma after a sudden accident. Will grief drive them both insane, or can two lonely strangers support each other?
India - Drama - 92 minutes; Directed by Anu Menon; Hindi, English/English subtitles
1:40pm Teaneck Cinemas

Bajrangi Bhaijaan - A man with a magnanimous spirit tries to take a young mute Pakistani girl back to her homeland to reunite her with her family. The film pulsates with heart and has a story to tell. It makes you laugh. It makes you cry.
India - Comedy/Drama - 163 minutes. Directed by Kabir Khan; Hindi, Urdu, Panjabi/English subtitles
2:00pm Puffin Cultural Forum

Ugly - An urban, coming-of-age story of a boy looking for love in the wrong place - his own environment.

Short - Comedy/Drama - 20 minutes. Directed by Leron Lee
3:00pm Puffin Cultural Forum

American Reds - Examines the history and the contemporary relevance of the party. The battlefields on which American communists fought inequities, remain the sites on which the exact same conflicts rage today: racism, anti-unionism, unequal distribution of wealth, sexism and incipient fascism.

Documentary - 85 minutes; Directed by Richard Wormser
4:55pm Teaneck Cinemas

The Innocents - In 1945 Poland, a young French Red Cross doctor who is sent to assist the survivors of the German camps discovers several nuns in advanced states of pregnancy during a visit to a nearby convent.
Poland/France - Drama - 115 minutes.  Directed by Anne Fontaine; French, Polish,Russian/English subtitles
5:20pm Puffin Cultural Forum

Dukale's Dream - Hugh Jackman flies to Ethiopia and spends an entire day in the fields with coffee grower Dukale who is working hard to lift his family out of poverty. He learns first-hand about the value of fair trade coffee. Inspired by Dukale, Hugh launches Laughing Man Coffee.
Documentary - 70 minutes; Directed by Josh Victor Rothstein.
8:00pm Temple Emeth

Sold - Through one extraordinary girl's story, Sold illustrates the brutality of child trafficking, which affects millions of children around the globe every year. Produced by two time Academy Award winner Emma Thompson, starring Gillian Anderson and David Arquette.
India/England/US - Drama - 94 minutes; Directed by Jeffrey D. Brown
11:00pm Teaneck Cinemas

Abattoir - A real estate reporter named Julia Talben unearths an urban legend about a house being built from rooms where horrific tragedies have occurred. The investigation ultimately leads Talben and a detective to the enigmatic Jebediah Crone and the answer to the question: How do you construct a haunted house?
Horror - 98 minutes; Directed by Darren Lynn Bousman. Talkback with Director Darren Lynn Bousman.  Sponsored by Black Box Performing Arts Center.
---
Sunday, November 6
10:45am Puffin Cultural Forum

Kid Flix Mix 2016 - Thanks to a grant from the Puffin Foundation, children will be admitted free when accompanied by an adult. Once again, TIFF presents the acclaimed New York International Children's Film Festival assortment of its best animated and live action films from around the world. Hosted by Bob McGrath of Sesame Street. Live action and animation: 60 minutes.
11:30am Temple Emeth

A Man And A Woman - A man and a woman meet by accident on a Sunday evening at their childrens' boarding school. Slowly they discover that each is a widow/widower. Much of the film is told wordlessly in action or through hearing their thoughts as they go about their day.
France 1966 - 102 minutes. Directed by Claude Lelouche; French/English subtitles.
11:45am Teaneck Cinemas

Strange Victory - Collaging nonfiction materials, newsreel footage, and Hurwitz's brilliantly-shot scenes, Strange Victory powerfully documents the racism and anti-Semitism of postwar America. Images of stickers saying "Save America – Don't Buy from Jews," signs that read "For Whites Only," and photos of Ku Klux Klan lynchings are juxtaposed with footage of Nazi rallies and concentration camp inmates. This seldom-shown work, now beautifully restored from the producer's original 1948 nitrate interpositive, landed its director on Hollywood's blacklist.
Documentary - 1948 - 71 minutes; Directed by Leo Hurwitz.

Plus Miss Diamond (5 minute short) - The story of survival in a world that often rejects transgender people.

Directed by Juan Mejia.
2:15pm Temple Emeth

Making A Killing: Guns, Greed, and the NRA - Documentary features personal stories from people across the country who have been affected by gun violence, including survivors and victims' families - exposes how the powerful gun companies and the NRA are resisting responsible legislation for the sake of profit.
Documentary - 103 minutes; Directed by Robert Greenwald
2:30pm Teaneck Cinemsas

Last Cab To Darwin - Rex is a loner, and when he's told he doesn't have long to live, he embarks on an epic drive through the Australian outback from Broken Hill to Darwin to die on his own terms. His journey reveals to him that before you can end your life, you have to live it, and to live it, you've got to share it.
Australia -123 minutes; Directed by Jeremy Sims.
2:45pm Benjamin Franklin Middle School

Life, Animated - A coming of age story about a boy and his family who overcame great challenges by turning Disney animated movies into a language to express love, loss, kinship and brotherhood. Based on the bestseller an autistic son's astonishing journey back to the world.
Documentary - 89 minutes; Directed by Roger Ross Williams.
5:05pm Temple Emeth

Carvalho's Journey - A real life 19th century American western adventure story, tracing the extraordinary saga of Solomon Nunez Carvalho 1815-1897, an observant Sephardic Jew born in Charleston; his life as a groundbreaking photographer, artist, and pioneer in American history.
Documentary - 100 minutes; Directed by Greg Palast and David Ambrose.
5:35pm Teaneck Cinemas

After Spring - By following two refugee families in transition and aid workers fighting to keep the camp running, viewers will experience what it is like to live in Zaatari, the largest camp for Syrian refugees.
Documentary - 101 minutes.Directed by Steph Ching/Ellen Martinez; Arabic, English, Korean/English subtitles
6:00pm Puffin Cultural Forum

Maya Angelou and Still I Rise - This documentary will reflect on how the events of history, culture, and the arts shaped Dr. Angelou's life and how she, in turn, helped shape our own world view through her autobiographical literature and activism.
Documentary - 114 minutes; Directed by Bob Hercules and Rita Coburn Whack
7:30pm Temple Emeth

The Last Laugh (and the closing night awards presentation) - Feature documentary about humor and the Holocaust, examining whether it is ever acceptable to use humor in connection with a tragedy of that scale, and the implications for other seemingly off-limits topics in a society that prizes free speech.
Documentary - 88 minutes. Directed by Ferne Pearlstein.
8:30pm Teaneck Cinemas

Projects Of America - Robert Riskin headed up a secret film unit that sought to redefine America in the eyes of the world during the darkest days of World War II. The filmmakers created powerful short documentaries that showed America's strength in rather unusual ways.
Documentary - 52 minutes; Directed by Peter Miller; English, German, French/English subtitles