originally published: 10/26/2016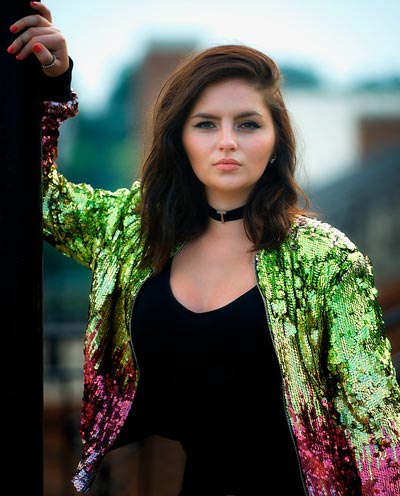 (ASBURY PARK, NJ) -- Cancer is one of the most devastating words one can ever hear, but the news is even more heartbreaking when it involves children.  While childhood cancer may be rare, it is the number one disease killer of children.  New Jersey musician Taylor Tote takes on childhood cancer with her latest song, "Fighter," which not only pays tribute to children battling this horrible disease, all proceeds from the single will go to childhood cancer research.  A video for "Fighter" released on October 25 received 10,000 views within its first day.
"Fighter" was co-written by Natalie Grace, a childhood cancer survivor, and her sister Hannah Rose.  The song itself is uplifting, heartbreaking, and inspiring, but the video takes it to a new level.  Viewers are taken into the world of cancer survivors and fighters.  We see their faces and we hear their voices. The video includes over 20 children from the tri-state area who have either survived cancer or are currently fighting it. The song reveals their spirit, their fight, and their drive to beat the disease.
"When the lightning strikes / the thunder in me fights / I won't stop until I win."
Childhood cancer receives just 4% of the National Cancer Institute's (NCI) annual budget.  In fact in the past 30 years, there's only been three new drugs developed for any childhood cancer.

 

A full 100% of all proceeds from the single will fund childhood cancer research through Infinite Love for Kids Fighting Cancer .
"This is all I've ever wanted," said Taylor Tote. "I've always wanted to use music to change millions of people's lives and I feel like I'm finally able to do that. I've found a cause very near to my heart and that means so much to me and being able to incorporate my music into that is incredible."
---
The article continues after this ad
---
---
The single may be purchased from iTunes.
The video was directed and produced by Right Stuff Studios, Peter Chamalian, Mike Hamlet, Kostas Lymperopoulos, and Andrea Verdone Gorsegner.

 

Taylor Tote will perform "Fighter" and other songs on Friday, November 18 when she headlines a night at the Asbury Hotel's Concert Hall in Asbury Park, NJ.  
About Taylor Tote

Taylor Tote has has received Asbury Music Award nominations for Top Female Vocalist; had her music video "Superman" featured in a Music and Film Festival and has opened for several national acts.   She performed at the 2016 Summer NAMM and in July 2015, was one of five women selected across the country to perform at the 2015 She Rocks Summer NAMM Showcase, presented by WiMN in Nashville, Tennessee.  For more information visit http://www.taylortote.com or https://www.facebook.com/taylortotemusic