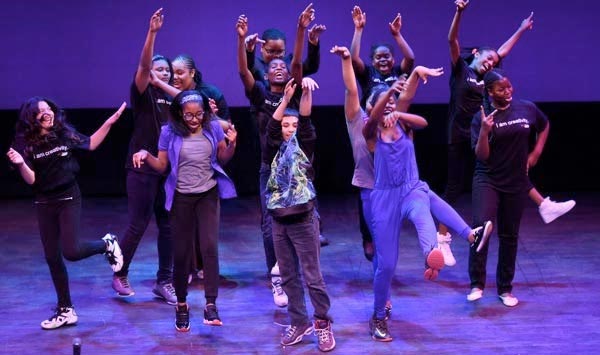 (NEWARK, NJ) -- Jersey City, East Orange, and Newark schools have collaborated to create an original musical production about women empowerment and fake friends called Flip The Script.  The show will take place on Friday, June 2 at 3:00pm in The Chase Room at New Jersey Performing Arts Center (NJPAC) in Newark.
Flip the Script, an original musical, tells the story of a 9th grader by the name of Jenna Michaels, who is determined to follow her dreams of making the high school football team. On her journey she discovers who her true friends are and who they are not.
The Johnny Mercer Foundation (JMF) and the New Jersey Performing Arts Center (NJPAC) Musical Theater Residency Program began their introduction to the magic of musical theater March 1. The residency was provided free to five schools, which met twice a week for 20 sessions. During these sessions, students learned the diverse history of the American musical, as well as the creation process of a new musical, including lyric writing, rehearsing and performing. The students developed their creativity, self-confidence, and ability to tell their own story through the medium of the American musical. Each class created sections of the joint musical, which was culminated in a full, collaborative show.
The residencies help schools meet their curricular goals; NJPAC's education programs are developed in accordance with the New Jersey Core Curriculum Content Standards.
The program serves tier one middle schools located in Newark, East Orange and Jersey City. This curriculum is based on the Erin Layton/Georgia State University curriculum supported by The Johnny Mercer Foundation.
---
The article continues after this ad
---
---
The mission of the Johnny Mercer Foundation (JMF) is to support the discipline of songwriting in the tradition of the Great American Songbook as exemplified by the life and work of the legendary Johnny Mercer: lyricist, composer, performer, collaborator and producer.  The Foundation continues Johnny's legacy by partnering with individuals and organizations dedicated to celebrating and nourishing the disciplines he mastered and the causes he and his wife Ginger Mercer championed. JMF has created a number of dynamic creative joint ventures with several prestigious institutions to facilitate our goals including; the Johnny Mercer Writers Colony at Goodspeed Musicals, Accentuate The Positive Programs (New York, Los Angeles, Atlanta and Miami), The Musical Theater Program at NJPAC, Georgia State University Fellowship Program, Florida International University Fellowship Program, the Johnny Mercer Songwriters Project with Northwestern University and the Johnny Mercer Archives at Georgia State University, In addition, JMF also supports various charitable causes including UCLA's Art of The Brain, Children's Hospital Los Angeles (Mark Taper and Johnny Mercer Artists Program) and Braille Institute (Johnny Mercer Children and Adult Choirs). 
New Jersey Performing Arts Center (NJPAC), located One Center Street in downtown Newark, New Jersey, is among the largest performing arts centers in the United States and is the artistic, cultural, educational and civic center of New Jersey - where great performances and events enhance and transform lives every day. NJPAC brings diverse communities together, providing access to all and showcasing the State's and the world's best artists while acting as a leading catalyst in the revitalization of its home city. Through its extensive Arts Education programs, NJPAC is shaping the next generation of artists and arts enthusiasts. NJPAC has attracted more than 10 million visitors (including over 1.5 million children) since opening its doors in 1997, and nurtures meaningful and lasting relationships with each of its constituents.
originally published: 2017-05-12 00:00:00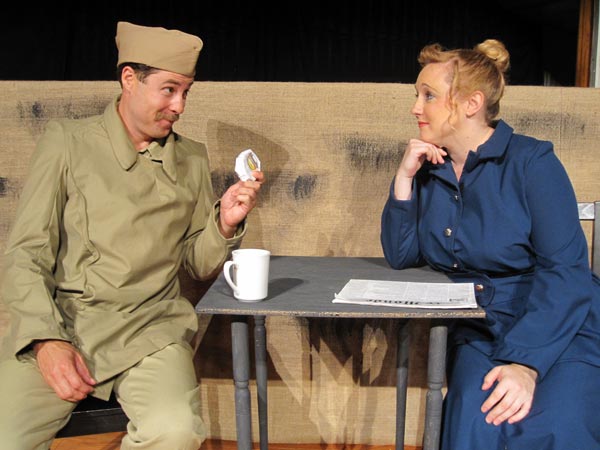 East Lynne Theater To Enjoy "Thankful Thursday" at Cold Spring Brewery
(CAPE MAY, NJ) -- The Equity professional East Lynne Theater Company is enjoying another "Thankful Thursday" at Cold Spring Brewery on March 8 from 4:00pm to 8:00pm. Like ELTC's special Thursday last March, there will be free snacks, and the brewery will give ELTC a percentage of the receipts, but this year, there's also live music. The location is 733 Seashore Road, Cape May, at Historic Cold Spring Village.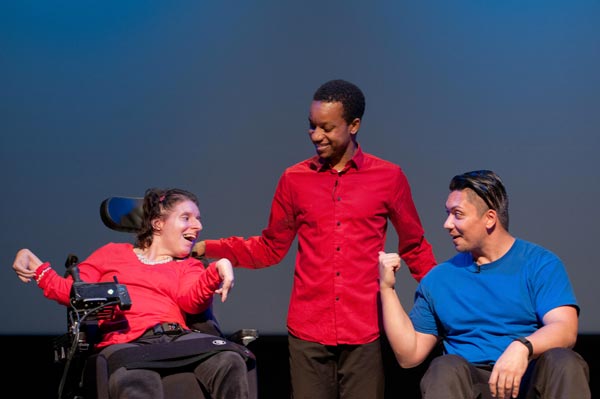 Playwrights In Matheny's Arts Access Program Part of Stages Festival
(PEAPACK, NJ) --- New Jersey Theatre Alliance presents staged readings from plays written by five playwrights in the Matheny Medical and Educational Center's Arts Access Program, which empowers individuals with disabilities to create art without boundaries. The readings will be presented on Saturday, March 3 from 3:00pm-4:30pm at the Robert Schonhorn Arts Center on the Matheny campus.  This event, titled "Plays by People," is part of the Alliance's Stages Festival, the state's largest annual theatre festival that provides free and discounted theatre events for all ages throughout the month of March.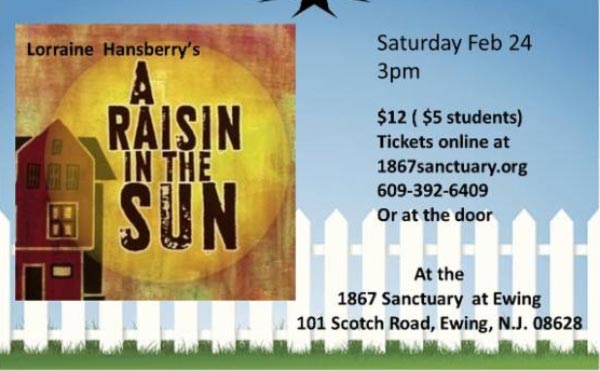 Theater To Go Presents A Reading of "A Raisin In The Sun" by Lorraine Hansberry
(EWING, NJ) -- Theater To Go continues its staged reading series at the 1867 Sanctuary in February 2018 with a classic play about the African American experience, Lorraine Hansberry's A Raisin In The Sun, about one family's journey to home ownership.  The reading, which includes actor students from Trenton Central HS Visual and Performing Arts Academy as performers, will be presented on Saturday February 24 at 3:00pm  at the 1867 Sanctuary at Ewing.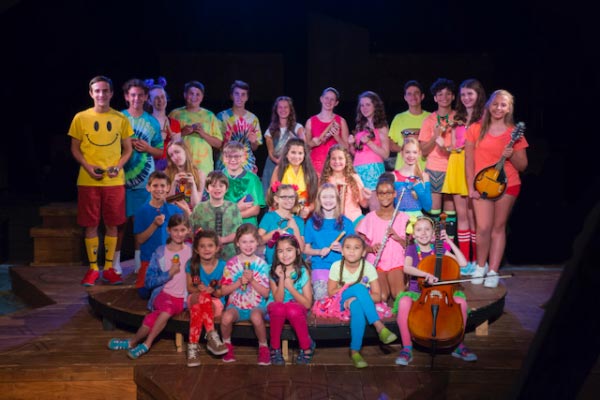 Eagle Theatre Conservatory To Hold Audition Workshop On April 15th
(HAMMONTON, NJ) -- Eagle Theatre Conservatory, a year-round theatrical institute for all ages and levels of professionalism, has announced new plans for their spring and summer offerings.