By Chris Rockwell
originally published: 04/10/2018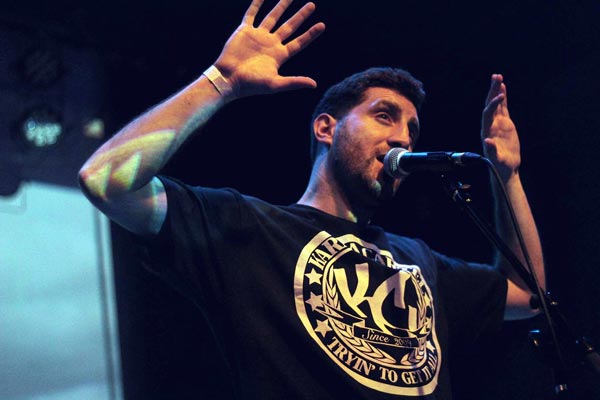 The Asbury Music Awards will take place on Thursday, April 12 at The Stone Pony in Asbury Park, NJ. Every year fosters discussions; some of which get pretty heated. Chris Rockwell, one of artists nominated this year, believes there is an important issue that needs to be raised this year. The following is a public statement he made on social media that he has provided to us as well.
It's been over ten years since I first started out performing in Asbury Park. My first performance there was during the Wave Gathering, when Rick Barry invited me to do a show with him at Twisted Tree Cafe. I felt very welcomed since day one, even though I was a poet who rapped with a band. Nobody was really sure what to do with me, but they still took me in. We all know how much things have changed in the elapse of that decade. We were doing poetry on Cookman Avenue when most of the buildings still had wooden windows, and Langosta Lounge was a shady dive called Club Deep. Now, there are bigger venues with better sound systems, and more money being poured into it all, but one thing has not changed. All the venues are still being booked by straight white people, and mostly older white dudes.
So I'm here asking myself why I'm even shocked right now. Why I'm surprised that the Asbury Music Awards, a local beacon of light illuminating the best of our talent pool, is mostly just shining on the white people. Why, out of the literal hundreds of nominees, there are roughly ten black people. Why there is no rap category, despite the fact that rap music has been dominating the charts for the past five years. Despite the fact that rap acts had played to sold out and capacity crowds all over Asbury Park last year. Despite the fact that rappers have done more for charity in the past year than most of the names on that list of nominees.
Mychal Mills is the only person hosting a regular poetry event in Asbury Park, donated his time and talent to benefit multiple charities, and was the only poet to speak at the Stand Against Hate Rally last year, and he didn't even get nominated for Poet Laureate. For those of you who don't know him, I'll let you guess what color he is. Juice has been the Remember Jones drummer for a year, and he's arguably one of the best drummers in our scene, and he was overlooked. Joe College was named one of the 31 Artists You Need to Hear in 2018 by NJ.com. New Star is one of the most significant rappers in our community, played Asbury Park six times last year, and released a record IN Asbury, and he was overlooked. Avery Rose Puryear is an unbelievable singer and keys player, and she was overlooked. Johnathan Stamper is an incredible singer/songwriter and he was overlooked. All of these people are black. Too many for this to be a coincidence, I'd say. This is what racism looks like.
I refuse to believe we're not encouraging rap music because of drugs or violence. I've seen more violence at all white punk shows than I've seen at local rap shows. I've seen knives pulled, and fists swirling in a crowd of white faces. I've seen all the drugs your little heart desires at literally every venue in Asbury, and at all white shows. When people say they don't like "the element" rap brings in, they're talking about black people. Plain and simple. This is on all of us. We're not taking them in enough. We're not making them feel welcome enough.
---
The article continues after this ad
---
---
Rap and poetry matter, both locally and globally. The LA Times published an article saying that rap music has influenced pop music even more than The Beatles and the British Invasion. It's the voice of an underrepresented people. So, since these people are apparently going to continue to be underrepresented, I'm out. What kind of a friend would I be if I don't show up when my friends need me? For the first time in ten years, I'm not going to the Asbury Music Awards.
Sincerely,
Chris Rockwell
For more on Chris Rockwell visit his Bandcamp site.
Photo by Alyssa Ciervo