By Spotlight Central
originally published: 11/08/2017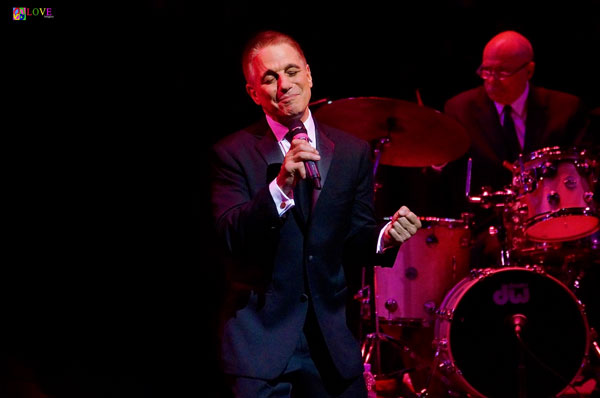 "The last time we saw him was in Atlantic City," says Jean from Point Pleasant. "He's really good — we loved him!"
"I've been a fan since Who's the Boss?" notes Roxanne from Toms River. "I saw him on Broadway a couple of years ago in Honeymoon in Vegas, and I think he's funny! He's a doll, and he has a lot of enthusiasm!"
"For me, he brings back memories," states John from Mantoloking. "I remember him from Taxi, which I still watch in reruns. He seems like a really interesting guy."'
And just who is it all these people are talking about?
Television and Broadway actor, singer, dancer Tony Danza — who presented his show, Standards and Stories, at Toms River, NJ's Jay and Linda Grunin Center of the Arts on Wednesday, October 25, 2017!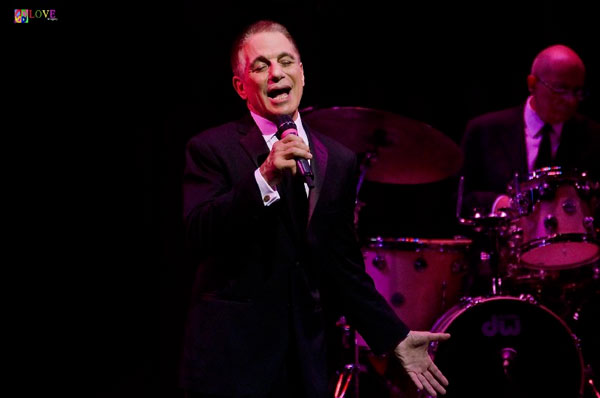 ---
The article continues after this ad
---
---
"What brings me here tonight?" asks Frank from Morris Plains. "Mr. Tony Danza!" he replies. "I've been a big fan since Taxi. My wife and I have seen him five times — we just love his personality!"
Going on to note, "He sings the old-time standards and tells stories about his life — all while putting in a little tap dance," Frank also reveals, "My wife, Doreen, really loves him. And, after tonight, we are going to see him again in Jersey when he performs at UCPAC in Rahway!"
Concluding by asking, "Do you want to know my favorite thing about Tony Danza?" Frank replies to his own question by answering, "Everything — I've never been disappointed any time I've ever seen him!"
As the clock strikes 7:30 pm, we leave the outer lobby of the Grunin Center and take our seats inside the venue's cozy auditorium.
A drum beat starts to play as a voice announces, "Welcome….Tony Danza!"
At this point, Tony Danza — backed by his tight four-piece band — takes the stage swinging and scatting to Bobby Darin's "As Long As I'm Singing."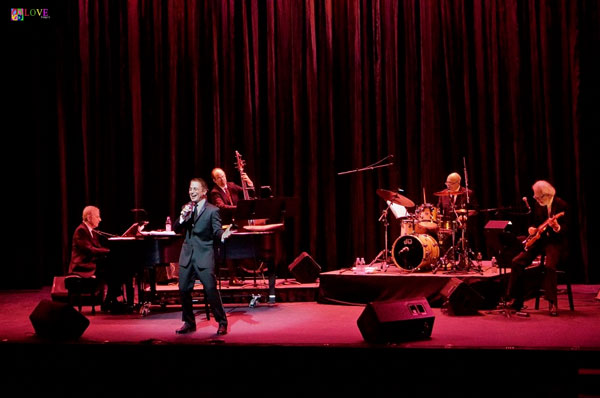 Looking young and sounding fine, Danza smiles as he swings, his Brooklyn accent charming everyone in the packed Grunin Center house.
Following the soft jazzy feel of Frank Sinatra's "How Little We Know," Danza presents a joyful rendition of Nat King Cole's "That's All."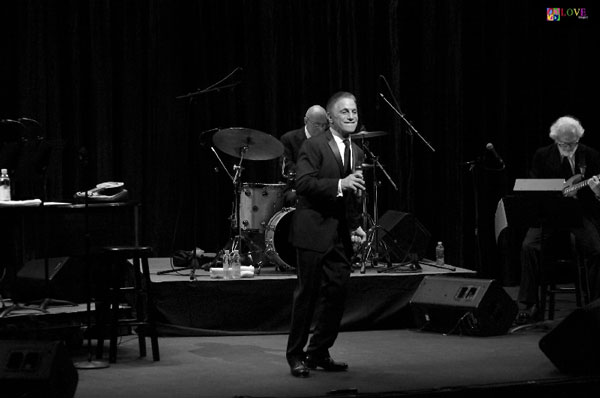 With the bass walking along to Danza's relaxed interpretation of this classic number, he makes everyone feel as if they're experiencing live music in a downtown NYC jazz club.
Toes tap to the beat as Danza delights the crowd. His talented musicians keep the swinging big band vibe going — the superior acoustics of the room showcasing the musicians' considerable talents.
After welcoming the audience, Danza takes a moment to thank the family whose name graces this concert venue — the Grunin family — for making Toms River, NJ "a better place" thanks to their continued support of the arts.
Going on to make small talk about Toms River — for instance, revealing how he learned that the town was "famous during the Revolutionary War for its salt mines" — Danza introduces the members of his band. Dave Shoop plays guitar, Ed Caccavale is the drummer, John Arbo is on the bass, and bandleader John Oddo plays the piano.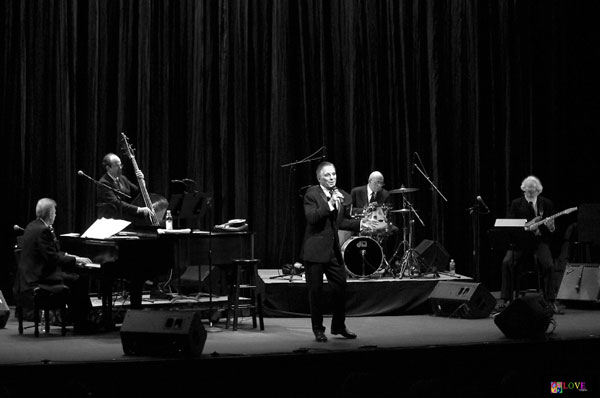 Telling jokes about growing up in Brooklyn, where his mother exposed him to the music of Frank Sinatra through her record collection, Danza also entertains the crowd with stories about his children and grandchildren.
Shoop's guitar accompaniment is featured on Sinatra's "It Was a Very Good Year," a number in which Danza's emotional performance pulls at the audience's heartstrings as he acknowledges the oh-so-quick passing of the years.
Moving on to an energetic rendition of another Sinatra staple, "How About You?" Danza does a tap dance solo smack in the middle of the number.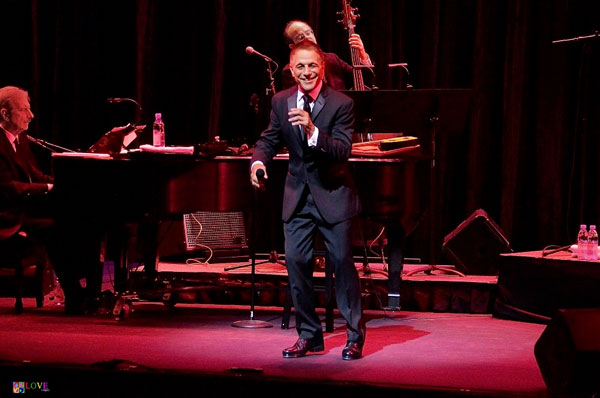 As he moves, his smile proves he's enjoying every moment of what he is doing — and so does the audience as they sway along to the beat!
Talking about his mother — "the original bobby-soxer"— Danza reveals how she told him to "listen to how Frank Sinatra sings."
And Danza obviously listened, as it's clear he's adopted lessons in phrasing and style from "Old Blue Eyes" himself.
Over the years, as he became more and more famous for his acting work on such television shows as Taxi and Who's the Boss?, Danza confesses that if he ever started to act like a star, his mother would put him back in his place by quipping, "When you can introduce me to Sinatra, then you're a star!"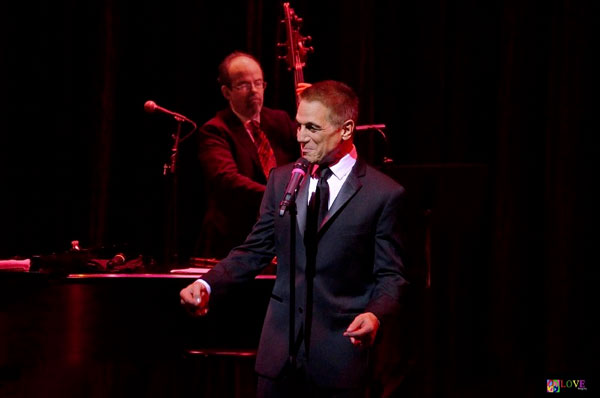 Following hearty laughter, Danza performs another Sinatra number, the Michel LeGrand-penned "Watch What Happens." Singing directly to the audience, Danza's charming boyish good looks and down-to-earth personality melt everyone's hearts.
John Oddo's musical skills are on full display as he accompanies Danza on Sinatra's "Angel Eyes."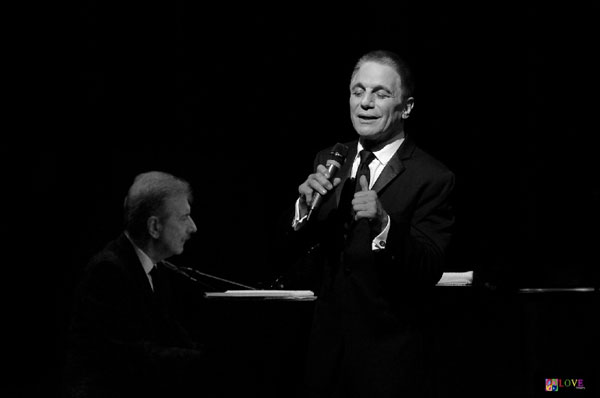 Dave Shoop's guitar also adds to the bluesy feel of the tune.
With three-part harmony vocals in the background, Danza and the band launch into Sinatra's "Please Be Kind." They follow that up with the lovely ballad, "The Second Time Around."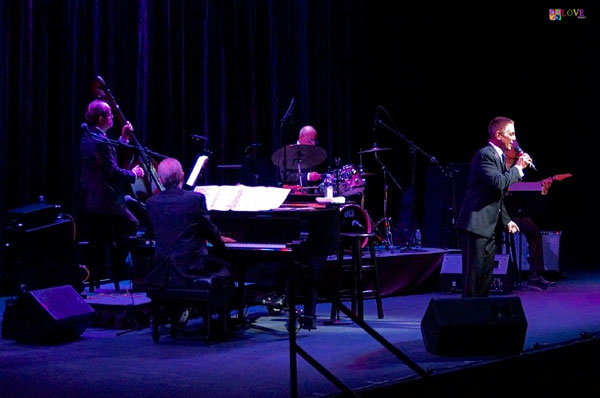 Confiding in the audience, Danza discloses, "I love this music. I love the way it affects me — but it makes me think of the music of today and how it affects the younger generation. What are kids today going to hum when they get older?"
In a highlight performance of the evening, Danza performs a touching rendition of Sinatra's "The House I Live In."
Singing, "What is America to me?/The house I live in/A plot of earth, a street/The grocer and the butcher/And the people that I meet/The children in the playground/The faces that I see/All races and religions/That's America to me," Danza thrills the audience with his poignant version of this American classic.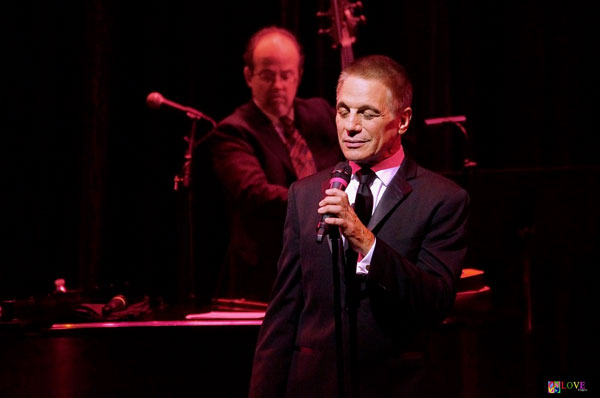 After sharing details about his run on Broadway in Honeymoon in Vegas, Danza entertains the audience with two outstanding numbers from that show, "I Love Betsy" and "Out of the Sun."
Then, taking out his ukulele, Danza performs a unique trio of songs to his own accompaniment — The California Ramblers' "Has Anybody Seen My Girl? (Five Foot Two, Eyes of Blue)," My Fair Lady's "I've Grown Accustomed to Her Face," and The Clovers' rock 'n roll classic, "Love Potion Number Nine!"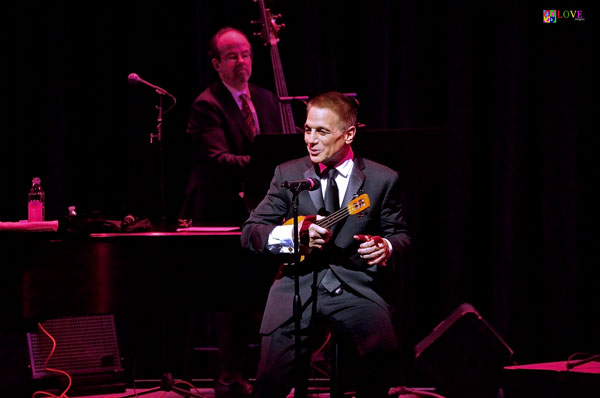 The band rejoins Danza on Billie Holiday's "You Go To My Head," and then he and the band follow that up with their rendition of Andy Williams' "I Don't Remember Ever Growing Up," a number which features Danza's heartfelt, simple, and honest storytelling through song.
Danza concludes his Standards and Stories show with a razzle-dazzle performance of "If My Friends Could See Me Now" from Sweet Charity.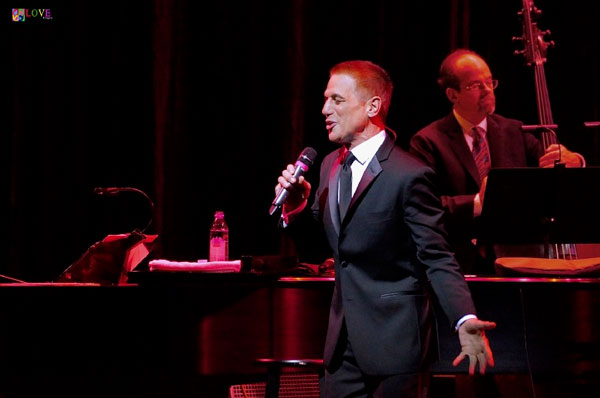 Tap dancing in the middle of the number to the audience applause, by the song's conclusion, the crowd rises to its feet for a spirited standing ovation!
After briefly taking leave of the stage, Danza returns with a simple rendition of Gershwin's "Our Love Is Here to Stay," shaking hands with audience members as he exits to continued applause.
After the show, we get some reactions from audience members to Tony Danza's Standards and Stories performance tonight.
Comments Beth from Brick, "Tony Danza is a real showman. He sings, dances, and tells stories and jokes with impeccable comic timing. But above and beyond that, he has heart," going on to add, "I love the way he recreated Sinatra's 'The House I Live In,' to express what many of us love about America. Music is something that unites us — thanks for reminding us, Tony!"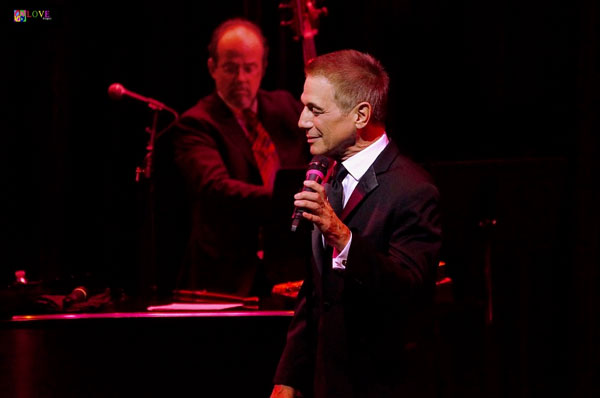 Donna from Toms River says, " I really enjoyed this show. Tony Danza is quite the entertainer and he is so personable — I'd love to bring him home and make him some broccoli rabe!"
Sue from Lakehurst remarks, "I loved Tony Danza! He has great stories to share and is so charming. He makes you feel comfortable — like he's just a regular guy — but he's TONY DANZA! I can't wait to see him again!"
George from Lakewood agrees, commenting, "I really liked his song choices. He's a good singer and he knows how to tell a story. He's really funny, too!"
Mary from Lakewood recalls, "I remember Tony Danza from Taxi and Who's the Boss? This show was a pleasant surprise. Who knew Tony Danza could sing and dance like that? It was a wonderful way to spend a Thursday evening!"
Amelia from Interlaken concurs, acknowledging, "Not only do we love Tony Danza, but we also came to see my cousin, Edward Caccavale, who is Tony's drummer," adding, "Eddie's been with Tony Danza for a long time. I'm so happy I came tonight!"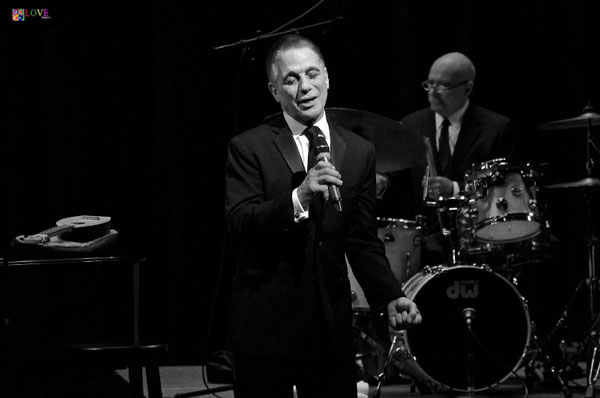 Lastly, we chat with Tony Danza himself — who says about his Standards and Stories performance this evening — "I loved performing here at the Grunin Center!" noting, "The band really likes the sound here — this room has great sound!"
Adding, "And we had fun — it's all about fun!" Danza concludes with a twinkle in his eye, "And if you aren't having fun, you shouldn't be doing it!"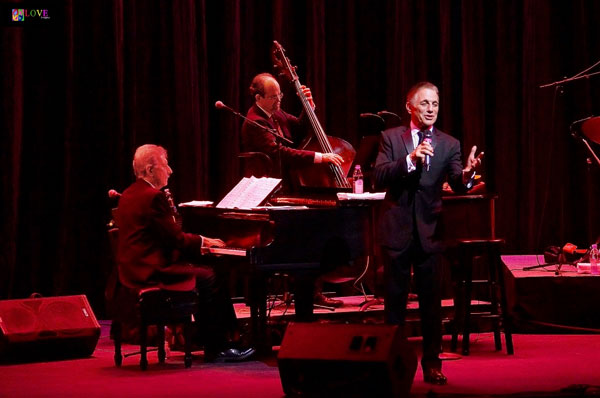 To learn more about Tony Danza — including information about Danza's upcoming NJ performance of Standards and Stories at Rahway's UCPAC — please go to tonydanza.com. To learn more about upcoming Grunin Center programming — including two performances by Herman's Hermits featuring Peter Noone on November 25 at 2pm and 8pm — please go to grunincenter.org.
Photos by Love Imagery
Spotlight Central. Your source for Jersey entertainment news and reviews
Love Imagery Fine Art Photography. all you need. peace/love/flower/power