By Gary Wien
originally published: 05/26/2018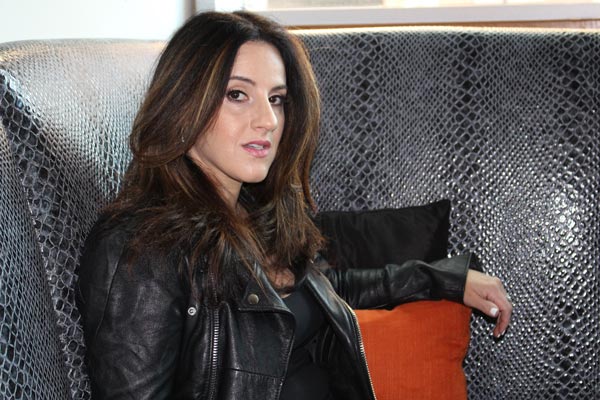 One thing many female singer-songwriters have in common is that they all seem to disappear when they have a child.  Taking time off is to be expected, but time flies and before they know it a decade has already passed since they last performed or recorded new music.  New Jersey native Stacie Rose did not put her career on hold. In fact, she found herself in a burst of creativity, leading to a complete album in 2013 written from the end of her pregnancy to her son's infancy. Rose continues to move forward with the recent release of her self-titled album.
"I know people probably don't have an intention of not doing it anymore, it probably just happens," said Rose.  "But, I never had any intention of quitting or not doing music.  It always seemed like something I would always do, but you never know how things are going to change once you have a child."
Rose had a lot of difficulty in getting pregnant and used songwriting as a form of therapy to help her through that period.  She says the songs written then probably sounded more intense and had a bit of sadness to them.  When she got pregnant, the writing did not stop.  In fact, the experience led to the songs on Stars, Stripes and Milestones.
"For lack of a better word - no pun intended - I was feeling fertile," explained Rose.  "I had so much to think and write about, and I was filled with emotions.  I was like bursting at the seams with emotion and I was writing about them.  I wasn't just writing about motherhood; I was writing about all kinds of things because I was seeing the world from different glasses at that point."
"You don't expect it, but it's like everything changes," continued Rose.  "Your chemistry changes, you start looking at things differently, and begin thinking about things differently.  I was writing like crazy.  I realized that making music is a lot of who I am and it was even more important for me when my son was born to not compromise the person that I am and to be that person and not let it go.  At the same time, I had to find ways to make music in a different way because it wasn't possible to be bouncing around quite as much as I was before.  I had to do things in a more planned out manner. I was always thoughtful about how I made music, but I had to be even more thoughtful and strategic about it. I started looking at making music as sort of a season.  So, I would be in a writing mode and I would stick to writing.  Then I would be in a recording mode and a promoting mode and I'd go into that instead of trying to do it all at the same time."
---
The article continues after this ad
---
---
Rose still remembers the last show she did when she was pregnant. It was at the Mercury Lounge in New York City when she was about 5 1/2 months in.  
"He was in my belly, so he's been hearing these songs!" said Rose.  "It's like we've been going through it together in a way."
Her son's name is Miles.  Stacie and her husband had always wanted to name their child Miles after Miles Davis - an artist they both love.  As it turned out, the name would also signify the miles and miles the two had to travel before getting pregnant.  "It turned out that it took so long that we both thought Miles was perfect," she added. And now, one of her favorite moments are when Miles sings along to her songs.
Rose's self-titled album is another wonderful effort from a consistently strong songwriter.  Songs on this release showcase several different styles, leading off with a touch of alternative rock ("Always Mean The World").  The record includes adventurous pop music ("Headphones");  the retro vibe of "Be Who You Are"; borders on new wave sounds with "Change"; and closes with a wonderful country-infused cover of Tom Petty's "Wildflowers."  In between is a mix of pop and rock and roll tunes that are tied together with Rose's distinctive vocals - sweet, but with a bit of an edge.  It's like urban pop.
Unlike with her previous recordings, the songs on this album wound up being recorded closely like the way the songs first sounded on the original demos. 
"We were kind of using the essence of the songs in the demos to inform where to go with them," explained Rose.  "In past years, we would go in a direction and we'd realize that it didn't quite feel right.  This time it was like 'Go that way' and we would go that way and not second guess it.  It was intuitive.  I wanted to challenge myself - to push a little and branch out in a way.  What happened was that it became the first time ever on any of my albums that I didn't keep tinkering with the vocals and redoing a lot of things.  Most of the vocals are the original vocals."
Rose said she knew she wanted to include a cover on the album and originally considered covers by both George Michael and Tom Petty. With so many musical legends passing in recent years, she wrote "Headphones" to salute them all.  In that song, she describes the artists as her "superheroes" and talk about how hearing their voices always makes her feel at home. No matter how many years go by, "when I need to run away, you're the place I go" she sings.
As for Petty, his music has been a huge influence on Rose for a long time, but the song she chose to record was a bit unexpected.
"What's funny is that I always liked 'Wildflowers' but it's never been my go to Tom Petty song," admitted Rose.  "But when he died, that's the song I kept hearing in my head all of the time.  I was like maybe that should be the song and then I folded in the way I felt about all of the other people in 'Headphones.'  It was my way of saying I'm going to keep them alive in my headphones.  They're never going to die."
Amazingly, there was a time in which Rose wondered if she would ever be able to record or sing again. After always being very healthy, she began developing severe food allergies to the point of having anaphylactic reactions and started having silent reflux.  She started having breathing issues - throat problems and asthmatic issues.  Despite never having asthma, she found herself using an inhaler. Attempts to fix the problems led to voice issues as well.  She found herself unable to sing, including during time scheduled at a recording studio.
"It was scary, but more than anything it made me sad," recalled Rose.  "It was very upsetting to me.  I was afraid I was losing my voice for good.  I would show up to sing and my voice wouldn't come out.  All of the inhalers and medications people were giving me were actually dulling my voice.  Once I went off everything, I realized what the problem was.  I started to change my diet and go about it a different way.  Then my voice starting coming back."
For someone who has been singing throughout her entire life, this was more than just a shock; this was an identity crisis.  Rose felt lost and began closing herself off from the world.
"For a couple of months, I cancelled all social engagements," she said.  "I didn't do much of anything but stay home, go to doctors, research, and try to work with this.  I made it my job to figure out what the hell was going on."
Not only did she make it her job, but it eventually became a true career.  After solving her own problems, she decided she wanted to help others.  She attended the Institute for Integrative Nutrition where she learned innovate coaching methods, practical lifestyle management techniques, and a plethora of dietary theories to help with health and wellness.  She became an integrative nutrition health coach and uses her education and personal experiences to help others with meal planning and nutritional consulting.
"You don't always find the answers by talking to doctors because doctors don't always know what's going on," explained Rose.  "Sometimes you have to go to a lot of different doctors and have to do a lot of unraveling to figure things out.  And, a lot of things have to do with nutrition."
On her health coach website she talks about how she became disillusioned by doctors who failed to ask vital questions and simply prescribed medications without seeking the root of the issues.  She offers people a deeper understanding of food and lifestyle choices that help improve their energy, balance, health, and overall happiness.
"The silver lining is a renewed sense of purpose," Rose states on the website.  "It's hard to balance your life and health and all the things going on. It can be tough work to unravel your own ball of confusion when it comes to health. There are so many variables like diet, sleep, exercise, stress, and all the other things that make up a life--like work and relationships. There's the stuff we use in our homes, the stuff we put on our bodies and it goes on and on. It can be quite overwhelming.  It's easier when you have a little help from someone who truly listens, has knowledge and respect for bio-individuality and strives to help you create a plan with some accountability."
Rose has always been passionate about eating healthy and nutrition.  Helping others feels like a natural progression for her.  "I realized this is what I'm supposed to be doing.  This is where I'm supposed to be right now."
The focus on health shows in her new album.  The songs burst with positive energy and creativity. Thanks to working with a radio promotion company, she's receiving more airplay on college and internet radio stations than on previous albums, and things are just getting started.  More than anything, she feels in a good place right now.
"It just felt so good to be singing again," said Rose.  "When we recorded the new album, it was like I'm here. I'm back. I'm all me again." 
---
Stacie Rose Record Release Show  - Thursday, May 31 at Coney Island Baby  (169 Avenue A) in New York City.  The night also features performances by Steve Conte, and Toasted.
---
---
Gary Wien has been covering the arts since 2001 and has had work published with Jersey Arts, Elmore Magazine, Princeton Magazine, Backstreets and other publications. He is a three-time winner of the Asbury Music Award for Top Music Journalist and the author of Beyond the Palace (the first book on the history of rock and roll in Asbury Park) and Are You Listening? The Top 100 Albums of 2001-2010 by New Jersey Artists. In addition, he runs New Jersey Stage and the online radio station The Penguin Rocks. He can be contacted at gary@newjerseystage.com.
---