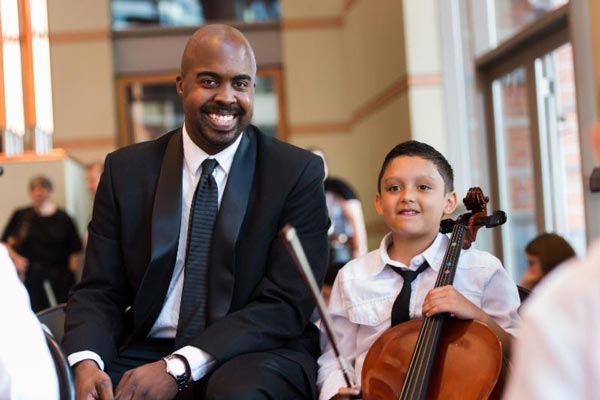 (SOUTH ORANGE, NJ) -- The South Orange Performing Arts Center (SOPAC) has announced a first-time grant from the William Randolph Hearst Foundations for $75,000 that will support its arts education programs, both at the venue in South Orange, NJ and in surrounding communities. The funding will be used to expand long-term sequential instruction in music and dance, and to provide opportunities for young people to attend live performances free of charge. The programming will begin during the 2018-19 school year.
SOPAC's mission to increase the quality of individual and community life through arts experiences that inspire and transform is consistent with the William Randolph Hearst Foundations' goal to provide meaningful programs in the arts, engaging young people and creating lasting impact.
Said Ligia Cravo, Senior Program Officer of the Hearst Foundations, "We were very impressed with SOPAC's compelling grant application and delighted that our Board made this first time award in support of SOPAC's comprehensive education programs. The funding recognizes SOPAC's high quality instruction and leadership and is especially timely in that it will enable SOPAC to initiate expanded programming in the 2018-19 school year and beyond.
With the expansion of programming originating from the William Randolph Hearst Foundations grant, plans are being made to partner with the Alvin Ailey American Dance Theatre to bring dance residencies to the South Orange and Maplewood Middle Schools. These residencies will help the South Orange-Maplewood, and City of Orange School Districts fulfill Core Curriculum Content Standards, and will greatly enhance arts learning for students.
The dance program for the South Orange and Maplewood Middle Schools will be developed in conjunction with the South Orange-Maplewood School District, and the Alvin Ailey American Dance Theatre. SOPAC Executive Director Mark Packer approached the school district in October 2017 to discuss the possibility of expanding opportunities for arts education in the community. He was met with great enthusiasm by James Manno, South Orange-Maplewood School District Arts Administrator. Together, Packer and Manno began working toward partnering with the Alvin Ailey American Dance Theatre and making the program a reality.
---
The article continues after this ad
---
---
"We are very excited to be working with SOPAC to bring dance instruction to the South Orange and Maplewood Middle Schools," noted Manno. "This grant will greatly enhance our ability to create meaningful learning experiences with excellent teaching artists. This is a shining example of how SOPAC is making a big difference in the community, and giving our kids opportunities they wouldn't normally have."
SOPAC is currently working with the Juilliard School of Music and Manhattan School of Music to provide classical music residencies to students in the East Orange and Orange, NJ school districts. In addition to small group instruction students will attend professional performances at SOPAC that will offer them a deeper understanding of music and dance than can be achieved only in the classroom. They are exposed to the wide array of classical music and will learn about careers in the arts.
"We have been delighted with the teaching artists engaged for this program. They inspire the students with their professionalism and proficiency. They can see new horizons opening up for them as they are exposed to top-notch artists," said SOPAC Executive Director Mark Packer.
About SOPAC - Since 2006, SOPAC has been serving as a premier performing arts center in the region. SOPAC offers innovative artistic and cultural experiences for diverse audiences in an intimate, inviting environment. The premier arts center hosts a variety of live performances, community events and education programs for all ages.  To further expand its offerings, SOPAC has a partnership with the Juilliard School of Music to present Juilliard @ SOPAC—a series featuring upcoming musicians from the acclaimed conservatory.  SOPAC is home for Seton Hall University Arts Council's performances, including Classical Concert Series, Jazz 'N the Hall performances and Seton Hall University Theatre productions.  SOPAC also presents performances by its theater company in-residence, American Theater Group. For more information, visit SOPACnow.org
About the Hearst Foundations - The Hearst Foundations are national philanthropic resources for organizations working in the fields of culture, education, health and social services. The Hearst Foundations identify and fund outstanding nonprofits to ensure that people of all backgrounds in the United States have the opportunity to build healthy, productive and inspiring lives.
The Hearst Foundation, Inc. was founded by William Randolph Hearst in 1945. In 1948 Hearst established the California Charities Foundations, later renamed The William Randolph Hearst Foundation. Both Foundations are guided by the same charitable mission, which reflects the philanthropic interests of their founder.
 The Tax Reform Act of 1969 brought about the separation of the Foundations and the Hearst Corporation. The Foundations received approximately $137 million from the Corporation in 1975. Both Foundations are independent private philanthropies operating separately from the Hearst Corporation.
 The two Foundations are managed as one entity, sharing the same funding guidelines, leadership and staff. Staff based in New York City reviews all proposals from organizations located east of the Mississippi River, and staff in the San Francisco office reviews those from organizations west of the Mississippi River.
 Since inception, the Foundations have made over 20,000 grants totaling more than $1 billion. The current asset value of the Foundations is approximately $1 billion.
PHOTO: Teaching artist Terrence Thornhill with City of Orange School District student.