By Gary Wien
originally published: 11/26/2019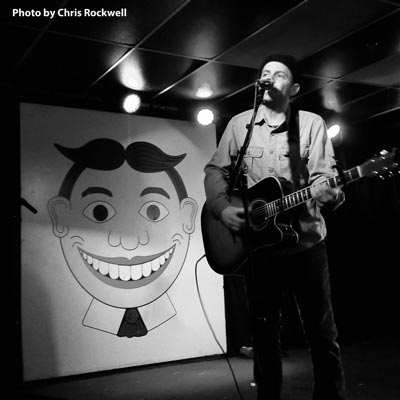 Those of us who were affected and lived through Hurricane Sandy in 2012 will never forget it.  For many of us, our lives were never the same after that storm.  Dennis King chose to stay in his Morris County house despite having no heat or power for 11 days. One thing he did have was a guitar and a desire to write music.
With a little juice left in his iPod, he recorded himself performing a song called "King of the World." It's a song that would kick off Gone to Seed, his first EP, which would be released a few months later under the name Sonofdov. He chose the name to keep his work career separate from his music.  It's taken from his father's true name of Dov.
"That was one of the earliest songs I ever recorded," recalled King.  "I'm in the video wearing my winter gear because it was freezing.  I actually re-recorded the song for this album just to put it out.  I play it a little differently now, but there's something special about that song.  I'm just making fun of myself - here I am saying I'm 'King of the World' in a power outage.  I was just being overtly melodramatic there, but I wanted to put this on the full-length LP because it's my first full-length and I'm circling back to why I began recording and playing music."
His new album, Towers, was released by Mint 400 Records in November.  It's his first release with the label - any label actually - as he's been releasing his own EPs since 2013.  Neil Sabatino started the label in 2007 to have a place to release music by his own band, Fairmont.  King says he has followed the label and their work for years.  After meeting Neil and talking about music, he felt good about working with him.
"I just thought it was cool that regardless of the trends going on and around with music and the media, he keeps true to what he loves to do," explained King.  "I respected that and I always like trying something new.  He said if you've got anything coming out, I want to hear it, and that's how it started."
---
The article continues after this ad
---
---
Sonofdov's music has always featured beautiful acoustic guitar work, rather poetic lyrics, and the cool, ethereal vocals of King.  His music is part melancholy, part inspirational, and an exercise in deep thinking.  King agrees with that description, but notes that the lyrics and music often go in different directions and that's something he enjoys.
"People who know me know that I'm kind of wacky and have an upbeat personality, so when they hear the music they're often like, 'I don't get it, you seem upbeat but your songs tend to be sad or melancholy.'  I'm not offended by that; I hear it a lot.  It's just something that comes out and I write about.  I always like that juxtaposition of whether it's a happy lyric against sad music or vice versa and the music is up and the lyrics are dark.  I always liked that kind of relationship in music.  It's why I've always been a huge Echo & The Bunnymen fan.  Some of their songs are so melodramatic and melancholy, but when I'm driving a car and I hear one of those older songs I get joy from it.  It could even be a truly dark song.  I think that's what music does; it just has that effect on you," he explained.
I'm looking out from the tower cause you are the light in the shade
nobody wants to get closer we all look away to escape
we hide everyday from the thunder and burn every bridge when it's safe
gone are the days we remember when hands held you up in good faith
I'm losing sight for the living still lost in haze of disgrace
these kids are so damn unforgiving can't hide all the lines on my face
let me burn all the lines to erase
-- "Towers"
The full-length album contains three songs from an EP he released over the summer, some older songs re-recorded, and a few new ones.  "Towers" is one of the new ones - a fascinating song that doesn't have a true chorus.  It's a perfect example of how King creates music that doesn't aim to be a radio-friendly hit.  His songs exist in their own world, one that doesn't worry about sales or Spotify counters.
Several songs were recorded with Skylar Ross and the others were recorded by King himself.  Some of the older songs which were re-recorded were updated because he no longer plays them in the way they were originally recorded.  And some were redone because he never liked the way the original recordings sounded.  King says he's always learning as he goes, but even his earliest recordings have a certain charm of their own.  They don't sound overtly produced. They don't sound commercial.  They sound like his recording of "King of the World" did when the video was shot during Hurricane Sandy - as if you just walked in on an artist practicing in the corner.
Because Sonofdov's music is often quiet, performing live can be tricky.  He's not the best artist for a noisy club and he doesn't like the pressure of bringing people out to the show.  Still, you can see him perform at singer-songwriter nights now and then, and with the new label he's got someone else to help push him to get back on stage regularly.
"I was kind of put into this place by people who see you writing folk or alternative folk music," said King.  "I never set out to do that, it just kind of happened because it was quieter songs and acoustic guitar.  I don't even consider myself the typical singer-songwriter personality.  There are singer-songwriters who can share stories between songs and that's an art form by itself.  I'm definitely not great at that.  I'm awkward with it.  I came from the world of rock music where you play the songs and that's it."
In college, he played with more of a post-punk band that moved into harder music. Their influences ran from hardcore to heavy rock.  King says some people described the band like a loud Replacements or New York Dolls, but they thought they were just playing a bit loud and sloppy.  You won't find anything like that on Towers, instead you will find absolutely beautiful, dream-like songs.  They're closer to poetry against a musical backdrop than loud rock and roll.  
King has always been an artist with something to say and Towers is a wonderful album to listen to while driving.  For many people, driving has always served as a means to escape and driving while listening to Sonofdov offers the perfect escape. It also allows you to hear the music as if he's performing it just for you.  Somehow, I get the feeling that's how King and his songs want it.
I don't need perfection in my life, just a little hand to hold tight
cause every now and then the wind calls 
It's beating down the dark behind thewall
Stop me, if I runaway too fast
Stop me, this train us gonna crash
Stop me, I'm tired of freezing up
Stop me, cause I'm not giving up...No I ain't giving up
-- "The Prophet"
---
Gary Wien has been covering the arts since 2001 and has had work published with Jersey Arts, Elmore Magazine, Princeton Magazine, Backstreets and other publications. He is a three-time winner of the Asbury Music Award for Top Music Journalist and the author of Beyond the Palace (the first book on the history of rock and roll in Asbury Park) and Are You Listening? The Top 100 Albums of 2001-2010 by New Jersey Artists. In addition, he runs New Jersey Stage and the online radio station The Penguin Rocks. He can be contacted at gary@newjerseystage.com.
---