---
Tune into Radio Jersey with Lee Mrowicki every Monday through Friday from 6pm to 8pm
Broadcast on Asbury Music!
---
Songwriters By The Sea - March 2009
By Gary Wien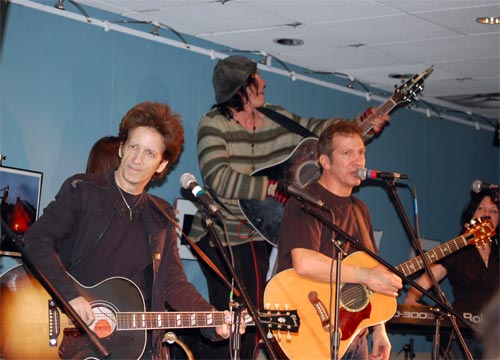 (LAKEWOOD, NJ -- March 27, 2009) -- Songwriters By The Sea took a big leap from America's Cup in Asbury Park to the Strand Theatre in Lakewood. Held inside the Theatre's art gallery area, the show featured Willie Nile, Marah, April Smith, and hosts Joe D'Urso and Joe Rapolla. This was my second time seeing a show in the Strand's Art Gallery area (the first was the Winter Hours Tribute) and I was very pleased with the sound once again. The art gallery features a large stage area in the center of the room and allows for nearly 100 chairs to be placed throughout the room. Attendance for this show was so strong that additional chairs were brought out several times to meet the demand. Jeff Raspe of WBJB 90.5 The Night opened this show as he did for the Winter Hours Tribute. He was a little bit late leading to a delayed start, which was fortunate as it allowed more people to be there from the show's beginning. "Thanks for coming to the Strand Theatre in beautiful downtown Lakewood," said Jeff Raspe. "A town that I've seen more of in the last 30 minutes than in my whole life!" I was pleasantly surprised by the size of the crowd. The room definitely has potential and people are showing that they aren't afraid to come out for shows here. If you've never been to The Strand, there is a large parking area immediately across the street and additional parking is available along the street. The lounge area features a complete bar and is a nice place to hang out and talk as well. The one drawback has little to do with the theatre and more to do with Lakewood itself - there are few places to go out to eat before a show. In fact, the Strand's own website points out that problem by highlighting restaurants in nearby towns like Howell instead of places within walking distance of the theatre. It's a shame, because a few restaurants near the theatre would make this an excellent place to see shows on a regular basis. The songwriters each took turns taking the stage, telling brief stories, and playing songs. The lineup moved from Joe D'Urso to Willie Nile; April Smith to Joe Rapolla; Marah to Joe D'Urso again. It was an interesting blend of different styles of songwriting. Some of the highlights of the night included Willie Nile's "On The Road To Calvary", Marah's "Round Eye Blues", April Smith's "High School Memory", Joe Rapolla's "Long Time Since You've Been Gone", and Joe D'Urso's "Waiting On A Train". The show was sort of a homecoming for April Smith who grew up in Toms River. Lots of family and friends came out to see her and she not only held her own but was one of the best performers of the night. Before her first song, she remembered the last time she was at the venue. "Hi, I'm from around here," she said. "The last time I was at The Strand I was in a production of Oliver." Just back from playing at South By Southwest, April then launched into her wonderful tune, "Drop Dead Gorgeous". Later on, she told the audience about her love of the show "Dexter" before playing "Terrible Things". One of my favorite moments of the night took place during the "covers round" when artists were supposed to play a cover tune of their choice. April covered "High School Memory" - a song by her father about April's mother written while they were dating. The song was recently picked up for placement in a major motion picture. "Who knows? Maybe someday you'll see somebody making out to my dad's song!" exclaimed April before she pointed out her father to a big round of applause. She also played, "Beloved", a song she wrote for her grandparents. During that song, I noticed that her songwriting has become even more theatrical over the past few years. Her songs have always had a very cinematic feel, but her songwriting has become so tight and her vocals have improved so much that she now writes songs similar to the mini-epics that Roy Orbison used to write. Songs that may only be three or four minutes in length, but ones that allow you to live entire lifetimes alongside the characters in the lyrics. Put some dark glasses on her and she could be the female Roy Orbison... Willie Nile, as always, proved to be an incredible live performer. His set included the wonderfully intense "Cellphones Ringing in the Pockets of the Dead" which he said was actually written about the car bombings in Madrid in 2004 and not 9/11. Most in the audience had never known that. Apparently he wrote the song and had it in a notebook that he forgot about. One day he took a look at the notebook and a friend suggested he should record the tune. "I'm generally a very optimistic person," said Willie Nile before starting the song. "I believe in the human race. I think we can do a better job than we're doing." Christine Smith of Marah's keyboard playing added an extra dimension to the song. Several times during the night she played alongside Willie's tunes in fact. The ending of "Cellphones Ringing In the Pockets of the Dead" had a rather manical feel as Willie encouraged the crowd to clap while he kept speeding the melody up faster and faster. Willie's most powerful moments came during "On The Road to Calvary", a song he dedicated to Jeff Buckley. The song featured Christine Smith on keyboards and backing vocals and was simply beautiful. His voice reminded me somewhat of Van Morrison singing a Bob Dylan song - just wonderful lyrics with an angelic touch. He's one of the few artists whose music can literally bring audience members to tears and several people had trouble keeping their eyes dry during this tune. Joe D'Urso featured many new songs in his set after telling the crowd that one of the most difficult things for an artist with several records out is to decide what to play during shows like these. He said artists struggle with the idea of playing solely the hits or the songs that are fan favorites versus the idea of promoting new work - such as songs from his new live CD. His set included songs like "Let It Go", "Down By The River", "Hold On", and "Waiting On A Train". For the cover round, he did a cover of Springsteen's "All I Needed Was You" with the arrangement similar to the way Pat Guadagno plays it. Joe Rapolla remarked how nice it was to make the jump from a small coffeehouse to The Strand, "What's cool about this place as opposed to America's Cup is that it serves alcohol, so we sound better faster!" Rapolla brought Diane Doolittle on stage with him to play sax and flute for a few songs. His set contained songs like "Cool In Town", "Mary's Smile", "Let's Go Down to The Sea", and "Spirit In The Night". My favorite was "Long Time Since You've Been Gone", which was a song Joe wrote about his brother Danny who raised him after the pair was orphoned while still very young. Marah was solid all night long with tunes like "You Can't Take It With You When You Go", and "Round Eye Blues". They provided one of the biggest surprises of the night during the cover round when David Bielanko explained his choice of cover. "I've never been much for cover songs because I don't know how to play them. I think Humphrey Bogart wrote this..." before they played a nice version of "As Time Goes Bye". At the end of the night, the entire cast of musicians all joined together for a tune. "This is the part of the night where we all do the song we discussed at dinner," said D'Urso. "It'll either be really cool or a friggin' trainwreck!" The song was "Hard Day's Night" by the Beatles and it was really cool. A fitting end to a remarkable look at a group of songwriters up close and personal. There is talk that the series will be brought back to The Strand and if the show continues to grow it might even make it to the main stage. Keep your eye out for future editions of Songwriters By The Sea - it's a show worth supporting.
---
For more by this author, click here
---


NJSO presents 2019 Winter Festival, 'Music Speaks'
(NEWARK, NJ) -- A trio of renowned guest artists with distinct musical voices—pianists Emanuel Ax and Daniil Trifonov and soprano Dawn Upshaw—headline the NJSO's Winter Festival, "Music Speaks," in January 2019. The Orchestra's signature artistic event takes place across three weekends, January 10–27, in six New Jersey venues.
---
RVCC Chorale to Perform Annual Holiday Concert on December 8th
(BRANCHBURG, NJ) --The RVCC Chorale will give its annual holiday concert on Saturday, December 8 at 8:00pm in the Welpe Theatre at Raritan Valley Community College's Branchburg campus. The program will feature Johann Sebastian Bach's cantata, Das Neugeborne Kindelein, as well as a cappella pieces from by Sergei Rachmaninov, Zoltan Kodaly and Giuseppe Verdi. The program also will include an audience singalong of traditional carols.
---
Classic Stones Live! The Complete Rolling Stones Tribute Show Comes To SOPAC
(SOUTH ORANGE, NJ) -- The Rolling Stones, the greatest Blues band of all time, couldn't make it to SOPAC on their 2018 tour. Instead, the acclaimed tribute band Classic Stones Live! makes an appearance on the SOPAC stage December 15 at 8:00pm for those who like to hear their Rolling Stones hits live.
---
Tony Trischka Presents "Of a Winter's Night" at the Morristown Unitarian Fellowship
(MORRISTOWN, NJ) -- Of a Winter's Night is Tony Trischka's acoustic celebration of the holiday season. Based on his CD release of the same name, this concert features Trischka's considerable melodic inventiveness on a wide variety of seasonal tunes. He turns his inventiveness loose on bluegrass and Americana music for the holidays. This one of a kind concert will take place at the Morristown Unitarian Fellowship on Saturday, December 8 at 7:30pm.
---
Idle Wave To Hold Record Release Party At Asbury Park Brewery
(ASBURY PARK, NJ) -- Pop-punks Idle Wave will celebrate the release of their self-titled EP on Saturday, December 1st at Asbury Park Brewery.  The record release show also includes performances by Skyeline, Roderick, and Pollyanna.
---


"An Amazing Musical Genius!" Brian Wilson LIVE! at the State Theatre
In the music room in the back of our house, there's an electric bass and amp, two acoustic guitars, a microphone and PA speakers, several pieces of music recording equipment, and a bookcase filled with books on music, not to mention a slew of assorted music memorabilia. But, perhaps, one of the most highly prized items in the room is hanging directly above the piano next to the college music diplomas.
---
Jazz Saxophonist Don Braden LIVE! at Toms River's Grunin Center
It's a breezy day for a new installment of the Jazz On a Sunday Afternoon concert series at Toms River, NJ's Grunin Center of the Arts this Sunday Oct. 27, 2018 afternoon. Today's special 3pm performance is entitled Earth, Wind and Wonder and is presented by jazz saxophonist Don Braden.
---
Charlie Thomas' Drifters, The Classics IV, and The Brooklyn Bridge LIVE! at The Strand, Lakewood
The stars are out this Saturday Oct. 26, 2018 evening in Lakewood, NJ for a "Golden Oldies" concert featuring Charlie Thomas' Drifters, The Classics IV, and The Brooklyn Bridge!
---
PODCAST: Grammy Winner Terri Lyne Carrington At TD James Moody Jazz Festival
Drummer, leader, and composer Terri Lyne Carrington made history as the first woman to win a Grammy for Best Instrumental Jazz for her album "Money Jungle: Provocative in Blue." Now, she brings her interpretation of Duke Ellington's "Money Jungle" to the TD James Moody Jazz Festival at NJPAC on November 11, 2018, as part of a program called "Jazz Vinyl Revisited." Producer Susan Wallner talks to Carrington about her connections to the jazz greats Clark Terry and Max Roach; her newest project, the Berklee Institute of Jazz and Gender Justice; and why she thinks drummers make natural leaders.
---
Sha Na Na LIVE! at the Newton Theatre
The audience is streaming into the Newton Theatre auditorium in Newton, NJ this Friday, Oct. 19, 2018 for a live concert starring Sha Na Na!
---
Event calendar
Thursday, Nov 15, 2018
---
MUSIC

---
---
---
TOTO

@ Mayo Performing Arts Center (MPAC), Morristown - 8:00pm
---
THEATRE

---
---
---
Apples In Winter

@ Centenary Stage Company - Kutz Theater of the Lackland Center, Hackettstown - 7:30pm
---
---
---
---
DANCE

---
---
FILM

---
---
View all events
---