By Gary Wien
originally published: 05/20/2015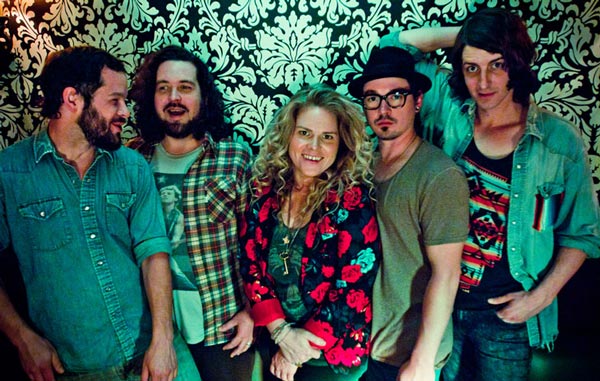 The members of Somebody's Darling like to think of themselves as something akin to the way My Morning Jacket would sound if they were fronted by a woman or what Alabama Shakes might be like if they'd been born in Texas.
They have been together since 2008 and one day while lying on top of a pair of bunks beds during the recording of their latest album, it suddenly hit lead singer Amber Farris that her bandmates and her had truly become adult roommates. The term instantly hit everyone as the perfect name for their album.  
"I think I've been living with two of my band mates for six plus years now and we haven't killed each other yet!" said Farris.  "Not only do we live together in a house, but we live together in a van and that's pretty insane.  If that's not dedication, I don't know what is."
The band's dedication to sticking together helped them become a solid draw in Dallas, but they decided to take a chance and start anew in Nashville. Bands everywhere seem to be flocking to  the "Music City" these days as it has evolved from its country music roots origins.  Somebody's Darling chose to move there the old-fashioned way - their tour bus broke down in the city.  While trying to figure out how they were going to continue the tour, they fell in love with Nashville.  Technically they've been residents for a few months, but they've spent most of the time on tour.   Even still, there's little doubt that getting outside of their comfort zone and moving to a new area has helped rejuvenate the band.  They've made lots of friends and have written at least 15 songs since the move.
"We were kind of feeling a bit stagnant in Dallas," admitted Farris.  "We love Dallas and it's our home base.  We'll always go back there and it's where our families live, but we wanted to give the band a new spark.  And it's really worked! It's so much fun being in a band, but it can be very hard at times.  This move gives you the feeling of first starting a band and doing it all over again where you're excited.  I think it's pushed us to write better songs, to work harder and stuff like that.  I think it helped out a lot.  It just feels right.  It feels like we made the right move."
---
The article continues after this ad
---
---



"Back home in Dallas, because we've been playing so long, we have packed shows," continued Farris.  "In Texas you always know somebody and you have that support and encouragement in whatever you do.  You come to a new town and it's not there all of the time and it kind of humbles you and puts you back in place.  This is a hard business.  You always have to work hard and know that you're not as cool as you think you are."

The band may not have the same support network in Nashville that they had in Dallas, but they're finding encouragement throughout their new city.  Each bar they go to is likely to have one of their favorite songwriters and be filled with musicians in the audience.  At times it seems like everyone they meet are musicians themselves.

"People think it's like being a small fish in a big sea, but it's so encouraging," said Farris.  "It's like these people do this too.  I'm going to keep on doing it.  We can do it, I know we can."

Along with Farris, the band consists of David Ponder (lead guitar), Wade Cofer (bass/vocals), Michael Talley (keys/vocals), and Nate Wedan (drums).  The band's love of performing live is one of the reasons they've been able to stick together for so long.  All it takes is one listen to Adult Roommates and it's clear that Somebody's Darling is a band best seen live on stage.  There's a blend of rock and roll with Texas blues and a dash of Southern rock that creates an irresistible groove.  Farris says the band's live sound is an entirely different experience from their records.  The energy they show on stage comes from years of playing together and is the band's selling point.  It's a live show that has led them to sets at South By Southwest and CMJ Music Marathon and their goal is to land a spot at a festival like Bonnaroo.

"I will play the 9am slot if I have to," said Farris.  "With our live show, if we get in front of people I know they're going to love it.  If that Bonnaroo set ever happens for us I feel we would kill it and people would love us.  We'd get the crowd dancing and having a good time. Our goal is to focus on getting into some more festivals because that's how you can play in front of a lot of people."

Just as nearly every guy with a guitar in New Jersey gets compared to Bruce Springsteen, Farris has faced comparisons of her own. As a female lead singer from Texas that gets a bit rowdy on stage, she's heard countless comparisons to Janis Joplin.  

"If I had a dollar for every time somebody said that, I would be a bazillionaire!" she laughs.  "But I think it's a great compliment.  Janis Joplin was awesome and she was a big inspiration of mine."

In June, the band hits the Northeast for a series of shows in the area.  Farris hopes that people are inspired, encouraged, and moved by the band's live set.  She adds, "We also like to drink with our fans."

Janis would be proud.

UPCOMING AREA SHOWS
June 2 The Saint, Asbury Park, NJ
June 3 @ Hill Country BBQ, New York, NY
June 4 @ Hill Country BBQ, Brooklyn, NY
June 5 @ Milkboy, Philadelphia
June 6 @ Triumph Brewing Co, New Hope, PA
June 8 @ 10th Ave Burrito Co, Belmar,NJ

For more info visit www.somebodysdarling.com





---
Gary Wien has been covering the arts since 2001 and has had work published with Jersey Arts, Elmore Magazine, Princeton Magazine, Backstreets and other publications. He is a three-time winner of the Asbury Music Award for Top Music Journalist and the author of Beyond the Palace (the first book on the history of rock and roll in Asbury Park) and Are You Listening? The Top 100 Albums of 2001-2010 by New Jersey Artists. In addition, he runs New Jersey Stage and the online radio station The Penguin Rocks. He can be contacted at gary@newjerseystage.com.
---