originally published: 11/07/2019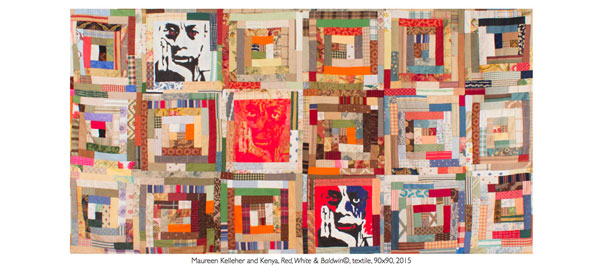 "I have not given up. I'm here and I want outta here, but, in the meantime, I will create."
That's the message Maureen Kelleher says she gets from the quilts created by prison inmates. While it may be surprising to learn that people serving life sentences are quilters, it's a wonderful way for them to express their humanity. Kelleher, an artist, activist, and private investigator, is the curator of an exhibit showcasing quilts created by inmates who first began making quilts through their work as volunteers in the prison hospice project.
The exhibit, "The Social Justice Collaboration Quilts Project featuring the Quilts of Angola Prison," showcases works created by free persons and lifers at the Louisiana State Penitentiary (aka Angola Prison). In addition to the quilts, the exhibit features music selected by Kelleher and narration by the artists. The exhibit is on display at Gallery Aferro in Newark until November 22nd.
"The music adds emotion, the narrations add uniqueness and reality, and a unique slice of life behind bars, and the thoughts and feelings of some who are doing life in a deep south prison," explains Kelleher. "The narrations also add a connection to the men inside. They get to know their words are heard by free persons and we get to hear them talking. A bridge of communication has been created."
The goals of the project include: teaching the world about the prison hospice program, supporting the project, connecting inside quilters with free quilters, showing the world how to collaborate with individuals in prison, giving a voice to inside and outside quilters' political consciousness, and supporting art created behind prison walls.
"The quilts are ambassadors and the bridge between two worlds. Never has there been so much fabric that has said so much!" exclaims Kelleher.
Quilts are on display by Etienne, Maureen Kelleher, Kenya, Dr. Mutulu Shakur (the stepfather of the late Tupac Shakur), Sharif, Teresa, Zulu, and Ramsey Orta (the man who recorded the death of Eric Garner). Kelleher says their work shows that the men are creative, compassionate, and have not stopped being political, even after living in solitary for decades. She sees it as an honor that they trust her with their art.
Music includes "Mboya's Midnight Cocktail," which Delfeayo Marsalis wrote specifically for this project and is paired with the quilt, "Red White & Baldwin" by Kenya. The exhibit also includes music by Joan Baez, Donna the Buffalo, Sweetcrude, the venerable Robina Courtin, John Delafose and the Eunice Playboys, and Irma Thomas.
"I wanted a range of sounds and styles," explains Kelleher. "The selections are all songs that I love. I also invite bands to join in if I have a good vibe from them. Joan Baez, for example: I knew she was a historically social justice committed musician, so I reached out to her and she gave the thumbs up. I did tell the guys inside about Irma Thomas and they were thrilled. They grew up with her songs and love her!"
An example of the narration is Sharif who created the "Harriet Tubman, Footsteps to Freedom" quilt. In his narration, he explains why he chose the colors, the theme, and his love of Harriet Tubman. Each quilter (both inside and outside prison) gets a free copy of Dr. Kate Clifford Larson's biography, "Bound for the Promised Land: Harriet Tubman: Portrait of an American Hero."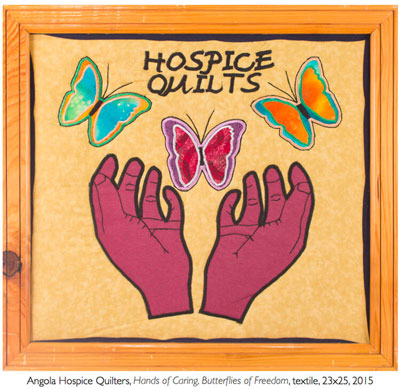 Kelleher's work with inmates goes far beyond her connection with their artwork. She has been instrumental in helping to exonerate three men previously on Louisiana's death row, in addition to assisting the renowned justice reform organization The Innocence Project on a non-DNA case to aid in the release of an innocent man with a life sentence.
Her entrance into this world came from an offer she could not refuse.
After graduating from the University of Florida with a B.A. in philosophy, Kelleher moved to New Orleans and held a number of odd jobs for a few years - everything from house painter to fry cook. She also did activist work with Amnesty International on the Free Gary Tyler case in a Louisiana town about 20 miles from New Orleans. Her work on the case caught the attention of someone who would help steer the direction of Kelleher's life.
"I was asked, out of the blue one day, by Gary Eldredge – one of the best criminal investigators in this country (and maybe the world) – if I wanted to work for him," recalls Kelleher. "I said yes immediately. I knew of his work and he came with a great recommendation. I knew I couldn't learn investigation in school and I knew that kind of offer came only once. So I said yes! I didn't choose homicide and death row investigation and civil rights/death in custody cases, those just happened to be his area, so they became mine."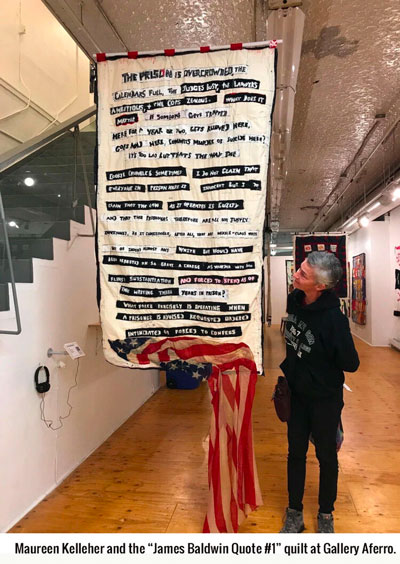 Kelleher first learned that inmates were creating quilts through a quick conversation with Gary Tyler back when he was still incarcerated. He knew that Kelleher was an artist, so he mentioned that he was making quilts. Years later, Kenya told her that they originally intended to sell quilts as a way to raise money for the prison's hospice program. She had met Kenya through Tyler and the Angola Drama Club. Both Tyler and Kenya were members of the club, which Kelleher saw perform at LSU in Baton Rouge. Creativity and the arts are important ways for inmates to remain creative and feel alive.
In 2005, Kelleher was forced to evacuate New Orleans due to Hurricane Katrina. Five days later, she drove to Hoboken where she has lived ever since. Today, she works as a private investigator at the Legal Aid Society of NY and works in Manhattan. Her own artwork has had shows in New York City.
Kelleher curated "The Social Justice Collaboration Quilts Project featuring the Quilts of Angola Prison" and is also one of the "outside" quilters. She physically adds the batting, the backs and borders to the quilts; the traditional hand quilting and hand stitching is her handiwork.
"I'm very much drawn to the heavier topics of life, and my spirit veers toward the underdog. The topics of death, rape, the death penalty, slavery, racism, incest, mental illness, what does it mean to be alive? To die? etcetera, are evident in my work. And then there are the things in my life that I've never forgotten — events, a phrase or two, or a photo I've seen and could not get out of my mind.
I've drawn from my life and memories to cover the plywood and pallet. Tender strength all around me — the absurd, the goofy, the sad, the really sad, the interesting, the wonderful, the stuff that makes me feel like shit, the stuff that brings tears to my eyes, the stuff that scares me, the stuff that makes me feel good, the stuff that just is — waiting to be brought up and out."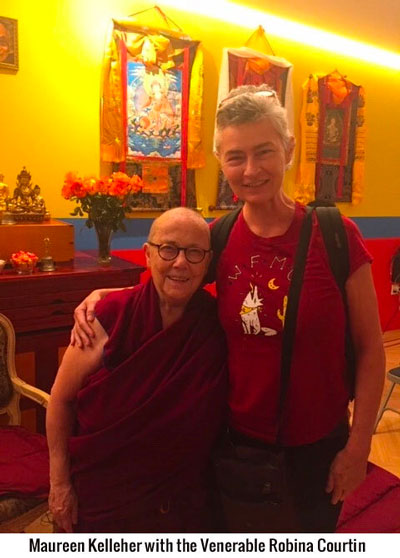 You can learn more about how Kelleher combines the world of private investigation and art on November 9th when Gallery Aferro presents "Ask the Curator with Maureen Kelleher." The official event runs from 1:00pm to 2:00pm, but Kelleher says she plans to be there at noon and is open to any and all questions. She will talk about her own artwork, the quilts, the men inside, and her investigative work.
"I'm an open book," adds Kelleher. "Folks can come and meet a real, live private investigator who happens to be connected to probably the most famous exoneration in the country (Curtis Kyles, Kyles v Whitley), off of Louisiana death row."
Gallery Aferro promotes itself as a platform for the exchange of ideas in service of advancing human dignity and beauty, with a focus on visual arts as the vehicle. It is located at 73 Market Street in Newark, New Jersey. The gallery is open Wednesday through Saturday from noon to 6:00 p.m.