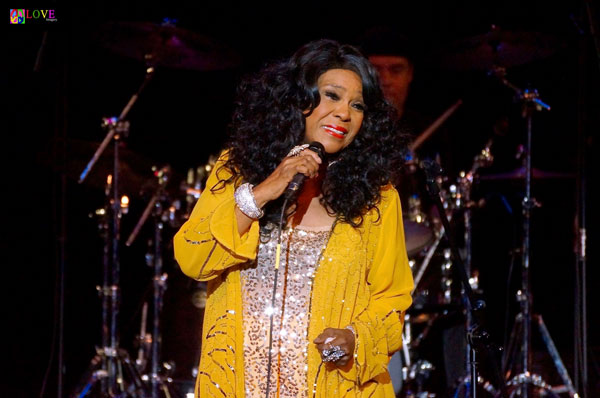 It's a stormy Sunday, October 29, 2017 afternoon at the Jersey Shore — the five-year anniversary of Hurricane Sandy, in fact — but a brewing nor'easter can't keep dedicated fans of classic pop and rock music away from the historic Strand Theater in Lakewood NJ!
In the Strand's comfortable lounge — The Galleria — patrons relax with complimentary apple cider and donuts and enjoy beverages from the bar while listening to live music played on a grand piano.
There's even bobbing for apples out in the lobby.
As we look around, we see patrons dressed up in all different kinds of costumes in preparation for this afternoon's Golden Oldies SpectacularHalloween party and concert featuring a line up of six golden oldies' groups — The Bucket List, The Cameos, Frankie Pizarro's Platters, The Crystals' La La Brooks, The Shirelles' Shirley Alston Reeves, and Bob Miranda and The Happenings.
First, we see a group of senior Pink Poodle Ladies in poodle skirts and bobby socks.
---
The article continues after this ad
---
---
We also notice several 1950's couples walking hand-in-hand.
There's even an assortment of red devils and — in white — "The Ghost of the Strand!"
The most striking costumes of all, however, belong to Mr. and Mrs. Edward Scissorhands — Stan and Barbara Ann from Brick — whom we meet enjoying a snack in the Strand Galleria.
Dressed in black leather with multiple belt buckles and actual scissor hands, Edward/Stan says, "We love oldies' music! I'm looking forward to hearing Frankie Pizarro — the former lead singer of The Platters — in addition to The Shirelle's Shirley Alston Reeves — and dressing up in costume just adds to the fun!" before commenting, "The last time we were at a Halloween concert with The Crystals and The Tokens, they loved that we were dressed up so much, they even took pictures with us!
Mrs. Scissorhands/Barbara Ann concurs with her husband, stating, "I love dressing up, and I love oldies music! I can't wait to hear The Happenings and Shirley Alston Reeves, but I have to say — I love the Strand! This is just the most beautiful theater — the architecture is amazing — and the productions they present are outstanding."
Continuing, "We were here last night for the Atlantic City Ballet's production of Dracula — it was a terrific show," she further acknowledges, "we recently saw Richie Santa's Elvis Presley tribute and we're going to come back and see him when he returns in January."
The Galleria lights start to blink signaling the show is ready to begin. We take our seats in the stunning Strand auditorium where WJRZ-FM radio's Dan Turi is already warming up the audience by tossing T-shirts out to the crowd.
Up first on tonight's bill is The Bucket List — a quartet of vocalists from Passaic, NJ, who cover hit songs from the '50s and '60s.
Highlights of The Bucket List's set include harmonious renditions of The Drifters' "Under the Boardwalk," Wilbur Harrison's "Kansas City," and Martha Reeves and the Vandellas' "Dancing in the Street."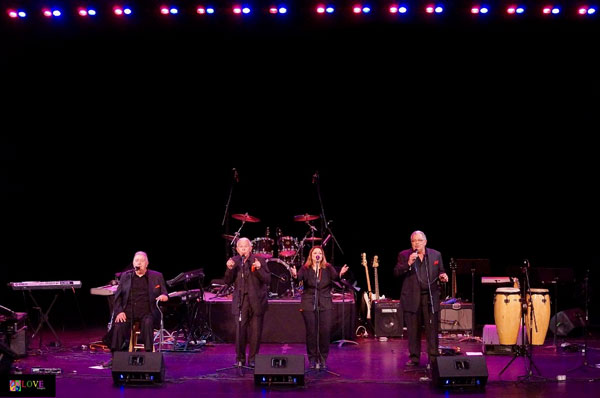 Several audience members can be spotted dancing in the aisles during The Bucket List's extended musical trip down memory lane.
Billed as "New Jersey's Favorite Oldies Group," The Cameos take the stage to perform their own selection of hits from the 1950's and '60s.
Vocal harmonies are front and center on The Cameos' renditions of The Brooklyn Bridge's "The Worst That Could Happen," Frankie Valli and The Four Seasons' "December, 1963 (Oh What a Night)," and The Vogues' "Turn Around Look at Me."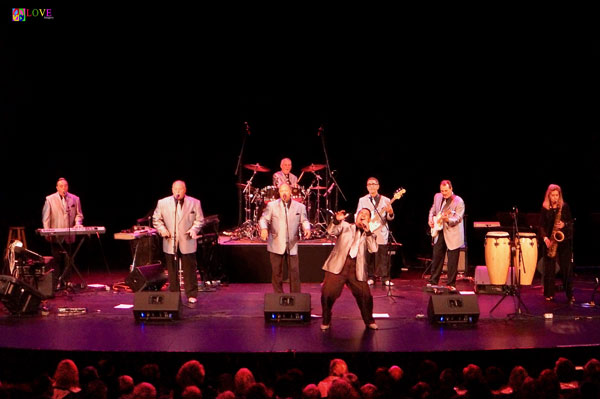 There's also plenty of inspired instrumental accompaniment provided by the band's talented saxophonist, Cathy Carbone.
The easy groove of Jay and the Americans' "This Magic Moment" fills the theater with nostalgia before Cameos' lead vocalist Chris Cerulo brings down the house with his show-stopping rendition of "Cara Mia," the audience standing and cheering for this Jersey gem of a cover band!
Next up on stage is Frankie Pizarro — former lead vocalist of Herb Reed's Platters — accompanied by his own set of Platters, a trio of top notch back-up singers.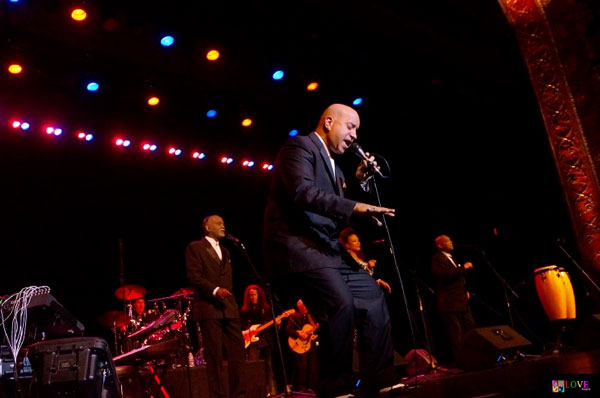 Pizarro's big voice impresses the crowd on numbers like "Twilight Time," while the Platters sound smooth and look classy in their tuxedos and wingtip shoes, the sole female member of the group outfitted in a beautiful gown.
On "My Prayer," Pizarro's dramatic lead vocal is accompanied by lovely harmonies, and on "The Magic Touch," the quartet snaps and moves to the groove of the live backup band.
On the classic 1968 Platters' hit, "When Smoke Gets in Your Eyes," Pizarro hits all the high notes for this appreciative oldies crowd.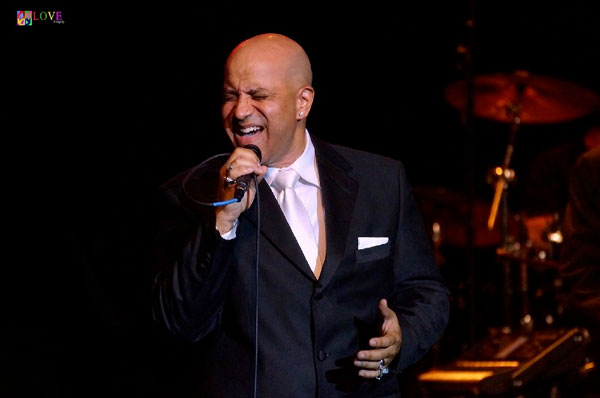 The audience rewards Pizarro and the rest of the Platters with a well-earned standing ovation!
Following Pizarro's set, Act I concludes with a thrilling performance by La La Brooks, former lead singer of The Crystals.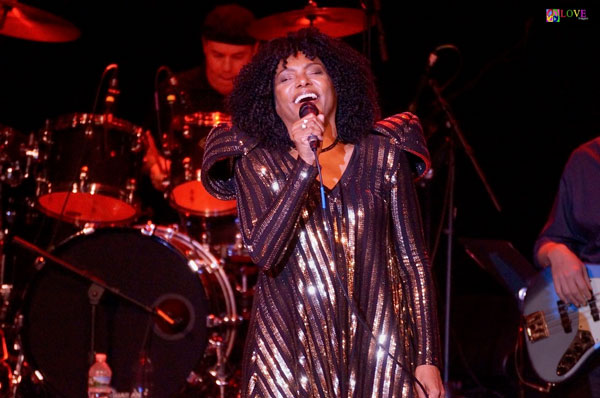 Sounding young and looking beautiful, Brooks wows the crowd with her sparkling rendition of The Crystal's 1963 hit, "And Then He Kissed Me."
Brooks' cover version of The Ronettes' "Be My Baby" has the audience singing along and dancing in their seats as La La dances around having fun on stage.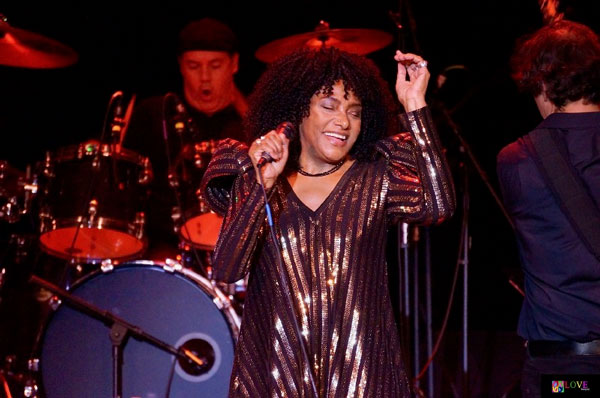 Performing the hit she made famous when she recorded it with The Crystals as a young teen working for producer Phil Spector, Brooks performs 1963's "Da Doo Ron Ron."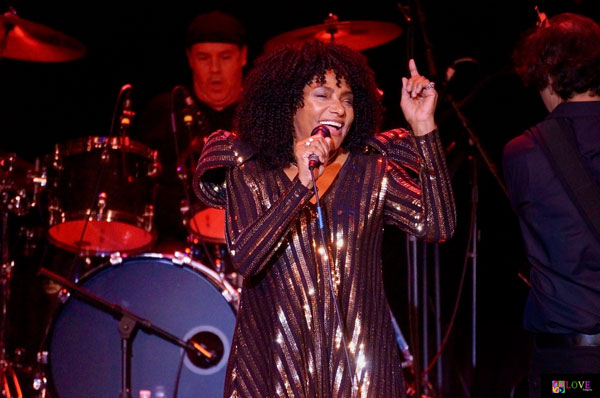 Never sounding better, the audience cheers for Brooks' spectacular performance!
Not letting up on the gas for a split second, Brooks gets the crowd up singing, dancing, and clapping along on her sensational cover version of "Proud Mary," shaking and shimmying across the stage while she sings her heart out to cheers and a standing ovation!
During a short intermission, we take a moment to chat with several members of the audience who share their opinions of the Halloween Golden Oldies Spectacular this afternoon.
Hope from Jersey City — dressed as a jester from New Orleans — exclaims, "I came to celebrate today! These groups are great. My favorite was La La Brooks — when you've been entertaining audiences for so long, it just becomes a part of you."
"I also especially loved the saxophone player with The Cameos!" she adds.
Nick from Nanuet exclaims, "Frankie Pizarro and his Platters were unbelievable! They sounded just like the original group — in fact, when I closed my eyes, I thought it was the original Platters. Frankie's voice is so powerful and the group's sound is great," before commenting, "and The Cameos were over-the-top good, as well!"
Ann from Brick remarks, "The show is great — really great! I just loved The Cameos. And I also love this theater — it's beautiful," going on to note, "I come here for shows as often as I can."
Lastly, we chat with David and Karen from Jackson — dressed as the perfect 1950's couple. Whereas David comments, "I love this show — my favorite acts being The Bucket List and The Cameos," Karen acknowledges, "I just love all of the groups — I'd follow any of them anywhere!"
Act II commences with the former lead singer of The Shirelles — Shirley Alston Reeves — taking the Strand stage along with her long-time back-up singers and a crackerjack live band.
Opening with a spirited version of "Shake It," the electric bassist and guitarist rock as Shirley and her backup singers shake it!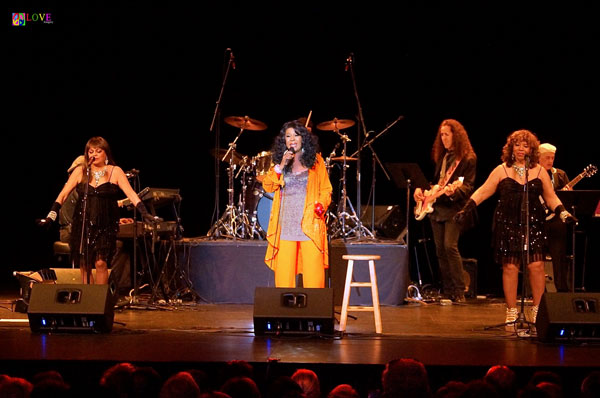 Sounding as clear and strong as ever, with the ease of the seasoned performer she is, Alston Reeves delights the crowd with her rendition of The Shirelles' 1961 hit, "Mama Said."
Moving on to another 1961 Shirelles' classic, Alston Reeves performs "Baby It's You," every sha-la-la ringing true from this 76-year-old talent!
Following a 1960 Shirelles' number she wrote herself, "Tonight's the Night," Alston Reeves and company get the audience's heads bopping and feet tapping to another Shirelles' hit, 1963's "Foolish Little Girl."
A highlight of Alston Reeves' set is Alston Reeves' performance of the 1961 Shirelles' million-seller composed by Carole King, "Will You Still Love Me Tomorrow."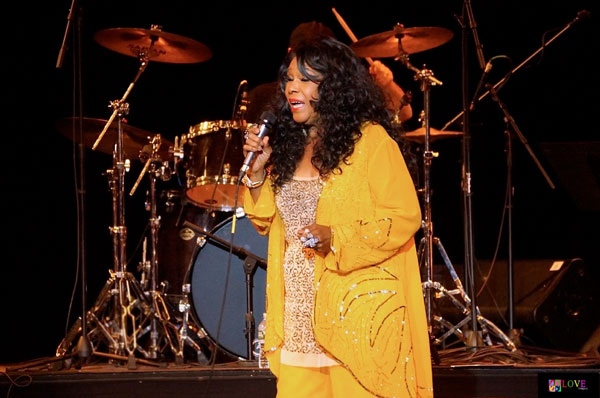 Inviting the audience to sing along, Alston Reeves' backup singers expertly "sha-la-la" and sing harmony to Shirley's famous lead vocal.
Following that up with The Shirelles' biggest hit, Alston Reeves dedicates "Soldier Boy" to members of the U.S. military. During the song's instrumental break, Shirley and the gals do a kick line, while at least one couple can be spotted dancing in the aisle to this classic 1962 smash.
The band rocks out on Alston Reeves' rendition of Al Green's "I'll Be Around," as all three women have a blast dancing together.
Ramping it up even more, Shirley, the singers, and the musicians play a rockin' medley of dance hits including Chubby Checker's "The Twist," Jerry Lee Lewis' "Whole Lotta Shakin' Goin' On," and Elvis Presley's "Blue Suede Shoes" and "Hound Dog."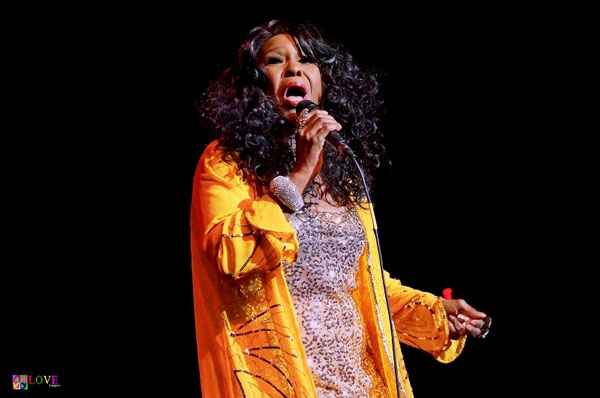 By the end of the medley, the audience is on its feet cheering, bringing Alston Reeves to tears as a result of their heartwarming response to her performance tonight!
For the final act of the Golden Oldies Halloween Spectacular, Bob Miranda and The Happenings take the stage.
Informing the crowd that he's "originally from Paterson, NJ," Miranda — who now lives in sunny California — declares, "I love Jersey still!"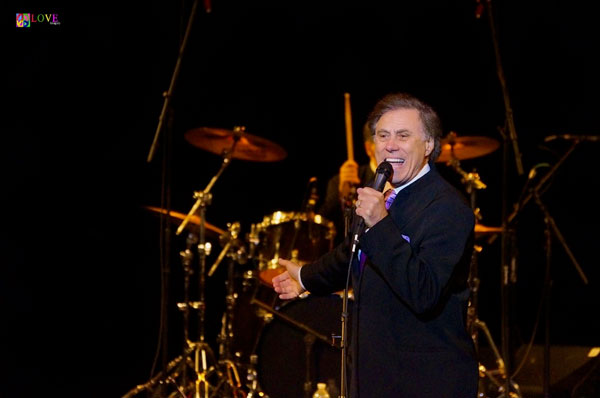 Noting that — back in 1967 — songwriter Carole King specifically requested that he and his group, The Happenings, record their next number, Miranda and the rest of the musicians launch into their smooth rendition of "Go Away Little Girl."
The audience is on their feet clapping as The Happenings perform an energetic cover version of Dion's "Runaround Sue." They follow that up with a powerful cover of The Vogues' "Till."
Hands swaying back and forth, the audience clearly loves Miranda and The Happenings' rendition of Neil Diamond's "Sweet Caroline."
Next up is a medley of classic Beach Boys' tunes including "Barbara Ann," Surfin' USA," and "Fun, Fun, Fun" — the audience "chair-dancing" as the stage lights sparkle.
After taking time to chat with the crowd — revealing, "You inspire us" — Miranda serenades all of the music lovers in the house with his version of Josh Groban's "You Raise Me Up," his vocal accentuated by a swirling guitar solo.
Raising their arms in the air and swaying to the music, the happy crowd drinks in the nostalgia of The Happenings' classic 1966 hit, "See You in September."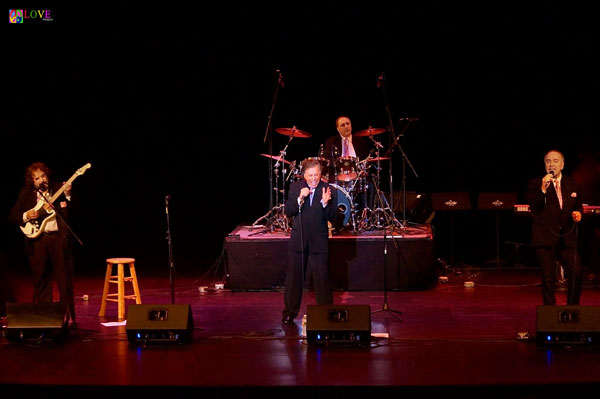 On-point harmonies ring out throughout the beautiful Strand Theater before the group finishes up with a trifecta performance of spirited covers — The Drifters' "Under the Boardwalk," The Spiral Staircase's "More Today Than Yesterday," and The Happenings' own 1967 Top Five cover of George Gershwin's "I Got Rhythm."
Following cheers and applause, as we exit the theater, we take a moment to chat with several audience members who share their experiences with us.
Comments Renee from Brick, "This show was really an event! Every act was great! I especially loved The Happenings — their songs brought back so many great memories for me," noting, "I remember every June when school let out, my friends and I would all sing 'See You in September.'"
Kathy from Manchester agrees, noting, "I love how The Happenings were able to take an old-time song like "I Got Rhythm" and make it pop — even today," before going on to add, "In my opinion, this whole show was fantastic!"
Alan from Jackson shares his opinion of today's show with a simple "Wow!" before noting, "Shirley Alston Reeves was so impressive — by the end of her set, my mouth was hanging open!"
Likewise, Sue from Old Bridge concurs, exclaiming, "Shirley Alston Reeves has such energy and grace — I can't believe she's 76 years young! What a talent!"
George from Brick comments, "La La Brooks is amazing — she's very entertaining and she has a lot of energy! And The Cameos are impressive — their singer, Chris Cerullo, has a great set of lungs!"
After also adding, "Frankie Pizarro and his Platters are always outstanding," George further notes, "It's always a great show at the Strand — it's such a beautiful theater — and I like the variety — the shows here are always done so well."
Lastly, Jim from Lakewood remarks, "This concert was a great way to celebrate Halloween. It's such a great musical event," before concluding, "I just loved all these groups — their music brings back so many great memories!"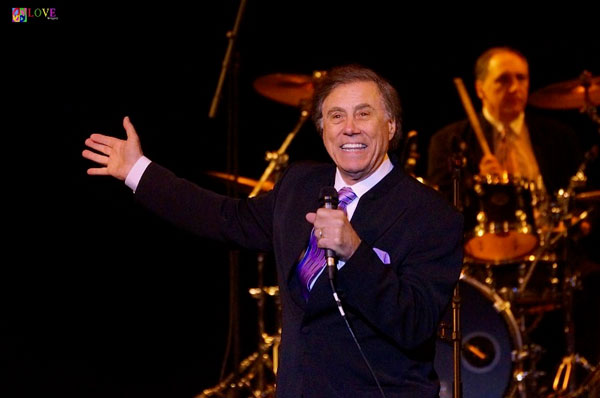 To learn more about The Bucket List, please go to TheBucketListMusicalGroup on Facebook. For more information on The Cameos, please go to thecameos.com. For more on Frankie Pizarro, please click on FrankiePizarroMusic on Facebook.
For information on La La Brooks, please click on lalabrooks.net. To find out more about Shirley Alston Reeves, see Shirley Alston Reeves on Facebook. For further info on Bob Miranda and The Happenings, please check out thehappenings.com.
To learn about upcoming performances at The Strand Theater in Lakewood, NJ — including James D'Amico Productions Presents Get The Led Out on November 25; Marshall Tucker with special guest The Magnificent Mancini Brothers on December 2; and Tusk: A Tribute to Fleetwood Mac on January 13, 2018 — please click on strand.org.
Photos by Love Imagery
Spotlight Central. Your source for Jersey entertainment news and reviews
Love Imagery Fine Art Photography. all you need. peace/love/flower/power