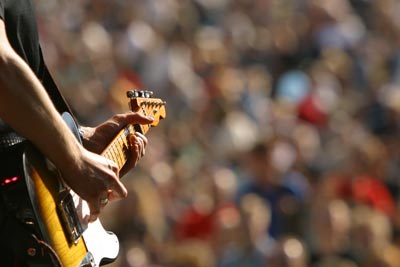 How is it that we're facing down another Fall yet again? Still, as sure as the leaves will start shedding from the trees and days will begin to get a little darker our mailbox remains consistently full. So, what are we complaining about? Well, certainly not about the amount of music we get to preview. Enjoy these write-ups. I'm going to look for a jacket.
Anchors can keep you safe floating on the surface or they can drag you down deep to the depths. Both of the subjects are dove into throughout the new concept album of the same name from Nashville's own Will Hoge. Hoge has been hard to categorize over the years ranging from rocker to country storyteller to acoustic singer songwriter relaying heartfelt confessionals. All those elements are here in the 11-career defining tracks on the musician's latest release. Fans of Petty, Springsteen, Dylan and Chris Robinson have always found elements of their heroes in Hoge's descriptive catalogue. They remain here in force – yet, it seems Will has finally found that singular solid voice of his own in the process. Inspired by his son's garage band Hoge's love for music was relit as he stripped everything down and went back to the drawing board. The opening three pack finds Hoge addressing fragmenting and fraying relationships that are perhaps marred by time but not beyond repair. A repeating metaphor of an old rusted out pickup truck is used to drive his points home. The songs are sad but solid. Hoge found his share of mailbox money when he had a hit covered by the Eli Young Band. The rockin' formula that powered that track returns on the Wilburyesque "Baby's Eyes." "(This Ain't) An Original Sin" is an original take on what transpired in the Garden of Eden. "Young as We Will Ever Be" is the radio friendly closer that finds Hoge marking the passage of time. Will Hoge remains afloat with an incredible collection that should help stabilize his career and point him in the direction of greater acclaim and recognition with an album that is so good – even if it breaks your heart.
When you're one of the biggest bands in the world you can put out a big project and that's just what Alter Bridge has done with Live At The O2 Arena + Rarities. Born out of the ashes of the crumbling Creed the quartet has moved miles away from the stigma of Stapp with the help of powerhouse vocalist and musician Myles Kennedy who was so in demand that he was almost scooped up by Jimmy Page and John Paul Jones before his genre spanning working in the Bridge could even be built. Alas, that never happened and what the rockers known as AB have constructed is an incredible fans base and body of work all on display on the 19-track recording that documents what an enormous presence AB have become on concert stages around the world. From the beautiful "Blackbird" to the explosive "Show Me A Leader" from their latest studio effort the guys excel at putting out a big and bold sound. But, they can have their quieter moments as shown on the side closers "Watch Over You" and "My Champion." What sets this release apart is the third disc of rarities and unreleased tracks that any modern band would kill to call an album of their own. Myles Kennedy, Mark Tremonti, Brian Marshall and Scott Phillips have created a powerful new musical creed and have gathered worldwide followers with a near religious fervor – and that's a rare thing in today's challenging music marketplace.
The band MR. BIG are back with a big sounding new album. Defying Gravity available in various formats including vinyl builds on their solid foundation of songs packed with mighty riffs and rhythms countered with melodic moments. The CD opens with the immense sounding "Open Your Eyes" paired with the title track setting the stage for the rest of the record. "Damn I'm In Love Again" features fine harmonies and "Mean To Mean" is catchy yet crunchy. "1992" is a forceful, fun trip down memory lane flowing into the nuanced "Nothing At All" then closing with the bluesy and bold "Be Kind." MR. BIG is known for larger than life bass lines, lavish guitar leads and vibrant vocals which fans have come to demand and the group delivers. With the help of producer Kevin Elson Defying Gravity came together quickly but is still a top quality record proving that MR. BIG continues to defy creative expectations.
I recall catching The Romantics in concert in the Winter of 1983. My memory through a drunken haze tells me that this band had much more substance than their radio hits would reveal. They stretched it out in concert with some impressive jams. So, it's no real surprise that they've returned in the summer of 2017 with two covers mined from different veins of gold-selling rock to celebrate their 40th anniversary. The Romantics are still touring and currently feature three original band members on the front line up, Rich Cole, Wally Palmar and Mike Skill. Drummer Brad Elvis joined The Romantics in 2004 and has been the longest seated drummer with the band, fondly earning him the tag line as the band's "2nd original drummer." Rich Cole rejoined the band in 2010, (after leaving in the 1980's) reviving the band's 3-part harmony allowing The Romantics to perform songs from their first two albums live for the first time since his departure. Now, they will add their take on "Hush" and "I Fought The Law" to the mix. It's no secret – these Detroit rockers are still fighting the good fight with three chords and the truth.
---
The article continues after this ad
---
---
"All I want to do is play music," says singer/guitarist, Casey James. "Stripping it back to just me making a record of music that I love was a huge stepping stone in my life." Strip It Down Casey's new album produced by Grammy-winner Tom Hambridge and featuring a guest duet with the legendary Delbert McClinton, does just that. As the title implies this 13 track collection is packed with pure, passionate playing with few production tricks. Recorded in Nashville Strip It Down is a blend of blues and roots music starting with the animated yet bluesy "All I Need" then Delbert adds some Texas roadhouse swagger to "Bulletproof." There are hints of country in "Stupid Crazy" whereas "Different Kind of Love" reflects R&B stylings with "Supernatural" exploring soul. The CD closes with "Fight You for the Blues" a brash nod to the genre. Jones' sizzling guitar licks paired with his smokey vocals enhances the raw, real feel of Strip It Down. Blues is the most prominent style on the album but Casey does delve into a range of sounds to craft a varied collection of often catchy tunes. So check out what the former American Idol contestant has achieved since his appearance on the TV show.
Speaking of Idol alums we recently caught the amazing Adam Lambert on tour with Queen. In season 10 of that now rebooted franchise hard rock singer James Durbin was hailed as the "new Adam" and now you can call him the "new Kevin." Kevin Dubrow of Quiet Riot that is as Durbin has replaced the departed frontman in the kitschy California-based heavy metal band. The group was founded in part by the iconic and gone too soon guitar god Randy Rhoads but they didn't take flight until he left the band to work with the bat-biting Ozzy Osbourne. Now, they return with their pedal to the medal on Road Rage the new album from Frontiers Records. Durbin is a good fit as he flexes his vocal muscle all over the 11-raging tracks that never slow down as Frankie Banali on drums, Alex Grossi on guitars, and Chuck Wright on bass guitar provide the fuel and drive. Still, we find the music of Franki Banali and company a little too banal for our liking as we did back in the day. But, it's cool to see these former MTV heroes finding new life after having experienced too much death and tragedy even as they pushed a doctrine of metal health. Maybe this one is just what the rock and roll doctor ordered.
Some consider Lee Roy Parnell a Texan triple threat as he is an ace axe man, singer and songwriter. Parnell's music runs the range from blue-eyed soul, Delta blues, gospel, rock and southern boogie. Midnight Believer Lee Roy's latest showcases all of these elements and his experience in a collection of colorful, compelling music. Reflecting on the organic process of the record Parnell shares "well, it's funny…most folks think of me primarily as a slide guitarist, and to some degree that is true, but I played 'regular lead guitar' long before I played slide. On the song 'Hours In Between' what you're hearing is one continuous lead guitar track from me…one pass going down with my band and no fixes. Not to say I didn't want to, but they all threatened to walk out on me if I did! Looking back, I'm glad I didn't get the chance to fix anything." On the songwriting side, Parnell collaborated solely with Greg Barnhill on the record, co-writing all 10 of the tracks together. Etta Britt provided backing vocals and The Fairfield Four shine on "Sunny Days." Midnight Believer is solid from start to finish running the range from smooth to smoking. Lee Roy's expressive vocals go from graceful to gritty as the stories unfold in his well-crafted songs so give this platter a spin and let Parnell make a believer out of you.
Following a lengthy Nashville career phase that brought Greenville, Mississippi native Steve Azar significant success, he and his family returned to his storied home state which lead to Azar's first release in five years. Down At The Liquor Store is packed with visual vignettes of happiness and heartbreak in the setting of the south. This 13-track album was recorded with The Kings Men, the group of stellar musicians who had, until his passing, served as B.B. King's backing band for many years. The pairing of Steve's Delta-born songwriting approach mixed with the band's impressive background culminated into an original sound that Azar calls "Delta Soul". Besides overflowing with soul Down At The Liquor Store has shots of blues and rock spiked by horns in all the right places. The album's concept and title were inspired by Steve's experiences in his younger days of helping his parents, descendants of Lebanese/Syrian immigrants, run a family business which served as a kind of community center for generations of Mississippians of all backgrounds and races. The CD pops open with the alluring "Rena Lara." Other highs on the album include a touching "Tender And Tough," the smooth "She Just Rolls With Me," and the melodic "I Don't Mind (Most Of The Time)." With strong musicianship and storytelling Down At The Liquor Store is top shelf!
Millennial mayhem makers Hinder have gone through some reconfiguring since reaching the top of the charts with their debut album and heavenly hit called "Lips of an Angel." A change at the top saw band founder/frontman and the group mutually agreeing to parting ways but that hasn't hindered the Oklahoma based power rockers in the pursuit of crafting that next big song. The Reign is the second release to feature their new singer and longtime co-writer Marshal Dutton whose voice powers through the hard-hitting new single "Remember Me" even as their vanquished founder Austin Winkler is not forgotten – especially by the horde of Hinder fans who have had trouble accepting the change. Those who choose to live by the mantra "No Austin/No Hinder" are missing out on a powerful collection of wrenching rock wrought from the pyrotechnic furnace built from years of experience touring with the likes of likes of Mötley Crüe, Nickelback, Aerosmith and Papa Roach. The king is dead, long live the king. For Hinder, a new reign has begun built with chugging guitars, a wall of sound and genre bending decrees suitable for the masses.
James Brown has been gone for a number of years now so it might be time to re-assign "The Hardest Working Man in Show Biz" moniker to a living and breathing musician. One artist throwing his hat in the ring to claim nomination for that title is  Billy Sherwood who has gotten a lot of recent press for stepping into prominent roles in both YES and ASIA due to the passing of Chris Squire and John Wetton. Throw in solo releases, his work with Circa, curating compilation albums and now his latest from World Trade (Unify) you might need to call in Accountemps to help keep track of everything he's got his hands in. On many of this album's 10-tracks it seems Billy might be angling for spot in a reformed Genesis since Peter Gabriel has been reluctant to rejoin his mates. Joining Sherwood this time out are Guy Allison and Bruce Gowdy – a pair of musicians also known for being behind the awesome melodic rock band Unruly Child – and, drummer Mark T. Williams. The band's press folks say, "No doubt that World Trade is a world class band in every sense with a mature sounding recording reflective of the years of experience within the band. With great songwriting, excellent vocals, and immense production values, this album will appeal to fans of Toto's most recent releases and 90125/Big Generator-era Yes."
Rock Band BIRDSEED are a unique San Francisco musical undertaking originally formed by parents whose children were studying together at the Bird School of Music in the Bay Area. Eventually, they recruited the charismatic Kerry Landreth as lead singer and their fortunes began to turn and they started to build a loyal fan base attracted to Landreth's star power and the band's raw sound. The group might remind you of a Natalie Merchant fronted Fleetwood Mac with a driving Wilco-esque sound and sensibility and it's these elements that have garnered them much local praise. Sadly, Landreth was diagnosed with incurable breast cancer in 2015 although she's Not Out of Time quite yet as the title of the groups new 5-song vinyl EP declares. The songs that brim with themes of adult angst, lost loves, perseverance through pain, and the transcendent power of music – are made all the more poignant by their current uncertain future. Still there's triumph here especially on "Next Trip Around the Sun" that finds Landreth coming to grips with mortality as she discards her fear, surrenders control, and sets out to achieve her dreams. That's something we can all applaud.
The Force MDs were the forerunners of the New Jack Swing movement who scored a top ten single with "Tender Love" followed up by their first #1 R&B hit "Love is a House" in 1987. In recent years trials and troubles rocked their house to the core as three of the group's members died within five years of each other in the 90's and another passed in 2016 of an undisclosed illness. Still, the founding trio remain and they have made a commitment to rebuild by paying homage to the songs and artists that influenced them on Our Favorite Joints that finds them lovingly recreating such classics as Marvin Gaye's "Let's Get It On," Al Green's "Love And Happiness," and The Temptations' "Just My Imagination". Plus, they salute their 80's R&B peers with Boyz II Men's "End Of The Road," New Editions' "Can You Stand The Rain" and more!
EVEN MORE NOTABLE RELEASES! Sifting through the digital postcards this month we're delighted to discover that music is alive and well the world over. Let's takes a look…
Grande Royale takes a grand approach to their brand new third album "Breaking News" that features ten tracks of high energy rock that rocks hard while each song is held together by sing-a-long pop friendly hooks and an overload of melodies. They are a Swedish band who was listening to Lynyrd Skynyrd at the time of recording – to us we hear KISS and Jet in there, too. We're ready to coronate them as the next big thing – you should bow down now to the next ruling class of rock…
From the musically rich confines of Charlotte, NC comes Milk N' Honey whose new EP Floor of Diamonds flows with tasty and sometimes mellow music that will appeal to the after hours jam band crowd. But, don't be fooled – they can also generate high energy funk and uplifting power pop. Either way, they shine…
It's time to do your homework because Norway's Ohmwork are prepping their latest new release Alyssa Drone with an advance single called "Requiem Of The Fallen." The first track is a slow burner but expect the rest of the tunes to light it up like their heroes Iron Maiden, Sabbath and Slayer. If you like those bands you just might fall for these guys…
Montreal-based alt-folk band The Franklin Electric have released a soulful and haunting single "Burning Flame" from their latest Blue Ceilings that Clash Magazine calls "a muscular piece of folk-driven songwriting, blessed with a poetic touch and a soaring arrangement" – we agree and we can't wait to plug into this project a bit more. We might have just found a new favorite Canadian export…
Florida-native, L.A.-based newcomer Bianca Gisselle is taking her shot with "Bang Bang" a feisty and moody declaration that should find her shooting up the charts and playlists. With a heartbeat rhythm the talented Giselle has her finger on the trigger and the target is clearly in sight…
Nick Ferrio takes a departure from his previous folk and country leanings with "Soothsayer"- a song about getting his fortune read and taking sage advice from a close friend. A look into the crystal ball reveals a 70s power-pop sound reminiscent of Elvis Costello and T-Rex mixed with White Album era Beatles that all points to a bright future for this Ontario, Canada based artist…
Dan McNay is a singer/songwriter from Southern California who has played fairs and street corners in his time with his trusty banjo at his side – thus, the aptly titled new release from him is called On The Street all influenced by pop and folk music from every decade back to the 1930s, standard bluegrass tunes, current country songs and more. We like it…
Dog In The Snow principal member Helen says her latest single "Child" was inspired by the thought – "what if every woman threatened to never have children again?" – from this premise comes a promising lo-fi experimental exploration of female empowerment that will leave you questioning the ideas of self-identity and culture in the modern age…
Toronto's Sarah Cripps drops her brand single "Leave Behind" recorded during what she calls a turbulent transition in her life. The artist says she was struggling with her own self-identity and encroaching darkness. From there Cripps has emerged triumphantly with a record Atwood Magazine said is an "exciting journey full of warmth, deep musicality, and real feeling." We're excited to watch her move forward in her career…
See ya next month!
---
Richard J. Lynch and Laura Turner Lynch are the founders of
MusicCityNashville.org
, an Internet-based music industry magazine and review site, online since 1999. Laura is a published author of the inspirational (
Positive Power Secrets From A to Z
). Rich regularly interviews famous rock stars for the site's radio show and he has recently launched his own recording career at (
www.richlynchband.com
)
---