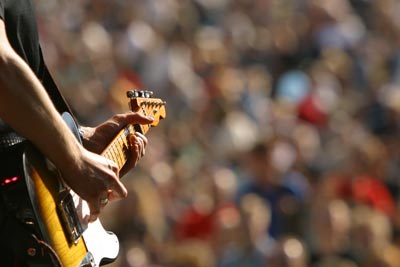 Ah, it's that time of year again. I'm pretty sure we don't have any skeletons in our closet but we sure do have thousands of CDs stored in boxes. More treats arrived recently to add to our scary big collection and these are the best in the bag. The trick is – how do we find time to listen to all of this great music?
Rusty Young – singer-songwriter-multi-instrumentalist and frontman of the seminal West Coast country-rock band POCO has recently released his debut solo album for Blue Élan Records Waitin' For The Sun. The record reflects Rusty's musical expertise and influences from an impressive career that spans 50 years. The CD opens with the warm and winning title track that was conceived in the pre-dawn hours of a new day. Young shares that "I live in a cabin that overlooks the Mark Twain National Forest in southern Missouri, and got in the habit of waking early to watch the sun come up," Rusty explains. "Just sitting there with my guitar, loving where I live and thinking about how far I've come and how lucky I've been. After a while, the songs just poured out of me." Other highlights include "My Friend" featuring Richie Furay and Timothy B Schmidt. The spirited and sweet "Honey Bee" includes guests Jim Messina and George Grantham paying tribute to the musical gifts of Rusty's grandparents. "Sara's Song" is a sentimental piece about Young's only daughter's wedding day. "Heaven Tonight" has a Beatles-esque quality. "Hey There" captures POCO at its catchy best and the closer "Gonna Let The Rain" blends rock, soul and horns. Rusty Young shines brightly on his solo effort Waitin' For The Sun and the word on the street is that he will be touring in support of the album with some POCO shows mixed in.
Just in time for Halloween comes Sinister by Appice featuring drum warring brothers Carmine Appice and Vinny Appice. They are notable music icons but they are sometimes notorious for pronouncing their identically spelled last names differently. Still, there's no confusion on their latest release that finds their individual images stitched together like a monstrous Frankenstein behind the stool. The lucky 13 tracks on this collection are frighteningly good as they play with a purpose in celebrating some of the heroes of heavy metal complete with a high-octane lineup of musical accompaniment. For example, the lyrics to "Monsters and Heroes" were originally penned for Ronnie James Dio while "Sabbath Mash" dives into the influence of the original Iron Man. Fans ask – how can listeners tell the two brothers' drum styles apart? Vinny says: "We have similar grooves, fills and feels, but we approach things differently. I play heavier, fast and precise. Carmine plays more grooves and has a more melodic style." As they say – the reverse of evil is live – and there's plenty of rumors about the siblings taking their sinister show on the road soon.
Apollo is the god of music, poetry, the sun, truth and more. One might consider it arrogant to name one's band Sons of Apollo. However, when that super group consists of former Dream Theater members Mike Portnoy and Derek Sherinian, Ron "Bumblefoot" Thal (ex-Guns N' Roses), Billy Sheehan (The Winery Dogs, Mr. Big, David Lee Roth) and Jeff Scott Soto (ex-Journey, ex-Yngwie Malmsteen's Rising Force) the name fits. Stylistically it's hard not to compare their debut Psychotic Symphony to Dream Theater as Sons of Apollo is also heavy and progressive, yet the above mentioned musicians bring their own strengths and style to songs packed with riveting rhythms, rousing riffs and soaring vocals. The quintet shine on their bold and brilliant opener – "God of The Sun" setting the bar high for the rest of the record which ends with the opulent "Opus Maximus". Drummer Mike Portnoy comments: "Signs Of The Time (the potent 3rd track) was the very first thing myself, Derek and Bumblefoot wrote when we got together to begin writing for Sons of Apollo. It starts with this heavy, brutal Bumbleriff (initially coined 'Korntera'), then goes into a cool verse with a two-part vocal melody that I wrote sung by Jeff and myself, which eventually opens up to a HUGE vocal hook in the chorus that Jeff wrote (sung in three-part harmony by Jeff, myself and Bumblefoot)." The middle section riffs are a few things that Derek brought in and show why he is the most BADASS keyboard player in the biz (playing the keys like a guitar player on fire!) and then we have the long extended breakdown and guitar solo which shows why Bumblefoot is one of today's greatest GUITAR HEROES! This album is going to get him the recognition he truly deserves and this particular guitar solo is one of the tastiest, most insane solos I've EVER heard". Now, it will be up to listeners to determine if the Sons of Apollo live up to Mike's enthusiasm and the band's bold name.
The initial spark for the recording of Grammy Award winning Living Colour's latest Shade came via the mojo spirit of blues' pioneer Robert Johnson during an electrically charged cover of Johnson's classic "Preachin' Blues," at the Apollo Theatre in Harlem. Blues is the inspiration behind this 13 track record but the band also blends metal, rap and rock into this socially charged collection. Living Colour are just as agile and angry as ever starting with the fast and furious opener "Freedom Of Expression (F.O.X.)." The aforementioned Johnson cover is bold and bluesy. "Come On" is catchy and commanding. In "Program" the group addresses media manipulation in the modern age. Singer Corey Glover explains: "Back in the day, the news was called a 'loss leader.' It wasn't for profit. News wasn't made to sell stuff. News was there to be purely informational. That's all the news was supposed to be, a public service that lets you know what's going on in and around the world you live in. Not to be an arm of some sort of political ideology." Another big statement song on Living Colour's latest is the reimagined version of The Notorious B.I.G.'s "Who Shot Ya?" in protest of ongoing gun violence and racial profiling. The group returns to sizzling blues on "Who's That." Drummer Will Calhoun points to "Invisible," which pays homage to the late Buddy Miles, among his favorites on this diverse record. Shade concludes with the funky "Two Sides" featuring George Clinton. It has been eight years since Living Colour's last album but they are back with another political and powerful platter.
---
The article continues after this ad
---
---
Roadcase Royale are a new rock outfit that has musical majesty at their helm in the form of dual ladyship of Nancy Wilson – one half of the royal bloodline that gave birth to Heart. She shares the throne with powerhouse R&B singer Liv Warfield who worked in the Prince's court with New Power Generation. "Nancy and Liv are magic together, and the musicianship is outstanding," said Tom Lipsky, President Loud & Proud Records. "The interesting blend of talents and influences is what makes Roadcase Royale special. Most importantly, there is a fire within this group to do something original, to feed off each other and explore new creative directions. It is exciting to see that kind of passion and drive in artists that have already accomplished so much. We are proud to be their label partners." The record is generating keen interest with strong songs such as the opener "Get Loud" and the gripping "Hold On to My Hand." Two Heart covers reveal this group will be capable of having Heart in their live act while adding fuel to the talk of a long-brewing sibling rivalry between Nancy and sister Ann in the wake of a well-publicized falling out following their 2016 road show.
Steven Wilson is an English musician and record producer who is well-respected in the progressive rock world as the founder, lead guitarist, singer, and songwriter for the band Porcupine Tree. Commenting on To The Bone his latest solo effort Steven states, "my fifth record is in many ways inspired by the hugely ambitious progressive pop records that I loved in my youth (think Peter Gabriel's So, Kate Bush's Hounds of Love, Talk Talk's Colour of Spring and Tears for Fears' Seeds of Love) – a welcome shot of some of the most joyous wide-eyed escapism I've created in my career so far." The 11-track CD is intricate and insightful as it addresses issues such as refugees, religious fundamentalists, technology and terrorists. Yet for all its seriousness To The Bone has plenty of catchy moments woven into its complex compositions. Other press agencies have given To The Bone high marks with Mojo awarding it a four-star review, noting the album "keeps its pop and prog influences in a near perfect balance," while Uncut labeled it "a lush and ambitious piece of progressive pop. On To The Bone Wilson has lived up to the aspiring albums that motivated him as he in turn encourages the next generation of musicians to dig deep.
UFO was formed in London in 1969. They became a transitional group between early hard rock and heavy metal. Over a career spanning 48 years, UFO has released 22 studio albums, 14 live recordings and 16 compilations. They achieved success with several albums and singles in the UK and US Top 40 charts, and have sold over 10 million records worldwide. The Salentino Cuts is UFO's first ever all-covers project. The selections are varied with perhaps a few surprises such as Mad Seasons's "River Of Deceit," John Mellencamp's "Paper In Fire," and Bill Withers' soulful "Ain't No Sunshine" alongside more traditional but nonetheless thrilling versions of The Yardbirds' "Heartful Of Soul," ZZ Top's "Just Got Paid" and more. The dozen tracks allow UFO to put their own spin and sizzling guitar solos on some of their favorite tunes. The CD spans different eras and styles taking the listener on a fun musical journey with a talented, tenured group of players-so give it a spin for yourself and enjoy the ride.
The Lynch Mob reassembled in 2017 with 11 brand new hard rock tracks that were honed through many nights on the road as the lineup of Oni Logan, George Lynch, Sean McNabb and Jimmy D'Anda formed The Brotherhood based on heavy riffs and melodic licks. For their latest hot offering Lynch said overall that the album might come with a "darker, colder sound to it." The band accomplishes this through the creature feature "Mr. Jekyll and Hyde" and the new anthem for the apocalypse "Until the Sky Comes Down" which is really a story about a disintegrating relationship. It's hard to believe that 27 years on since their founding a "hair band" with its roots in the new wave of metal and heavily spotlighted by MTV – would be now in its most productive period yet. It's obvious – the musical brotherhood lives – and George Lynch plans on hanging around a while.
The Keith Emerson estate recently announced the long-anticipated re-release of Emerson Plays Emerson on CD and download. To facilitate the project fresh transfer of the master tapes by Abbey Road were sought out along with original artwork that helps bring the 22 tracks on the project to life in a special way. The family is focused on celebrating and enhancing Keith Emerson's musical legacy and supporting projects which further the appreciation of his life's work which this one most certainly does. Keith's eldest son, Aaron said of the release: "Since the passing of my father, we have been inundated with requests for a reissue of the record. This album was a labor of love for Dad, so we decided to go with the original artwork to stay as true to the original as possible as we understand how happy Dad was with it. I know he would be happy with this re-issue, so on behalf of myself, Jo and my boys, of Damon and his family, of my mother Elinor, and of my father's fiancé Mari, and with thanks to Daniel Earnshaw, Martin Darvill and Stewart Young for all their hard work, we hope you enjoy it!" There's a little bit of everything here from classical to deconstructed prog rock with some bonus boogie-woogie thrown in for good measure. On Emerson Plays Emerson you learn that there was a lot more to the man who was one third of the legendary ELP that you might know.
Marcus Randolph is the drummer and one of the founding members of Robert Randolph and the Family Band, a group well-respected for their innovative blend of funk, gospel, rock and soul. With his Family foundation, Marcus with the support of My Peoples People have crafted a very personal debut, solo album. Transplant is Randolph's reflections on life and undergoing a kidney transplant in 2011. It all starts with the tantalizing title track with its heavy grooves as Marcus raps about the procedure and being blessed to be able to make this music and listeners will be blessed by this 11 track CD that explores struggles to salvation in catchy yet compelling compositions. On "Sucka," the thoughtful "Think About It" and the "snappy "63 Hog Drive" Marcus proves that Robert is not the only one who can play a slick steel. "Momma Sang" features Sylvia Randolph. a power full singer who testifies that the apple does not fall far from the tree. "In My Heart" along with the funky "She Came With Everything" are also noteworthy as is the edgy "Fast Cash" and the angrier "Mad At The World" – aren't we all. Transplant is a diverse, divine celebration of being given a second chance.
Like a confrontational narcissistic nightmare, Projected comes at you with equal parts sharpness and subtlety – and in the case of this supergroup with roots in Sevendust and Creed – that's a good thing. To get the job done the four-piece featuring guitarist John Connolly, drummer Scott Phillips, bassist Vinnie Hornsby and Eric "E-Rock" Friedman compiled two full discs of music to achieve their sonic assault. The album's 21-songs have an overall heavy and dramatic vibe throughout on tracks that explore the weighty themes of life, loss, love, judgment and salvation. With Ignite My Insanity, Projected have invited the world into their world of thought provoking lyrics, heavy guitar riffs, rock-solid bass grooves and stand-out drumming that delivers all the power and punch that one would expect from these high-level players. So, expose yourself to what they're projecting – you'll be glad you did.
THOR emerged in the 1970's from a professional body-building career and quicky show his muscle becoming one of Canada's most recognizable metal bands. He's also been called one of history's worst bands so the truth has to be somewhere in between – right? I mean, the artist who is now famous for dressing up as a comical conquering musical Viking has over three dozen albums, re-releases and EPs to his credit so somebody is buying his music. On the latest Beyond The Pain Barrier the best song is "Tyrant" that might be the perfect anthem for these "Trumpian Times" depending on which side of the pain barrier you might find yourself. Production is dark and dense which might be good if you plan on blaring this one at your Fall festivities. Thor is knocking – will you answer "The Calling"?
EVEN MORE NOTABLE RELEASES! Sifting through the digital postcards this month we're delighted to discover that music is alive and well the world over. Let's take a look…
Dutch rock veterans Focus could be considered a one-hit wonder with ubiquitous airplay for their instrumental classic "Hocus Pocus" that dominated radio during the classic rock era. However, a new 2 CD collection called "The Focus Family Album" makes that notion disappear fast. The 20 song set gives fans new insight into the band and includes 15 unreleased original tracks, alternate versions from the Focus X sessions, solo work from each of the current members and tunes from the beginning of the Focus 11 sessions with artwork by Roger Dean.
Jay Pounders achieved an impressive level of notoriety in the late 80's with his punk and funk outfit Crossfire Choir. The group got support along the way with connections to MTV, David Geffen, Steve Lillywhite, Hilly Kristal all in their corner but they couldn't keep the momentum going. Later he formed POUNDERS in Los Angeles and released songs in that decade's style on a recently unearthed self-titled CD. Now, Jay is writing a bold new chapter in Nashville with some of his most compelling music yet.
Speaking of Pounders, he recently donned the producer's cap to help Music City neighbor Rockin' Rich Lynch pound out his controversial Springsteen On Broadway protest song "Ow, A Bad Singer's Pony Rent."
Chris Gauger is an extremely talented musician. He was raised on heavy metal and took to guitar at a young age – but, the secret is out now, Gauger is versatile with a diverse amount of genre mashing tools in his bag of tricks. Consider his brand-new single "Secret Serenade" that officially launches the artist on a solo career that is brimming with promise and potential. The three-minute and 42 second song lifts off with an alluring bass line before hip-hop beats introduce the soulful singer on a pop track that crackles with smooth R&B vibes. The pleading ode to love sets itself apart from the pack as Gauger's ample guitar chops are revealed in the last half of the song. It's no secret Gauger is gearing up for the big time and it's likely that the world will be hearing much more from this rising star in 2018 when more blistering tracks arrive.
On Kaylee Rutland's bright and shiny new EP That Side of Me produced by three-time Grammy nominee Jamie O'Neal, listeners are guided track-by-track on a lyrical journey through the relatable experiences in Rutland's life that pop from the speakers. "That Side of Me" and "Crushin' On You" float to the top of the batch and are sure to have broad appeal. They are reflective, emotional, personal and warmly shining like a comfortable candle burning in the corner. Light this one up and take a listen – she's an artist to watch.
See ya next month!
---
Richard J. Lynch and Laura Turner Lynch are the founders of
MusicCityNashville.org
, an Internet-based music industry magazine and review site, online since 1999. Laura is a published author of the inspirational (
Positive Power Secrets From A to Z
). Rich regularly interviews famous rock stars for the site's radio show and he has recently launched his own recording career at (
www.richlynchband.com
)
---