By Spotlight Central
originally published: 02/17/2018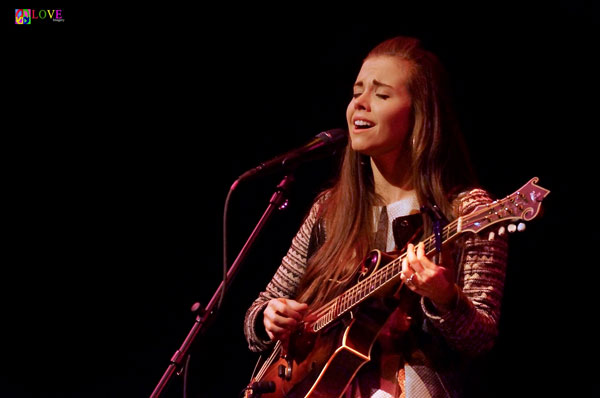 The stage is set for musical excitement this Saturday, February 2, 2018 evening at Toms River, NJ's Grunin Center for the Arts for a concert featuring Grammy-nominated mandolinist Sierra Hull.
Hull, 26, was born in Byrdstown, Kentucky where she attended Pickett County High School before accepting a full scholarship to Boston's Berklee College of Music.
Sierra began playing the mandolin at the age of eight and self-released her first album, Angel Mountain, when she was only ten. As a youngster, her parents took her around to numerous bluegrass festivals where she eventually came to the attention of representatives for Rounder Records, which still serves as her record label. For Rounder, at 15, she recorded Secrets and at 20, Daybreak.
Hull's latest Rounder recording is Weighted Mind, produced by the acclaimed banjo player Béla Fleck. The album also features talented acoustic bassist Ethan Jodziewicz, with vocal contributions by Hull's longtime mentor, Alison Krauss. The album earned Hull a 2017 Grammy Award nomination for Best Folk Album.
With a "Sierra Hull" backdrop portraying birds in flight and a road meandering through a field, Hull takes the Grunin Center stage along with accompanist Ethan Jodziewicz. The duo opens with a number which suggests Hull's studies at Berklee — a school known for jazz education — a brilliant rendition of jazz saxophonist Wayne Shorter's haunting composition, "Aung San Suu Kyi," arranged for mandolin and bass.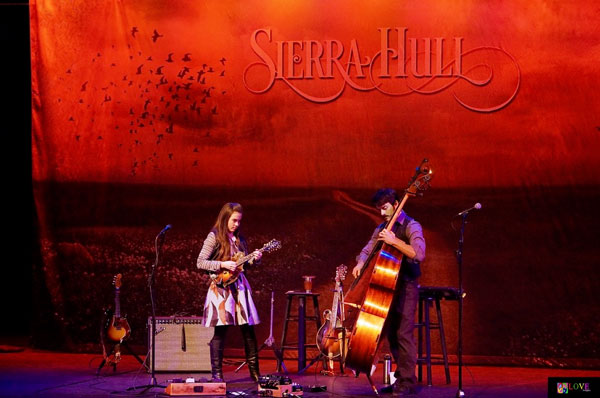 ---
The article continues after this ad
---
---
The sound in the auditorium is crystal clear as Hull's and Jodziewicz's gorgeous instrumental voices intermingle with one another, Hull swaying as she plays.
Launching directly into an original piece from Weighted Mind, the pair performs "The In-Between." Hull sings in her true, pure voice, "I am but a changing chord/And life is a hanging sharp-edged sword/Over or under the wall/When you're in-between you're nowhere at all." A mellow up-tempo country tune featuring a 'finger-pickin'-good' mandolin improvisation, the piece eventually shifts to bowed bass and rhythmic mandolin chording before deftly segueing back into its jazzy instrumental opening theme.
The audience reacts with avid applause before Jodziewicz opens the next number — the title track from Weighted Mind — with a repeated ostinato pattern on the bass. A subtle rocker with a funk feel, Hull sings, "It all seems right written on a page/I tell myself we'll be ok/But I can't chase away my doubt/So much left to figure out/Weighted mind/Wasted time." Jodziewicz's walking bass undergirds Hull's dazzling improvised mandolin solo on this catchy blues-injected tune.
Hull greets the audience in her delightful Kentucky twang, saying, "This is our first time in Toms River! We played in Vermont last night — it was cold — and I'm glad to be further south. Thanks so much, y'all, for comin'!"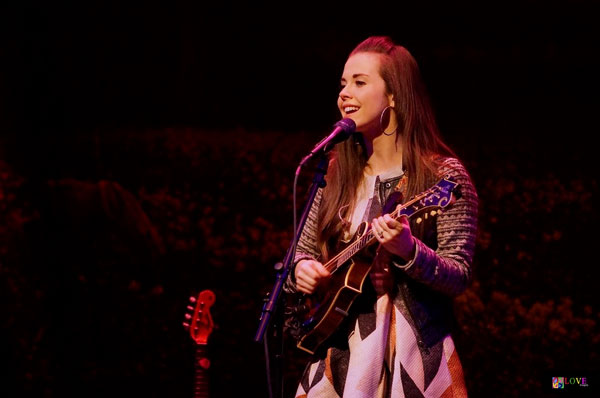 Here, Hull and Jodziewicz perform a medley of two more original tunes from Weighted Mind.
The first piece is the album's opening number, "Stranded," and features inspired mandolin picking from Hull as Jodziewicz bows his bass underneath. Hull intersperses interstellar runs on her instrument with lyrics like, "Dear 22, I'm stranded here."
Then, she and Jodziewicz segue into "Compass," where Hull sings with emotion, "I've thrown away my compass/Done with the chart/I'm tired of spinning around/Looking for direction, a Northern star/I'm tired of spinning around."
During the medley, both Hull and Jodziewicz impress the crowd when they rock out on their instruments — Jodziewicz's bass filling out the bottom while Hull's mandolin breezily flutters on top. The audience responds to their inspired interplay with hearty applause.
"How about it for that fella from Philly playing bass for you!" exclaims Hull.
The crowd continues to clap and the duo responds by performing a lovely arrangement of Johann Sebastian Bach's Invention #6 in E Major for mandolin and bass. Responding to the pair — playing with such authority and skill — one audience member can be heard exclaiming out loud at the end of the piece, "Wow!"
After informing the audience that her partner, Jodziewicz, is "from Olympia, Washington," Jodziewicz addresses the NJ audience relating, "It's nice to be here. We're pretty close to the Pine Barrens here — the home of the Jersey Devil." Jodziewicz shares a story about a time when he was a college student studying music in Philadelphia and, on a break from practicing bass, took a hike in the Pine Barrens, recalling, "I eventually made it out of there, but it was scary!"
Hull smiles and takes over the microphone announcing, "We're gonna do a song by Loretta Lynn which demonstrates the power of the Southern drawl. It's called 'You Want to Give Me a Lift.'"
Sounding reminiscent of Jeannie C. Riley and her hit, "Harper Valley, PTA," Hull croons, "You wanna give me a lift, but this ol' gal ain't a-goin' that far/I'm a little bit warm but that don't mean I'm on fire." Featuring thoughtful mandolin and bass solos, the audience responds with avid applause and cheers.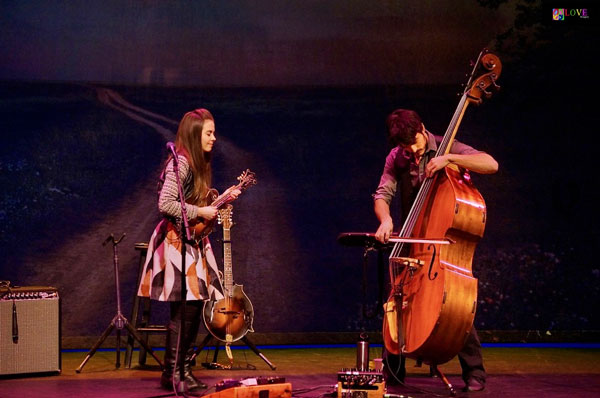 "Thank you!" exclaims Hull, revealing, "Last year, I was a part of a Loretta Lynn tribute. Diggin' through her songs, I stumbled upon that one," before pointing out how much she loved how Loretta Lynn's Southern drawl made 'far' and 'fire' sound like the exact same word!
Moving on to an original piece which Hull explains is yet "unrecorded," she performs a composition entitled "Sunday." With its mysterious melody backed by an active rhythmic accompaniment, Hull sings, "My mind is free/My eyes will see/If you speak to me," before Jodziewicz plays a brooding legato bass line.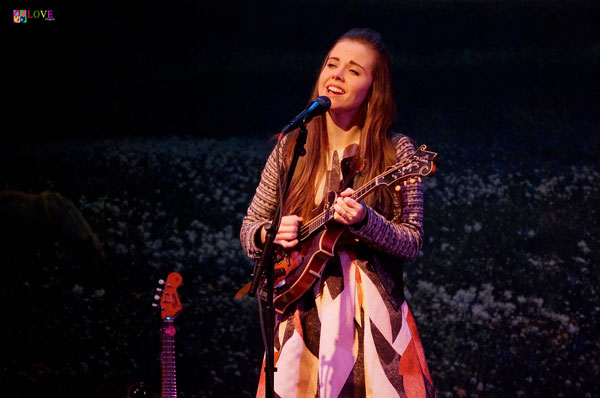 The pair segues into "Wings of the Dawn," a dreamy Crosby, Stills, and Nash-like piece from Weighted Mind that features delicate mandolin picking and Hull's plaintive vocal along with a bowed bass melody accompanied by rhythmic mandolin strumming.
Acknowledging, "I just played the Celtic Connections festival in Scotland," Hull performs some Celtic music for the appreciative Grunin Center crowd revealing, "I don't know the names of the songs, but my teacher at Berklee, John McGann — whom we lost too soon — taught them to me," adding, "I'd like to play them in his honor tonight."
Tapping her feet and swaying as she plays, Hull inspires the music lovers in the audience with her heartfelt tribute. Soon, Jodziewicz enters on bass and the pair segues into "Queen of Hearts," a traditional folk song from Weighted Mind.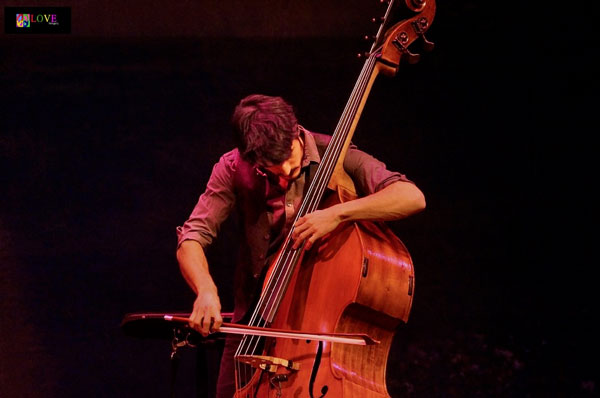 The arrangement features a David Grisman-like improvisation section where the musicians' hands fly over their respective fingerboards. Soon, Sierra enters tenderly singing, "I love my father, I love my mother/I love my sister and my brother/I love my friends and my relatives too/I'll forsake them all and go with you."
The pair further segues into a Hull original instrumental piece, "Royal Tea," featuring Baroque-like counterpoint before the medley recapitulates back to the "Queen of Hearts" coda where Sierra wonders, "If my love leaves me — what shall I do?"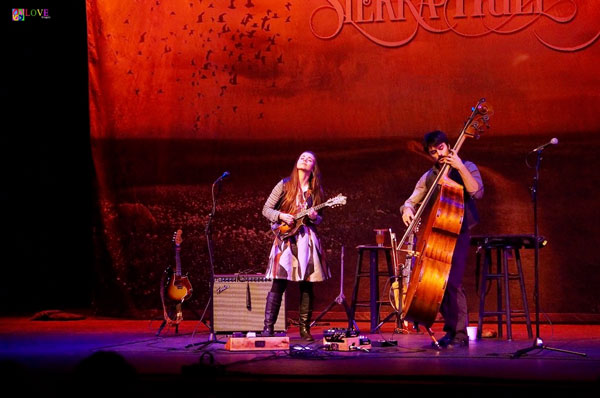 Picking up an electric mandolin, Hull announces, "I'll do some covers for you — sing along if you feel like it."
Here, she performs an inspiring cover version of Tears for Fears' "Mad World."
Her mandolin creating an ethereal feel, Hull employs an unusual picking style which helps to make her instrument sound somewhat reminiscent of a Hawaiian steel guitar!
Following large applause, Hull discloses, "One of my favorite songs was written by the one-and-only Earl Scruggs." She and Jodziewicz trade tasty licks on a swingin' instrumental rendition of Scruggs' "Foggy Mountain Special." As she plays, Sierra bops to the music, clearly impressing the crowd with her impeccable bluegrass pickin' prowess.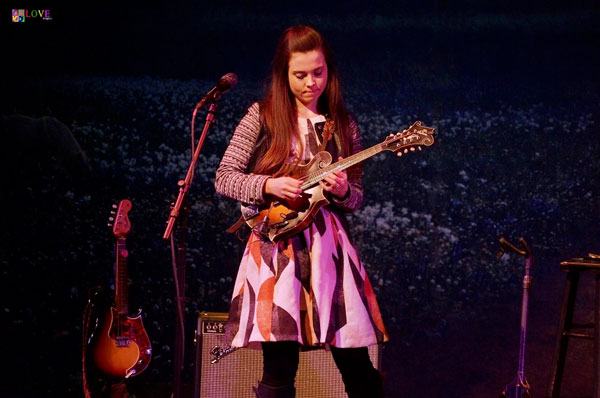 The crowd whistles and hoots and the duo responds by performing the catchy final cut from Weighted Mind, "Black River." Accompanied by a hypnotic repeated melodic and rhythmic ostinato pattern — Hull sings, "A black river runs down my face/I guess now is not the time or place/A thousand years is but a day they say/And maybe in a thousand more I will find my way."
As the crowd signals its approval with heartfelt applause, Hull reveals that she refers to "Black River" as "kind of a mascara song," before illustrating what she means to the audience by repeating the tune's main lyric, "A black river runs down my face."
Hull asks the audience, "How many mothers do we have here? I'd like to send this next song out to all the mothers," explaining, "I think of my mother every time I stand on stage and perform this song. It's called 'Lullaby.'"
A poignant piece, the lovely ballad opens with a slow picked intro as Sierra sweetly sings, "Mother will you sing to me?/Something soft and something sweet/I'm too old for a lullaby/But I'll never be too old to cry."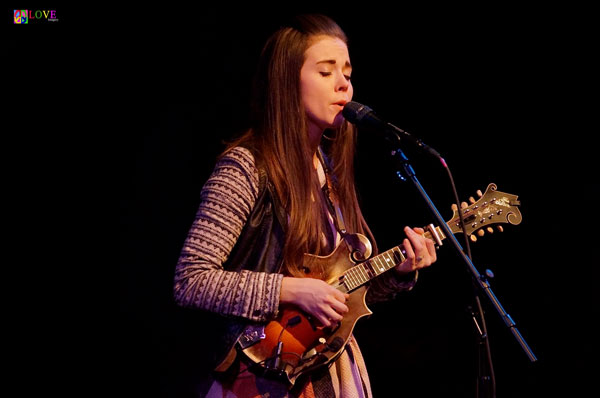 The audience reacts with heartfelt applause, after which Hull states, "We've had a lovely time playing for you tonight," adding, "and we'd love to come back!"
Moving on to an electrifying rendition of Bill Monroe's "Old Dangerfield," Hull and Jodziewicz share a rockin' instrumental lick before jamming out and pickin' on their respective strings.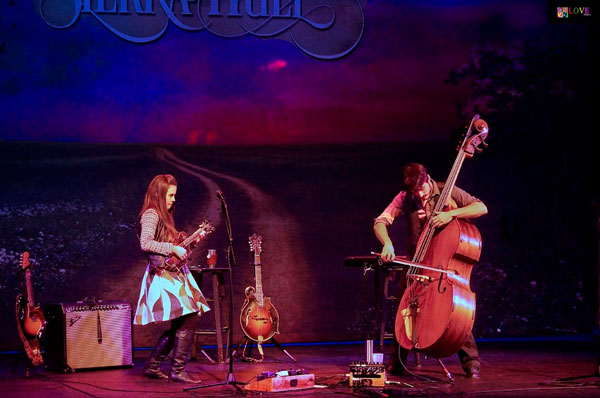 As they play, the music builds in terms of intensity and dynamics — filling the auditorium with a joyful noise — before coming to its dramatic conclusion. The audience responds with a well-deserved standing ovation!
After leaving the stage, the pair soon returns and Hull states, "Thank you! We really appreciate your coming here and spending the evening with us! We'll leave you with a song from my album, Daybreak, which is a song I wrote in the parking lot of Best Buy."
Here Hull and Jodziewicz perform a swingin' rendition of Hull's country ditty, "Best Buy."
Singing, "You can take your stuff, I've had enough, I'll even hold the door/Cause I ain't gonna buy it anymore," Hull charms everyone's hearts, making them grateful for spending an evening with Sierra Hull live at Toms River's Grunin Center!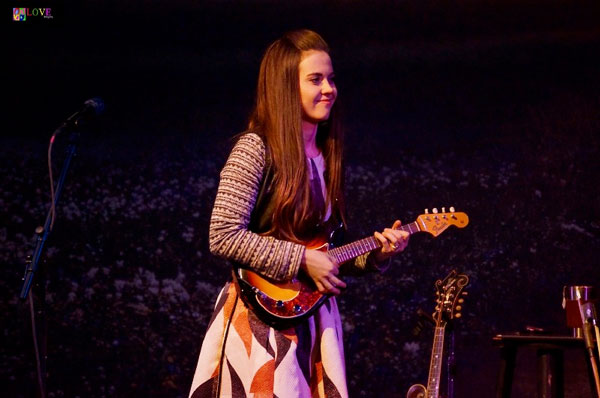 To learn more about Sierra Hull, please go to sierrahull.com. For information on future performances at the Grunin Center — including An Intimate Evening with Rickie Lee Jones on Mar. 22, Tom Chapin and the Chapin Sisters on Apr. 21, and Peter, Paul and Mary's Peter Yarrow on May 11 — please go to grunincenter.org.
Photos by Love Imagery
Spotlight Central. Your source for Jersey entertainment news and reviews
Love Imagery Fine Art Photography. all you need. peace/love/flower/power