By Gary Wien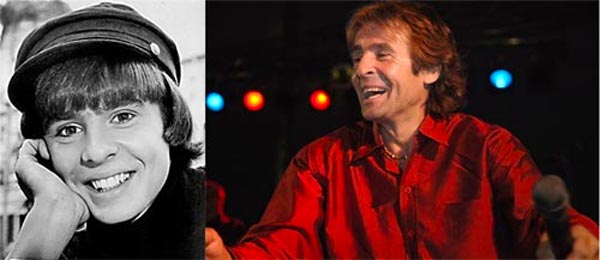 Ok, so I'm a child of the eighties and a Monkees fan. I'll admit it. I still remember watching every one of their episodes that MTV re-ran for what seemed like several years and fell in love with their music. I even saw them live in the mid-80s at the Garden State Arts Center. It's not called that anymore, but this was before corporate sponsorships. About a month ago, I heard a DJ ask why The Monkees weren't in the Rock and Roll Hall of Fame and it got me thinking. Why aren't they? Since Davy Jones of The Monkees is coming to New Jersey for a pair of shows (the Great Auditorium in Ocean Grove on July 7th and BergenPAC on October 26th) I decided to ask him directly.
Why do you think the Monkees aren't in the Rock and Roll Hall of Fame?
I don't know. I was on the Bill O'Reilly show the other night. (there's a clip on www.davyjones.net of the segment where Bill talks about this issue and the rumor that Jann Wenner of Rolling Stone is trying to keep The Monkees out of the Hall of Fame) I have thought about it and are we talking about entertainment? Are we talking about the number of records one sells? He was saying we sold 68 million records and The Monkees are not in the Rock and Roll Hall of Fame. I think maybe the title of the occasion might be something. The Rock and Roll Hall of Fame... The Monkees were never looked at as rock and roll and everyone has this thing about us not being musicians but now they're putting rap singers in there.
Maybe if it was called the Music Hall of Fame or the Video Music Hall of Fame then the Monkees would have to be in there. I think it's the title and that we're not viewed as rock and rollers. But what is rock and roll? I passed a joint with Jimi Hendrix, I slept with a lot of female singers, and I partied until I dropped.
The recognition of having an induction into the Hall of Fame would be wonderful, but I ain't going to lose any sleep over it. I'm proud of all of the people who are in it. I think it's quite a thing when people acknowledge your talent. I've got no bad feelings towards the guy who owns the joint. He owns it. If I don't want to invite someone to my party, I don't invite them.
It's well known that you were the first Davy Jones so the other David Jones became David Bowie. But if he had been there first, did you ever think what you would have named yourself?
I probably would have called myself David Bowie! The reason I'm saying that is because I know why he called himself David Bowie. When we were growing up in England - and David and I are around the same age - what we were watching and what was very high profile in England was Davy Crockett. We had those squirrel hats with a tail on the back. It was a big thing in England for a number of years and Jim Bowie was a guy that was with Davy Crockett. I'm only assuming this because I don't think I've ever said anything to anybody about this - In fact, I don't think anyone's ever asked me that before - but that was the time we were growing up and you're influenced by the things around you. Davy Crockett was big and Jim Bowie was with him. I'm not sure about David Bowie, you'd want to ask him that.
Before The Monkees, you were nominated for a Tony Award on Broadway and you later went back to the theatre. Was it ever hard to shake that character? I know television actors and theatre didn't mix as well back then as they do now.
Barbra Streisand was the first person to break through record wise from the Broadway stage. A lot of theatre people couldn't make it on television because they just didn't have the technique. The only occasion I've ever had where I felt somewhat challenged was when I was playing Jesus in "Godspell" in London some years ago. Well, stillness on stage is the most eye-catching thing so while the cast would be prancing around on stage the director had me be very calm and still and wait a few seconds before I spoke. So it would be very quiet and when I spoke it meant something. But the first thing that I thought of when I was dying on the cross at the end singing "Oh God, I'm dying..." was that I was just hoping nobody would scream "give us Daydream Believer before you die!"
On another occasion, I was singing "I'm dying" and then I went "I'm dead" and it was a very moving experience but we did it in Ireland during a matinee and when I said "I'm dead" I heard giggles from the audience. I'm going, what did I do? Why are they laughing? And then it kept happening during the other matinees, so I checked it out. In Ireland when you come home from work and you take off your shoes and sit down in your favorite chair you say to yourself, "God, what a day... I'm dead!" It means I'm tired, I'm exhausted... So, they were laughing because Jesus had cracked a joke!
One final question, I read somewhere that you were actually drafted by the US Army. I thought you weren't a citizen back in the sixties, did you really get drafted?
Yeah, I was a Green Card holder and they were drafting everybody at the time. It was during the late 60s, maybe 1968 - right in the height of The Monkees fame. It was kind of scary. I went down to the draft board a couple of times. In fact, I lost weight -- I got down to 99 pounds and when I was walking around naked in a circle with a bunch of guys standing on the scales this big guy said to me, "you're a 99-pound weakling boy!" And I looked at him and I said, "right!" Because if you were 5 foot 4, you had to weigh over 104 pounds and I weighed 99!
So you were really close to going, huh?
Oh yeah. The last time I went the lieutenant said "bring your toothbrush when you come next time."
Catch Davy Jones appearing with The Turtles at the Great Auditorium in Ocean Grove on July 7th and at the Bergen PAC on October 26th.
---
Gary Wien has been covering the arts since 2001 and has had work published with Jersey Arts, Elmore Magazine, Princeton Magazine, Backstreets and other publications. He is a three-time winner of the Asbury Music Award for Top Music Journalist and the author of Beyond the Palace (the first book on the history of rock and roll in Asbury Park) and Are You Listening? The Top 100 Albums of 2001-2010 by New Jersey Artists. In addition, he runs New Jersey Stage and the online radio station The Penguin Rocks. He can be contacted at gary@newjerseystage.com.
---