By Gary Wien
originally published: 09/24/2019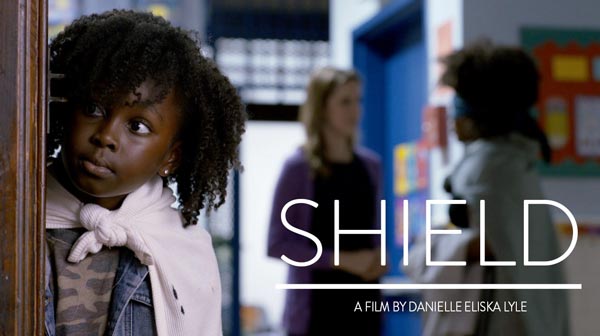 In a cinematic world dominated by Marvel superheroes, Shield shows us that true superheroes actually walk among us.  This wonderful short independent film by Danielle Eliska Lyle will be screened at the New Jersey Film Festival in New Brunswick on Sunday, October 13 on a night filled with short films - many by Garden State filmmakers and on October 23 at Princeton University during SHE BAD: Women In Film - a night of five short films curated by Lyle.
Shield takes us into the world of Zoe (played by Sienna Elisa Rivers), a young girl who was thrust into foster care after the death of her brother (who was her sole guardian).  She latches onto the only thing that reminds her of him - a blanket.  Trauma has alienated her from everyone and has made it difficult for Zoe to find a permanent home.  She may have found one with Rachel (Gisela Adisa) who takes her in and tries to help Zoe overcome her anger issues from being bullied at school.
"I've encountered beautiful souls who have journeyed through the foster care system," explained Danielle Eliska Lyle.  "I listened to the stories of the struggles their families endured, how they were separated from siblings at times, the heaviness and holiness each foster home brought to their lives — wanting to be loved, but feeling unloved.  Some became caretakers of siblings and made them grow up faster than expected — the absence of a father or the death of a mother."
"Their stories never left me," continued Lyle.  "Traumatic circumstances could've become the destruction of them; despite their tough upbringings, they've become some of the most successful people I know.  I believe that truth for anyone.  I wanted to give others their inspiration and hope.  It is why I wrote Shield."
Lyle points to a friend she met in grad school who was in foster care with her siblings as inspiration behind the film.  She recalled how this person accomplished so much despite the odds.  Shield isn't her friend's story, but it was created to inspire others - to give encouragement to young people in foster care who need to feel seen.  She notes that many of the stories in the media about foster care focus on negative aspects and hopes this film will change the narrative.
---
The article continues after this ad
---
---
One of the filmmaker's goals is to partner with foster care and women's organizations, as well as comic book stores, to bring awareness to the needs of foster children and the empowerment of young girls with screenings and talkbacks. She sent out inquiries while the film was in pre-production and received a few responses.  Now that the film is completed, she has begun receiving many more.  After the film festival run, she will focus on getting streaming distribution to make access available for foster care organizations and schools.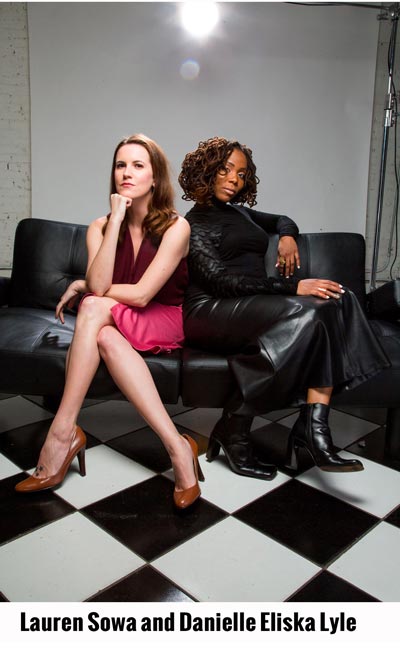 Lyle is a writer, filmmaker, and photographer from Detroit.  She sees herself as a "black archivist" whose life's work is to tell stories of powerful women, the Black Diaspora, and the state of Black culture.  Shield features a talented, all-female, multi-cultural cast and was created with a diverse crew that included women in key positions.
The performances in Shield are outstanding. In addition to Gisela Adisa and Sienna Elisa Rivers, the cast includes Lauren Sowa as Amy Hinch (the teacher) and Julee Cerda as Mrs. Chang. Lyle met Lauren at New York University where she acted in one of Lyle's plays.  The two have kept in touch and in addition to playing Zoe's teacher, Lauren is one of the producers of Shield.
In the film, Rachel uses comic books to help Zoe let go of her pain.  It's a wonderful idea for how to reach kids that may have been unreachable before.  The child's love of superheroes helps her find inner strength and be brave enough to overcome her challenges.  
Unlike Zoe, the filmmaker did not have anything like a security blanket as a child, but she did have a Marvel superhero she looked up to - Storm.
"There weren't many superheroes who looked like me, so when I saw her in the X-Men cartoons, I immediately fell in love," explained Lyle. "And reading comics about her — she's so dope.  I've come to love a lot of superheroes, but she's my favorite."
As the credits roll, we learn that Shield is dedicated to Jacqueline Steingold - "a real life superhero."  Steingold, who passed away in 2016, was a close friend and mentor of Lyle.  She was a social worker, a woman activist, professor, and former National Association of Social Workers (NASW) Board President.
"She was so much more than that," said Lyle.  "She was a beautiful soul who taught me so much; she was always inviting me to accompany her to women empowerment events and we spent time with the arts, dining, and chatting.  She believed in my dream and said I'd go very far.  She was a 'fairy godmother' of sorts and has left an impact on my life."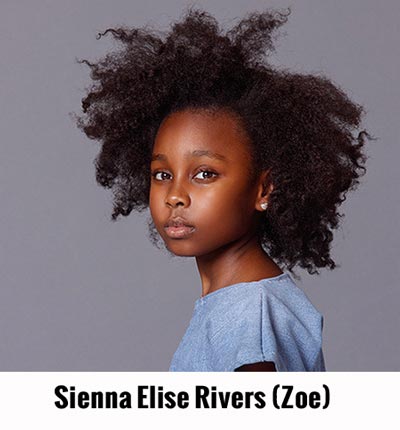 Lyle ends the film 15 years into the future where we see Zoe as an adult with a good job.  It's amazing how a film that runs about 17 minutes can tell such a complete story and make you feel good in the end.
"I am proud of the entire process - pre-production, production, post-production, cast and crew," continued Lyle.  "It isn't easy creating a film.  It can be hard raising funds.  But we came together, pushed through with prayer and tenacity to accomplish the goal we set out to reach.  We were so fortunate to have amazing supporters during our campaign — they are all incredibly valuable and loved.  They were rooting for us the whole time - donating funding, their time and social media pages promoting the film.  I am also so proud to be one of the inaugural grant recipients of the Mayor's Office of Media and Entertainment and New York Foundation for the Arts (MOME NYFA) 'Made in NY' Women's Fund in Film.  The entire experience got us to where we are today."
---
Gary Wien has been covering the arts since 2001 and has had work published with Jersey Arts, Elmore Magazine, Princeton Magazine, Backstreets and other publications. He is a three-time winner of the Asbury Music Award for Top Music Journalist and the author of Beyond the Palace (the first book on the history of rock and roll in Asbury Park) and Are You Listening? The Top 100 Albums of 2001-2010 by New Jersey Artists. In addition, he runs New Jersey Stage and the online radio station The Penguin Rocks. He can be contacted at gary@newjerseystage.com.
---