By Spotlight Central
originally published: 04/06/2018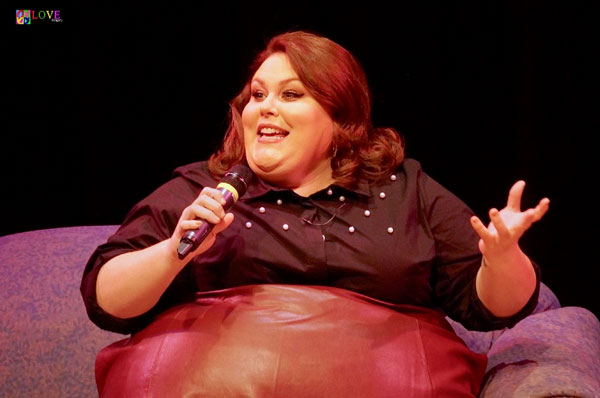 It's a sold-out crowd on the campus of Toms River's NJ's Ocean County College where ladies — and a sprinkling of men — wait in the lobby of the college's Grunin Center for the Arts for the arrival of the Golden Globe and Emmy-nominated actress, Chrissy Metz.
This evening's presentation, the Chrissy Metz This is Me Tour — a part of the college's Blauvelt Lecture Series — features Metz, famous for her portrayal of Kate Pearson on the critically acclaimed series This Is Us. She is here to discuss her new book, This Is Me.
Metz, 37, was born in Florida, but she spent several of her early years in Japan where her father, Mark, was stationed with the US Navy. Upon returning to Gainsville, Chrissy attended elementary, middle, and high school.
Starting out in a career as a pre-school teacher, Metz was encouraged to try her hand at acting. After several years in Hollywood — in which she played roles in films like Loveless in Los Angeles and on television in FX's American Horror Story: Freak Show — Metz was hired for the NBC hit drama, This is Us.
In recalling getting her big break, Metz once remarked, "When I booked This is Us, I had 81 cents in my bank account. I could cry right now just thinking about it."
---
The article continues after this ad
---
---
For her role as Kate Pearson in This is Us, Metz was not only nominated for Emmy and Golden Globe awards, but she and her cast mates also won a Screen Actor's Guild award for Outstanding Performance by an Ensemble in a Drama Series.
On This is Us, Metz also occasionally gets to utilize her singing talents. In real life, she's a singer in her own band, Chrissy and The Vapors.
In her new book, This is Me: Loving the Person You Are Today, Metz shares how she's applied lessons learned from the various successes and setbacks she's experienced in her life. During tonight's chat, Metz is set to discuss her career as an actress and, also, to share various stories from her book.
Inside the cozy Grunin Center auditorium, the big screen above the stage flashes the following quote: "You're worthy of time, attention and love. It might not be easy to accept right now, but act as if it is. And soon it will be."
A hush falls over the auditorium as the theater lights dim and the overhead screen displays the cover of Ms. Metz' book.
Janice Kaplan, the moderator of this evening's presentation, takes the stage. An author herself, Kaplan has written books including The Gratitude Diariesand How Luck Happens. She is also a former editor who worked at publications including Parade and TV Guide.
When Ms. Kaplan introduces Chrissy Metz, the audience stands and cheers!
Taking a seat on the couch, Chrissy responds to questions from Kaplan — all the while sharing her warm southern personality and making this New Jersey audience feel right at home.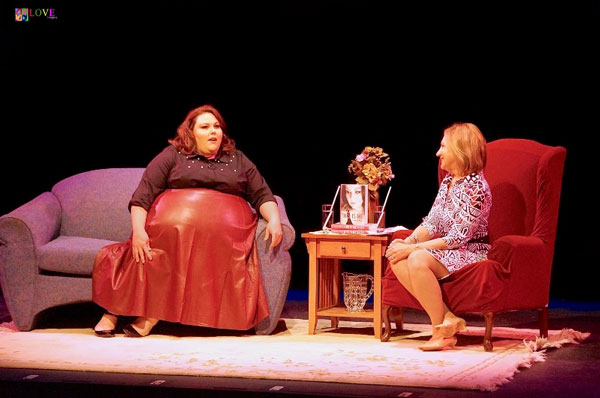 When Kaplan asks Metz how things have changed for her since appearing on her hit TV show, Metz jokes, "I can pay my bills!" before adding, "and I also get to speak to people I've never spoken to before."
"I love your positivity," says Kaplan. "How do you get through challenges?"
Metz suggests that doing so happens once "you start to love yourself," explaining, "Everything in our life is a lesson."
Adding, "I'm people's people — I'm a relatable girl," Metz shares a recollection from her book acknowledging that, many years ago, she announced that "someday" she would meet Oprah Winfrey and have lunch with her. Members of the audience cheer her on when she exclaims, "And, then, I'm at Oprah's house, eating out of her garden!"
Following cheerful applause, Kaplan goes back to Metz' youth when she inquires, "You lived in Gainesville, Florida, as a child?"

"And in Japan, briefly," responds Metz, explaining, "I was a Navy brat. I grew up in Gainesville — I was in the high school chamber choir."
When asked about her foray into acting, Metz breaks into song, singing, "I want to do everything — I want to be on TV!"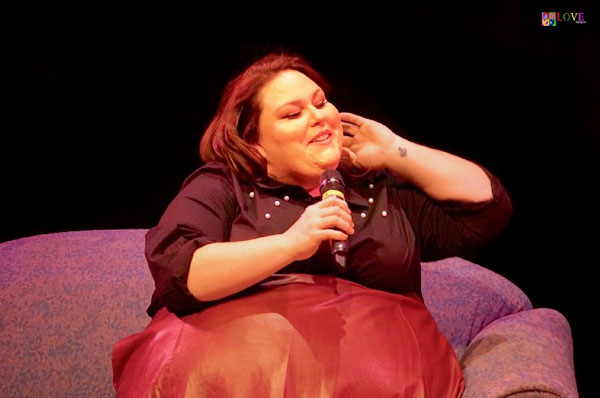 Explaining the process she went through, Metz recalls, "I went to LA and worked for a talent agent for nine years," noting, "we represented Ariana Grande. I was not an overnight success — my success took twelve years," acknowledging, "I would take one step forward and two steps back."
Noting, "I was on American Horror Story," Metz cautions, "but then — for a year — nothing happened."
At this point, she recounts the tale of how she won the role of Kate on This is Us, recalling about her audition, "There was something magical about that day — intuitively, I knew it was a new day!"
Except, however, after her tryout, Metz confesses, "I auditioned, but it was just okay."
After getting a call back for a second audition — where she would compete with others while reading for the part with other potential cast members — Metz describes the moment when she was finally given the role. Relating how the show's creator called her to say, "You're our girl!" generates enthusiastic applause from the audience.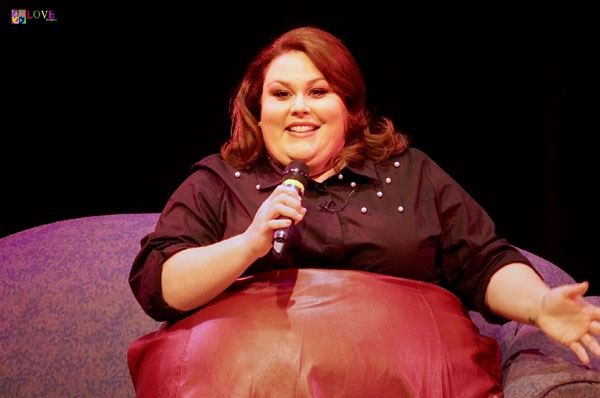 Talking candidly about issues she's experienced with her weight, Chrissy reveals, "Our bodies are our vessels — it's how we feel about ourselves," before explaining, "Beauty is an inside job. It's nothing to do with the outside."
In talking about the issue of handling hurtful comments, Metz suggests "meeting cruelty with kindness," saying, "You project your insecurities — it all comes down to fear and wanting to be loved."
As such, Metz is a person who is filled with gratitude for everything she has, waking up each morning to reflect on what she is grateful for. Starting with "things we take for granted" like a "comfortable bed," "a home," and "electricity," Metz reminds this audience about other things she's thankful for including "our country," "freedom of speech," and "the environment."
After agreeing to respond to questions posed by the audience, with a gleam in her eye, Metz jokes, "This always scares me!"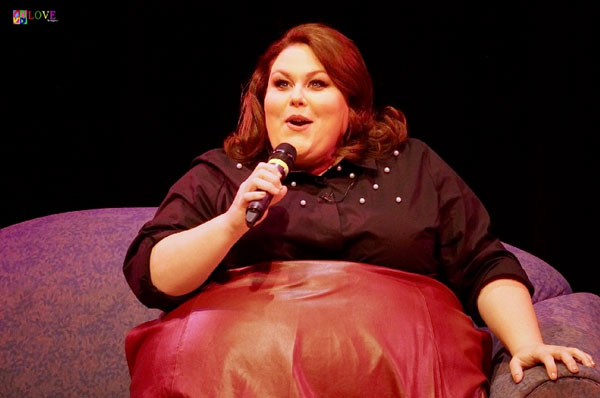 When asked what the "theme song for her life" would be, Metz smiles and says, "It would be the theme from the Golden Girls," singing, "Thank You for Being a Friend.''
With regards to dating advice, Metz cautions, "If you don't love yourself, you can't give love. You can't give from an empty well," before revealing, "Nobody completes you — you are a whole in yourself. While you are becoming the person you want to be, you'll find the person you're supposed to be with."
When an audience member wonders how Metz gives herself "a boost" when one is necessary, Metz replies, "When my ego and pride get in the way, I listen to music, write down my feelings, or talk to someone."
Responding to a query regarding what advice she would give to her "younger self," Metz responds with two simple words: "Nothing's personal."
The audience drinks in her every utterance as Metz hints at the developments on the upcoming season of This Is Us when she confesses, "I was shocked by Kate's storyline!"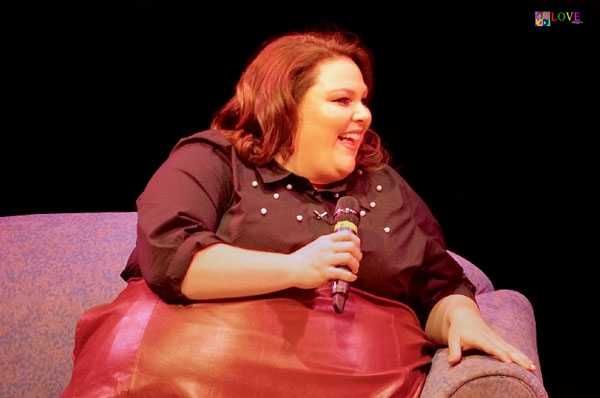 Kaplan takes a moment to praise Metz for her appearance today and the audience stands and cheers as Chrissy thanks them for coming and accepts flowers from an excited fan.
As the crowd exits the theater, we chat with several audience members who give us their impressions regarding tonight's chat.
Comments Rhonda from Belleville, "This presentation was amazing! I love the show, This is Us. And Chrissy Metz is someone you can relate to — she's so down-to-earth."
Bridget from Brick agrees, adding, "Chrissy Metz is so gracious. I really enjoyed seeing her."
Darla from Manahawkin remarks, "She was wonderful. She was very true to her character on This is Us. She's so real — you feel like you know her."
Darla's friend, Wendy from Barnegat, concurs, adding, "I think she would be very approachable," joking, "She should be our friend — she's invited!"
Likewise, LiliAnn from Colts Neck relates, "She's as warm and funny as I had hoped she would be!"
Lastly, Briann from Manahawkin exclaims, "This was amazing! Chrissy Metz is so personable — she's a wonderful woman and she's so funny" before concluding, "She's an inspiration!"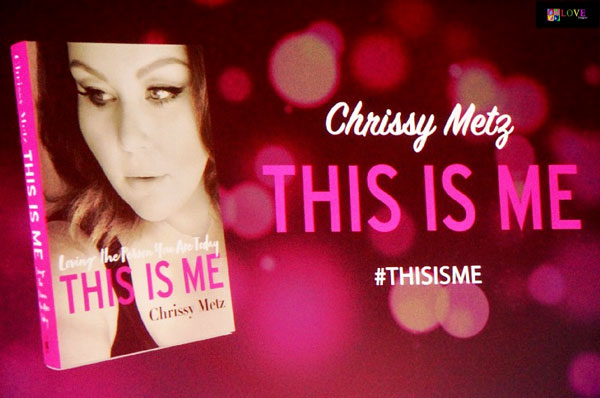 For more on Chrissy Metz and her book, This is Me, please go to facebook.com/ChrissyMetzOfficial. For information on future performances at the Grunin Center of the Arts — including Tom Chapin and the Chapin Sisters on April 21, and Peter, Paul and Mary's Peter Yarrow on May 11 — please go to grunincenter.org.
Photos by Love Imagery
Spotlight Central. Your source for Jersey entertainment news and reviews
Love Imagery Fine Art Photography. all you need. peace/love/flower/power