By Gary Wien
originally published: 09/29/2016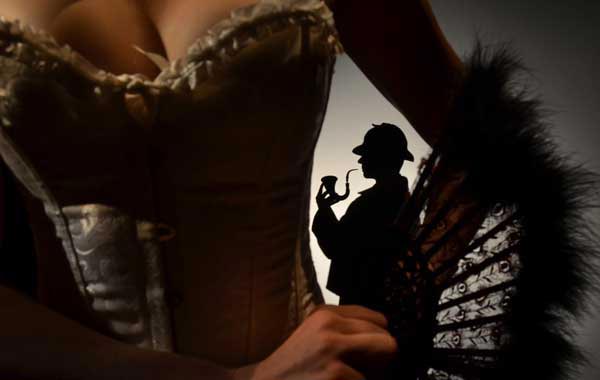 Sherlock Holmes is one of the most legendary characters in fiction.  First created by British author Sir Arthur Conan Doyle in 1887, the character has enjoyed many resurgences of popularity throughout its history and is currently in the midst of another one.  Thanks to recent films by Robert Downey, Jr. and Ian McKellen and the current BBC series Sherlock starring Benedict Cumberbatch, the sleuth has picked up a new generation of fans.  Centenary Stage Company hopes those fans along with fans of all ages come out to see their production of Sherlock Holmes and the Case Of The Jersey Lily by Katie Forgette, which runs October 7-23 in Hackettstown.
The play blends the wit of Oscar Wilde together with the cunning of Sir Arthur Conan Doyle.  In this story, Wilde brings his dear friend, Lillie Langtry (i.e. the Jersey Lily), to Baker Street because someone has stolen the highly intimate letters Lillie exchanged with the future King of England.  With blackmail looming and a vicious plot to dismantle the Crown, only Holmes has the cunning and dexterity to solve the case.  As the mystery unfolds, comedy ensues as Holmes works diligently to solve the case, going so far as to disguise himself as an early version of Lady Bracknell from Wilde's latest play, 'The Importance of Being Forthright,'  while Watson falls head-over-heels for the Jersey Lily,  and a wicked professor attempts to bring the Crown to its knees. 
"In a sense it's kind of reminiscent of the Showtime series, Penny Dreadful, which mixes characters from fiction together," explained Carl Wallnau, Centenary Stage Company's Artistic Director who is directing the production.  "That's what Forgette has done here.  She's mixed and matched and brought in some real people - Lilly Langtry and Oscar Wilde - into the imaginary world of Sherlock Holmes, Moriarity, and Watson."
When asked why every generation seems to fall in love with Sherlock Holmes, Wallnau said, "I think people fall in love with the kind of theatrical logic - the relentless intellect separated from emotion that he presents.  In a world that sometimes borders between passion and insanity, he is a sea of detached normalcy.  It's such an interesting iconic character that we keep coming back to it.  You could say the same thing about Spock in Star Trek.  There's a cold, ruthless intelligence and observational skills, and the sense that these are people that you may not want to spend a lot of time with socially, but are people you love to watch working, thinking, and processing."
The playwright describes the work as a mystery/comedy. It is meant to be played straight, with laughs coming more from its wit than farce.  In a way, the play borrows from an assortment of source material. It takes from William Gillette's late 19th century play; borrows ideas from the classic short story A Scandal in Bohemia (changing Bohemia to England and turning the female character into a famous English actress); and adds a little Oscar Wilde to the mix.
---
The article continues after this ad
---
---
Centenary's cast includes Colin Ryan, last seen on Broadway in Patrick Stewart and Ian McKellen's production of Waiting for Godot and No Man's Land, as Sherlock and David Sitler, last seen on Broadway in Frost/Nixon and An Inspector Calls.  The role of Lilly Langtry will be played by Sandy York, a graduate of the Trinity Rep Conservatory and Princeton University.  Rounding out the cast is Amy Griffin as Mrs. Tory, Joseph McGranghan as Oscar Wilde, Nicholas Wilder as Moriarty, John Smythe as Tom Farber, and Abdul Karim as Ameer Cooper.
Wallnau believes the timing of this production is better now than when the play made its debut at People's Light and Theatre Company in Malvern, Pa in 2008.  That debut came a year before the first of the Sherlock Holmes movies with Robert Downey, Jr.
"I think there's been a resurgence of interest in the character and that was one of the reasons we chose it," said Wallnau.  "Another reason was because of its theatricality and its iconicness.  I wanted something that people could go to see without having to think of the [Presidential] election — something where people could escape into a different kind of world for two hours; a world of wit, a world of melodrama, a world of archetypal characters, a world of theatricality, and a world of intellect as opposed to whatever this election is.  The one thankful thing is that two weeks after we close the election will be over! For people who don't want to think about it, this play is the perfect antidote.  It's a way of escaping it and not having to think about it."
---
Gary Wien has been covering the arts since 2001 and has had work published with Jersey Arts, Elmore Magazine, Princeton Magazine, Backstreets and other publications. He is a three-time winner of the Asbury Music Award for Top Music Journalist and the author of Beyond the Palace (the first book on the history of rock and roll in Asbury Park) and Are You Listening? The Top 100 Albums of 2001-2010 by New Jersey Artists. In addition, he runs New Jersey Stage and the online radio station The Penguin Rocks. He can be contacted at gary@newjerseystage.com.
---