By Gary Wien
originally published: 02/20/2016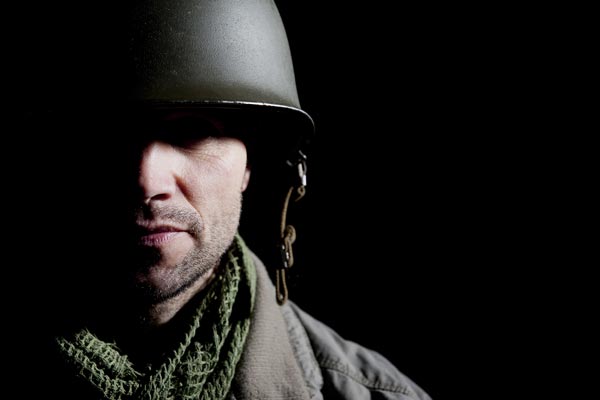 Four plays about four different wars and the battles veterans face long after leaving the battlefield; from World War II to Korea to Vietnam to Afghanistan, you'll go inside the lives of veterans in very personal ways when the South Camden Theatre Company presents "Shadows of War" - a collection of one act plays which will be take place across three days in March.
Joseph M. Paprzycki, Founding Producing Artistic Director of South Camden Theatre Company, said the point that comes across is "a vet is a vet is a vet.  It doesn't matter where you fought or what you did, you're a veteran;  you served your country, you deserve honor, and you deserve someone telling your stories."
One story is And So It Goes by Sheila McDonald, directed by Ruth Brown, about a veteran injured in Afghanistan who is in rehab back in the states.  His girlfriend, who has been avoiding him, visits him in his house so they can discuss whether or not they have a future together.
Unfortunate Sons by Tom Tunnington, directed by Dan Hickey,  is set in Vietnam during the time a soldier has to make a difficult decision.  He was drafted and sent to war, but now his tour is over and he's got a choice to make: return home or re-enlist for another round of duty.
Purple Hearts by Paprzycki, directed by Nicole Lerario, is set in a V.A. hospital where a Korean vet has come for his annual checkup.  The vet is complaining about the Vietnam vets who he says only bitch, whine, and moan.  He's being taken care of by a male orderly in his forties who just might change his mind.
---
The article continues after this ad
---
---



D Day Again by Martin Lentz, directed by Scott R. Grumbling, is set in a nursing home where two older veterans decide they're going to jump out of an airplane to be with their buddies at D Day.

"Shadows of War" will have a heavy Jersey flavor as five of the directors and writers are from throughout the Garden State.  

"This festival is going to be special," said Paprzycki. "And, for me, it's personal.  It's dedicated to my father.  The Korean vet in Purple Hearts is very closely based upon my father.  We hadn't done a one-act festival since we were in the Church basement, so it had been a while.  I wanted to do the play about my dad.  This play has been done in New York and a reading in Princeton when it won a VSA Arts NJ Award, but it had never been done in Camden."  

"We're doing plays that hopefully will bring people in and get them to think," he added.  "If we have a full house of 96 people, how many of those people do you figure are related to a veteran? Probably 94 or 95 of them.  I think it's something that our audience will really appreciate.  Unfortunate Sons is such a good piece that as soon as I read it I called Tunnington and said, 'You've got to be a Vietnam vet right?' and he said, 'Absolutely.'  You can tell, it's just so real.  Martin Lentz wrote such a great WW II play (D Day Again), I've read it four times. I never read a play four times! I haven't spoken to Sheila McDonald (who wrote And So It Goes) to see what her ties are to someone injured in Afghanistan but they're obviously there.  You can feel it in the writing.  And I know the Korea stuff from my dad."

Those coming to "Shadows of War" will not only hear the stories of veterans, they will have the opportunity to help veterans as well.  During the festival, South Camden Theatre is working with Backpacks for Life — a New Jersey non-profit organization that helps homeless vets.  Paprzycki learned about the organization and its founder, Sgt. Brett D'Alessandro, USMC, one night while watching NJTV.   

D'Alessando now gets monetary donations to purchase backpacks and then collects donations of toiletries and items like socks, fills the backpacks, and distributes them to veterans in homeless shelters in Newark and Jersey City.

Paprzycki got in touch with D'Alessandro and told him about the festival.  He said he wanted to collect donations during the festival. They decided to encourage people to either make a financial donation in the lobby or to bring pairs of men's socks (something that is always needed which cannot be purchased in dollar stores).  D'Alessandro is expected to be at both shows on Saturday, March 19 and Paprzycki is determined to send him back with a car full of supplies and a large amount of money to deposit.

"This is close to the core of why I even started a theatre company," said Paprzycki.  "I've always been about social issues. Brett and I were talking about it.  I said what I really like about this is we're tying North Jersey and South Jersey together through art and through helping veterans. It feels good to be able to tell these stories and bring awareness that there are guys you might be passing on the street each day who very possibly are in a bad situation from whatever they experienced."

"The plays blend together nicely," Papryzcki adds.  "They tell different stories, but they tell the same story.  I guess that's the saddest part.  As long as the world has wars, the world will have veterans.  I think we're all responsible to lend a hand and help.  So with me running the theatre, I can make 400 people aware and let them know that the arts in New Jersey cares about veterans." 




"Shadows of War" will have 4 performances March 18-20 in the Waterfront Theatre, 400 Jasper Street, Camden, NJ



---
Gary Wien has been covering the arts since 2001 and has had work published with Jersey Arts, Elmore Magazine, Princeton Magazine, Backstreets and other publications. He is a three-time winner of the Asbury Music Award for Top Music Journalist and the author of Beyond the Palace (the first book on the history of rock and roll in Asbury Park) and Are You Listening? The Top 100 Albums of 2001-2010 by New Jersey Artists. In addition, he runs New Jersey Stage and the online radio station The Penguin Rocks. He can be contacted at gary@newjerseystage.com.
---