By Gary Wien
originally published: 04/21/2016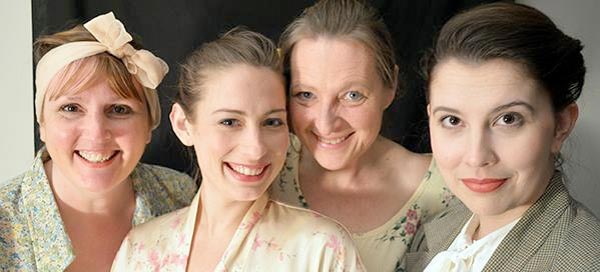 I've been a fan of the great work done by South Camden Theatre Company (SCTC) for a while now.  Not only does the company have an amazing theatre of its own, it attracts wonderful talent to perform rather intriguing plays.  Last issue featured the theatre's "Shadows Of War" one-act festival of plays dealing with soldiers.  I had the opportunity to see the plays and it was truly a remarkable night of theatre. Great acting, moving dialogue, and a successful collection of donations for homeless veterans that might have even exceeded the theatre's expectation.
SCTC closes out the season with another intriguing choice — a production of A Lovely Sunday For Creve Coeur by Tennessee Williams.  If the name doesn't ring a bell, it's because it is a rarely produced work among the last plays written by the legendary playwright. In the play, we follow four women in 1930's St. Louis Missouri as they struggle for independence in their quest to find love and happiness.  Set at a time when the role of women in American society was in flux the four women all choose different paths to do what was necessary to secure their futures and ensure their prosperity.
The production is directed by Connie Norwood and includes cast members McKenzie Jones Clifford, Lee Kiszonas, Laura Aspen, and Sheila W. Kurilla.
According to Barbara M. Harris, an academic writer who examined pop culture influenced by Tennessee Williams, the character Dorothy in the hit 80s TV show The Golden Girls was a homage to the character Dorothea in A Lovely Sunday for Creve Coeur.  Apparently, the co-creator of the tv show was a fan of Tennessee Williams.  Another fan is Joseph M. Papryzycki, the Producing Artistic Director at South Camden Theatre.  To say Papryzycki is a huge fan of Tennessee Williams puts it mildly. He takes an annual trip to the Provincetown, Massachusetts for its Tennessee Williams Festival each year.  It was there, in 2014, that he first discovered the play.
"We saw the play performed on the second floor of a house," recalled Papryzcki.  "The play surprised me in how funny it is.  He will break your heart but you will both laugh and cry in the little known work.  This play is a comedy with the brilliant poetry of Tennessee weaved in throughout and with an ending that you only would expect from a writer of this caliber."
---
The article continues after this ad
---
---
"I loved the comedy in it and the nostalgia that you feel watching it along with the touches that prove this play was written later in Williams's career," he continued. "It is a play that is populated only by  women which also fascinated me. The story is touching with true flesh and blood characters that an audience will instantly to which an audience will instantly relate."
Papryzycki credits the Provincetown Tennessee Williams Festival for bringing this play to the attention of Artistic Directors like himself.  Best known for classics like The Glass Menagerie (1944), A Streetcar Named Desire (1947), and Cat On a Hot Tin Roof (1955), many are surprised to learn that Williams continued writing plays until just before passing away in 1983.  A Lovely Sunday for Creve Coeur was originally written and developed in the 1970s.
"Tennessee Williams is revered and should be revered by new generations who will be able to view this work along with his better known American classics," added Papryzycki. "Creve Coeur shows a lighter side of the master along with his ability to reach into our hearts.  SCTC is known for its exceptional productions of Tennessee Williams's work and director Connie Norwood has assembled an incredible cast to take us back in time.  I hope that you will enjoy it and that after you'll remember to 'turn on the hot and the cold water'".
---
Gary Wien has been covering the arts since 2001 and has had work published with Jersey Arts, Elmore Magazine, Princeton Magazine, Backstreets and other publications. He is a three-time winner of the Asbury Music Award for Top Music Journalist and the author of Beyond the Palace (the first book on the history of rock and roll in Asbury Park) and Are You Listening? The Top 100 Albums of 2001-2010 by New Jersey Artists. In addition, he runs New Jersey Stage and the online radio station The Penguin Rocks. He can be contacted at gary@newjerseystage.com.
---