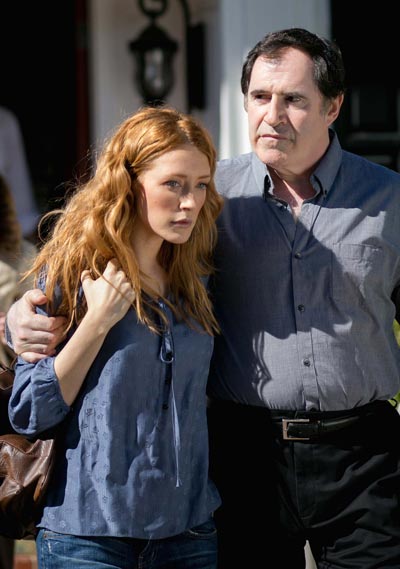 Scott Perlman's Sci Fi Feature Andover will be Premiering at the New Jersey Film Festival on Friday, February 2, 2018!
Here is my interview with Scott:
Nigrin:  Your science fiction feature film Andover is about a university genetics professor who clones his dead wife, over and over, in a desperate attempt to get her back exactly as she was. Please tell our readers more about your film and why you decided to make it?
Perlman: Andover is story about a man who becomes obsessed with trying to fix something that's impossible to fix.  He doesn't let reason or common sense stop him.  I always dreamed of making a movie, this is my first, and it took a great deal of irrationality and focus.  It turns out the character and I have quite a bit in common.
---
The article continues after this ad
---
---
Nigrin:   There is a lot of science in your film but I get the sense that you were more interested in how some people try to recapture someone that is lost? Am I on the right track?
Perlman: Absolutely!  I think of it as a dark romantic comedy.  Cloning is a device that I thought would make bringing back the dead seem plausible.  I researched cloning quite a bit, put a ton of science in the first draft, then edited most of it out.  From there I tried to think of all the things that could possibly go wrong when trying to clone your dead wife.
Nigrin:   The acting ensemble you chose are quite special especially the two leads. Tell us more about them and the rest of the main cast and how you selected them?
Perlman: Jonathan Silverman and Jennifer Finnigan are married in real life, and they have this incredible chemistry that you can feel on screen.  The idea of losing his real life wife made Jonathan's performance extremely heartfelt and urgent.   Our casting director/producer Shannon Makhanian fell in love with the script and really championed it.  We made this movie on a very low budget so we couldn't lure actors in with money.  Scout Taylor-Compton, Richard Kind, Beth Grant, Bai Ling and Richard Portnow really enjoyed the story and wanted to be a part of it.  Angela Kinsey said that she thought it was the next Swimming with Sharks.  Another one of our producers, Julie Suronen helped with casting too, she used her personal contacts to help reel in Steven Bauer and Jonathan Lipnicki.  
Nigrin:   Where did you shoot this film? The settings are perfect. 
Perlman: Thanks so much.  We shot the movie in and around Los Angeles carefully picking out places that resembled the east coast.  The campus shots were done at USC, the Cemetery is in Altadena, and the main house is in Toluca Lake, it's really difficult to find an attic and basement in Southern California. 

Nigrin:   Are there any memorable stories while you made this film or any other info about your film you can relay to our readers?
Perlman: We found a town just outside LA that worked perfectly, it had an insurance office, town square, even an art fair.  It was a dream.  Were able to shoot in their library, we just had to be out before they opened at noon, which was fine because we needed to take advantage of the other great spots.  With one shot left, the clock struck noon.  Rather than letting us finish, we got the boot.  Not just out of the library, out of the whole town.  Jonathan said in his lifetime of filming this was a first.  In their defense, we did agree to be out by noon.  At the time I was horrified, I thought my movie had died, but it all worked out, we found other places to shoot and made up for the lost time.  If you look carefully you can see that a one of the library scenes is shot in two different locations.  
Here is the trailer for Andover:
****************************************************************************
Two terrific sci fi short films will precede Andover. Here is more info on this screening:
The Final Show - Dana Nachman  (Los Atos, California)

This surreal short film stars Marion Ross (Happy Days) who plays a woman who gets catapulted into The Between, where she has to quickly decide which of her loves to take along to eternity. 2017; 9 min.

METTA VIA - Warren Flanagan (Vancouver, British Columbia, Canada)

Set in the future, Metta Via tells the story of a young woman who wakes up in a mysterious temple-like room and must figure out what her purpose is there. This leads her to memories being unlocked and the true purpose of the temple, the strange sentient machines that surround her, and ultimately to her final destination. 2017;  12 min.

Andover - Scott Perlman (Hollywood, California)

In this science fiction feature,  a university genetics professor clones his dead wife, over and over, in a desperate attempt to get her back exactly as she was. 2017; 95 min.  Q+A session with Director Scott Perlman!
Friday, February 2, 2018 at 7:00 p.m.


Voorhees Hall #105/Rutgers University


71 Hamilton Street, New Brunswick, New Jersey


$12=General; $10=Students+Seniors; $9=Rutgers Film Co-op Friends


Information: (848) 932-8482; www.njfilmfest.com
Jimmy John's of New Brunswick will be providing free food prior to this New Jersey Film Festival Screening!