By Al Nigrin
originally published: 09/21/2017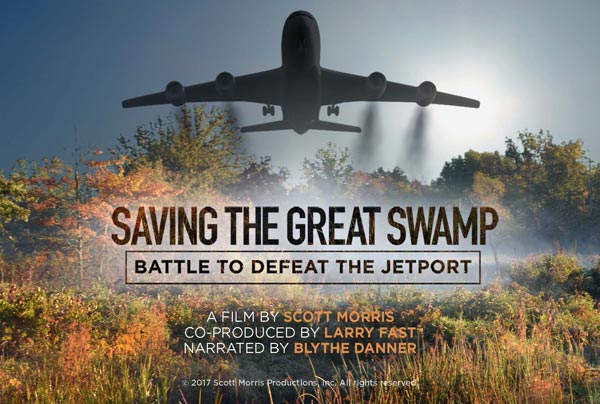 Scott Morris's important documentary Saving The Great Swamp: Battle to Defeat the Jetport will be screened at the New Jersey Film Festival on Sunday, September 24, 2017!
Here is my interview with Saving The Great Swamp Producer/Director Scott Morris and Co-Producer Larry Fast:
Nigrin:  Your important feature documentary film Saving The Great Swamp: Battle to Defeat the Jetport relays the extraordinary 9-year-long fight to save The Great Swamp in Morris County, New Jersey back in the 1960s.  The battle to protect The Great Swamp is now seen and studied as a model for the environmental activism today, and the story has not been told in depth until now.  Please give us more insight into your film and why you decided to make it.
Morris:  In 2014, I was seeking a substantial new long-form film project to produce and direct.  The story of the Great Swamp and the jetport threat came to my attention through my co-producer, Larry Fast, and Nic Platt, mayor of Harding Township.  Nic had been hosting presentations about the jetport story at local libraries and municipal centers, motivated by his personal connection to the events and a strong desire to keep the story alive.  I'm also a resident of Chatham, visited the Great Swamp many times with my family and knew of the jetport story.   But when I started finding out the details, I knew it would make a fantastic film with strong historical and environmental messages that would be relevant and timely.
---
The article continues after this ad
---
---
The biggest challenge for projects like this are getting them funded.  We knew we wanted to make a beautiful, state-of the-art, broadcast quality film with the goal of public television distribution.  After writing a proposal and making a short demo video, we were able to interest a group of philanthropists in the Morris County area who encouraged us to produce the film as a mission-driven project and form an arrangement with a non-profit fiscal sponsor, Community Foundation of New Jersey. 
Fifteen contributors funded the project over a two year period.  During this time we filmed over 30 hours of interviews with residents, officials, authors and historians with a connection to the events between 1959 and 1968, who helped bring the story to life.  We also deeply researched archival materials, including newspaper articles, historic documents, old film footage and photographs - a process that took us to numerous libraries and resources throughout New Jersey and beyond, including the Morristown Library, Library of Congress and NBCUniversal, to name a few.
Post production was ongoing, involving exploring the story, writing narration, engaging a graphic designer and recording original music to give the film texture and enhance the drama. 
Nigrin:  Acclaimed Hollywood actor Blythe Danner does a terrific job narrating for your film. How were you able to get her to work on Saving The Great Swamp?
Morris:  We were very fortunate that Blythe Danner was interested and available to narrate Saving The Great Swamp.   Ms. Danner is connected to the New Jersey Shakespeare Theater at Drew University, and an environmentalist and PBS supporter.  The director there suggested that she would be a good choice.  After contacting her agent, we arranged a recording session in New York a few weeks before completing the film.  Ms.  Danner's resonant voice and commitment to bringing a lot of heart to the story are great contributions, and working with her was a privilege and a pleasure.
Nigrin:  Your film is also about 1960s New Jersey politics. I never knew the Port Authority had such power back then. Please tell us about the political struggle that took place to save The Great Swamp.   
Fast: The politics behind the jetport battle broke along traditional New Jersey lines.  The impact area in Morris County, as well as some surrounding parts of Somerset, Union and Essex Counties, was then solidly Republican, from the Morris County Freeholders to the state representatives sent to Trenton.  Most of the suburban and rural townships slated for destruction, cutting across all income levels from the wealthiest landowners through the suburban and rural residents, had elected Republican municipal governments. 
Anti-jetport leader, Republican Congressman Peter Freylinghuysen also had the support of large entities in the region including universities, AT&T/Bell Laboratories, financial institutions and pharmaceutical companies headquartered in the area.  He worked with his state government colleagues in Trenton to block Democrat Governor Robert Meyner's tacit support for the Port Authority's Great Swamp jetport initiative.   However the Port Authority had also made enemies in both parties during its decades of operation.  In Washington, Congressman Frelinghuysen reached across the aisle to powerful Democrat leader Emanuel Celler of New York, chairman of the House Judiciary Committee, who had a beef with the Port Authority and its executive director Austin Tobin which dated back to the early 1950s.  Celler's congressional committee hearings tied up the Port Authority in a time and energy-consuming sideshow.  Similar bipartisan actions were undertaken in the New Jersey assembly and senate.
Governor Meyner, in alliance with the largely Democrat-dominated building trades and unions who had helped elect him, saw the jetport as a jobs program and future driver of the New Jersey economy.  He envisioned rural Morris County developing into something closer to the transportation hub economy surrounding Idlewild (now Kennedy) and LaGuardia airports in Queens, NY.  Warehouses, manufacturing facilities, trucking companies, massive highway infrastructure and high density housing would replace a swamp and its watershed which the governor and the Port Authority considered to be of little value compared to the jobs and economic growth a massive jetport would bring.  Governor Meyner used his veto power to keep the anti-jetport forces at bay, but only for a while. 
Governor Meyner's second term ended at the beginning of 1962.  Both candidates vying to replace him were in the anti-jetport camp, joining the already anti-jetport state legislature.  Without the assent of both the New Jersey and New York legislatures and both governors, the Port Authority's power to condemn land and build their jetport was severely impacted, though they persisted for years in rear-guard political activities to reanimate the concept.  After Governor Meyner left office, the second phase of saving the Great Swamp moved into the foreground.  Even though the chances of a jetport were diminished, the swamp and watershed were not safe from encroaching suburban development, shopping malls, and those who would destroy the fragile, but then not-well understood ecosystem.  The conservation effort to save and preserve the swamp on its own merits was a bi-partisan achievement.  The Democrat Kennedy White House took a keen conservation interest under Secretary of the Interior Stewart Udall.  Some of the older local preservation leaders such as Marcellus Hartley Dodge, had been active during the administration of aggressive conservationist Republican President Theodore Roosevelt in the early twentieth century.  That legacy of bi-partisan cooperation created a pioneering preservation effort in the decade before environmental protection laws were later put into place during the Nixon administration.  Their combined efforts at Great Swamp achieved the results we enjoy today as well as creating a collection of preservation tools and practices used by many conservation efforts which followed.
Nigrin: Are there any memorable stories while you made this film or any other info about your film you can rely to our readers?
Morris:  One of our most important resources was a book written in 1978 by Cam Cavanaugh – Saving The Great Swamp:  The People, The Power Brokers and an Urban Wilderness.  We were very fortunate that Cam not only agreed to be interviewed, but also serve as a project consultant.   Her research was so thorough and accurate that it became an important foundational element of the story, and she gave us valuable input during rough editing and script writing. I also want to commend my production crew, especially cinematographer Roger Grange, who gave the interviews a beautiful look through expert lighting and camerawork.  The atmosphere during shooting was always upbeat and relaxed, and made the whole process enjoyable and satisfying.  
Check out the EBTV  Interview I did with Larry and Scott here:

 
**********************************************

Sara Leavitt's informative short documentary Riverkeeper will precede Saving The Great Swamp. Here is the skinny on this screening: 
Riverkeeper – Sara Leavitt (Brooklyn, New York)   In this short documentary, Captain Bill Sheehan, the founder of Hackensack Riverkeeper, who has dedicated his life to preserving and protecting the New Jersey Meadowlands, takes the viewer on a ride through areas of the Meadowlands that visitors never see—the long polluted and ignored "swamp" that is now a thriving, industrialized ecosystem and a haven for birds and wildlife. 2017; 9 min. With an introduction and Q+A session with Director Sara Leavitt!
Saving The Great Swamp: Battle to Defeat the Jetport – Scott Morris (Chatham, New Jersey)  In 1959, a successful grassroots effort was launched to defeat a plan to build the world's largest jetport on 10,000 acres of wetlands in the heart of New Jersey.  Director Scott Morris retraces the extraordinary, 9-year-long fight to save the Great Swamp, a fight that began in a New Jersey high school, and was finally resolved by an Act of Congress in 1968.  The battle to protect the Great Swamp is now seen and studied as a model for the environmental activism today, and the story has not been told in depth until now. Narrated by Blythe Danner. 2016; 64 min. With an introduction and Q+A session with Director Scott Morris and Producer Larry Fast!Co-sponsored by the Rutgers University School of Environmental and Biological Sciences (SEBS) General Honors Program, the Rutgers University American Studies Department and the Rutgers University Centers for Global Advancement and International Affairs (GAIA Centers)!
Sunday, September 24, 2017 at 7:00 p.m.


Voorhees Hall #105/Rutgers University


71 Hamilton Street, New Brunswick, New Jersey


$12=General; $10=Students+Seniors; $9=Rutgers Film Co-op Friends


Information: (848) 932-8482; www.njfilmfest.com
Jimmy John's of New Brunswick will be providing free food prior to this New Jersey Film Festival Screenings!