By Gary Wien
originally published: 03/27/2017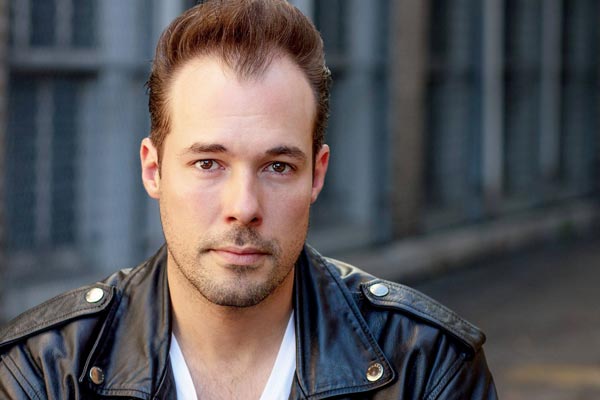 Imagine being a fly on the wall during one of the most iconic moments in music history.  The setting is Sun Records in Memphis in 1956 where an impromptu jam session involving Elvis Presley, Johnny Cash, Jerry Lee Lewis, and Carl Perkins takes place.  It was a moment in time when the stars truly aligned.  The story was immortalized in the musical Million Dollar Quartet, which is being presented at Paper Mill Playhouse.
Paper Mill's production includes James Barry (Carl Perkins), Scott Moreau (Johnny Cash), and Jake Rowley (Elvis Presley) from the national tour of Million Dollar Quartet.  Jason Loughlin (Sam Phillips), Nat Zegree (Jerry Lee Lewis), Bligh Voth (Dyanne), David Sonneborn (Fluke), and Sam Weber (Brother Jay) round out the cast.  Tony Award nominee Hunter Foster is the director.
Moreau is approaching his 800th show portraying Johnny Cash. He's also a huge fan of the Man in Black.   He says he grew up a fan of the music of the era (everything from Elvis to the Everly Brothers to Neil Sedaka) because those were the records his parents had. When he first got involved with Million Dollar Quartet, playing Cash was a natural fit.
"For me, it wasn't going back to find Johnny Cash, I had always known who he was even as a kid," explained Moreau.  "I became a big fan in the 1990s when Cash started releasing the American Recordings, which became the last records of his life.  Once I got into that, I couldn't get enough.  I started buying everything I could find - bootlegs and demo records.  I started buying books and reading them voraciously."
You could say Moreau was born to play Cash.  Shortly after he became a die-hard fan, Ring of Fire headed to regional theatre.  Moreau wound up being part of that show several times.  In fact, he was directing a production of Ring of Fire in Indiana when he got the call for the national tour of Million Dollar Quartet. And he hasn't looked back since.  He even released an album entitled Home Of The Blues: A Tribute to Johnny Cash At Sun Studio with his band Scott Moreau and the Died Drunk Boys.
---
The article continues after this ad
---
---
The actual jam session at Sun Records that inspired the play contained a few hits by Elvis and Chuck Berry, but mostly featured gospel songs the four musicians had known all their lives.  The musical takes a few liberties with history and substitutes the gospel songs with plenty of classics from the early days of rock and roll.  Songs include "Blue Suede Shoes," "Great Balls of Fire," "Walk the Line," "Whole Lotta Shakin' Goin' On," and "Folsom Prison Blues."  
Moreau says his favorite song to play is "Walk The Line" — one that he has performed many times from the Cash musicals to his own band shows.
"I've done that song well over a thousand times and it's challenging every time I do it," said Moreau.  "It's vocally challenging; it meant a lot to him each time he performed it; and it means a lot to me.  It's not a throw away easy song.  It has a lot of meaning - to Johnny, to me, and to a lot of people."
Another favorite from the show is "Brown-Eyed Handsome Man" - a song by Chuck Berry that was part of the actual session at Sun.  In the musical, everybody gets involved in the song.  It starts off with Jerry Lee Lewis singing in the beginning, then Carl Perkins sings a verse, and then Elvis.  Meanwhile, everyone is on stage playing an instrument.
"That's sort of the moment where we all have camaraderie," said Moreau.  "And things just roll from there."
Acting is always about portraying a moment as if it is happening in real time for the very first time, but this play poses a challenge because both the actors and the audience know what happens to these artists later in life.  While Elvis was a big star at the time, he had not yet become the legendary iconic figure.  Carl Perkins was riding high with the success of "Blue Suede Shoes" but his career was just only in its infancy.  Meanwhile, Jerry Lee Lewis' career hadn't even gotten started yet; he was just a piano session musician for the studio at the time.  And Johnny Cash's famous struggles with addiction and other demons weren't even an issue at the time.  He was just a guy with two young daughters trying to make a living.
Moreau says he noticed similarities between the young Johnny Cash fighting for everything he got and the life of an actor.  "Fighting tooth and nail for auditions, trying to be seen and be turned away, pulling yourself up from your boot straps and heading to your next audition," he explained.  "I think there are a lot of things from his early life that I draw from.  And since I have met and am friends with many people who were in his life, if I have a question I just ask, 'What would Johnny do here? If somebody said this to him, how would he react?'  It's understanding that people will probably come in with preconceived notions of what they think he will be like and just going back to the source and finding the honesty, the truth and essence of what he was like and bringing that to the performances."
Another challenge for the cast is that jam sessions are supposed to be a spontaneous display of creativity.  How do you recreate that vibe night after night? How do you keep it fresh after hundreds of performances?  Moreau says it's easier than you would think.  He points out how even though they try to be consistent each time they perform, there are a myriad of things which affect the way the songs come out.  Everything from broken guitar strings to blown amplifier tubes and dropped picks will make each performance unique.
"I've done the show with James Barry (who plays Carl Perkins) 500 times," said Moreau.  "He doesn't play the same solo every single night.  Generally, it is relatively the same but he will add something in or try something different once in a while.  This makes it quite different.  I think that's the beauty and the challenge of the show - you strive to make it consistent and do it relatively the same every time but you have so many different factors that are coming at you every night that it's slightly different all of the time.  I think it makes it exciting for the audience and it makes it exciting and challenging for us as well."
"Most directors talk about this but Hunter (Foster) certainly talks about it since a lot of us have done the show before," continued Moreau.  "If something starts to feel stale or starts to feel like you already see it coming, that's when it doesn't work.  Everything always has to be a surprise.  When Cash walks into Sun, he doesn't know what's about to happen.  And if he does, it looks like I'm playing the end of the show and the piece doesn't work.  You have to believe this is happening for the first time, right now, at this moment as you are watching it."
It's all about authenticity.  That's what actors seek to portray and one of the reasons Moreau believes the music of Johnny Cash is still so relevant.  Moreau says that in interviews Cash always sounded like where he was from and never forgot where he was from.  There was a sense of authenticity about him.  That, and simply being a bad ass, are reasons why his legend continues and why his popularity crossed over from the world of country music to rock and roll and even punk rock.  Cash never worried about speaking his mind even when he was going against what was popular or what was expected of him. 
Listening to Moreau talk about Cash, it's clear this is a role he is in no hurry to leave.  People are always asking him if he is tired of playing the Man in Black.  Moreau tells them he feels lucky to be able to do what he always wanted to do and get paid for doing it. He has acted since he was around 15 years old.  It's safe to say acting was one of two dreams he had.  As a kid, Moreau wanted to be a pro baseball player.  As to be expected for someone growing up in the New England region, he grew up a Boston Red Sox fan. 
"The first time I did Damn Yankees, it was a beautiful mix of worlds," recalled Moreau.  "I do musical theatre for a living and this is a show where I get to wear a baseball uniform, hold a bat, throw a ball, and talk about hating the Yankees! What could be better? Well, how about a musical where I play Johnny Cash…"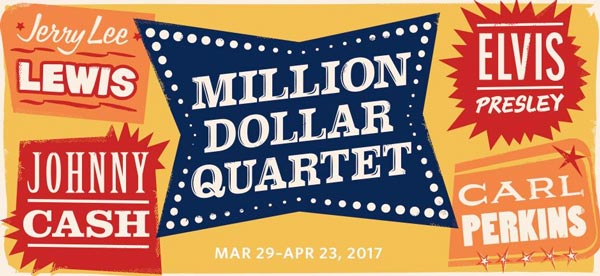 March 29 - April 23 at Paper Mill Playhouse  
22 Brookside Drive, Millburn, NJ   www.papermill.org
---
Gary Wien has been covering the arts since 2001 and has had work published with Jersey Arts, Elmore Magazine, Princeton Magazine, Backstreets and other publications. He is a three-time winner of the Asbury Music Award for Top Music Journalist and the author of Beyond the Palace (the first book on the history of rock and roll in Asbury Park) and Are You Listening? The Top 100 Albums of 2001-2010 by New Jersey Artists. In addition, he runs New Jersey Stage and the online radio station The Penguin Rocks. He can be contacted at gary@newjerseystage.com.
---